OPINION: Operations for facemasks redesigned to specifications of public protection by Amaso Jack
Editor's note: A member of faculty at the Nigeria Institute of Journalism, Amaso Jack, writes on the use of face masks as the world battles the coronavirus pandemic while calling on the federal government to set up an anti-COVID-19 mask design team.
Read below:
Planning: The shortest distance between life and death.
The is the template designed to jump-start the Nigerian government into action, to save millions of lives.
The wake-up plan
With this in mind, Nigeria needs to wake-up and get more proactive.
The following under listed actions are required to create the defensive COVID-19 conqueror medical facemask for the public use.
1. Federal ministry of health anti-COVID-19 mask design team
To be established as an ad hoc team under the permanent secretary of the federal ministry of health, to be known as the anti-COVID-19 mask design team for the purpose of coordinating operations for redesigning to specifications of public protection, a medical face masks t be deployed as the last line of protection of the Nigerian vast population.
The team would be split into the following subgroups
a. Research evaluation group
b. Design group
c. Production group
d. Logistics/transportation group
The health ministry will put in place everything needed to make each of these subgroups effective.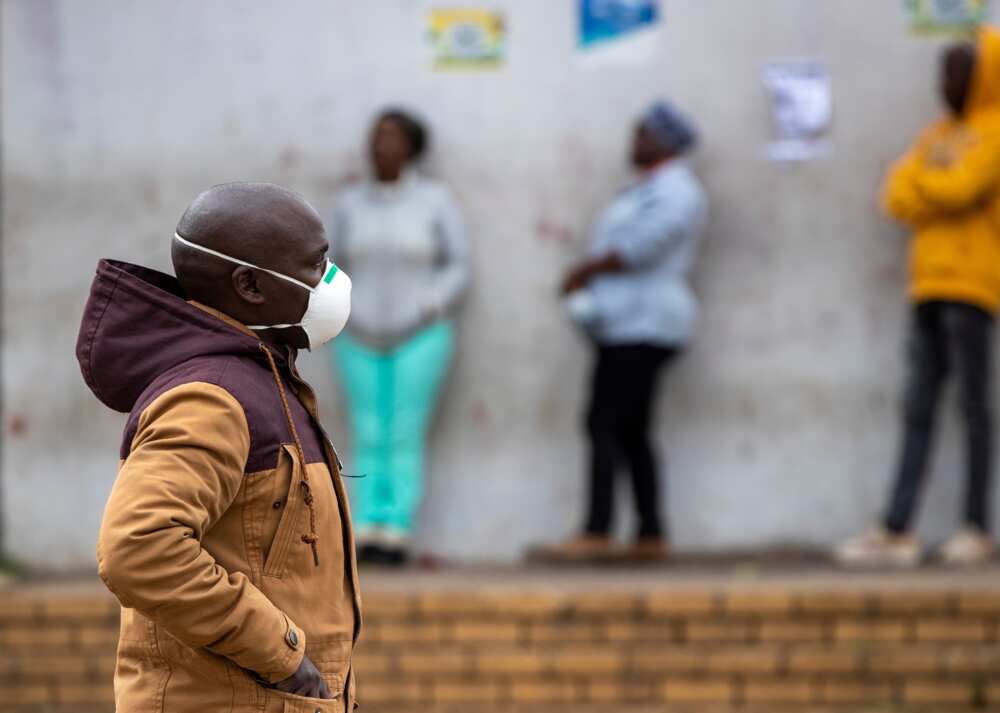 PAY ATTENTION: Get the Latest Nigerian News Anywhere 24/7. Spend less on the Internet!
2. Welfare
All the members of the four sub-teams will be accommodated and fed by the federal government of Nigeria.
Research evaluation group shall consist of the following members
- Professors
- Professionals
- Designers
- A representative of the Nigerian Medical Council (NMA) to ensure medical compliance.
-A representative of NAFDAC to ensure compliance.
-A representative of Standard Organization of Nigeria (SON) to ensure compliance.
- Communication experts
These experts shall be the technical nerve assembled by the health ministry and they shall converge on Abuja.
Considering the nature of the emergency and the high number of anticipated responses, about 50 professors and tech experts, would be required to evaluate and approve designs.
This team shall, in turn, invite through media, using specially dedicated lines and websites.
• Any and everyone with a research work completed or in progress on facial mask design, to upload such to a dedicated site.
• Designers would be given a week to come up with ideas.
• The team will have its support staff consisting of people with online competences who will build a site for this purpose, so people with design solutions can send them there for evaluation.
• The site should be ready before the professors assemble
The Nigeria Air Force and or any private airline would airlift these professors to Abuja.
The Federal University in Abuja would be required to make available close to a minimum of 100 computers (from any department in the University of Abuja). That school is to be used for coordination.
Ad hoc volunteer computer operators, mostly undergraduates would be invited as computer operators.
Their job would be to download and or convert entries submitted for the professors to evaluate.
3. Evaluation and selection of designs
• For any design selected, the individuals involved would be invited to Abuja. The logistics/transportation group, shall be responsible for dispatching chartered flight to fetch them:
Upon arrival, their design proposal would be
• Evaluated/Defended and tested
• Upon approval, a representative of the DG of the Nigeria immigration service, (a member of the logistics and transportation team) would be required to prepare a passport for the researchers within 6 hours.
• The researchers would be flown abroad to supervise the production of his/her design at the appropriate time along with members of the Design team
Time plan: 1 Research evaluation group
Week 1: Setting up an administrative structure.
Week 2: Media notices to be put out calling for face mask designs.
Week 3: Selection and evaluation of selected designs
Week 4: Departure to design centres abroad for work to begin
Design group
It will be the responsibility of this group to find out companies in the United States and Israel that specialize in design.
The choice of these foreign design partners is based on their comparative advantage in terms of infrastructure, that will facilitate rapid designs.
Like the research evaluation group, the design group shall consist of:
- Professors
- Relevant attachments in the embassies in Washington DC and Tel Aviv.
- Skilled negotiators.
- A representative of the Nigerian Medical Council (NMA) to ensure medical compliance.
-A representative of NAFDAC to ensure compliance.
-A representative of Standard Organization of Nigeria (SON) to ensure compliance.
Their task will be to:
- Discover and negotiate with any company that will accept to work with designers from Nigeria, to design the masks.
- Serve as the forward party to prepare the ground to receive the designers from Nigeria.
- Co-opt influencers like T. Y. Danjuma to use his purported links with Israel to facilitate the process.
- Other influencers that can negotiate with similar organizations abroad should be contacted.
This group will be led by a professional
Timeline:
Week 1 Assembling all relevant people.
Week 2: Departure to Israel and the United States to search for and negotiate with corporations that can partner with Nigerian designers to produce designs.
Week 3-4: Standby in the United States and Israel to receive the research and evaluation group, their designs and their designers. Part of their responsibility would be to work with the Nigerian embassies in those countries, making all necessary arrangements for the comfort and feeding of the group.
Important observation:
The specific individuals who created the selected mask design must be part of the design team.
Production group
The responsibility of this group would be to negotiate with factories abroad to either:
1. Mass produce the masks
2. Mass produce equipment that can be used to produce the masks locally.
3. Liaise with relevant companies in Nigeria to recruit Nigerians to be trained in the operation of mask making equipment
Timeline:
Week 1: Assembling of all relevant professionals
Week 2: Departure for the United States to make arrangements for the mass production of the masks from companies like three M.
Maria Cramer and Knvul Sheikh in their New York Times article make reference to a company called 3M this way:
"The government has contracted with the multinational manufacturing giant 3M to produce 30 million more masks a month, Mr. Pence said.''
Training for those who would operate in mask making machines in Nigeria would begin in the 2nd week.
Week 3-4: Mass production would begin
Observation: If the United States would be busy producing masks for themselves, a plan B should be put in place. This group will negotiate and purchase masks production equipment and recruit people to be trained in the US for their use.
Logistics/Transportation group
This group will be responsible for the movement and transportation of members of the other groups such as
1. Research evaluation group
2. Design group
3. Production group
It will be led by the Air Officer Commanding Air Mobility Command, who would be required to relocate from Yenagoa to Abuja and would need to visit the United States to ensure the smooth transportation of the masks back home.
Other members will include a senior officer from the Nigerian Immigration Service, to facilitate the processing of passports, within six hours operational time would be the standard.
- A member of the foreign affairs ministry will be part of the group to facilitate the process of getting VISAS.
- Any other relevant professional.
-A representative of Nigerian Medical Council (NMA) to ensure medical compliance.
-A representative of NAFDAC to ensure compliance.
-A representative of Standard Organization of Nigeria (SON) to ensure compliance.
This is the time to ACT, but action must be guided by PLANNING!
Your own opinion articles are welcome at info@corp.legit.ng— drop an email telling us what you want to write about and why. More details in Legit.ng's step-by-step guide for guest contributors.
Contact us if you have any feedback, suggestions, complaints or compliments. We are also available on Twitter.
Stay with Legit and keep track of the latest news in Nigeria!
Coronavirus: Good Samaritan gives Lagosians free food as lockdown persists| Legit TV
Source: Legit.ng