Editor's note: Precious Bietonye, a political scientist based in Delta state, writes on the political failures of a former Akwa Ibom state governor, Senator Godswill Akpabio, in recent times. Bietonye posits that Akapbio's misfortunes and dramatic political fall is a good lesson for all.
Read below:
Nigeria has been plagued by bad leadership for so long that every facet of public service begs for change. A positive change. That change should start with you, yes you and I - the electorate. As long as you are up to voting age and privileged to have a permanent voter card (PVC) you can cause the change that Nigeria truly needs. It does not matter where you reside or what political party you belong, you can start the revolution to end bad leadership by getting involved.
As a student of the power struggle from the creeks of Niger Delta, I understand the effect of bad leadership. I have witnessed personally how long term corrupt and despotic leadership can destroy people. Here, in our region, the people have endured all manner of neglect, abuse and lack due to uncreative, unproductive yet very powerful oligarchs who are bent on holding on to power perpetually. But, something interesting happened in Akwa Ibom state (where I served my national youth assignment) during the last general elections, which should be a lesson for those determined to overthrow a tyrannical regime.
Many believe that Chief Godswill Akpabio is a defacto baalé of Akwa Ibom politics. That perception is outdated. Events of the 2019 general elections and the just concluded court-ordered senatorial/federal and state constituencies rerun elections have proven otherwise. Current facts show that he may have just been a lucky chap, who stretched his luck too far. His dramatic fall is a good lesson for all.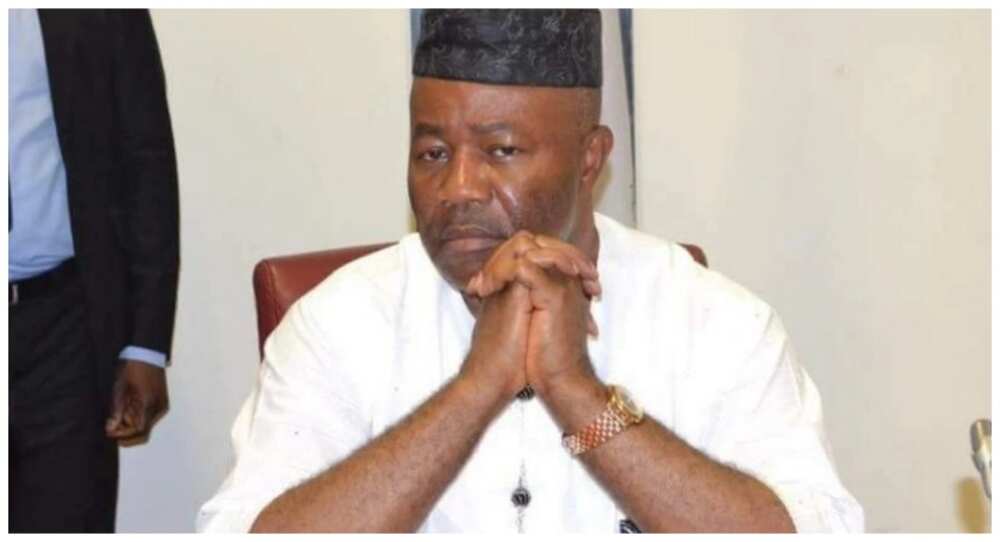 PAY ATTENTION: Get the Latest Nigerian News Anywhere 24/7. Spend less on the Internet!
Notorious for his uncanny ruthlessness and blunt oratory, Akpabio rose rapidly to national limelight during his days a governor of Akwa Ibom state. Similar to many leaders from the region, he promoted self-interest above everyone else. He took for granted the goodwill he enjoyed from his people and paid dearly for it. Presently, in Akwa Ibom state even right down to his hometown - Essien Udim, the once-beloved uncommon governor has lost the one thing that defines a leader - credibility.
Even with a very powerful appointment as the minister of Niger Delta Affairs, supervising the development of nine states, Akpabio can no longer command the influence he was once dreaded for. His fall from grace is a classic example of how to dethrone a tyrant. Before I continue, I will love to lay the background of this epic story, which I hope Nigerians will learn from.
Akwa Ibom state has been blessed with successive good leaderships since its creation in September 23, 1987 which is responsible for its rapid growth despite being a relatively young state. Its development was even more rapid after the federal government granted 13% from the sale of crude oil to oil-producing states. This windfall incidentally materialized starting from 2007, when Chief Godswill Obot Akpabio held sway as the state chief executive. The state became 'a giant project site' according to the state propaganda machinery. Many have been fooled by such intense media hype sponsored by that administration to believe that the people enjoyed its wealth during the period, but in reality, very few people close to power enriched themselves with public fund. That government reportedly stole close to millions, leaving debts for generations yet unborn. It is true that a lot of physical development took place within the Akpabio era, but reports show that most of the infrastructural projects were left unfinished, leading people to wonder whether they were mere conduits to steal from the public purse.
Before 2006, Godswill Akpabio was just another young man from Niger Delta, eking out a living in Lagos. He was unknown in that state's political circle until his predecessor, Chief Victor Attah, invited him to Akwa Ibom, where he was appointed as an aide to the governor. Some are of the opinion that he took a night bus back to Uyo. From there, Akpabio grew politically. His youthfulness and openness in a government that was generally viewed as conservative earned him huge following especially among the youth.
Buoyed by wide acceptability and support by the people, Akpabio emerged the governor of Akwa Ibom state in 2007, on the platform of the Peoples Democratic Party (PDP) after scaling through a tough governorship primary that had over 50 aspirants, some of whom were more popular than him. He served for two terms, ruling for eight years. During this period, Akpabio set out to prime himself as the sole political leader of the state. His first move was to diminish the influence of every other leader from the state. This led to the falling out with his predecessor, Chief Attah and a former close ally, Ambassador Sam Edem, chairman of the governing board of Niger Delta Development Commission (NDDC), former secretary to the federal government, late Chief Ufot Ekaette, his campaign manager, Senator John James Udoedeghe and several others.
His next move was to emasculate the state legislature, which he succeeded during his second term after ensuring that those he viewed as too independent-minded were not reelected. With a rubber-stamp legislature, Chief Akpabio had unrestrained access to the public till. He reportedly amassed uncountable wealth for himself, his extended family and an army of young men and women strategically selected from the 31 local government areas of that state. He empowered these youths and positioned them in key political offices. They were made to usurp power from the old brigade in their various localities and hand it over to Governor Akpabio.
As at 2013, Akpabio had accumulated so much wealth and ascended to the height of political power in the state. He was dreaded by all his opponents. Opposition political parties existed merely on pages of newspapers and operated from the residence of their sponsors. Nobody dared to stand up to Governor Akpabio.
One would have expected that with Akpabio's closeness to President Goodluck Ebele Jonathan, several federal projects in the state would be completed. Sadly, Akpabio's trips to Aso Rock were purely for personal reasons. The state benefitted next to nothing during Jonathan's administration even when the president was always visiting the state. Rehabilitation of Calabar-Itu highway, completion of East-west Road, Coastal railway and many other projects remained untouched. He only succeeded in alienating the president from every other politician in the state and the Niger Delta at large.
Only recently, Mr Mike Igini, the current resident electoral commissioner of INEC in Akwa Ibom reportedly alleged on Channel's television program, 'Sunrise' that before him "elections were not conducted in Akwa Ibom, the result were allocated." Many may be alarmed by this comment, but as someone who served in the state during an election year, I affirm Igini's statement.
Step back to 2018, when Chief Akpabio now a senator of the federal republic of Nigeria, made an uncommon mistake that cost him his credibility before Akwa Ibom electorate. Do not forget, before now he had successfully installed his successor, Governor Udom Gabriel Emmanuel, against all odds. Incidentally, having tried unsuccessfully to will his protégé to his whims, Akpabio attempted to hit back by pulling the rug from under Emmanuel's feet. Many assumed he ran to the All Progressives Congress, APC, to escape impending EFCC prosecution. Well, that was one of the reasons however, the main reason was his failed attempt to play god.
Not used to being asked to take the back seat, the former governor felt slighted by Governor Emmanuel and wanted to teach him a bitter lesson by withdrawing support from his second term ambition. Unfortunately, he chose to decamp to the very party that he spent eight years persecuting. Akpabio had so maligned the APC and its leadership that an average Akwa Ibom person till today sees the party as evil. So, when he now decamped to APC, his atrocities finally came a full cycle. The people now realized that it was not just the party that represented evil, but that their leader intended to visit this evil upon them for his personal gain.
To make matters worse, all through the 2019 electioneering campaigns, Akpabio was busy threatening the people with federal might. When the election day arrived, Akpabio failed to realize two critical pieces in the power game - he no longer has a conniving electoral umpire this time and most importantly, the people had summoned up the courage to reject him. Consequently, he failed to return to the Senate. All his boys failed too.
Today, Senator Godswill Obot Akpabio stands alone in defeat. His party now knows that Akpabio cannot win an election even in his home. He may have learnt, through yet another humiliating defeat at the rerun, that power is from God and it resides with the people. Nigerian electorate should realize that we own the power not the politician nor the political party. With our PVC, we can decide who serves us in whatever elective position and hence determine our collective future. We do not need an armed or bloody revolution, all we need is to vote wisely and defend our choice.
Disclaimer: The views and opinions expressed here are those of the author and do not necessarily reflect the official policy or position of Legit.ng.
Your own opinion articles are welcome at info@corp.legit.ng— drop an email telling us what you want to write about and why. More details in Legit.ng's step-by-step guide for guest contributors.
Contact us if you have any feedback, suggestions, complaints or compliments. We are also available on Twitter.
Stay with Legit and keep track of the latest news in Nigeria!
Abaribe asks President Buhari to resign, Nigerians react | Legit TV