Famous Bob Ross quotes to inspire you
The world learns from famous people that impacted the circles they were in when alive. This explains why Bob Ross quotes live on long after the famous painter died. You may learn a thing or two from his famous quotations.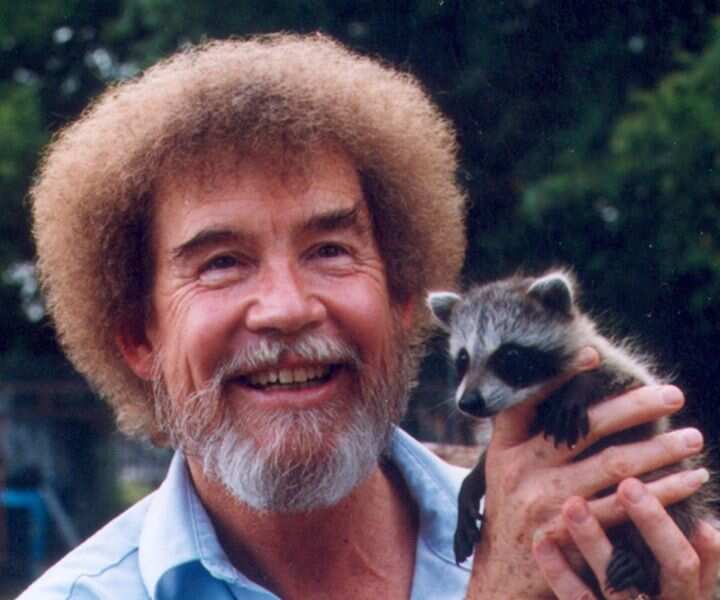 Whether you are looking for inspiration or to just have a hearty laugh, these quotes from Bob Ross will do the trick. They are categorized based on the different subjects they talk about. Enjoy!
Top Bob Ross famous quotes
When the artist is mentioned, chances are that some of the following famous quotes will come up. These are among the best Bob Ross quotes of all time. They include:
We don't make mistakes, just happy little accidents.
Learning not to take life too seriously is the secret to conquering it even when you make mistakes.
Talent is a pursued interest. Anything that you're willing to practice, you can do.
It is not just enough to be talented. Follow it up with a bit of practice and you will be unstoppable.
I guess I'm a little weird. I like to talk to trees and animals. That's okay though; I have more fun than most people.
Learn to find the little joys and pleasures in nature and you will be a happy person
Be so very light. Be a gentle whisper.
Don't be a person that carries baggage in their hearts. Let it go and flow easily.
Look around. Look at what we have. Beauty is everywhere—you only have to look to see it.
When you truly open your eyes, then you will be able to capture the beauty that is all around you.
It's hard to see things when you are too close. Take a step back and look.
Sometimes you need to take a few steps back to get the real perspective. Don't be afraid of the set-back that will push you forward.
See how it fades right into nothing. That's just what you're looking for.
People tend to focus on the elusive things in life.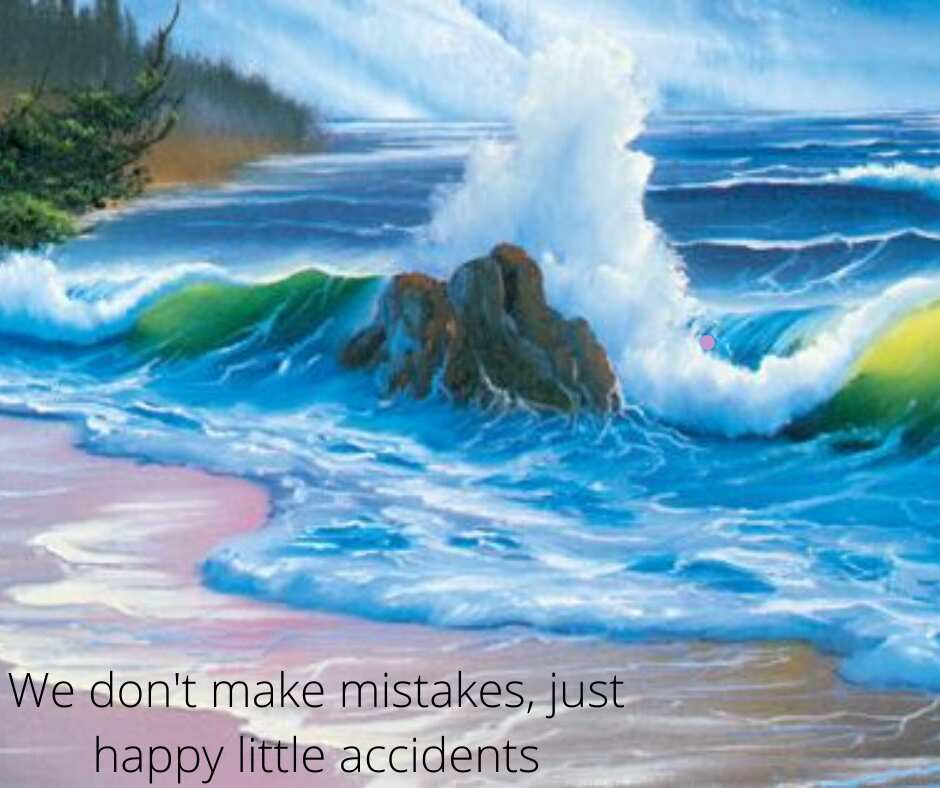 Bob Ross funny quotes
Humour goes a long way in making things easy for people. The right Bob Ross quotes funny will bring a smile to your face. When you laugh, then you open up doors for greater things ahead. Here are a few hilarious quotes by Bob Ross that will make you laugh.
We don't laugh because we feel good, we feel good because we laugh.
Laughter is only the aftermath of good vibes. Endeavour to always feel good and the rest will flow naturally.
People look at me like I'm a little strange, when I go around talking to squirrels and rabbits and stuff. That's ok. Thaaaat's just ok
As long as you are comfortable doing you, then what people think is inconsequential. Be happy!
Ever make mistakes in life? Let's make them birds. Yeah, they're birds now.
Funny as it sounds, learning to treat mistakes as birds with wings will relieve you of all the pressure. Let them fly away as you focus on self-improvement.
Shwooop. Hehe. You have to make those little noises, or it just doesn't work
Learn to make your work fun and the results will speak for themselves.
Water's like me. It's laaazy... Boy, it always looks for the easiest way to do things.
Sometimes being lazy is not a bad thing, it triggers creativity and fast solutions.
Bob Ross inspirational quotes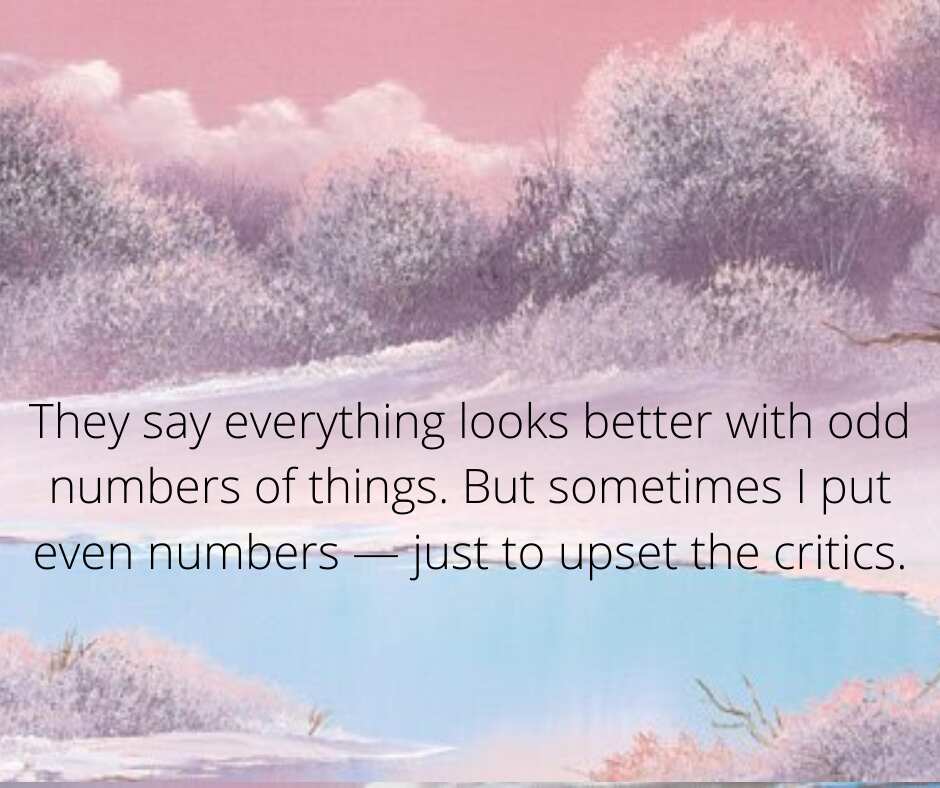 Getting the right inspiration can open up doors. Bob was a believer in the impossible as long as one focuses on doing their best. The following sayings are proof of this.
The secret to doing anything is believing that you can do it. Anything that you believe you can do strong enough, you can do. Anything. As long as you believe
Nothing is impossible as long as you believe it can be done.
You need the dark in order to show the light.
Do not be afraid of challenges, they teaches you to be stronger.
Believe that you can do it cause you can do it.
All power lies in believing.
There's nothing in the world that breeds success like success.
Stick around successful people and their zeal for succeeding will rub onto you.
No pressure. Just relax and watch it happen.
Learn to breathe and let things flow.
They say everything looks better with odd numbers of things. But sometimes I put even numbers — just to upset the critics.
Don't be afraid to be different. This is what will make you stand out to be counted.
However you think it should be, that's exactly how it should be.
Guard your thoughts jealously since this is what you end up doing most of the time.
Remember how free clouds are. They just lay around in the sky all day long.
True freedom comes with being stress-free and without any struggles.
You can have anything you want in the world — once you help everyone around you get what they want
There is something magical that happens once you learn how to help people. The ripple effects get to you eventually.
Isn't it fantastic that you can change your mind and create all these happy things?
Forget about being rigid if you want to be happy.
Don't forget to tell these special people in your life just how special they are to you.
We only live for a short time here on earth. Make sure your time counts by letting those you care about know it.
Bob Ross tree quotes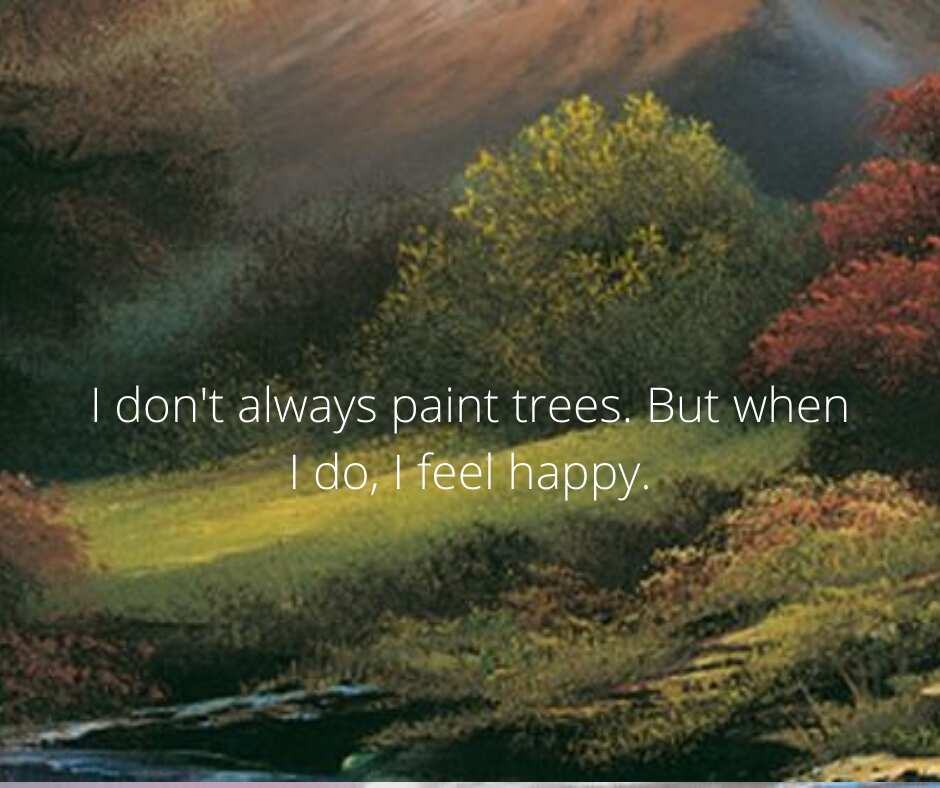 Bob loved nature and his interaction with trees and other plants was not surprising. In fact, a good number of funny Bob Ross quotes are related to nature.
Let's build a happy little cloud. Let's build some happy little trees.
Nature inspires creativity. Spend some time outdoors!
There's nothing wrong with having a tree as a friend
After all, friendship is about finding what gives you comfort.
I don't always paint trees. But when I do, I feel happy.
Trees have a way of inspiring happiness.
In nature, dead trees are just as normal as live trees.
Everything counts and matters, do not downplay any of it.
Maybe in our world there lives a happy little tree over there
We can all borrow from trees. They live easily and bother no one. Maybe this is what makes them seem so happy.
Painter Bob Ross quotes to live by
As an artist, Bob was celebrated for his painting works. You will come across art quotes Bob Ross is associated with. Here are a few examples to consider.
I can't think of anything more rewarding than being able to express yourself to others through painting. Exercising the imagination, experimenting with talents, being creative; these things, to me, are truly the windows to your soul.
When you do what you love best, then inspiring others through your work becomes easy.
Try to imagine that you are a tree. How do you want to look out here?
Sometimes you need to put your imagination to the test.
All you need to paint is a few tools, a little instruction, and a vision in your mind.
Creativity goes a long way in achieving perfection in painting.
Mix up a little more shadow color here, then we can put us a little shadow right in there. See how you can move things around? You have unlimited power on this canvas -- can literally, literally move mountains.
Painting allows you to explore and play around with colours. This is how you create masterpieces that live on long after you are gone.
Trees cover up a multitude of sins
That is too much burden on one tree but it is still okay and trees never complain. Maybe this is why they make the best of friends.
What can be painted can be punished.
Paintings communicate the deepest feelings of a person.
With the above Bob Ross quotes, one can easily see why he was a successful artist. Learning to take things easy and operate in a no-pressure zone is a unique skill that can go a long way.
Source: Legit.ng