Beth Chapman: life and death of the famous bounty hunter
Beth Chapman, born Alice Elizabeth Smith, was a renowned reality TV personality and producer. She is remembered for her role in the reality TV series dubbed 'Dog the Bounty Hunter,' 'Dog and Beth: On the Hunt,' and 'Dog's Most Wanted.' So, what is the story behind this famous star?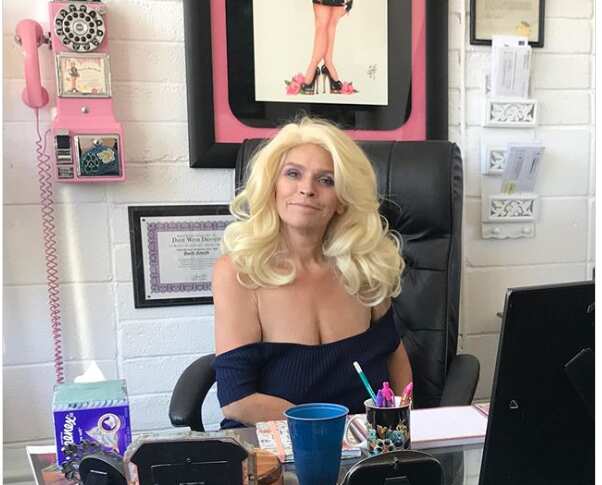 Even with her fame and fortune, Alice Smith Chapman's life was full of many ups and downs. Below we unravel the life of the Bounty hunter star.
Beth Chapman bio
Alice Elizabeth Smith was born in Denver, Colorado in a family of five children to Garry L. Smith who worked as a salesman at Brach's Candies. Her siblings are Tim, Randy, Melinda Lehmann, and Laurie Gallegos. Earlier in her career, Beth worked as a waitress, night club singer, clerk, gymnast, and ice skater. This was before she became the youngest certified bail bondsman in Colorado at 22 years old.
Alice Smith spent most of her early life in Colorado before she relocated to Honolulu to be with her husband Duane Chapman, also known as 'Dog.' Before becoming Duane's wife, Beth was previously married to Keith A. Barmore in 1991, and together they had a daughter, Cecily Barmore (1993). Nevertheless, Cecily was not Beth's only kid as she had given birth to Dominic Davis in 1985 when she was only 17 years old.
Dog and Beth Chapman
Alice and Duane first met in 1988 when Dog was still married to his third spouse. Duane Chapman was a 35-year old ex-convict, and Elizabeth was only 19 years old at the time. Duane pursued the reality star for several years before she accepted to be his girlfriend in 1995. Although the couple had been together for over a decade, they did not tie the knot until May 20, 2006.
Beth Chapman age
Beth Chapman was born on October 29, 1967. This means that she was 51 years old and would have turned 52 years on her birthday this October 2019.
Beth Chapman Dog the bounty hunter
Alice and Duane's recognition came about after Dog's bounty hunting efforts caught the attention of television producers. In August 2004, a reality TV series, 'Dog the Bounty Hunter' premiered on the screens. The show followed the lives of Beth and Duane and their business of chasing and detaining individuals in Hawaii and Colorado who had violated the terms of their release from custody.
The reality show lasted for eight seasons and ended in June 2012. Later on, Mr. and Mrs. Chapman were awarded a spinoff, 'Dog and Beth: On the Hunt' which aired for three seasons. The spinoff followed the couple as they visited struggling bail bond agencies across the globe and assisted them in getting their business back on track. This was followed by a two-hour special that documented Beth's journey of battling cancer.
Beth Chapman weight loss
When you are a celebrity, you will have fans as well as critics. For Elizabeth Chapman, this was no different as her busty figure was a topic of discussion for most of her career as a reality TV star.
In 2015, after the end of the spinoff show, Dog and Beth: On the Hunt, Mrs. Chapman decided it was time to lead a healthy and better lifestyle. Alice Smith embarked on a healthy meal plan that featured more fresh fruits and veggies as well as wholesome foods. Besides, Beth would also perform daily exercise. On 7th August 2016, Beth Chapman posted a picture flaunting her new toned down body. Beth had lost a whopping 50 pounds and proclaimed her excitement on her journey.
Beth Chapman weight loss cancer
After losing weight and becoming healthier, Elizabeth's worries were far from gone as in September 2017, she was diagnosed with a life-threatening illness, Stage II throat cancer. Big question, did Beth Chapman smoke? Throat cancer has three known causes which are smoking (both first and second hand), alcohol drinking and the human papillomavirus (HPV). Even though the cause of Mrs. Chapman's cancer remains unknown, Elizabeth used to be a smoker but stopped. Moreover, in some documentary, she voiced her concern about Duane smoking.
Lucky for the bounty hunter actress, she bet the 50:50 odds of surviving cancer but shed a lot of weight from the ordeal as a result. Later in 2017, it was announced that Elizabeth was cancer-free but the disease returned in 2018.
Beth Chapman death 2019
When Alice Smith discovered that she had Stage 2 throat cancer, a two-hour special known as Dog and Beth: Fight of Their Lives debuted on A & E. The show documented Beth's battle with the life-threatening disease and how it had affected their family. After several treatments, a pathology report showed that the reality star had beat cancer and was in remission. However, a year later, the ailment returned and this time it had spread to her lungs and was at Stage 4.
So, did Beth Chapman die? Beth Chapman died due to cancer-related complications on the morning of June 26, 2019, at Queen's Medical Center in Honolulu. During the filming of the new spinoff, 'Dog's Most Wanted' Beth Chapman fell ill. She was then rushed to the hospital and was put in a medically induced coma. The news of Beth Chapman dying was announced to the world by Duane Chapman who shared an emotional tweet. In his tweet, Dog wrote,
"It's 5:32 in Hawaii, this is the time she would wake up to go hike Koko Head mountain. Only today, she hiked the stairway to heaven. We all love you, Beth. See you on the other side."
Beth Chapman death 2019 is a heartrending reminder of the increase in throat cancer cases as well as the difficulties in curing it. One lesson we can learn from Beth Chapman cancer story is that early diagnosis is imperative. Oncologists believe throat cancer is harder to treat as certain tumors are beyond what the standard treatment procedures can cure. Therefore, it is best to catch the disease as early as possible. Common symptoms of throat cancer include voice issues, throat irritation, ear pain, or lumps in the tongue or throat.
Beth Chapman funeral
The bounty hunter television star was laid to rest in an emotional funeral service that was conducted in Aurora, Colorado on 13th July 2019. The funeral service commenced with a performance by renowned gospel artist Leah Shafer who sang a beautiful rendition of 'How Great Thou Art.'
Among the individuals to eulogize the talented reality star was pastor Marlon Saunders, her husband Duane Chapman and daughter Bonnie Chapman, who had nothing but beautiful words for the departed soul. Beth Chapman was then cremated, and some of her ashes were sprinkled in sea.
Indeed, the life story of Beth Chapman is an inspiring one, and although she succumbed to the illness, she was a brave woman.
Source: Legit.ng