Xiaomi Mi 9 Pro 5G release date, specs, review, price
Are you curious about the new Xiaomi MI 9 Pro 5G phone? With so many new and fabulous phones released this year, it can be hard to figure what is the best phone for you. This device from the Chinese company is a true marvel as it comes with incredible battery life as well as the latest Android OS in the market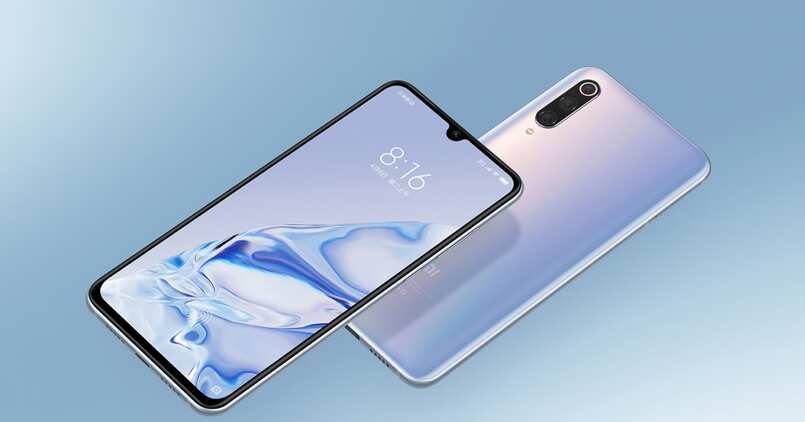 While Chinese brands may be looked down upon in favour of huge brands like Samsung, Apple and Google, they keep proving over and over again that they are good at what they do and that they can hold their own when it comes to competing with these huge giants.
Xiaomi Mi 9 Pro 5G release date
The smartphone was unveiled on 24th September 2019 by the Chinese company. For anyone in the US, the phone might not be launching in the United States, However, any keen buyers will have the chance to import the device. It officially launches in China on 31st October 2019.

An overview of the Xiaomi Mi 9 Pro 5G
There is nothing perfect. While the Mi 9 Pro 5G has some incredible features, it has its shortcomings too.
The good
Qualcomm Snapdragon 855+ processor
Triple cameras at the back
Huge internal storage
8 GB/12 GB RAM
20 MP front selfie camera
5G support
Liquid cooling technology
Wireless charging
The bad
No official release date for international customers
No SD card support
Xiaomi Mi 9 Pro 5G specs
Here are the specs for this handset.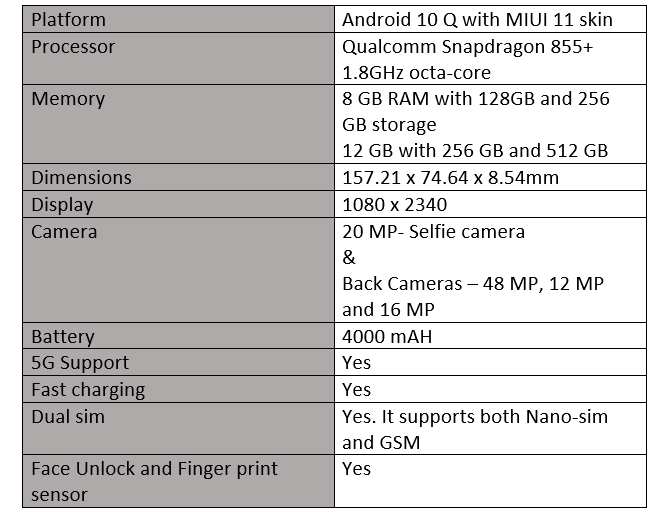 Here is a detailed Xiaomi Mi 9 Pro 5G review.
Xiaomi Mi 9 Pro 5G hardware
What is the quality of this phone's hardware?
Design
The handset comes in the sleek design that all Xiaomi devices are known for. Colour-wise, it comes in Dream White and Titanium Black. The white version is said to have a white base and it will flicker with thousands of different colours if you hold it up to the light. The black model will have a red ring around the back camera and at the power button to add a pop of colour on an otherwise black handset.
For both colour versions, the user gets an anti-glare and fingerprint resistant glass. This means that you no longer have to keep wiping the screen of your device on your clothes to get rid of the marks left whenever you are done scrolling.
The Xiaomi Mi 9 Pro 5G design features an artful 7-antenna design. The design means that whether you are holding the phone in portrait or landscape orientation, optimal signal reception is ensured, thus providing the ultimate 5G experience.
Display
The handset has a big screen. It comes with a 6.39-inch touchscreen display with a resolution of 1080 x 2340 pixels at a pixel density of 403 ppi (pixels per inch). Its aspect ratio is 19.5:9. The display is the OLED display that is quite common in the market.

Processor, storage and overall performance
The Mi 9 Pro 5G comes with the latest Snapdragon 855+ processor. This is good news to all potential buyers as it means that the handset will be quite fast in actualizing all commands given to it. To make matters even more exciting, the processor features:
1 core clocked at 2.96GHz
3 cores clocked at 2.42GHz
4 cores clocked at 1.8GHz
The Chinese company chose to outdo themselves when it comes to storage capacity and RAM of the handset. It should be noted that the phone shall come in two variants in RAM as well as three variants in storage space/capacity. The variants are:
8 GB RAM with 128 GB of storage
8 GB RAM with 256 GB of storage
12 GB RAM with 256 GB in storage
12 GB RAM with 512 GB in storage
The bigger storage capacities mean that one can store a lot of files without the handset ever crashing or slowing down. This is quite incredible if you ask me.
Due to the newer Snapdragon processor and the faster CPU clock speeds, the handsets are expected to have a 15% increase in graphics performance. High and faster performance means that the phone is bound to heat up much faster. To counter this, Xiaomi came up with a vapour chamber cooling system.
The Vapour Chamber has a heat dissipation area ​​up to 1,127mm2, which accommodates faster and more efficient heat transfer. This means that the Mi Pro 9's core temperature is reduced by 10.2 degrees Celsius, making this cooling system the best in the world at the moment.
Battery life
Imagine having a dead phone and being able to charge the same handset until full capacity in just sixty-nine (69) minutes. Well, this is what Xiaomi offers with its fast-charging system. Xiaomi put a huge amount of time and effort into coming up with the best battery and battery accessories in the market today.
The devices boast of a 4,000 mAh battery and a 45W charger. The charger is so impressive that it can be used to charge both the handset as well as a USB-C-based laptop. Seeing as the phone is compatible with wireless charging, they will also release a 30W wireless charger which will help with faster charging. With the 30W wireless charger, your handset will charge to full capacity in just 48 minutes.

There is also a reverse charging feature that enables the user to charge other devices such as wireless earphones, smartwatches and Bluetooth mouses. It is said that after seven hours of heavy use such as intensive gaming, you can expect 21% of power to remain.
Speaker and call quality
With the Mi 9 Pro, sound quality has been greatly improved. The device comes with a huge 1.04CC sound chamber, which is the largest sound chamber ever on a Mi smartphone. It comes with 1217 super linear speaker tuned with Mi Sound Algorithm for better sound quality. The company also introduced the latest Xiao AI 3.0 voice assistant. Any music played from the handset and any call received shall all be of incredible quality
It should be noted, however, that the handsets will not have an audio jack. The Mi 9 Pro comes with wireless headphones.
Mi 9 Pro 5G software
So, how effective is the phone's software?
Operating system and features
The premium handset sports the very latest in Android technology. The device comes with Android 10. This Android version has been praised for its promise and ability to keep information private as well as enabling apps to launch much faster. With the Snapdragon 855+ SoC, the handset will be quite fast in its real-time responses.
Camera, video and image quality
The company has chosen to fully outdo all others in the camera department. The Xiaomi Mi 9 Pro 5G camera is also very impressive. The handset has triple cameras at the back with each camera having a different megapixel from the other two. They are:
A 48-megapixel primary sensor from Sony with an f/1.75 aperture and a pixel size of 0.8-micron. Vidoe quality - 2160p@30/60fp
A 12-megapixel portrait lens and 1080p@30/120/240fps video quality
A 16-megapixel super wide-angle lens and 1080p@960fps quality videos
Both the 12 and 16-megapixel cameras have an f/2.2 aperture and a pixel size of 1.0-micron. All the rear cameras are auto-focus enabled. The front or selfie camera has 20 megapixels with an f/2.0 aperture and a 0.9-micron pixel size. While all three cameras have the HDR feature, only the back cameras sport the panorama and Dual-LED flash features
Xiaomi Mi 9 Pro 5G price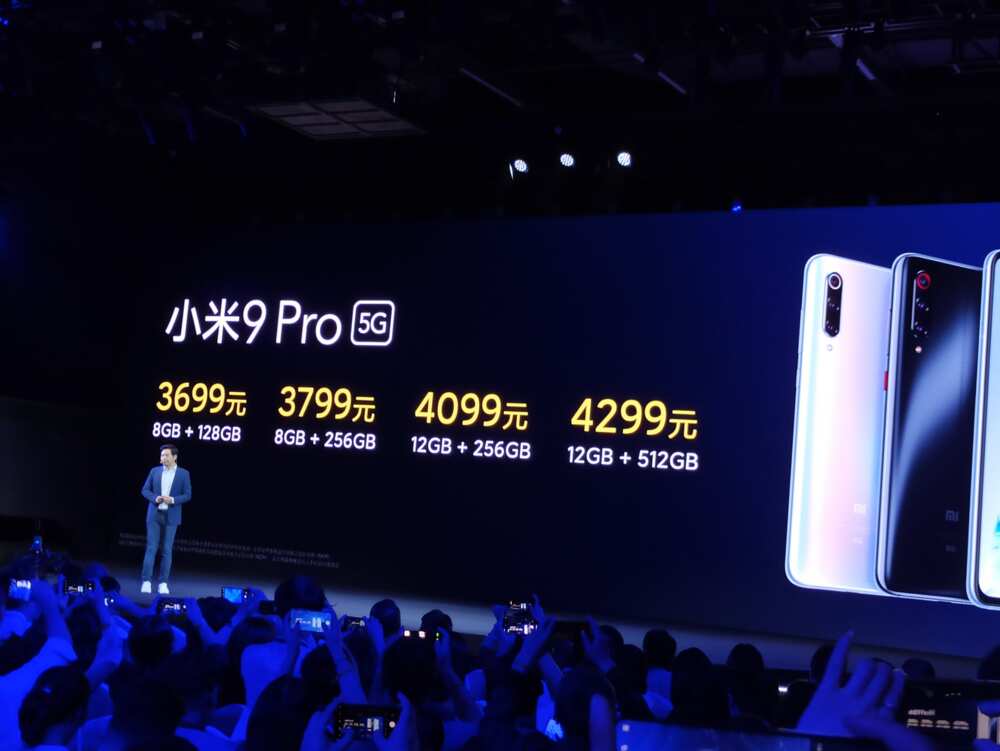 Seeing as the devices shall first be available for sale in China come 31st October, the prices are in Yuan. We have, however, converted the prices to US Dollars.
8 GB RAM + 128 GB storage - 3,699 Yuan which is equivalent to $523
8 GB RAM + 256 GB storage - 3,799 Yuan which is equivalent to $537
12 GB RAM + 256 GB storage - 4,099 Yuan which is equivalent to $580
12 GB RAM + 512 GB storage - 4,299 Yuan which is equivalent to`$607
Please note that the converted prices are liable to change as the exchange rate is ever-changing. International buyers (anyone not in China) shall have to wait for several weeks or possibly months before the devices are available to them.
Verdict
So, is Xiaomi Mi 9 Pro 5G a good phone? Is it worth your hard-earned money? Yes. Not only is it very well priced, but it also has some great features that are not found in some upcoming and already released 2019 phones. So, if you can hold off getting a new smartphone until the Mi 9 Pro 5G is available, then we would highly suggest that you do so.
We hope that this information has helped you gain some insight into the Xiaomi Mi 9 Pro 5G handset and that it makes your decision to get a new phone much easier.
Source: Legit.ng