Tyson Fury bio: career highlights, wife, mental health, net worth
Tyson Fury is one of the most famous English professional boxers. He is known for his speed, accuracy in landing punches, intelligence, discipline, and defense skills. Throughout his career, he has won numerous titles. His industrious boxing career is a result of many training hours to perfect his boxing skills. He has also represented his home country in international boxing matches.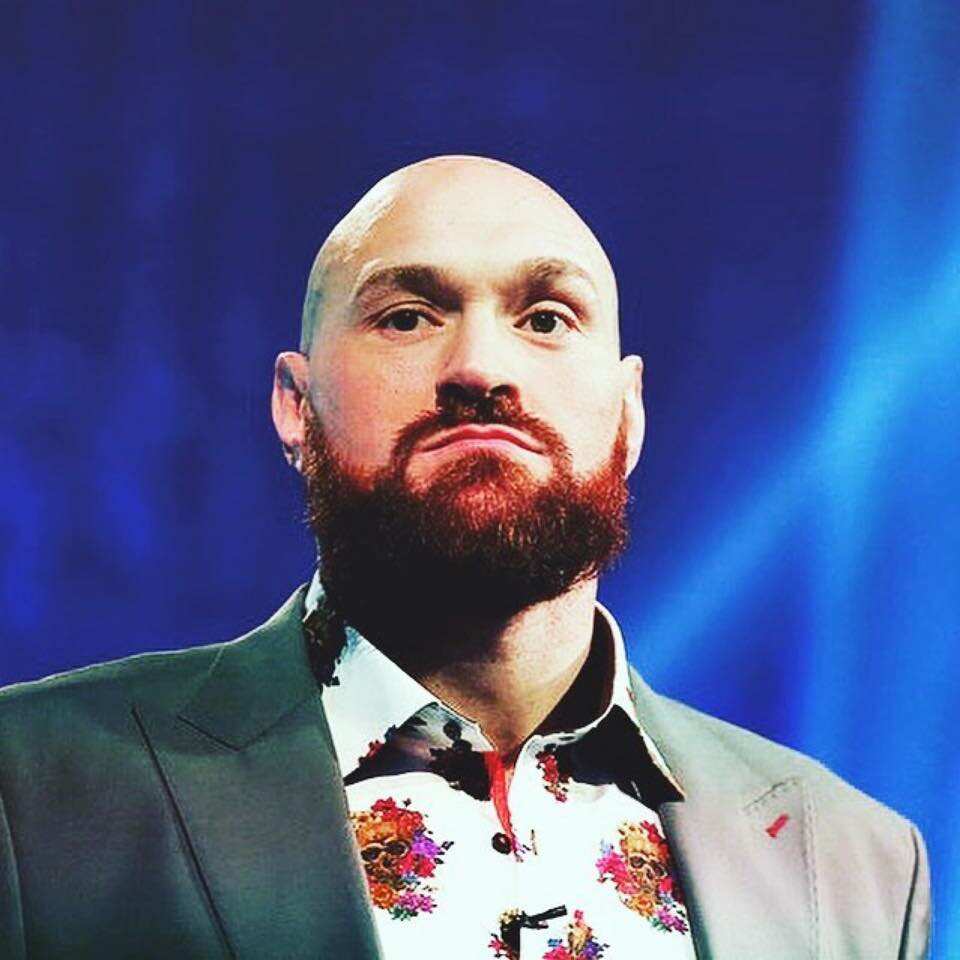 Tyson Fury came to the world on the 12th of August 1988 in Wythenshawe, Manchester, England. Leo is his star sign, and his nationality is British. His full name is Tyson Luke Fury, and he comes from a family with Irish roots. Presently, Tyson Fury age is 31 years. He is a successful professional boxer whose nicknames are Gypsy King, The Furious One and 2 Fast.
Profile summary
Name: Tyson Luke Fury (commonly known as Tyson Fury)
Nicknames: Gypsy King, The Furious One, 2 Fast
Age: 31 years
Date of birth: 12th of August 1988
Place of birth: Wythenshawe, Manchester, England
Nationality: British
Zodiac sign: Leo
Ancestry: Irish
Height: 6 feet 9 inches (206 centimetres/ 2.06 metres)
Weight: 117 kilogrammes (257 lbs)
Measurements: 44-34-37
Shoe size: 12 (U.S.)
Biceps: 16 inches
Eye colour: Hazel
Hair colour: Dark brown
Father: John Fury
Mother: Amber Fury
Spouse: Paris (m. 2008- present)
Children: 5 (Venezuela, Prince John James, Prince Tyson Fury, Valencia Amber, Prince Adonis Amaziah)
Profession: Professional boxer
Net worth: $40 million
Tyson Fury family background
Gypsy King comes from an Irish background. His paternal grandfather came from Tuam in County Galway. John Fury, his father, was born in Tuam. His maternal grandmother's homeland is County Tipperary. His mother, Amber Fury, was born in the Belfast area.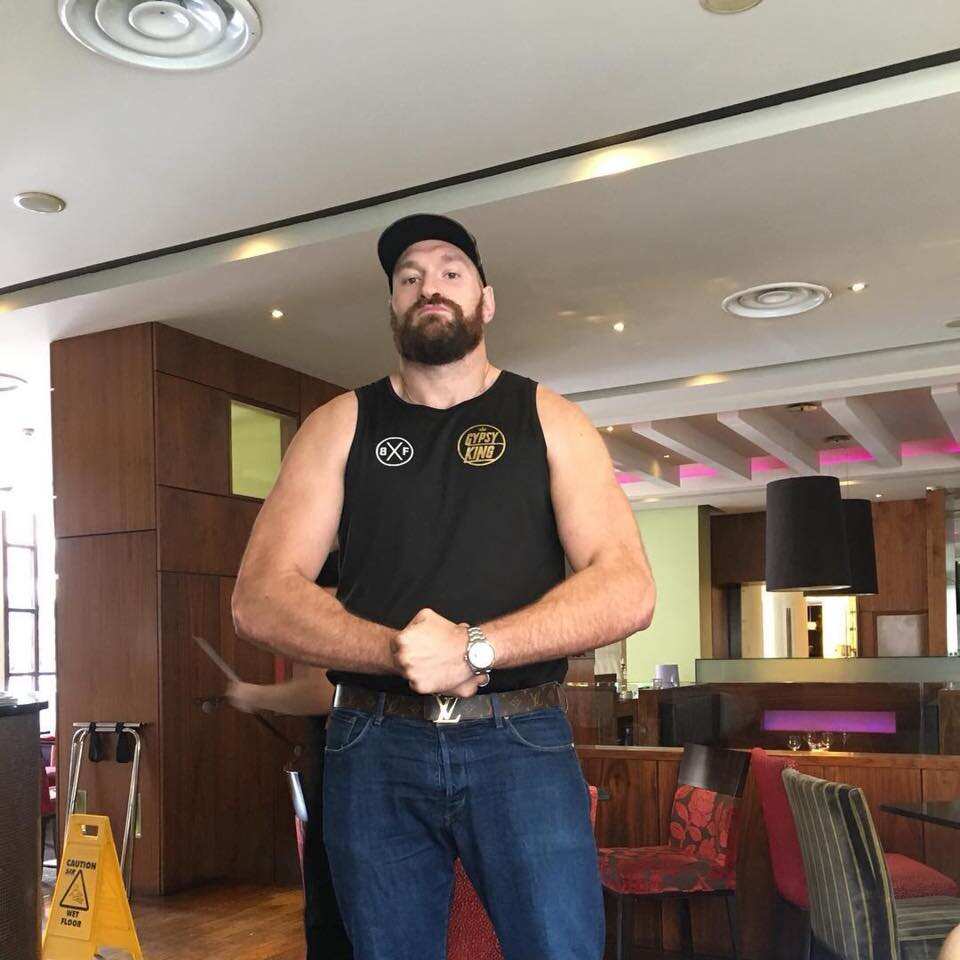 The boxer was born prematurely and only weighed one pound at birth. His dad, John, named his son after Mike Tyson. At the time, Mike Tyson was the reigning heavyweight boxing world champion. John gave him the name with the belief and faith that his son would fight to survive. Before Tyson, the family's two newborn daughters had died. Both of them had been delivered prematurely as well. Gypsy King has three brothers.
Interestingly, 2 Fast is not the first boxer in the family. He was born into a family of boxers. His father was a professional boxer who entered various competitions in the 1980s under the moniker, Gypsy John. Initially, he was an unlicensed boxer. He got his license later. Some of the other professional boxers in the family are Hughie Fury, Nathan Gorman, Hosea Burton and Andy Lee. The four of them are Tyson's cousins.
Other distance relatives who are boxers are Bartley Gorman and Uriah Burton. Both Bartley and Uriah are known as the Kings of the Gypsies. Tyson Fury brother, Tommy Fury, is also a professional boxer who was a contestant on Love Island in 2019. Tommy's mother is Chantal.
Although Tyson identifies with the Irish community, he has unsuccessfully tried to gain dual citizenship in Ireland and England. The lack of success is because no one recorded John's birth civilly in the 1960s. At the time, births were only recorded through a Church baptism instead of state registrations as is the case today.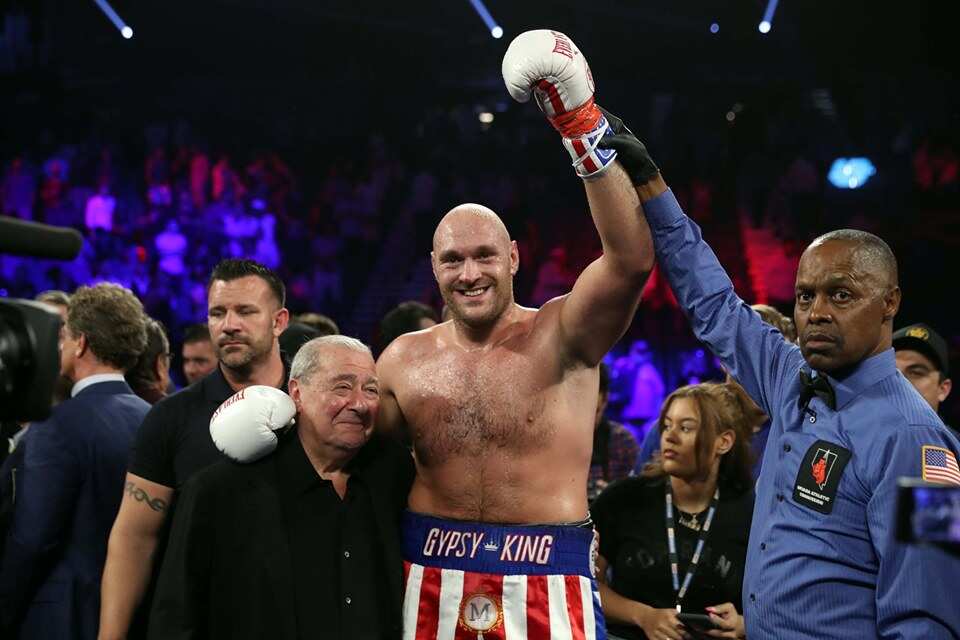 Tyson Fury height and measurements
Gypsy King stands at a height of 6 feet 9 inches (206 centimetres/ 2.06 metres). Tyson Fury weight is about 117 kilogrammes (257 lbs). His biceps have a circumference of 16 inches. His chest, waist and hip measurements are 44, 34 and 37 inches, respectively. The boxer has hazel eyes, and his hair is dark brown. He wears size 12 shoes in U.S. measurements.
Early life
When Tyson was 11 years old, he stopped going to school. Instead, he joined John in tarmacking roads. His three brothers were also doing the same job. Amber, the boys' mother, got pregnant 14 times, but only the four brothers survived. In December 1997, she delivered a daughter and named her Ramona. Ramona died a few days after birth. Her death was hard for the family, especially for Tyson, who was then nine years old.
Gypsy King started boxing when he was 10 years old. It was his way of coping with the troubles that weighed him down. At the time, John was his personal trainer. In 2011, John was incarcerated for removing another Traveller's eye during a fight. Unlike what he did, John had trained his son not to ever fight outside the ring. The boxer never got into trouble with the authorities.
Career
2 Fast started his career as an inexperienced boxer. Later, he became a professional one through a lot of hard work. His career timeline is as follows;
The amateur period
During his amateur years, Gypsy King was working with the Belfast-based Holy Family Boxing Club. He later joined the Smithboro Club that was based in the Republic of Ireland. In his amateur years, he represented England and Ireland in international matches.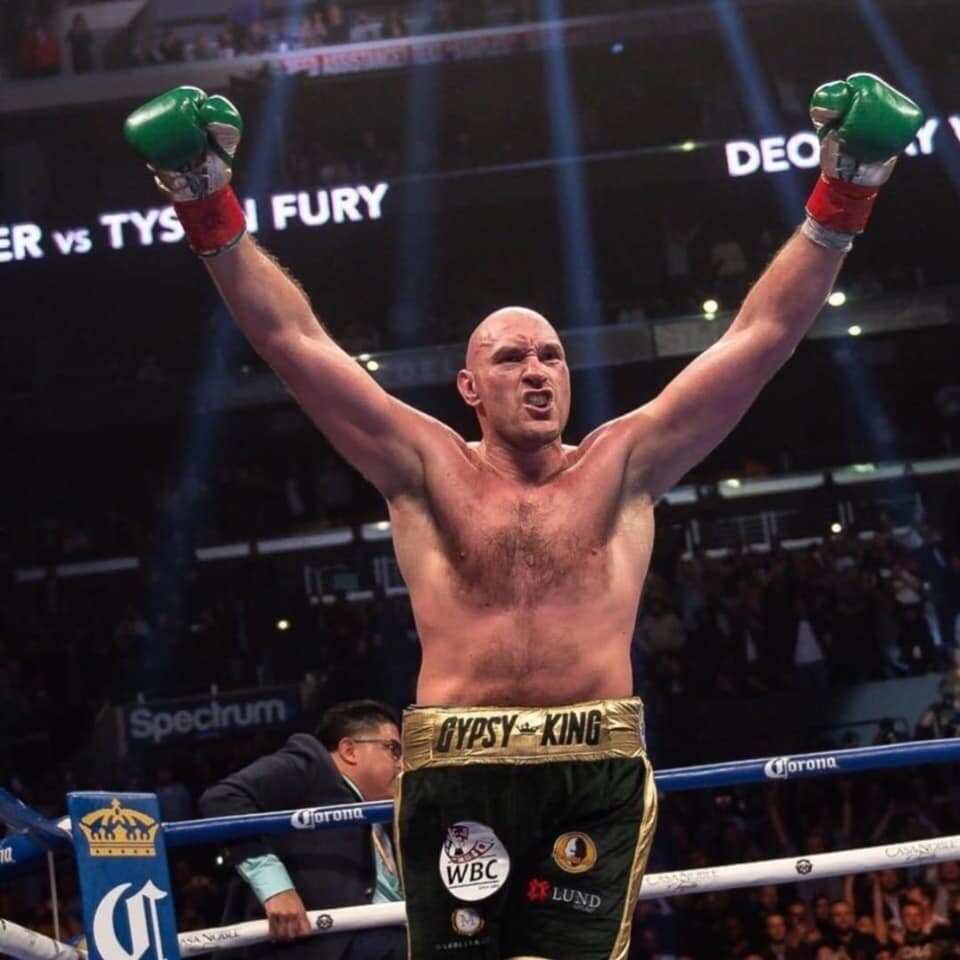 In 2006, Gypsy King took part in the senior national championships. He was the representative of Jimmy Egan's Boxing Academy that is based in Wythenshawe, Manchester. David Price won the game. In 2007, he took part in a double international match where the opponent was a seasoned Polish team. His team lost 12-6, but Gypsy King won the two fights he took part in. Later, the team faced the United States team. He won his via knockout.
He also participated and won the 2007 EU Junior Championship against Istvan Bernath. In July that year, he bagged the silver medal in the European Junior Championship. He lost to boxer Maxim Babanin. In his junior years, he was ranked third after Andrey Volkov and Maxim Babanin from Russia. He did not, however, represent Britain in the 2008 Olympics. David Price represented the country instead.
The boxer then attempted to get chosen for the amateur Olympic programme, but he was unsuccessful. Calls for him to drop out of the Irish national championships were made.Holy Trinity Boxing Club's officials argued that he did not qualify because Ireland was not his country of birth. Despite the unfavourable circumstances, 2 Fast won the 2018 ABA super-heavyweight. The amateur games made him feel disillusioned, so he chose to become a professional.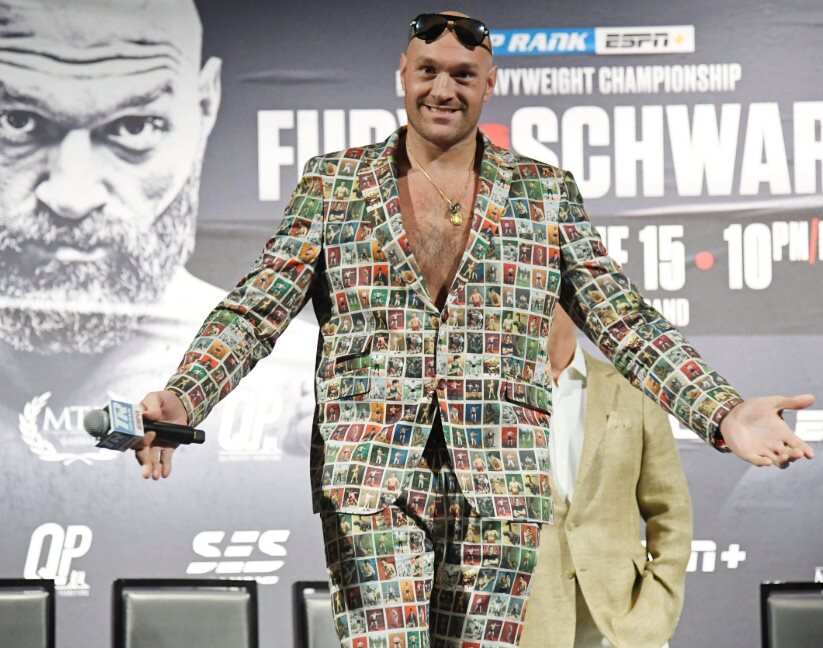 Professional career
Gypsy King began his career as a professional boxer when he was 20 years old. His first game was on the 6th of December 2008 when he faced Bela Gyongyosi from Hungary. He won in the initial round. In the next seven months, he was in the ring six more times, all of which he won. In September 2009, he faced John McDermott and won the English heavyweight title.
He later faced Hans-Joerg Blasko and Tomas Mrazek and won both matches. In July 2011, he played against Dereck Chisora. Tyson Fury record in this game was 117 to 112, 117 to 112 and 118 to 111. He was the winner. In his early career as a professional, he also played against the following boxers;
Nicolai Firtha: The non-title match took place on the 17th of September 2011. 2 Fast emerged the winner.
Neven Pajkic: The match took place on the 12th of November 2011. He defended his Commonwealth heavyweight title at Event City, Trafford Park, Manchester.
Martin Rogan: The game took place on the 14th of April 2012 at the Odyssey Arena. Gypsy King was on a quest to win the future world title.
Vinny Maddalone: He faced Vinny at the Hand Arena on the 7th of July 2012. Both sought to win the WBO Inter-continental heavyweight belt.
Kevin Johnson: He faced Kevin on the 1st of December 2012 at the Odyssey Arena. Gypsy King won.
Steve Cunningham: The match took place on the 20th of April 2012 at the Madison Square Garden Theatre. Tyson won.
Joey Abell: The match happened on the 15th of February 2014. Initially, Tyson was set to face Gonzalo Omar Basile, but he pulled out following an infection of the lungs.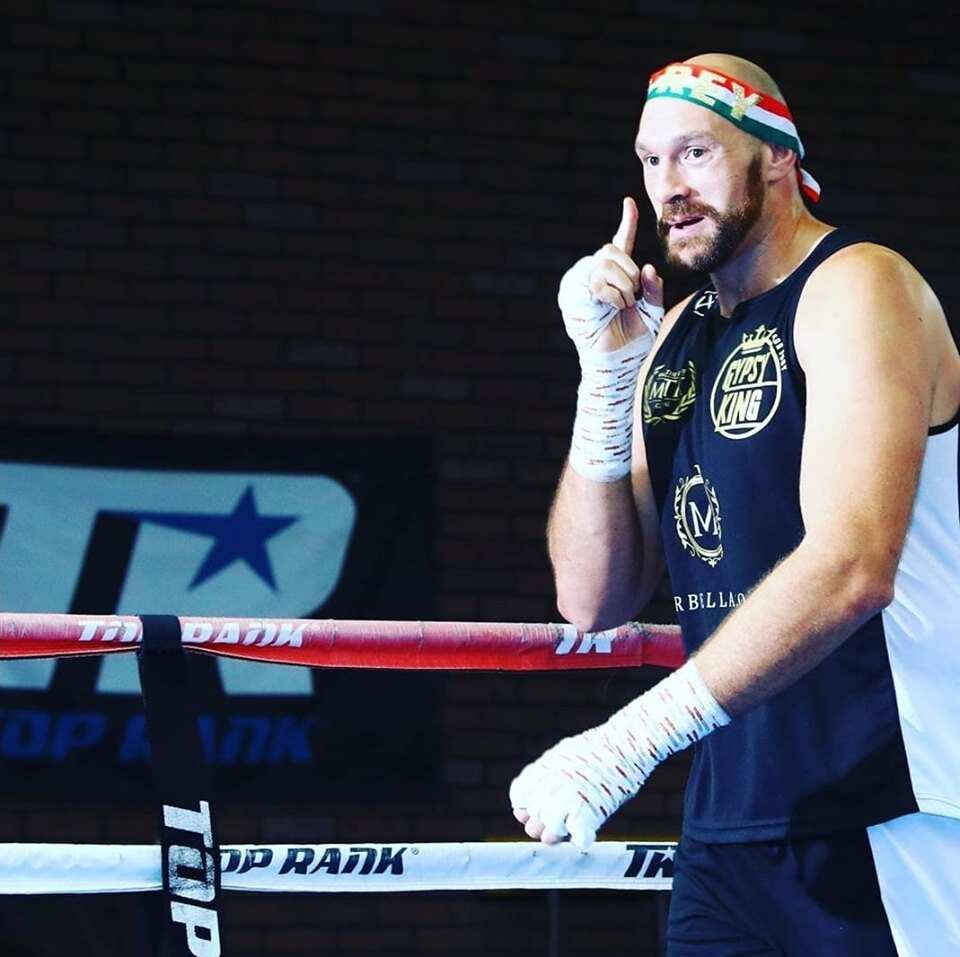 European heavyweight champion
Tyson Fury highlights in the European heavyweight championships were;
He faced Dereck Chisora on the 29th of November 2014. He beat Chisora.
He faced Christian Hammer on the 28th of February 2015. He won the match.
Unified heavyweight world champion
Tyson Fury main highlight in the Unified heavyweight world championship was;
He faced Wladimir Klitschko at the Esprit Arena in Germany on the 28th o November 2015. Before this match, he trained with the best trainers. He won but lost his winning belt after ten days because he did not meet all the contract terms for the fight.
Surrendering world titles
Gypsy King was set to have a rematch in his hometown against Klitschko. However, he gained a lot of weight before the game and reportedly had no motivation whatsoever to face his opponent. In June 2016, Gypsy King and his cousin were charged for being in possession of nandrolone by the UK Anti-Doping agency. He later failed a cocaine drug test.
Shortly after all these issues, Gypsy King came forward to explain that he had been battling both depression and a form of bipolar disease. He was also declared medically unfit for any match. The boxer decided to relinquish his IBO, WBO and WBA (unified) heavyweight titles because he was unable to defend them. At the time, he wanted to stay away from the media to seek proper medical attention. His boxing license was revoked on the 13th of October 2016.
Comeback
On the 23rd of December 2016, Gypsy King announced that he was back in training and was preparing for his comeback in April or May 2017. Later, he announced that he would return to the ring on the 13th of May 2017. Hours after the announcement, the British Boxing Board of Control announced that he was still suspended from the sport.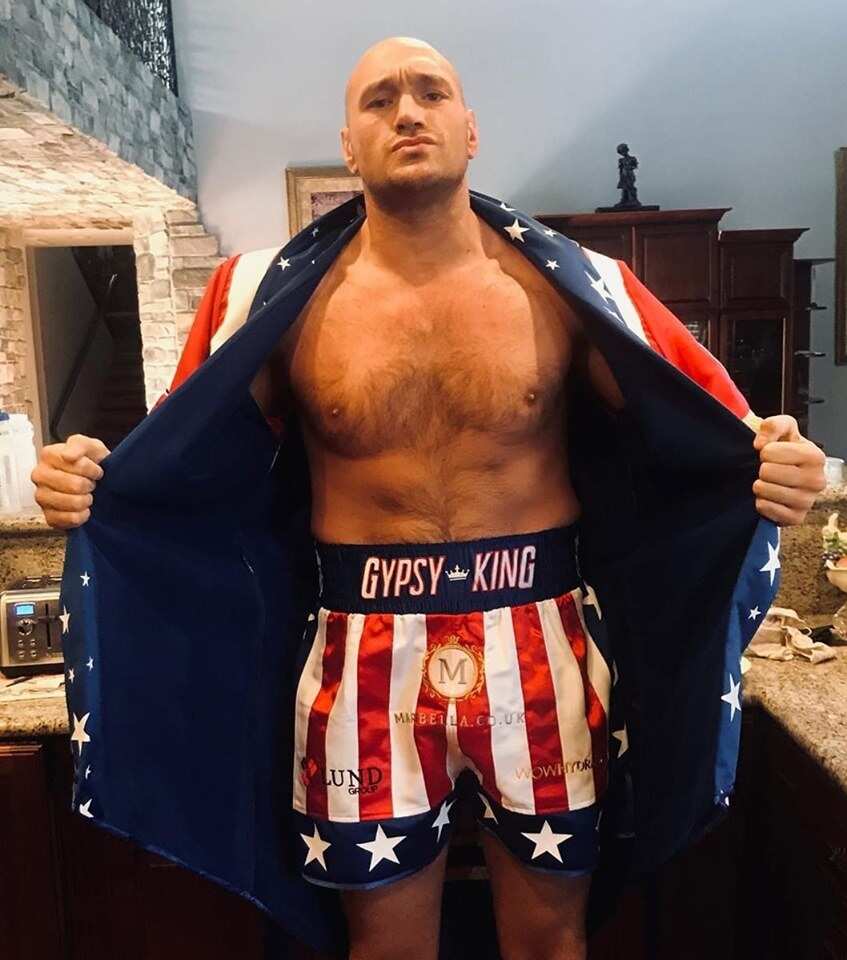 The board later announced that it would consider renewing Tyson's license after the nandrolone case was settled. On the 12th of April 2018, Gipsy King announced that he had signed a multi-fight contract with Frank Warren's Queensberry Promotions. He further stated that he wanted to fight three big matches before 2019. He lost weight and was declared medically fit for the games.
His first big fight was against 39-year-old Sefer Seferi. He won. He later faced and beat Francesco Pianeta. After his big comeback, he contested the WBC heavyweight championship in September 2018. He was to face Deontay Wilder in a game that would see him bagging approximately $10.25 million (£8 million). After 12 rounds, the match ended in a draw and Wilder retained his WBC belt. The viewers of the game felt that Gipsy King deserved the belt.
2019 ESPN contract
The latest career milestone for 2 Fast is his contract with ESPN. He recently signed an agreement with this company. According to the contract, he would be participating in five major fights. On the 15th of June 2019, he faced Tom Schwarz, a heavyweight champion, in a match that took place in Las Vegas. On the 14th of September, he faced Otto Wallin at the T-Mobile Arena in Las Vegas, where he emerged the victor.
Nominations and awards
Throughout his career, the boxer has been nominated for some awards. He won some of them. His nominations and awards include;
In 2006, he won the bronze medal at the AIBA Youth World Boxing Championships.
In 2015, he was nominated for the BBC Sports Personality of the Year Award. However, over 50,000 people signed a petition for him to be disqualified.
In 2018, he was nominated for five different Ring Magazine awards. The five nominations were Comeback of the Year, Round of the Year (Round 12 versus Wilder), Fighter of the Year, Event of the Year (Fury versus Wilder) and Most Inspirational awards. He won two of these, that is, Comeback of the Year and Round of the Year awards.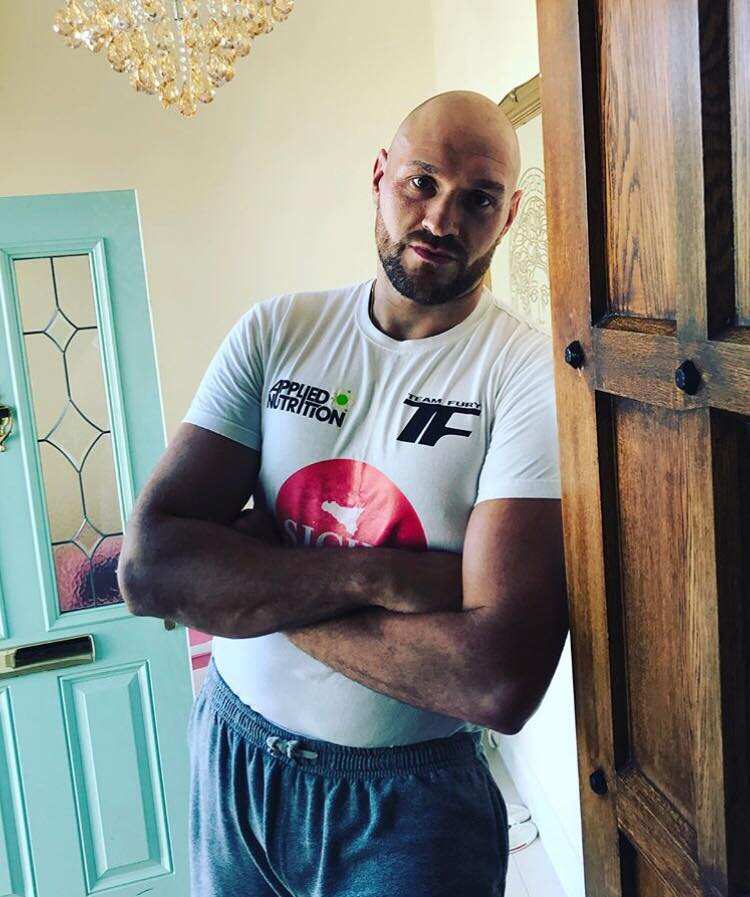 Tyson Fury net worth
Gypsy King is a wealthy man who has participated in many championships and won many titles. His net worth continues to increase each time he signs luxurious deals with different boxing labels. His estimated net worth in 2018 was $40 Million. Recently, his net value increased by £80million (approximately $98.27 million) after he signed a contract with ESPN.
Tyson Fury mental health
2 Fast has openly talked out his struggle with mental health, particularly with depression. He battled the condition after realising that he was on a self-destruction journey. According to him, his upbringing contributed to the problem. No one in his family talked about their feelings and emotions.
Instead of addressing his problems in adulthood, he coped by using recreational drugs and alcohol. He used steroids between 2015 and 2017. In 2016, he admitted that he was using cocaine, so he lost two of his world heavyweight titles.
In addition to depression, he was also diagnosed with a type of bipolar disease. Suicidal thoughts plagued him. He was not happy even if he had a lot of money that could afford him luxurious things. One day, he was driving at a deathly speed of 160 miles per hour on his way to brunch. Just as he wanted to kill himself, a voice inside stopped him, and he pulled the vehicle over.
After making the stop, he called his family and explained that he was suffering from depression. With their support, he sought medical attention. Today, he talks about his struggle to encourage others who are affected to ask for help instead of giving up on themselves.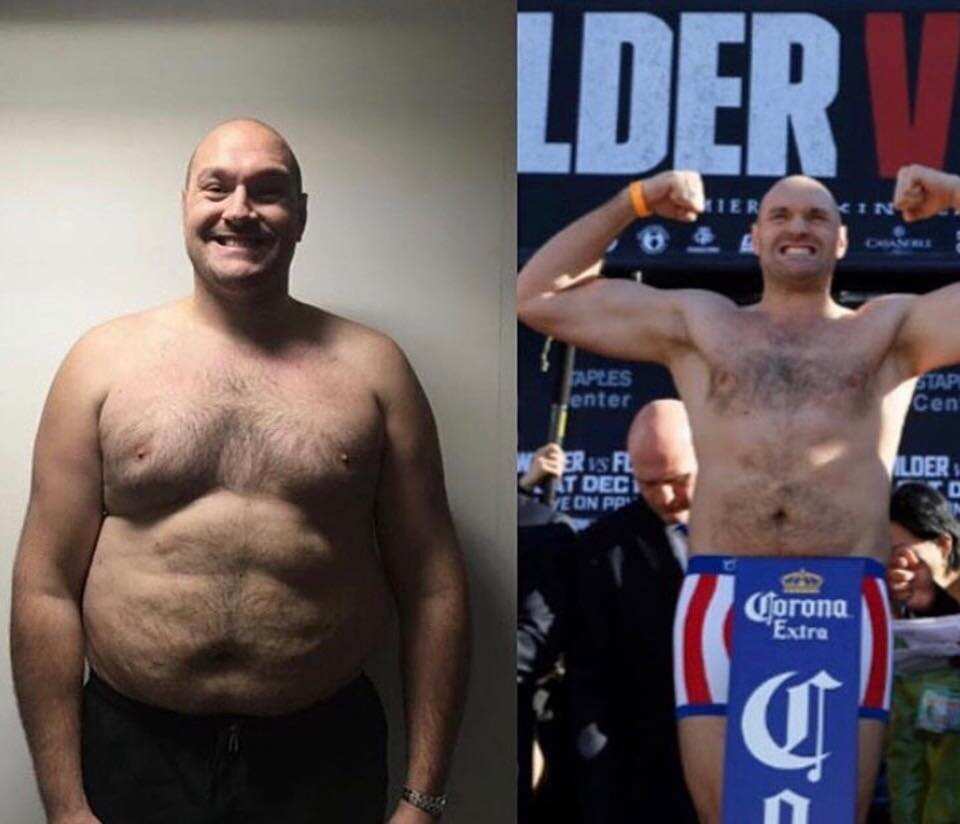 Controversies
When one is in the limelight, they must be careful about what they say. In most cases, celebrities find themselves at the centre of different controversies, and 2 Fast is no exemption. After he became recognised as a world champion, many media houses scrutinised his words, including those from his past.
The first controversy was related to the statement that he would kill his sister by hanging if she was ever promiscuous. He had also condemned homosexuality, abortion and paedophilia before his Klitschko fight. According to him, these actions would lead to Biblical reckoning. These statements irked many people who protested against his nomination for the BBC Sports Personality of the Year Award in 2015. He apologised for uttering such words.
In his former years, the boxer was known for this flamboyant antics. He would arrive at press conferences in flashy cars and a Batman costume. Often, this would incite mixed reactions from people across the world. In late 2017, he admitted that the flashiness was one of his coping mechanisms when he was in the deep murk of depression. To deal with his situation, he sought help and lost weight.
Tyson Fury weight loss saved his life. He went down to 18 stone from 22 stone. Today, he is a healthy boxer who does not use dr*gs or alcohol. Many people call him The People's Champion. He earned the name because he openly talks about his struggles, and admits his mistakes without any shame.
Autobiography
Gypsy King recently decided to publish an autobiography, Behind The Mask: My Autobiography. The book will be published by Penguin Random House and will be released on the 14th of November 2019. The release will be preceded by a documentary series on ITV dubbed Meet the Furys. The documentary will air in four episodes and will be about his family.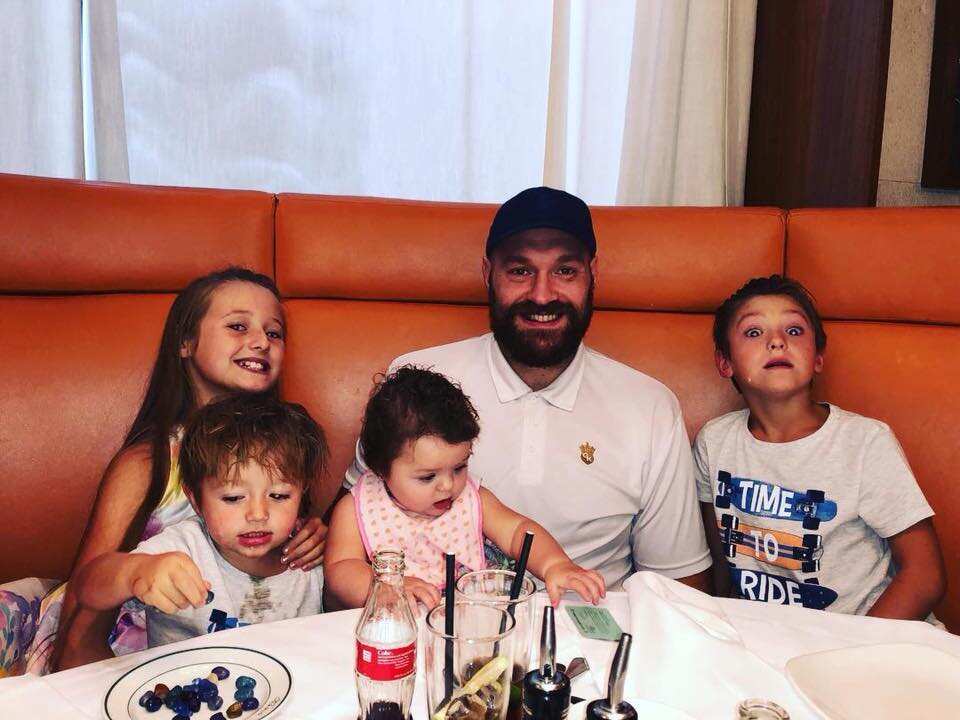 Marriage and family
Paris Fury is the name of Tyson Fury wife. The boxer first met her when he was 17 years old at a friend's wedding. She was 15 years old at the time. Both 2 Fast and Paris were raised in Gypsy families. They began dating one year after their first meeting and got married in 2008. The wedding ceremony was held at St. Peter In Chains Catholic Church, Doncaster.
The couple has five children, and the family lives in Morecambe, Lancashire. The first child, Venezuela, was born in 2009. Prince John James was born two years after Venezuela. The third child, Prince John James, was born in 2016. Their fourth child, Valencia Amber, was born in 2017. In March 2019, the fifth child was born. His name is Prince Adonis Amaziah.
Charity
Gypsy King is involved in different charity projects. He is an ambassador of The Frank Bruno Foundation, which deals with mental health. He is also involved in homeless charities. In February 2019, he donated £7 million to charity. He had earlier on promised to give the amount after his fight with Deontay Wilder. Although he did not confirm which organisations received a donation, he assured people that he had fulfilled his promise.
Social media
Gypsy King is active on various social media platforms. He has an Instagram account with over 2.2 million followers. He also has a Twitter account with a following of over 1.2 million. On the other hand, his Facebook page has over 250.9k followers.
Tyson Fury is a famous professional boxer who was born in England. He comes from a family of Gypsy boxers and started his career as an amateur. Since becoming a professional, he has won numerous championships. Besides boxing, he is a family man with a beautiful wife and five children. He is also actively involved in charity work.
Source: Legit