Chidinma - Holy: video, lyrics, reactions
The talented Nigerian artist is back with her brand-new record Chidinma – Holy. You will love this beautiful song. Praise the Lord together with this sincere musician.
All songs of the Nigerian diva are genuine and candid. You can feel the love for God in every word she sings.
Chidinma – Holy description
Released: August 23, 2019
Format: mp3, video
Genre: Gospel
Length: 5:51 min
Label: 40tified distributed by Inglemind Digital
Producer(s): Frank Edwards
The soft tune of the record and the sweet voice of the artist create a perfect atmosphere for praising the Lord. Every word of the track reverberates through your whole body. It is impossible to resist the song's enormous spiritual energy.
Chidinma – Holy reviews and comments
If you are curious about what others think about the record, here is what YouTube users say about it:
Godwin Zartey: I don't understand the language but I really love this song.
Bertila Burinyuy: I'm so blessed after listening to this song. God wants you to use this beautiful voice of yours and win more souls for his kingdom.
Seth Odoi: Powerful song. I think the beautiful lady should be doing more of the gospel songs. I really love this voice.
Bih Thelma: Wow, so touching.
Taiwo Omotunde: This song came at the right time. It's full of God praises, it is amazing, and it will surely lift up so many souls.
Maranatha Johnson: This is dope. Kudos Chidinma. I think you should do more of gospel music, you connect well with it.
Nana Rae: Chidinma should focus on Christian records. She is really good at it.
Archange Achouna: Wow, I'm speechless, amazed by her voice, and the song is just... transporting.
READ ALSO: Judikay - Song of Angels: audio, lyrics, reactions
Adenike A.: She's super talented. Thanks for blessing us with your beautiful amazing voice!
Ola Kelani: This is so lovely and powerful. I've watched it over and over and over!!! So beautiful.
Chima Oche: This song melted my soul.
Mary Oyewale: This is heartwarming. I felt goosebumps all through.
Cesca Slim: I feel the presence of the Holy Ghost as I sing to this song of praise. I'm blessed.
Prince Ngesi Nnamdi: I'm thrilled with how you switched to becoming a gospel singer. This is who you truly are, and God will take you to wonderful places you never imagined. God bless you for this wonderful song and for being yourself.
Nikky Love: Wow! So uplifting, edifying, astonishing, thank you for this, more grace darling.
James Sunday: Couldn't hold back my tears.
cityen z: Great! I like your voice. Keep on moving, baby.
All time: This song is very touching.
bakia pauline: Deeply touched.
Cathetine prunelle: My favorite music.
rozette pajibo: Beautiful song. Indeed, God is Everything. Love you dear. God bless you for this sweet voice that you are using to bless the lives of his children.
Jume Jume: You heal my heart with this sweet melody.
Chidinma – Holy lyrics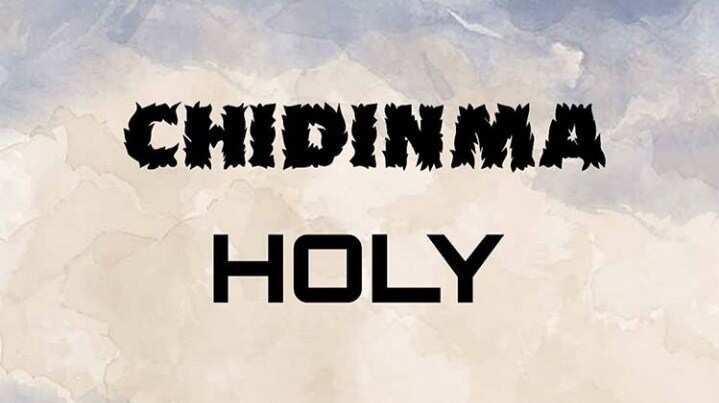 [Chorus 2X]
Mimo mimo oh Baba mimo mimo
Heaven and earth adore You mimo mimo
Mimo mimo o baba mimo mimo
I'll sing Your praise forever mimo mimo
[Verse]
Nnsooo eee
Obini gwe nso hmmmm eeehe
Aka na gworia nso
Oke nmawu eeeeh nso
[Pre-Chorus]
Your name is Ekuweme
Your name is Ancient of Days
You are the God over the earth
Your name is Ekwueme
Your name is Ancient of Days
Nso nso Jehovah nso nso
[Chorus]
[Verse]
Aka m di lelu
O na e gbum m gbu ee
But I don't care
Nara ekele
Aka na gbaji Igwe
Nso
Chi neye ndu, Chi o ye obi oma oooh
Chi neye nwa, great and mighty God
Nani gi bu Chi, you alone are God
Mimo mimo Baba mimo
[Pre-Chorus]
Your name is Ekwueme
Your name is Ancient of Days
You are the God over the Earth
Your name is Ekwueme
Your name is Ancient of Days
Nso nso Jevovah nso
[Outro]
Mimo
Ala wo funfun mimo
Oke ati ile juba mimo
O n je mimo
O n mu mimo
O n so mimo
O n ri mimo
O ni mimo
Emi mimo
Chidinma – Holy download
If you like the track and want to add it to your playlist, you can download it easily by following the links provided below:
Chidinma – Holy is a highly spiritual record that will conquer your heart. What do you think about it? Tell us in the comments section below. Do not forget to share this article with your friends. Stay tuned for more updates about your favourite musicians.
READ ALSO: Waje - Udue ft. Johnny Drille: video, lyrics, reactions
Source: Legit.ng