Catherine Paiz bio: age, height, ethnicity, family, net worth
Catherine Paiz is a gorgeous Canadian fitness model that doubles up as a talented film actress, a popular social media celebrity, and a vlogger. Through her enormous social media following and likes on her Instagram posts, she has gained numerous love and fans based on her sensational modelling pictures. Her different roles in the film industry and modelling for international big fashion names have made her a successful woman loved by millions.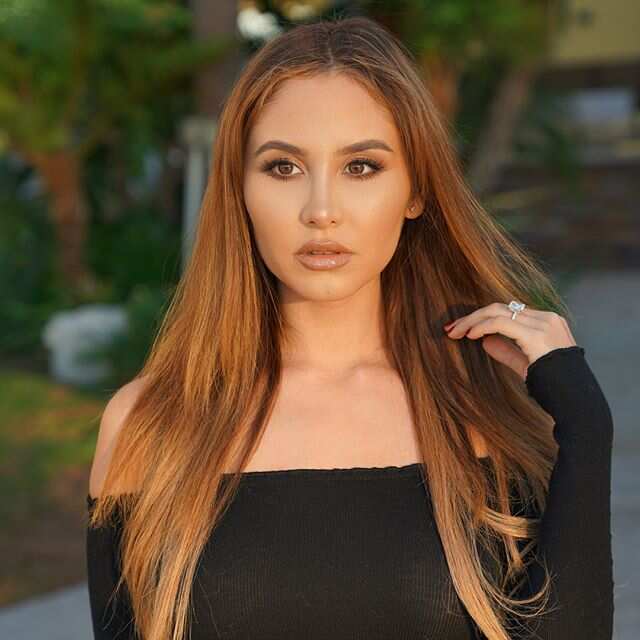 When you combine beauty with brains, add some of the talented acting skills, some hard work, and passion, you will definitely end up with Catherine Paiz. The gorgeous model has never ceased to wow us with her breathtaking Instagram photos and posts. Apart from modelling, she has mastered her role as a mother and businesswoman as she has worked with some of the major fashion industry determinant labels. Her social media fan-base keeps on growing as the world cannot get enough of her professional possess and sense of fashion.
Catherine Paiz profile summary
Name: Catherine Paiz
Nickname: Nini
Date of birth: 24th August 1990
Place of birth: Montreal, Canada
Nationality: Canadian
Zodiac sign: Virgo
Nationality: Canadian
Age: 30 years
Partner: Austin McBroom
Height: 5 feet 6 inches (168 cm)
Occupation: Instagram celebrity and model
Children: 2
Catherine Paiz age
So, how old is Catherine Paiz? The beauty was born on 24th August 1990. Her official birth name is Dolores Catherine Johnston Paiz. If you were attentive in your math class, it is a fact that the beautiful lady is currently 28 years. Since her birthday falls on 24th August, she will be turning 29 years come this August. Her birth home and city is Montreal that happens to be the largest city in the province of Quebec, Canada. This makes her a Canadian by birth hence her nationality.
Catherine Paiz ethnicity
The fitness model's ethnicity is Panamanian. As a young girl, Catherine Paiz parents lived separately. She first lived with his father and later moved to stay with her mother in Tampa, Miami, Florida. While in Florida, Catherine Paiz mom was a salon stylist who owned a saloon business. The gorgeous model was raised along with her three siblings.
In Catherine Paiz family, she happens to be the first born of 4 siblings. The family is composed of twо girls and two boys, Catherine is the first born, followed by two brothers named Josh and Ryan. The last born is a very young girl whose name is not disclosed. All of them were raised with their mother in Florida, United States.
Early education
Paiz mother much supported her daughter during her early school life. She would drive her for almost one hour every morning to drop her to school. At school, Paiz was an active student when it came to extra curriculum activities. For example, she was a sports enthusiast who participated in numerous field games. These included hockey, volleyball, and soccer.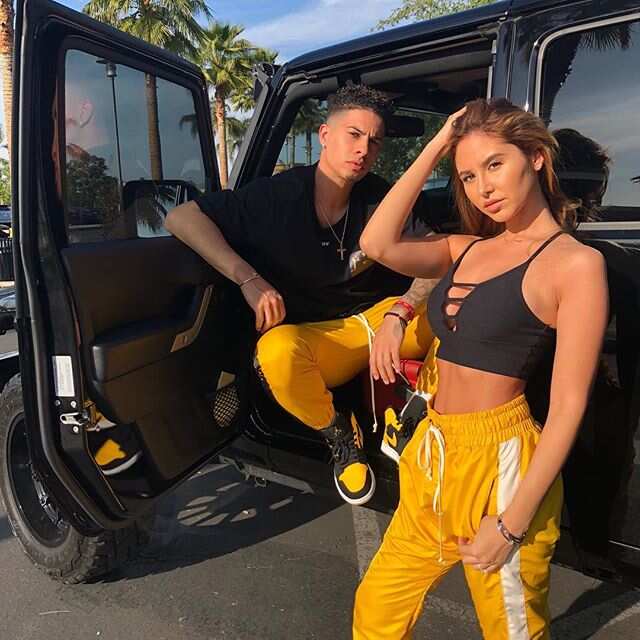 Paiz was also a great swimmer. Following her successful graduation from high school, she enrolled in her campus education in St. Louis University. Given to her rich lingual background, Canadian origin, and Panamanian ethnicity, the social media model is trilingual. She is capable of fluently speaking Spanish, English, and French languages.
Modelling career
At a tender age of 16 years, Catherine moved to Los Angeles in search of various modelling opportunities and jobs. She managed to make her first debut in the American modelling scenario through the internationally recognized Victoria's Secrets fashion brand. This contract was a significant boost to her career and popularity among social media platforms.
As her Victoria Secret's contract came to an end, she went ahead to work in a local Los Angeles ice cream parlour. She managed to get another modelling opportunity by working under Azzelia Swimwear fashion brand. This was back in 2003 when the famous model Rail Ivanova officially launched the brand name. The modelling contract opened doors for her numerous modelling avenues and deals that have made her the successful model she is right now. In Miami, she also had the opportunity of working for Arkadia Miami as a VIP official manager.
Catherine Paiz height
As a professional model, Paiz height of 5 feet 6 inches (168 cm) has been one of her most significant advantages in access to numerous modelling contracts. Her beautiful slim fitness body compliments her gorgeous looks and photogenic poses. This has made her earn millions of likes through her social media photos and posts that are breathtaking. The Instagram celebrity has a body weight of 57kg that is evenly distributed to her curvy body features. Her waist size is 25 inches while her bra size is 34 inches with an attractive hip size of 35 inches. Her hair and eye colour are dark-brown, making her one of the most adorable models.
Catherine Paiz net worth
As per 2019, Catherine Paiz net worth is estimated to be $4.5 million. This can be traced back from her first deals with world-renowned fashion brands such as Victoria's Secrets and Azzelia Swimwear fashion brand. Her wide-scale viewership and social media followers are also her primary current source of income.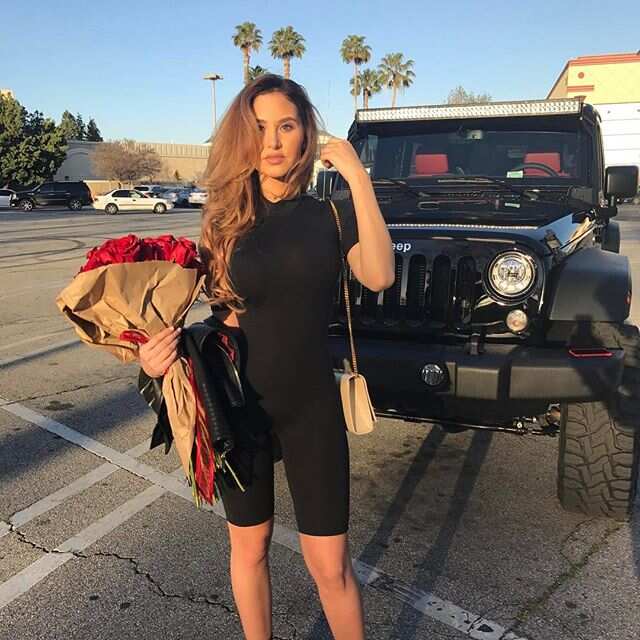 In Paiz Instagram account, she has over 6.8 million followers. On her Twitter handle "@CatherinePiaz," she has over 1.4 million followers.
Austin McBroom and Catherine Paiz relationship
2015 marks the year that both Catherine and Austin McBroom officially came to meet. Even though the two had known each other as students at St. Louis University. Austin was the first to invite the model for a dinner date. Later on, Paiz returned the favour by inviting McBroom for a hiking date. The two then started dating as Austin later on transferred to East Washington University.
The two social media celebrities decided to start a family together following Paiz having unexpected pregnancy from McBroom. As a result, the couple was blessed with a daughter named Elle Lively McBroom on 28th May 2016. After living together for over a year, the couple decided to make their relationship official. The couple engaged in August 2017.
Austin McBroom and Catherine Paiz shared Vlog page
The couple is known for its wide-scale social media followers from all over the world. Apart from the millions of followers that Catherine brags about, her fiancée McBroom also commands a large number of following. Through his Instagram page, the former basketball player has amassed over 6.2 million followers and 1.5 million followers on Twitter.
The couple saw it wise to combine forces and start their own family vlogging YouTube channel known as "The ACE Family." The channel has an incredible number of subscriptions that currently hit 16,000,000 subscribers. Through their creative content and appearances with renowned celebrities such as Kylie Jenner, the various videos have got a total of 29,166,507 views. The beautiful couple announced that they were expecting a second born child through their YouTube channel.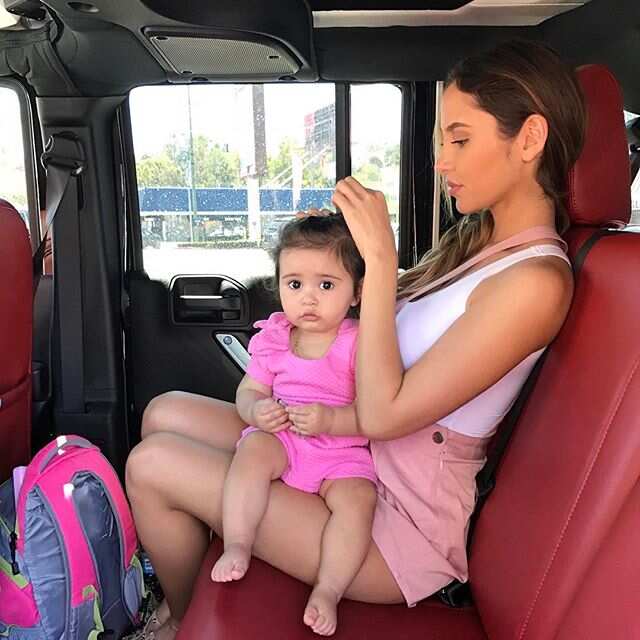 Catherine, McBroom, and their first daughter Elle attracted massive likes when Kylie Jenner officiated their new baby's identity revelation. On 17th October 2018, Paiz successfully delivered her second born daughter. The two decided to name their daughter as Alaia.
Catherine Paiz nose job
Millions of fans love Catherine based on her openness about her private life. For example, she shared the truth concerning her breast enlargement surgery, where she said,
I did the procedure about three years ago and went with saline, under the muscle, incision through armpit..I have little to no scars due to it being done on the crease of my armpit. I'm very open about it…
She also went forward to have a nose job to get +2's.
Catherine is loved for her warm personality. With millions of followers, she has made her name a strong brand through her vlogging. The beauty's idea of starting a joint vlogging account named "The ACE Family" has doubled their fan base with over 16,000,000 followers. The couple has a close relationship with celebrities such as Kylie Jenner and has been blessed with two beautiful daughters. Through her Instagram photos, Paiz is undoubtedly a gorgeous model, and it is a lovely revelation as we watch her grow into a caring and loving wife and mother.
Source: Legit.ng