Editor's Note: In this piece, Nurudeen Lawal writes about the atrocities men of the Nigeria Police Force (NPF) commit against Nigerians and how unguarded statements of Yomi Shogunle, an ACP, could further encourage the trigger happy officers.
The Nigerian Police Act (Section 4) provides six broad functions of the Nigeria Police Force. They include crime prevention; detection and apprehension of offenders; preservation of law and order; protection of life and property; enforcement of all laws and regulations and performance of such military duties within or outside Nigeria as may be required of them by, or under the authority of this or any other Act.
One of the core duties of the Nigerian police, as quoted above, is "protection of life and property". However, recent experiences have shown that an average Nigerian police officer does the exact opposite of this; destruction of life and property.
From harassing Nigerians on the roads to intimidating and demanding bribes from motorists, conducting illegal raids, arresting and extorting innocent Nigerian youths, the Nigerian police has deviated from the core duties it was created to perform.
As though that was not enough, the atrocities of the Nigerian police reached the apex with the creation of the Special Anti-Robbery Squad (SARS), a special unit of the Nigerian Police Force.
READ ALSO: Breaking: Another man reportedly stabbed to death by police officer in Rivers (video)
SARS was created to deal with crimes associated with armed robbery, car snatching, kidnapping, cattle rustling and crimes associated with firearms. SARS officers carry guns, but do not wear Nigerian police uniforms nor wear badges; they cannot easily be identified if they commit a crime.
But instead of focusing on criminals it was created to tackle, SARS operatives, just like the entire police structure, became the criminals they are supposed to chase; killing Nigerian youths indiscriminately.
In 2017, Nigerians were fed up. Protests erupted. #EndSARS, #ReformsSARS started trending.
Amnesty International lent a strong voice to the protest by providing details of police brutality in Nigeria.
The protest appeared to yield result when Vice President Yemi Osinbajo, then in acting president capacity, ordered an immediate overhaul of the special squad. The then police IG, Ibrahim Idris, also immediately came up with some reforms.
However, recent experiences have indicated that the so-called reform was merely pedestrian as the killings, by SARS and other operatives, have continued unabated.
Very recently, a young man named Kolade Johnson was shot dead by another trigger policeman in Lagos. As the cries, agonies following Kolade's death were fading away, a fresh tragedy struck. Another killer police officer killed a young lady Ada Ifeanyi in Ajegunle area of Lagos.
The deaths are becoming too many! Nigerians, it appears, have been pushed to the wall; again. And many are crying for the reform of not just SARS or any other squad but the entire police structure!
The new acting IG, Mohammed Adamu, visited Lagos. He commiserated with the bereaved families and promised that the police will introduce technology, specifically the use of stun guns, instead of weapons to fight crime. He vowed to ensure policemen involved in extra-judicial killings are appropriately dealt with.
However, on Wednesday, April 17, an Assistant Commissioner of Police (ACP) and head of the public complaint rapid response unit (PCRRU) Yomi Shogunle felt the need to advise Nigerians on 'another way to avoid 'kasala' with Nigerian policemen.
He said it is better for Nigerians to communicate with police officers in Pidgin English.
Shogunle, who tweeted a video where Tunji Disu, commander of the Rapid Respond Squad (RRS) was seen addressing his men in Pidgin, said communicating with policemen in a language will aid better understanding.
Disu was heard in the video saying Nigerians were unhappy with the fact that arms bought for officers to protect them are used in killing citizens.
"Sebi we no forget that thing wey dey teach us for academy or police college. Dem talk say it is better to allow armed robber to escape than to kill one innocent person," Disu said in the video.
Shogunle asked Nigerians to emulate Disu by speaking pidgin to police officers on the road.
According to him, the use of pidgin, rather than "Queen's English" would save people from 'kasala' with the policemen.
"Lagos State will be calm if police chiefs in #Lagos do more of this," Shogunle wrote.
"#YSGuide: For now, don't go and be speaking Queen's English with them on the road. For proper understanding talk to them in Pidgin, another way to avoid kasala."
Reporting what Shogunle said, Legit.ng crafts the headline: To avoid being killed by SARS, don't speak Queens English, address them in pidgin - Abayomi Shogunle
This is where Shogunle flared up. He claimed the headline does not represent what he said.
"A poor headline by Joseph Omotayo of Legit.
Sensationalism. If this headline is all you could make from my Tweet without taking note of the mode of communication in the accompanying video, shame on you!
Deliberate twist of my Tweet to divert traffic to your site is unprofessional," he tweeted.
The senior police officer seems to have a problem with the phrase 'to avoid kasala' being interpreted as 'to avoid being killed'.
Does the headline truly misrepresent Shogunle's statement? Let's look at the word 'kasala' again.
When you say to avoid kasala, what do you mean?
Kasala is a Nigerian Pidgin English word for trouble, mishap, problem or any difficulty situation, Urban Dictionary explains.
In the context of the Nigerian police/SARS brutality, to avoid kasala means to avoid being harassed, incarcerated, brutalised or KILLED like Kolade Johnson and other numerous Nigerians whose lives were cut short by trigger happy police officers.
READ ALSO: Police officer reportedly kills bus driver in Lagos (video)
Thus, the headline does not misquote Shogunle neither does it mislead the public, it only shows the extent of what the police officer's statement means; the valid interpretations it could be subjected to.
So many reactions on Twitter also buttressed this position.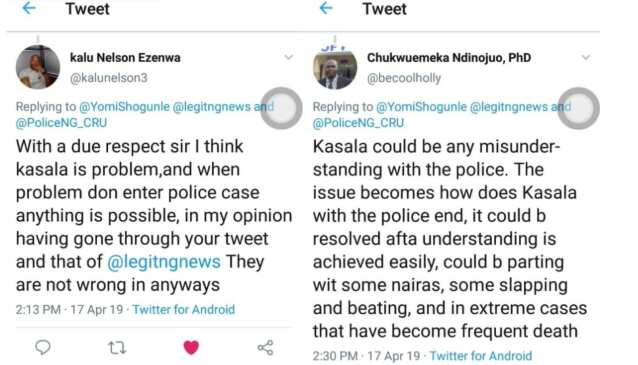 READ ALSO: SARS officer allegedly shoots man to death in Edo, police vow to investigate
At worst, Shogunle's statement shifts the responsibility to end the police killings from the Nigerian government, the NPF and its trigger happy officers to Nigerians; the parable of leaving the thief to enjoy his loots while you tell the owner to mind where he keeps his property!
Also, his statement has confirmed the opinions of Nigerians about the quality of men of the Nigerian police: illiterate, poorly trained, incompetent. Or what do you think of officers who have problems with being addressed with "Queen's English"?
Dr Olunfunmilayo's tweet is also apt to quote:
PAY ATTENTION: Download our mobile app to enjoy the latest news update
Meanwhile, this is not the first time Shogunle would be called out for making unguarded statements.
He had once been called out for making insensitive comments regarding the viral #EndSARS campaign.
However, as so many people condemned Shogunle's tweet, it is disheartening that some still believe he was right, saying what he was only preaching Safety First.
Safety against whom? Against those whose core duty is supposed to be your safety?
Saying you need to protect yourself against your protector, the police, only highlights the Nigerian DIY (Do It Yourself) factor.
Government fails to provide light, you get generator; water corporation stops functioning, you drill your borehole.
Now, you also need to protect yourself, not against armed robbers and other criminal elements this time around but against the police!
Note: Nigerians are already protecting themselves against criminals; we hire compound guards, street vigilante, estate security men, etc.
This is not to say that citizens do not have their parts to play in the nation's development. Rather, the point is government and its agencies must be held accountable for the services constitutionally binding on them to provide.
When government agencies refuse to play their part and instead of calling them out we make ourselves self-appointed spokesmen for them, we will all suffer the consequences together.
Disclaimer: The views and opinions expressed here are those of the author and do not necessarily reflect the official policy or position of Legit.ng.
Your own opinion articles are welcome at info@corp.legit.ng— drop an email telling us what you want to write about and why.
More details in Legit.ng's step-by-step guide for guest contributors. We're ready to trade your news for our money: submit news and photo reports from your area using our Citizen Journalism App.
Contact us if you have any feedback, suggestions, complaints or compliments. We are also available on Twitter.
NAIJ.com (naija.ng) -> Legit.ng Same great journalism, upgraded for better service!
What's the best punishment for erring SARS officers? | Legit TV