Dude Perfect net worth, members bio, names, ages, wives
Most sports lovers seem to have taken their interest in social media. A perfect example is Dude Perfect. It is an extremely popular sports group which shares sports videos with their fans on various YouTube channels. This group is famous because they have refined the entertainment in sports, by posting thrilling, entertaining, and daring stunts and tricks in sports. They are gaining a lot of fans and subscribers on their channel as the day passes, and Dude Perfect net worth is increasing tremendously.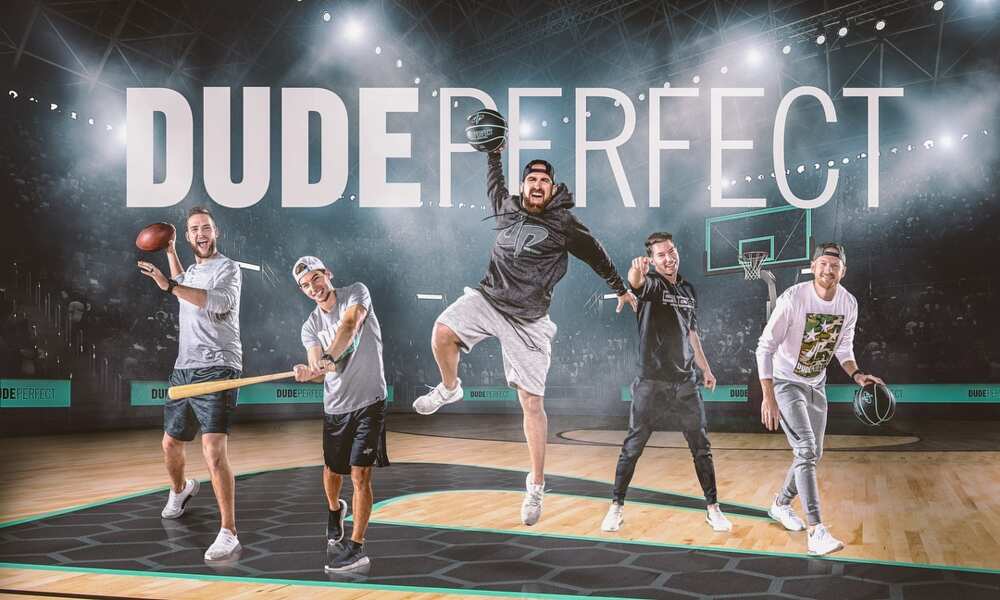 Throughout this article, you will get to learn about the Dude Perfect group, the members, the biography of the group members, their names, ages, and wives. Even more impressive is the fact that you will learn Dude Perfect net worth.
READ ALSO: Actor Jason Genao bio: birthday, age, height, nationality
Dude Perfect profile summary
Members: Coby Cotton, Cory Cotton, Cody Jones, Garrett Hilbert, and Tyler Toney
Date of formation: March 16, 2009
Marital status of all Members: Married
Profession: Sports athletes
Net worth: $ 20 million
Online presence: YouTube, Instagram, Facebook, Twitter
Who or what is Dude Perfect?
When most people, especially women hear the term 'Dude Perfect,' the first thing that lingers in their mind is their ideal man. They often begin speculating on the man of their dreams. Although there is some truth in what these two words could mean, this is not the man of the dreams. Dude Perfect is a sports entertainment group that is American based in Frisco, Texas. The role of the group is to upload sports videos to their YouTube channels frequently.
Most people may argue that sports videos can tend to be boring. It is true. However, to break the monotony when watching their sports videos, Dude Perfect only uploads videos which comprise of out-of-the-moon tricks, stunts, and shots. It is one element that keeps their fans hooked to their channel. Similarly, they also use upbeat music as a background for the stunts and tricks. It is another factor that tends to make their videos very interesting.
Despite uploading the videos of stunts and tricks in sports, the group also shares videos of the group members competing against each other in an agreed on game or contest. The contest in most cases has distinct and creative aspects that are set to bring out the creativity the members have in sports. However, one rule in this contest is that the participants must always abide by the set rules.
Dude Perfect net worth
Dude Perfect cast is always on the limelight due to their thrilling tricks displayed in their videos. However, the first thing most fans want to know is the Dude Perfect net worth. As of 2019, the net worth of this super-skilled group is estimated to be roughly $20 million.
Who are the Dude Perfect members?
As has stated earlier in the article, Dude Perfect is a group of sports fans. It is made up of five talented and good-looking men. Dude Perfect names are Coby Cotton and Cory Cotton who are twins, Cody Jones, Garrett Hilbert, and Tyler Toney. All these dashing men attended the same university which was Texas A&M University. Even more fascinating is the fact that these five friends were former high school basketball players and also college roommates.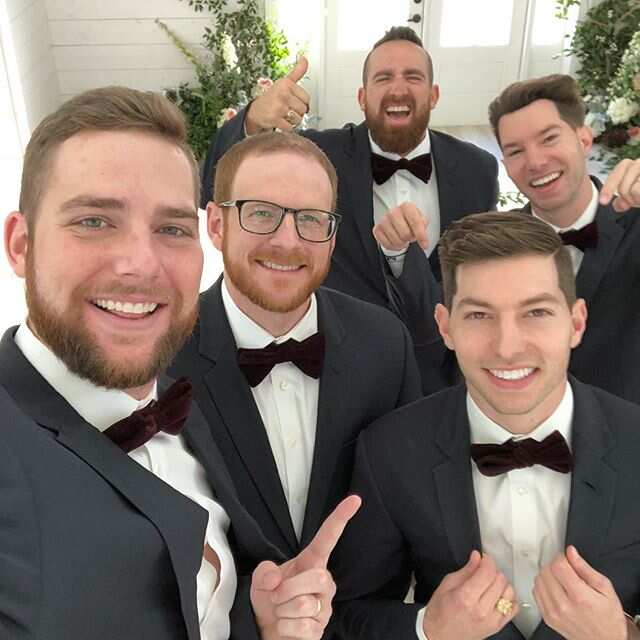 Dude Perfect bio
Cory, Cody, Garrett, Coby, and Tyler are best friends who founded the group on March 16, 2009. The group came to be when the members were making basketball shots in their backyard and began to bet on sandwiches. They recorded themselves, and the clip of trick shots at 'Toney's Ranch' formerly known as 'Backyard Edition' was shared on YouTube. After checking the views of the video after a week, they realised that it had 200,000 views.
Therefore, after this video, they released a trick shot video. It was from the Christian summer camp Sky Ranch. The video, which is currently known to have over 18 million views made Dude Perfect to pledge to sponsor a kid from Compassion International for every 100,000 views the video acquired. It made the group be later contacted by ESPN's E:60 for a segment. During the part, Toney made a shot from the third floor of Texas A&M's Kyle Field, which travelled at 3.9 seconds. It was a world record during that period in time.
How old are the Dude Perfect guys?
The one more question the admirers of the Dude Perfect group are left asking themselves is the age of the members. Due to their athletic nature and amazing skills, fans are always curious about the Dude Perfect ages. In this article, we will give you an insight of the ages of these dashing men. Let us begin with Tyler Toney. Tyler in most cases appears to be the leader of the group. He is popular due to his heart stopping tricks and stunts. Tyler was born on the 24th of March in 1987. So, he turned 32 years old in 2019.
The twins Cory and Cody Cotton were born on the 17th of July in 1987 and will celebrate their 32nd birthday this year. These identical twins also do share surprising tactics and stunts through the videos uploaded to the YouTube channel of Dude Perfect. Garrett Hilbert was born in Plano, Texas on the 13th of May in 1987; he is 31 years old, but soon will turn 32. Cody Jones was also born in Plano, Texas, but on the 9th of October in 1987 and also will celebrate his 32nd birthday in 2019.
Who are the Dude Perfect wives?
Practically every fan of Dude Perfect wants to know more about the wives of these handsome and talented men. We will start with Tyler. From his Instagram account, Tyler openly discloses that he is the husband of Bethany Toney. They have an adorable son known as Nathan Toney. Tyler is one guy who does not shy away from flaunting his cute family. Based on the pictures he posts on his Instagram, he certainly does have a reason to flaunt. His posts reveal he is blessed with a beautiful wife and an adorable son.
READ ALSO: Naomi Sablan bio: top 10 facts about Adam Scott wife
Cory Cotton also seems to have the same traits as Tyler. Both of them have certainly gone to their Instagram account to reveal who they are married to and their children. Cory is the husband of Amy Cotton. She is a lavishing beauty, who from the Instagram pictures, is well contoured. Cory is also a father of twins. His twin brother, on the other hand, is married to a beauty called Aubrey Ellett. Both of them seem to be happy in their unions, based on the photos Coby shares on his Instagram account.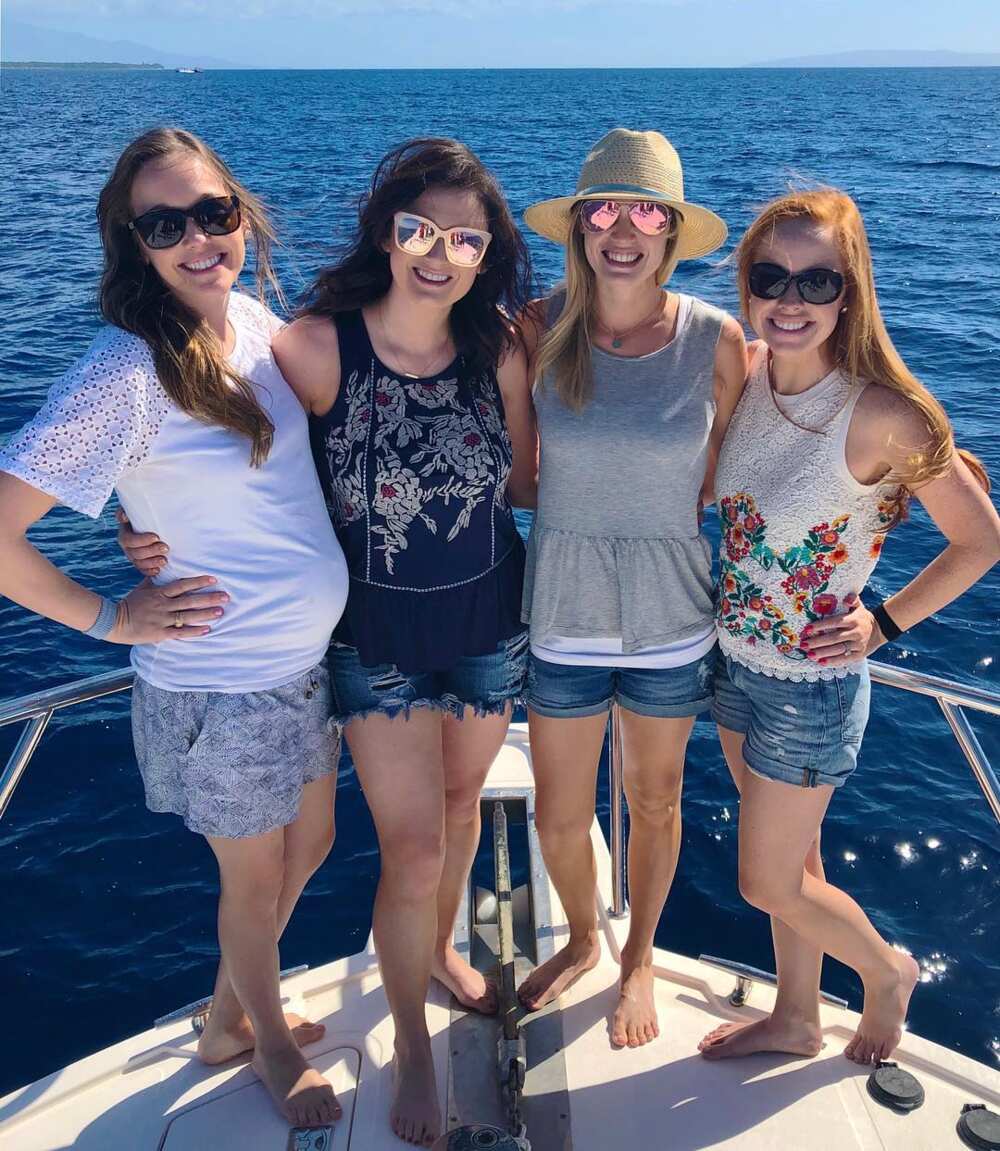 Garrett Hilbert married his cute wife Kristin in 2011. This lovely couple is blessed with two sons named Lincoln and Owen Hilbert, and a daughter called Iris Hilbert. The last member of the group, Cody Jones is also married. He married his long term beauty called Allison Jones. He is also a father to two amazing children called Landry and Lucy Jones.
From their YouTube channel, Dude Perfect seems to be polishing their stunts and tricks as the days pass. They have doubled their followers and viewers over the years and managed to keep them glued with their breathtaking videos. This group is set to make a considerable name for itself in the coming years, and Dude Perfect net worth is expected to rise.
READ ALSO: Kobe Bryant net worth, endorsements, sponsors, salary and career earnings
Source: Legit.ng