Ciara Bravo bio: age, height, weight, net worth, eating disorder
Acting in America has evolved over the years making their films, movies and sitcoms the best all over the world. Ciara Bravo has grown with the industry since the age of nine when she started acting. Most people know her for her role in Big Time Rush as Katie Knight, Kendall's sister. She has thus outgrown in the industry and has been part of exciting movies and TV shows discussed in this article. Get to know more of Ciara most exciting shows that you should look out for.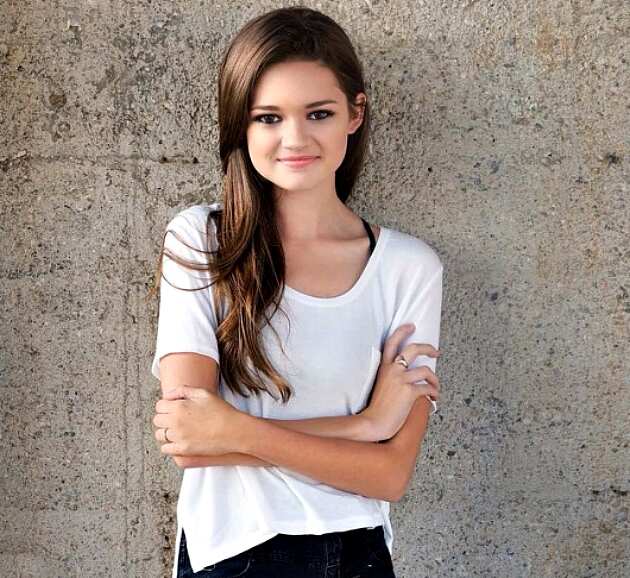 She first started as a model and also was doing various auditions before she got roles on television shows, movies and commercials. Read on to know more about Ciara Bravos' biography as well as what she has been doing lately.
Ciara Quinn Bravo profile summary
Date of birth: 03.18.1997
Age: 22 years
Place of origin: Alexandria, Kentucky, United States.
Nationality: American
Occupation: Actress
Relationship status: single
Instagram: Ciaraquinn
Twitter: @ciarabravo
Facebook: CiaraBravo
READ ALSO: Athlean X guy Jeff Cavaliere biography: age, height, weight, net worth, wife, family
Ciara Bravo age
How old is Ciara Bravo? She was born on March 18, 1997, in Alexandria, Kentucky. The 22-year-old lady has now made herself a name in the acting industry especially among teenagers and children who are fans of animations and dramedy in which she has featured in.
Ciara Bravo family
Ciara Bravo Quinn was raised in Kentucky by her parents. She has two siblings: Rikkel, her sister, and her younger brother Jackson. Her sister Rikkel is a talent manager who works with many films and also commercials. Bravo family is supportive of her.
Ciara Bravo movies and TV shows
Bravo started modelling at a tender age, and her participation in the Mike Beauty Model and Expo enabled her to be noticed by 101 Management Bryan Leder and Fredrick Levy. This led to her voice-overs to animations, featuring in movies TV shows and commercials such as 2008 for Newport aquarium. The lady also won the Young Artist Award due to her best performance in a TV series (Big Time Rush). Below are the roles she has played in various TV shows and short films over the years.
TV shows
She has played roles in various movies such as:
Big Time Rush (Katie Knight)
Special Agent Oso (Sarah)
Brain Surge (Herself)
The Penguins of Madagascar (voiceover as Hunter)
Swindle (Melissa Bling)
Second Chance(Gracie Pritchard)
Agents of Shield (Abby)
Figure It Out (Ciara herself)
Happiness Is a Warm Blanket (Patty)
Super Ninjas (Kylie)
Awesomeness (Ciara as the guest host)
Wayne as Del
Short films
She has also acted in various short films such as:
The Cafeteria (Caroline)
Open Season 3 (voice-over as Giselita)
Cinnamon (Heather)
To the Bone (Tracy)
The long Dumb Road (Ashley)
Washed up (Sarah)
Angels & demons (Italian girl)
READ ALSO: Josh Peck wife Paige O'Brien bio: age, dad, pregnancy, married life
Ciara Bravo height and weight
Bravo's height is 4 inches' height taller than 5 feet.
Ciara Bravo weight is approximately 48kgs.
Ciara Bravo eating disorder talks
Ciara has been battling rumours about her own weight, with claims she has been suffering from anorexia, an eating disorder. She has played many roles in her career, but the Red Band Society movie gave her a fascinating role. She was Emma, a teenage girl who was suffering from an eating disorder. Emma met other teenagers who were battling the same disease in Ocean Park Hospital.
Bravo talks of how the issue is rarely talked about by people. Many label it as a taboo and those who have such a challenge are labelled as weird or skinny. Ciara experience in the film made her desire to advise people to open up about such issues to prevent worse outcomes. Having friends who cannot judge you and bonding over silly staff is one of the ways to keep the connection growing and asking for help where needed. Ciara Bravo's anorexic talk on various social media was to show that it is a battle faced by many but very few are ready to talk about it.
Ciara Bravo net worth
According to many sources, Ciara Bravo net worth is estimated at $2 million as of 2019. Her acting and voice-overs have contributed significantly to her net worth.
Ciara Bravo now is a social media cute lady who is still starring in voice-overs and movies such as the NCIS. She is also co-starring in a YouTube channel "Wayne". She has also decided to defer from film school and learn directly from those in the acting business as much as she can. She desires to be an example to young people who have the same dream as hers. Acting career was not part of her goals when she was young. However, when she realised how much it brought fulfilment to her, she has decided to give it her best shot. You can follow the young lady on her social media platforms highlighted in this article and get to see the Ciara Bravo hot and cute pictures on her timeline. Do not be left behind on watching some of the Ciara Bravo movies and TV shows.
READ ALSO: Sheryl Underwood bio: age, height, net worth, family, husband
Source: Legit.ng