75 good night my love messages, wishes and quotes
A good night my love text is a powerful tool in the hands of a loving person. Sending such message to your sweetheart will make her or him forget about the distance that separates you, and she or he will focus on your love only. Help your beloved one to slide into the realm of sweet dreams with you on their mind using these amazing quotes.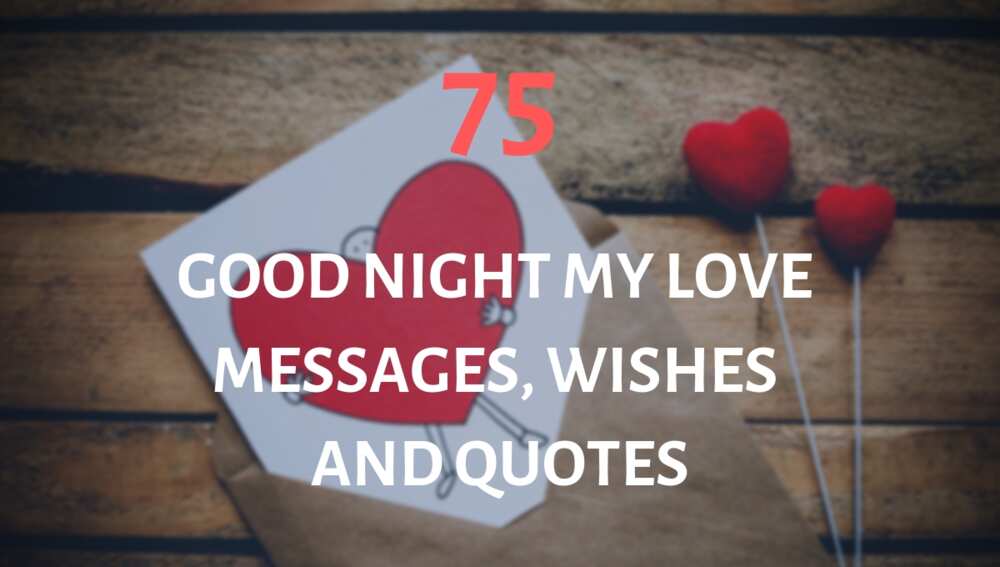 If you find yourself in a situation when you cannot wish your love good night personally, do not feel sad. Sometimes, sending a good night message to your sweetheart may evoke even more emotions than just kissing her or him good night.
Beautiful good night messages to impress your sweetheart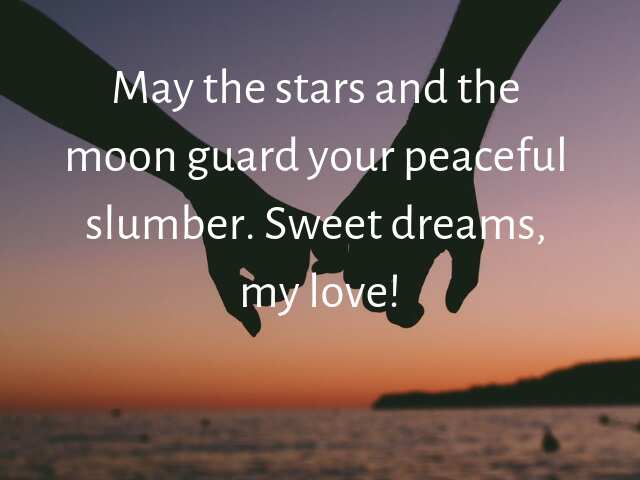 Being apart from your beloved one is depressing for both of you. Luckily, a romantic good night text may save the situation. Sending a good night love message to your soulmate will make her or him remember about your feelings, and she or him will not feel lonely before going to bed. Moreover, texting even a simple "Good night, honey, I love you" will elevate your own burden of not being able to express your affection.
Here are the best texts to send to your beloved one before she or he falls asleep:
In sleep, we are separated, my dear, but I promise all my dreams will be of you until I see you again. Goodnight, my sweetheart.
There are many days, which have passed, but then there are numerous ones to come. Among each one of those days, I will not let this night pass by without disclosing to you that I adore you. May everything you could ever want to work out as expected. Goodnight, my dear.
A hard day awaits for you tomorrow, so you should have a good night's rest. I am always by your side, even if I am not present physically, but my thoughts are always of you. Sweet dreams, my sweetheart.
At long last, the night has descended, and it is the point at which I'm lying on the bed and missing you. I am asking God to send you the sweetest dreams. Sleep tight, love of my life.
The days I spend with you are the best days of my life. Looking forward to the morning to come so that I can see you again. I love you! Good night, pretty.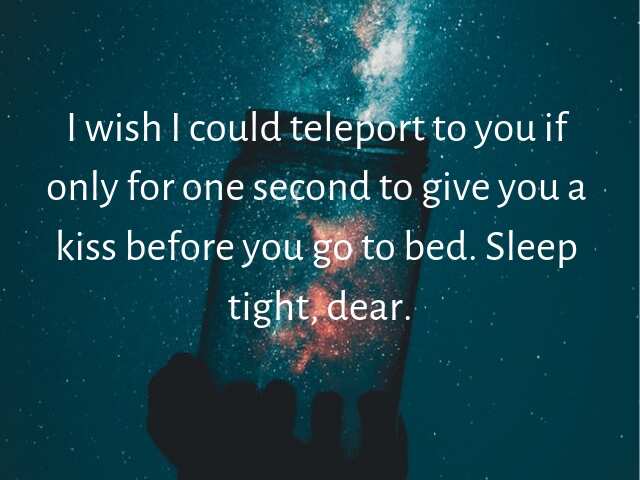 When sleep separates us, the fantasy of you stays with me. Therefore, for you, I leave this persevering message: even in the darkest night, the light of your affection leads me to the morning. Sleep tight, my dear.
I wonder how well you rest in sleep, and what sort of dreams you have. I wish I could venture into them as you venture into mine. Goodnight, my lovely.
The most splendid thing in this world is your eyes when you take a glance at me. I would prefer not to see stars scattered in the night sky if I could look into your eyes endlessly. Goodnight, my sweetheart.
READ ALSO: Top 50 romantic missing you messages and quotes for her
Goodnight, my dear, have charming dreams. May the sleep restore and revive you. May tomorrow be radiant and splendid, and may it bring us closer together.
I believe that things will work out for us sometime in the nearest future. I believe I will find the opportunity to kiss you goodnight and greet a new day with you every morning. While I believe that that day will come, I wish you to have a decent night's rest.
Every waking hour spent with you is loaded up with delight and wonder. Every waking hour spent with you gives me the motivation to move forward; thank you for that. I wish we could be together not only in my dreams at night. Good night, dear.
I have a ton of fun simply being companions with you. Envision being more than that. I long for the day I may, at last, get the chance to hold you in my arms and give you a good night kiss. For the time being, I wish you to sleep tight.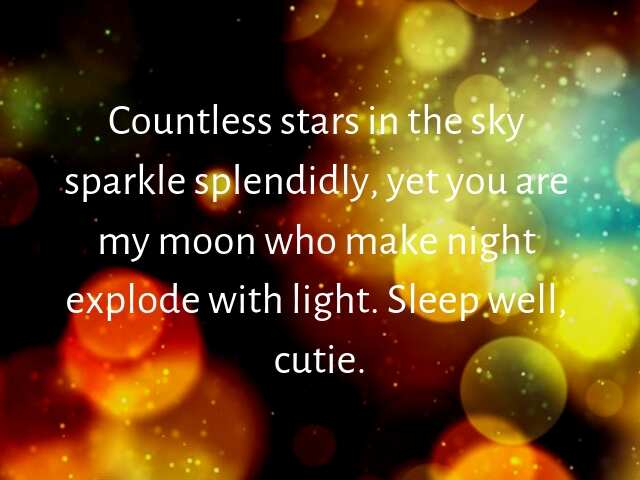 Being apart from you even several hours a day makes me sad. I long for the day we do not need to be separated. For now, I wish you to have a good sleep.
You are the one for me, I simply know it. For what other reason do I think about you from the minute I wake up, to the minute I drift off? Have a decent night sweet young lady, love you.
I simply needed you to realise that I become more infatuated with you with every minute the clock counts. As I send this message, I am falling in love with you once more. Sleep tight, my sweetheart.
This is the thing that I needed you to know before you rested: your grin makes me grin, your voice dissolves my spirit, and I am getting a charge out of all of it. Have a good night, my dear.
I will ensure you remain at the forefront of my thoughts, so you do not get away from my fantasies. Sleep tight, my sweetheart.
My love! I want to be in your arms so badly. My wish will become a reality one day when we wake up together to greet a new day. Looking forward to this day! Good night, sweetheart.
When I go to rest, I realise I miss something. That is you, sweetheart! Therefore, I take my cell phone and send you a message. Sleep tight, my love!
The last individual I consider while setting off to the bed is you! Have a good night, sweetheart!
Occasionally, I might be distant from everyone else, perhaps, languid, yet, that cannot limit me from sending you stunning texts, my love! I will continue doing this until the night I hold you in my arms. Sweet dreams.
You are resting at this moment, and all my thoughts are filled with you, my sweetheart! You are the loveliest woman I have ever met. I am fortunate to have you. Sleep tight, dear!
Sorry for being away from you, sorry for not being able to hold you at the moment. However, remember this: I always think of you! Sleep well, my dear!
Amid the night, I am longing for the day because then I will be able to see you again. Being apart is torture for me. Promise me we will meet tomorrow! Sleep tight, dear!
This text is a part of my love! Although I cannot embrace and kiss you at the moment to show my feelings, I can send you this message with my affection. Sweet dreams!
I wish I could be there by your side to embrace you. Instead, I will wish you a good night and send a little of my endless love for you with this text. Sleep tight!
Just as the Earth is bound to rotate around the Sun, I am bound to be with you until the end of time. Miss you. Sleep well.
Sweet good night wishes for her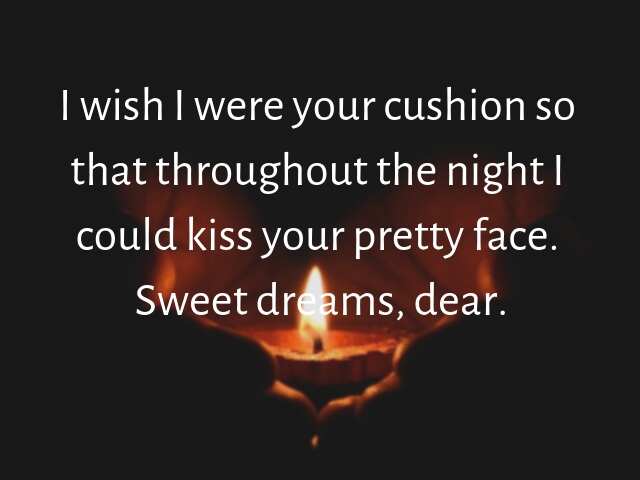 If you want your sweetheart to forget about the troubles of the day and to go to bed with a clear mind and positive attitude, you should consider sending (or telling her or him in person) a sweet goodnight message to her or him. Such a good night message will put every other thought aside except thoughts of your love. This is the best receipt for good dreams to enter his or her slumber.
Here are the sweetest good night messages that contain wishes of a good night. You may use them as they are or you may modify them according to your preferences to make them more personal and customised.
With the setting of the sun, I remember how grateful I am to have spent the days I have with you, and my heart is swollen with expectation for the numerous nightfalls that we presently cannot experience together. Goodnight, sweetheart!
The evening time—for me—is most troublesome, for it is time that I should spend separated from you, my captivating dream. Love you… sleep well!
READ ALSO: Deep love poems for her
Thank you, my dear, for every day and night you have graced me with your presence. Now that we are apart, I can only send you this text, so that you know that I still think about you, only you. Love you! Good night!
You are the ruler of my heart, and each heartbeat that pulsates inside me thumps just for you. Indeed, even at the darkest hour of the night, your brilliance eclipses the stars.
As the moon shines high over the mist, I look up into its magnificence and wind up considering that you are more radiant. Sleep well, my love!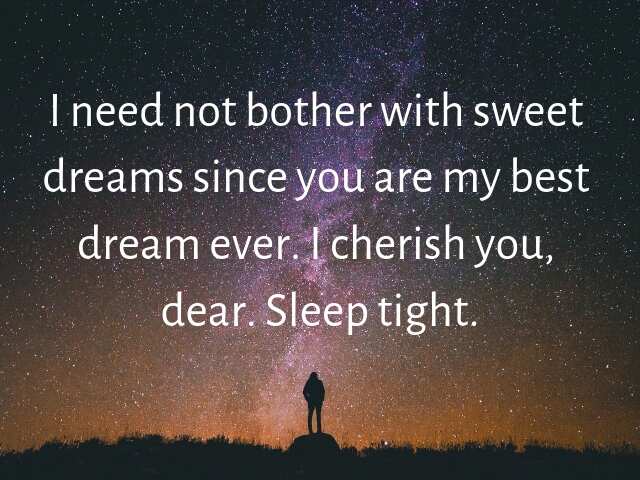 The day has come to an end, and now, we can anticipate tomorrow. Forget all the hardships you experienced and value all the delightful moments. Thank God for everything you have and pray for a better day tomorrow. Sleep well dear!
One more day is finished. It is fulfilling to realise that there is somebody who fills my heart with joy and satisfaction. Much obliged to you for the motivation you give me. I am sending my love to you. Sleep tight, sweetheart.
Open your window and catch a kiss I am sending to you. Sleep well tonight, dear.
Before you go to rest, I just want to remind you that you are not alone. I always think about you, even if I am not there. I love and miss you. Sleep well, sweetheart.
Every waking hour I pray for you to stay with me forever. I know that you share this dream. I adore you! Good night!
Before we fall asleep, I want you to remember that all my thoughts are of you. Sleep tight!
I am thanking God for sending such treasure as you are. My life is yours. Good night, dear!
I am not afraid of darkness because you light up my life better than the moon and the sun. I will always be with you. Sleep tight, my dear.
I cannot go to bed without reminding you how much I love you. I will come to you in your dreams, baby. Sleep well.
I need not bother with sweet dreams since you are my best dream ever. I cherish you, dear. Sleep tight.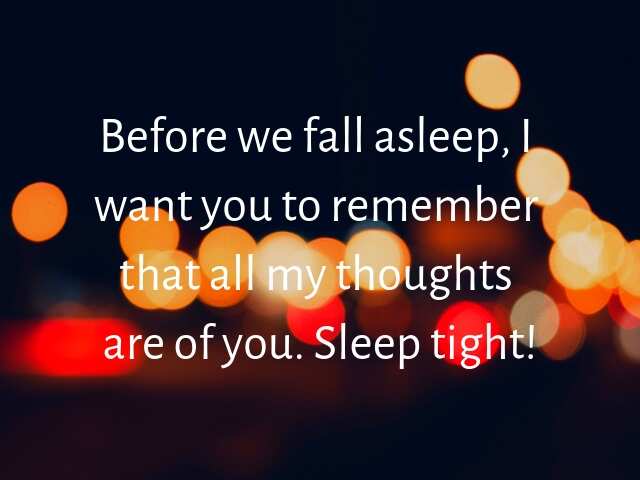 I might be worn out, I might be drowsy. Nevertheless, I will never have the capacity to nod off, until I text my love and wish her to have sweet dreams.
I wish I were your cushion so that throughout the night I could kiss your pretty face. Sweet dreams, dear.
I could not care less about bad dreams because thinking of you makes my sleep peaceful. Sleep tight, sweetheart.
Your affection resembles a light, which gets me out from the darkest night. Sleep well, my dear.
Countless stars in the sky sparkle splendidly, yet you are my moon who make night explode with light. Sleep well, cutie.
By recollecting our romance, I meet my dreams with a stupid grin across my face. Good night, sweetheart.
READ ALSO: Top 50 I love you messages and wishes
Messaging you is the ideal completion of the day. I love you. Sweet dreams.
Every day, I go to bed with you secured in my heart. See you tomorrow, love. Sleep well.
I love you madly. I long for you every night. Meet me in my dreams tonight. Good night!
I wish I could teleport to you if only for one second to give you a kiss before you go to bed. Sleep tight, dear.
As you lay your head on your cushion, may my affection spread on you like a cover. Sleep well, sweetheart!
I want to be a bird of night so that I could sit on a branch outside your window and gaze at you while you sleep. Sleep well, dear.
The only thing that makes me smile, as I am lying in my bed ready to sleep, are your texts filled with humour and love. Sleep tight, sweetheart.
Though I am not beside you to give you a warm hug, remember that I am always thinking of you. Sending you many kisses. Sleep well.
The only good dreams I see are the ones with you in them. Come to me again this night, love. Sleep tight.
I cannot fall asleep without your sweet lullabies. Looking forward to our reunion. Sleep well, dear.
If I were by your side this night, I would surround you with all my love and affection; I would embrace you and never let you go. Sleep well, sweetheart!
As the stars are twinkling in the dark sky, may the moon lead you to the place that is known for sweet dreams. Good night, dear.
May the stars and the moon guard your peaceful slumber. Sweet dreams, my love!
I trust that your time with me is delightful to the point that when you are wakeful, you wonder in if you are asleep, and when you see dreams, you wonder if you are conscious.
Unwind and loosen up, may your fantasies be benevolent, and know, as you rest, that you are at the forefront of my thoughts. This evening and forever. Sweet dreams!
Like dandelion seeds puffed into the breeze, may your worries disperse away into the night so you can breathe a sigh of relief.
Open your heart, and close your eyes. Feel my adoration reach past the skies.
Good night love quotes for her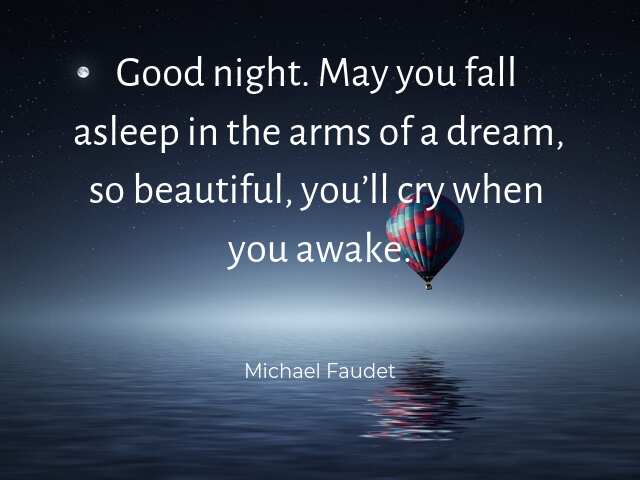 If you want your sweetheart to have really sweet dreams, you should send a good night message for her or him that contains a quote of a great person. Such a quote is a very romantic way to express your affection at the end of the day. Such action will show how much you care about your beloved one and will make her or him appreciate you even more.
"May I kiss you then? On this miserable paper? I might as well open the window and kiss the night air." – Franz Kafka
"Go to sleep in peace. God is awake." – Victor Hugo
"Good night. May you fall asleep in the arms of a dream, so beautiful, you'll cry when you awake." – Michael Faudet
"Good night, good night! Parting is such sweet sorrow, that I shall say good night till it be morrow." – William Shakespeare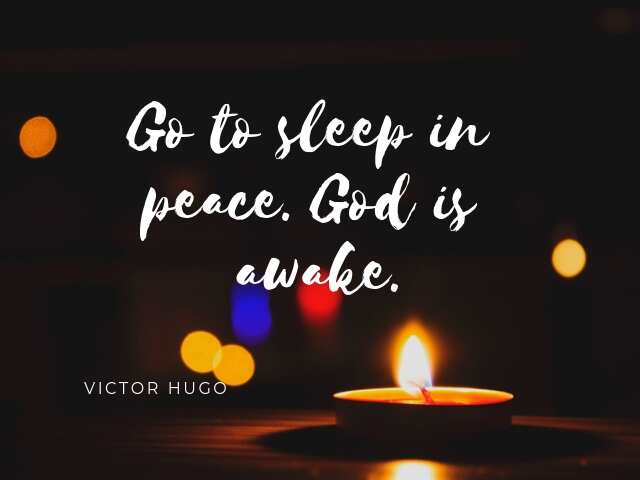 "I love the silent hour of night, for blissful dreams may then arise, Revealing to my charmed sight – What may not bless my waking eyes." – Anne Brontë
"The longest way must have its close – the gloomiest night will wear on to a morning." – Harriet Beecher Stowe
"Goodnight. Let the stars light the way to where your dreams can be found awaiting your arrival." – Anthony T. Hincks
"As the night gets dark, let your worries fade. Sleep peacefully knowing you've done all you can do for today." – Roald Dahl
"May you dream of lovely things and wake to find them real." – JJ Heller
"When you lie down, you will not be afraid. Your sleep will be sweet." – Proverbs 3:24
Sending a good night my love text to your beloved is a great way to reconnect with him or her. Even if you are far away, such a gesture will make her or him forget about loneliness and remember that you are thinking about them constantly. Choose one of the lines above and make your love feel cherished as she or he drifts off to sleep.
READ ALSO: 50 love messages for her from the heart
Source: Legit.ng