Andi Mack Peyton Elizabeth Lee: age, height, ethnicity, family
It is impressive when kids whose parents are famous also reach fame in the same industry. Peyton Elizabeth Lee is a perfect example of such a child. She is beautiful, talented, and well-known among Disney TV series fans. One of her parents is a renowned actor, and she is just 14 years old.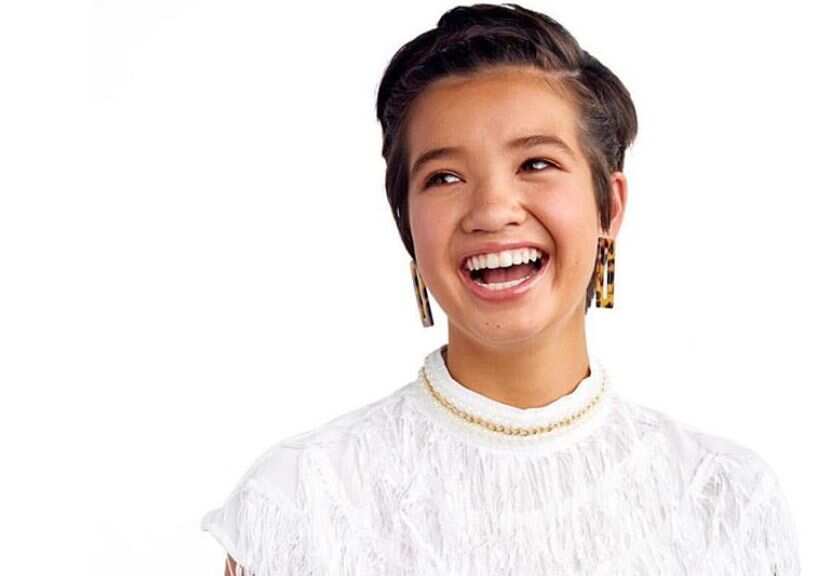 Most famous as Andi Mack, Peyton Elizabeth Lee lives an exciting life. If you are curious to learn more about her family, height, age, and other facts, you are definitely in the right place.
Peyton Elizabeth Lee, Andi Mack
Being best recognised today as Andi Mack, Peyton Elizabeth Lee got this role a couple of years ago. She was chosen to become the star of Andi Mack TV series. It is a comedy show for teenagers and children that first aired on Disney channel in the spring of 2017, according to Zap2it TV listings.
It is curious that Terri Minsky (the executive producer of Andi Mack series) believes that the leading actress is amazing and she can easily play the comedy and drama required by her character. This was noted by HuffPost reporters. It is fantastic that Minsky finds Peyton extremely talented.
READ ALSO: World highest paid actor in 2018 (Forbes) - Top 10
Andi Mack is not the only role played by Elizabeth. The girl chose to study acting sphere when she was ten years old. She attended a couple of studios in California, and she became one of the youngest among Playhouse West acting school pupils who acted in TV series and shows.
Peyton Elizabeth Lee roles
The talented girl demonstrated her aptitudes in 2015 when she made her debut in Scandal TV series. She played the character by name Violet, and the next year she was featured in a different show called Shameless, according to Walt Disney Television. These were great starts for her career.
After playing a bee champion and a girl soldier, the cute and talented actress was noticed by Disney and invited to play the primary role of Andi Mack.
The star of Scandal, Shameless, and Andi Mack took part in commercials for such companies as JC Penney, Sprint, Petco, and others.
The girl loves to dance. She has been trained to dance flamenco, ballet, contemporary and other types of dances, and she has even been a part of The Oscars Concert and The Hot Chocolate Nutcracker shows, according to Entertainment Lab source.
The girl played in Piper's Picks TV. It became evident in 2018 that Miss Lee would play in The Lion Guard series created by Disney Junior. She was to star as Rani (she received recurring voice role) in several episodes beginning from the season 3.
Fans of this incredible teenager can find her on social networks. She is using Instagram, Facebook, and Twitter. Thus you can enjoy news about her current and upcoming appearances on TV through her social channels.
Peyton Elizabeth Lee age
Those children, teenagers, and families who watched Andi Mack series might wonder how old is Peyton Elizabeth Lee. This rising actress celebrates her birthday on May 22. Born in 2004, she is turning 15 years old this spring. Currently, she is 14 years old, and her career opportunities seem awe-inspiring.
Peyton Elizabeth Lee parents
Born to American mum and Chinese dad, Peyton Elizabeth originates from New York, USA. The baby whose destiny was to become an actress has a sister (her name is Ella Margaret) and a brother (his name is Julian Andrew).
It is excellent that Peyton Elizabeth Lee family influenced her decision to join the movie industry. The girl's father, Andrew Tinpo Lee, is a notable person in China. His acting career is the reason why his pretty child is now an actress.
Peyton Elizabeth Lee ethnicity
The girl's mother Jennifer Dormer Lee is an American. Her father is from China. Thus, the ethnicity of the rising child actress is mixed.
In other words, Elizabeth is half American and half Chinese.
Peyton Elizabeth Lee height
Girls in their mid-teens keep growing, and their height and weight changes with years. According to Famed Star, the girl's height is about 5 feet and 4 inches (1.63 meters). The same source notes that the actress weighs up to 48 kilograms.
Another source IMDb mentions that the actress is 5 feet and 5 inches (1.65 meters).
Her looks are already impressive. She blossoms like a flower with her bright eyes, brown hair, and natural cuteness.
These are the most exciting facts about Peyton Elizabeth Lee. This promising actress is a hardworking and talented young lady who has all the natural chances to become a world-popular and crowned star in the USA and outside the country.
READ ALSO: 11 actors and actresses that started their careers as child stars
Source: Legit.ng