Top 25 love quotes for him from the heart
What could be more beautiful and desirable in the world than love? After all, this feeling makes you feel like you are floating on air or floating on the clouds, forgetting all your problems and concerns. But no matter how strong the emotions are, it is sometimes difficult to express them in words, picking and saying all that is necessary and important. We hope these love quotes for him will confirm your mutual desire to be together forever.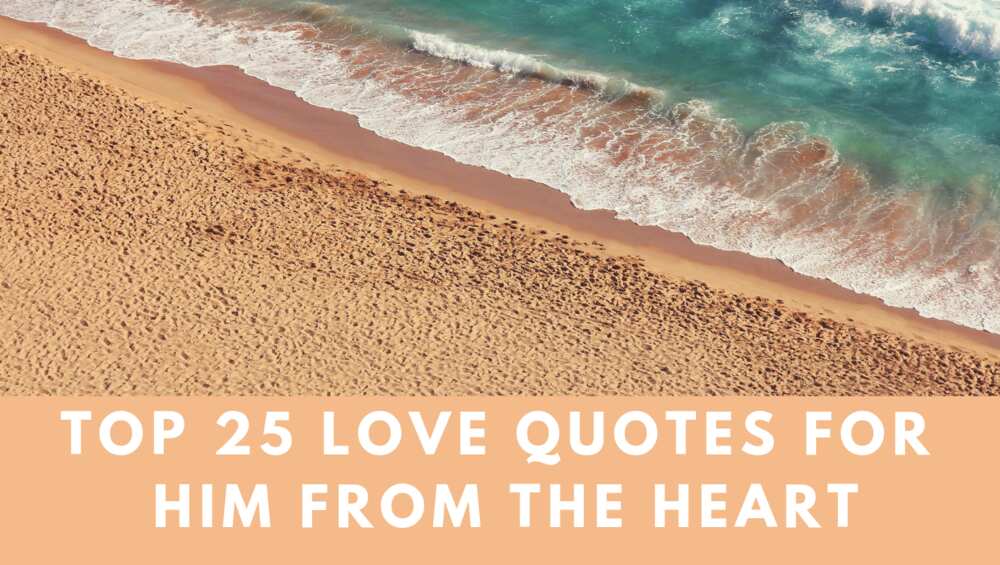 If your heart and thoughts are overflowing with an excess of emotions, but there are not enough words to say it, here are some words to help you out.
Love quotes for him
Love is an indescribable feeling. It is deeper and more beautiful than anything we can express in words. However, some love quotes for him can perfectly describe certain aspects of this feeling. If you are looking for something that will make your boyfriend smile, then it is advisable to use these beautiful confessions. They can make him feel really special, even if your man already knows how much he means to you.
Such feelings are impossible to convey in words. Let the moments speak for me, when we are together, when we hug and kiss, turn off the Internet and mobile phones, forget about the whole world around us, about any matters. In fact, our evenings, nights and the opportunity to wake up in the morning are the basis of burning happiness. Minutes of care and attention warm the heart because they make it possible to understand how important we are to each other. They help to believe that everything will be as we wish. I waited for you, and now we are together. I will thank fate forever.
Every day I wake up with a smile and greet the sun. The world has become magical, thanks to you. Every breath I take is meant for you because I live in love and joy from the day I met you. Dear, I bathe in your warmth and totally belong to you. All that I have, I am ready to give you, because my life has a significant meaning — to love you!
Your love for me is like the sun that can warm me on a cold day. Your tenderness is like a summer rain that refreshes me in the heat. Your passion for me knows all the secret pleasures of my soul and the rhythm of my heartbeat. Darling, I am waiting for our meeting, because a day without you is an eternity, thirsting for your touch.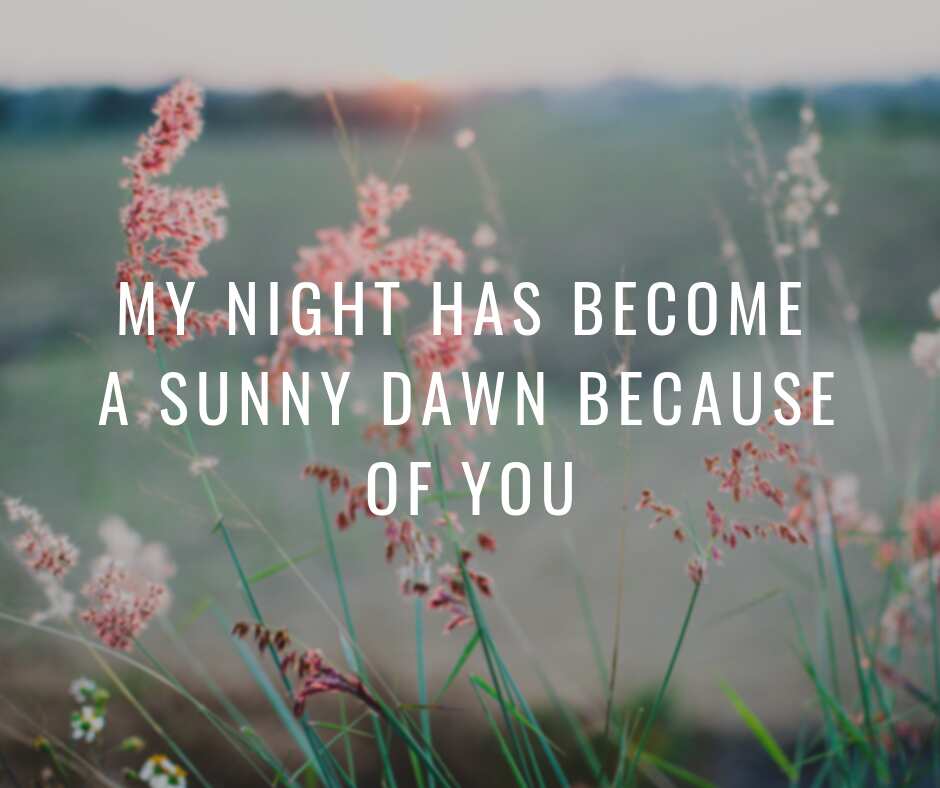 READ ALSO: Short love quotes for him
My dear, the first what comes on my mind when I wake up in the morning is you! My love, the last person I think about, falling asleep every night is also you! You are in my every thought, every movement and breath. With each new day, my feelings for you become more and more powerful. I do not know if I can stop. Thank you for the sweetness of my thoughts, the confusion of my breath and the passion of my movements. I love you!
I love you as much as a cold mojito on a hot day. I love you like a cat likes milk or children adore candies. I appreciate you like a hundred-carat diamond.
I need to hear your voice for a good mood. Your hugs will be enough for a perfect day. Your gentle kiss is necessary for the unforgettable night.
My dear, we have met hundreds of times, but when I see you, I fall in love again and again. My heart starts to beat like crazy feeling your breath. All troubles are forgotten when you smile. It warms my soul, and my eyes glow with happiness. I adore your laugh. It is lively, mischievous and contagious. Your soft and strong hands can save me from all misfortunes and give me a sense of security. Every time we say goodbye, I want to cry, because all I need for happiness is your love, which is insane, tender and sincere!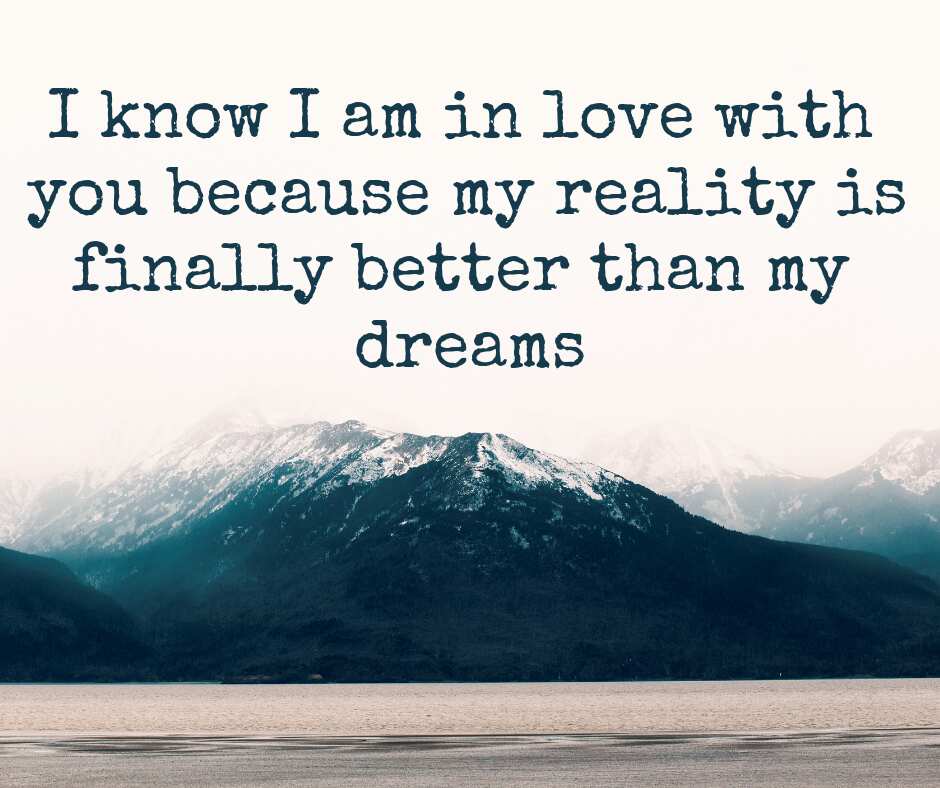 My soul flies like a bird when you are next to me. Now I understand the meaning of the phrase "wings of love" because when you are with me, my heart and soul fly. I am lucky to experience this wonderful feeling. You have touched my heart, and now I do not want to look at other men. I want you to know how much I love you!
I want to say that you are the person for whom I want to live and for whom I do not regret this life. My eyes saw paradise, and my heart saw the light brighter than the sun when I am with you. I love you. You are a beautiful shining pearl which is located in the vast ocean of life.
Thank you for being in the world! I want to be only with you forever. I am the happiest person in the whole world because you have appeared in my life! I do not need anyone else besides me. Sometimes I forget about my friends, but I never forget about you! You are always in my thoughts. For me, you are the most precious person in the entire world! I love you!
I am happy that the strings of our destinies weaved and we have met. I fall in love with you every day more and more. I love your voice, smile, strong hugs and gentle words. I love every tiny thing in you.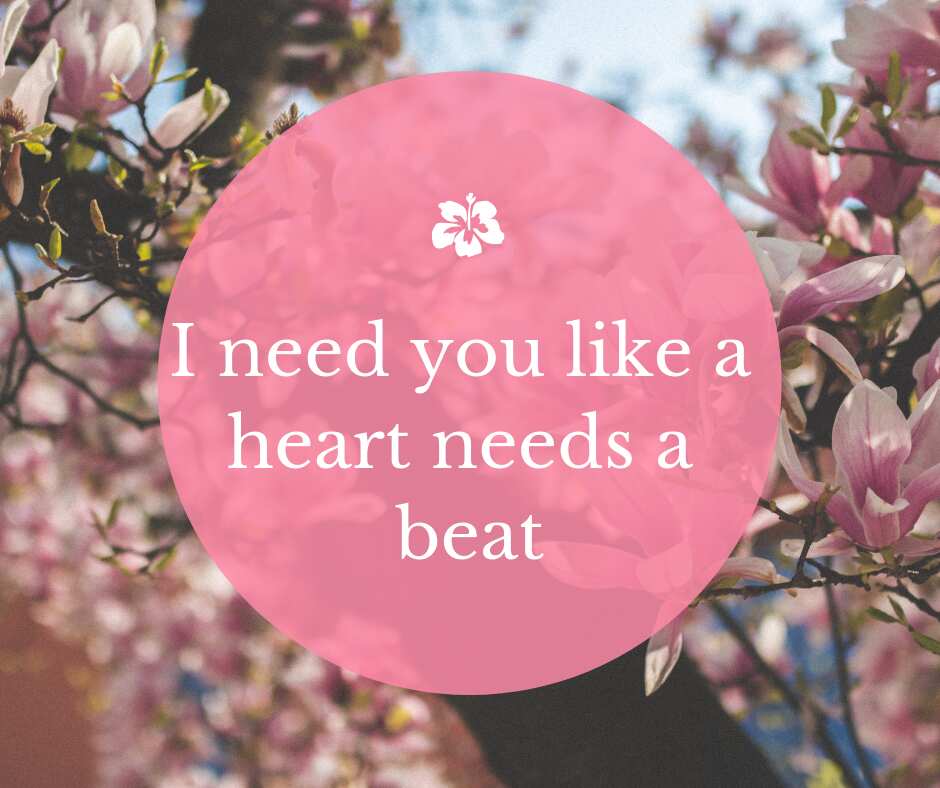 I love you, my heart! I want to hug you more tightly, give you all my tenderness and give you my heart. Keep it and never betray.
Darling, put your head on my lap and close your eyes. Believe me, everything will be perfect! And when you wake up at sunrise, it will be the best day of our lives. Turn off the light and hold me close, forget about everything and just listen to the sound of our hearts. A soft morning breeze will wake us up, and it will be the best morning ever! Relax, touch my hair and let go of all the worries of this day, and when the warm summer wind hugs you, you will realise that you have never been so happy. I love you, and I want every of your day to be the best!
I no longer dream of wings, because this dream has come true. I love you, and this feeling inspires me. Thanks to you, I am capable of extraordinary actions. The bliss of dizzying flight is now the constant state of my happy soul. Darling, you are my wings!
Whenever your hands embrace me, I fly far away and can not go down to the ground. Every time I look into your eyes, the arrow of love pierces my heart, and my lips begin to pursue yours frantically. Dear, there is only you in my thoughts and heart.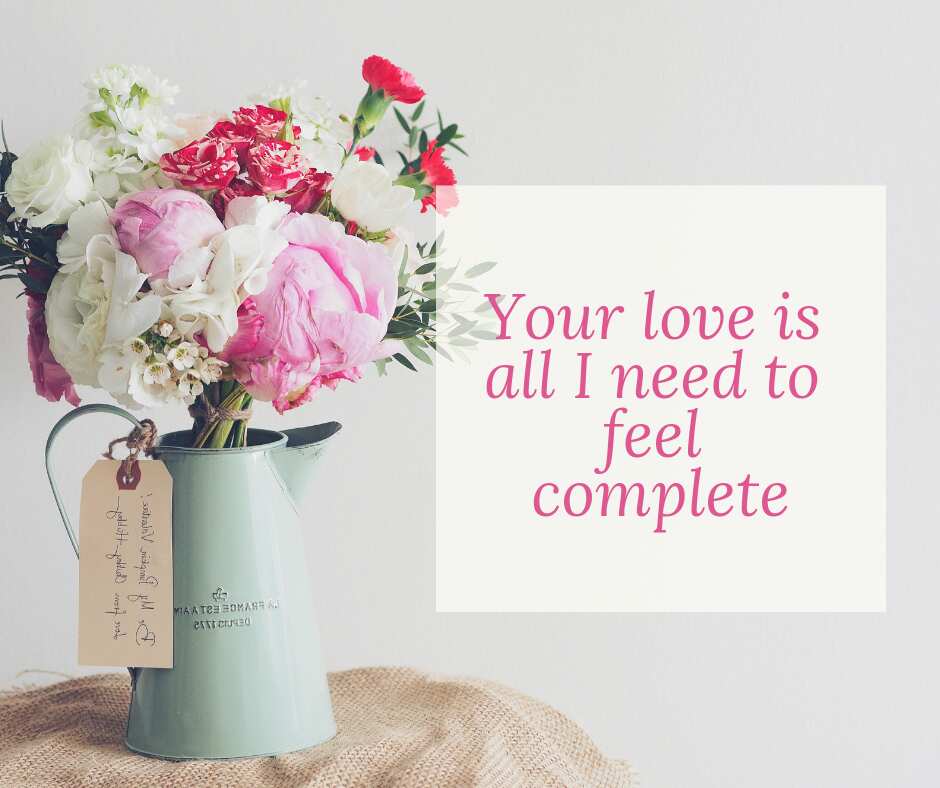 READ ALSO: Top 10 Love Messages For Her - Most Touching Ones
If you have a man, it is necessary to say how much he means to you. A romantic quote for him will help you refresh your relationships.
Quotes for him by famous people
It has long been known that a man in love can move mountains. If you need to tell your second half cute love quotes, these statement by famous people will help you.
"I`m selfish, impatient and a little insecure. I make mistakes, I am out of control and at times hard to handle. But if you can't handle me at my worst, then you sure as hell don't deserve me at my best." — Marilyn Monroe
"I know of no greater happiness than to be with you all the time, without interruption, without end." — Franz Kafka
"Love does not consist of gazing at each other, but in looking together in the same direction." — Antoine de Saint-Exupery
"I never saw so sweet a face. As that I stood before. My heart has left it dwelling place … and can return no more." — John Clare
"If we discovered that we only had five minutes left to say all that we wanted to say, every telephone booth would be occupied by people calling other people to stammer that they loved them." — Christopher Morley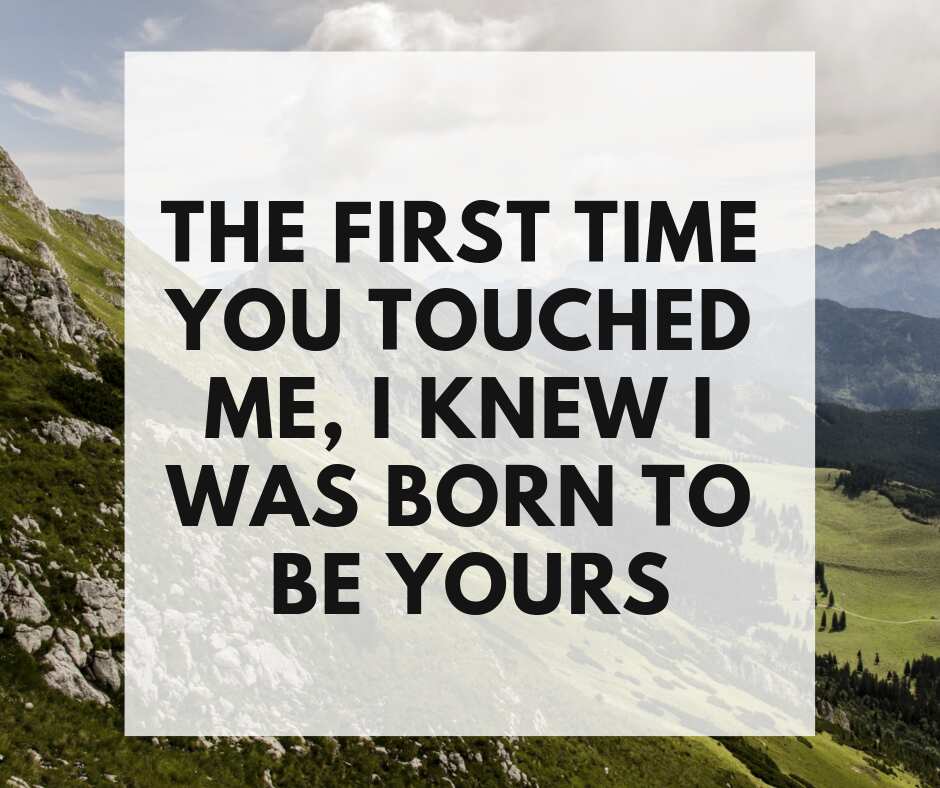 "Love is an endless act of forgiveness. Forgiveness is me giving up the right to hurt you for hurting me."— Beyonce
"Lots of people want to ride with you in the limo, but what you want is someone who will take the bus with you when the limo breaks down."— Oprah Winfrey
"I seem to have loved you in numberless forms, numberless times, in life after life, in age after age forever."– Rabindranath Tagore
"I don't wanna close my eyes, I don't wanna fall asleep, cuz I'd miss you babe and I don't wanna miss a thing." – Aerosmith
"The central idea of love is not even a relationship commitment, the first thing is a personal commitment to be the best version of yourself with or without that person that you're with. You have to every single day — mind, body, and spirit — wake up with a commitment to be better." –Will Smith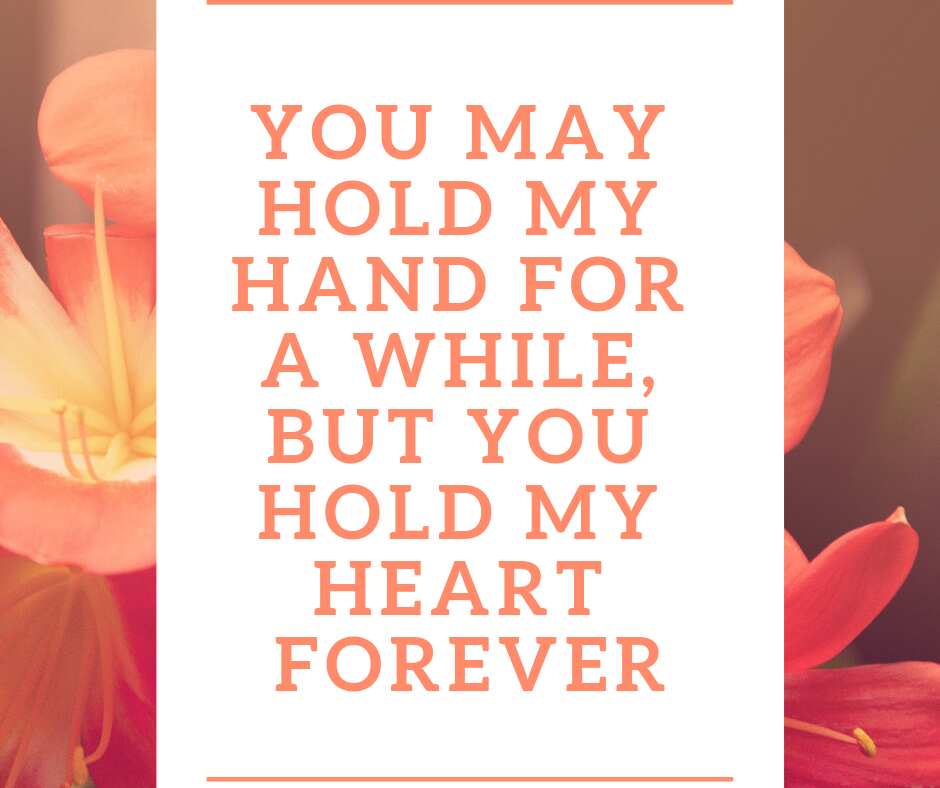 Although the representatives of the stronger gender are not emotional, sincere girlish love quotes for him will not leave anyone indifferent. You can use the quotes we have prepared for you or use the ones expressed by famous people, but it is always better to create love quotes for him from the heart. Do not be afraid that your words of love will not sound as poetical as you imagine, be open, say what you think and your man will appreciate your sincerity.
READ ALSO: 50 romantic loving you SMS 2019
Source: Legit.ng