Eba and egusi soup recipe
There are lots of delicious Nigerian recipes out there, but our favourite has to be the eba and egusi soup recipe. Just wait until you learn how to cook this tasty goodness, and you will not be able to get enough of it! With the recipe we have prepared for you, even your neighbors will come around to taste what you have cooked up.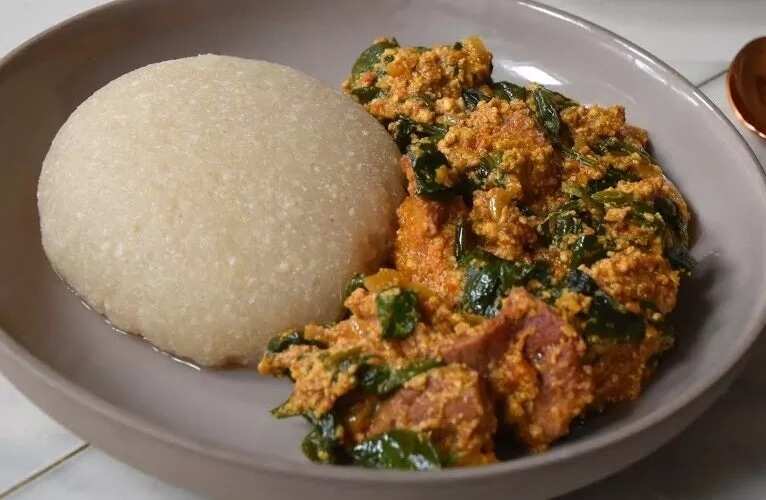 Photo: student-projects.smc.edu.ng
In case you do not know, egusi soup is a very popular dish in West Africa. It is a thick soup made out of melon seeds (gourd, pumpkin and squash seeds are also used), and most people prefer to serve it with a side dish known as eba, which is made out of garri. In this article, we will offer you a step-by-step tutorial on how to prepare both of these meals. So strap in and get ready to learn how to cook egusi soup with eba!
Ingredients for egusi soup and eba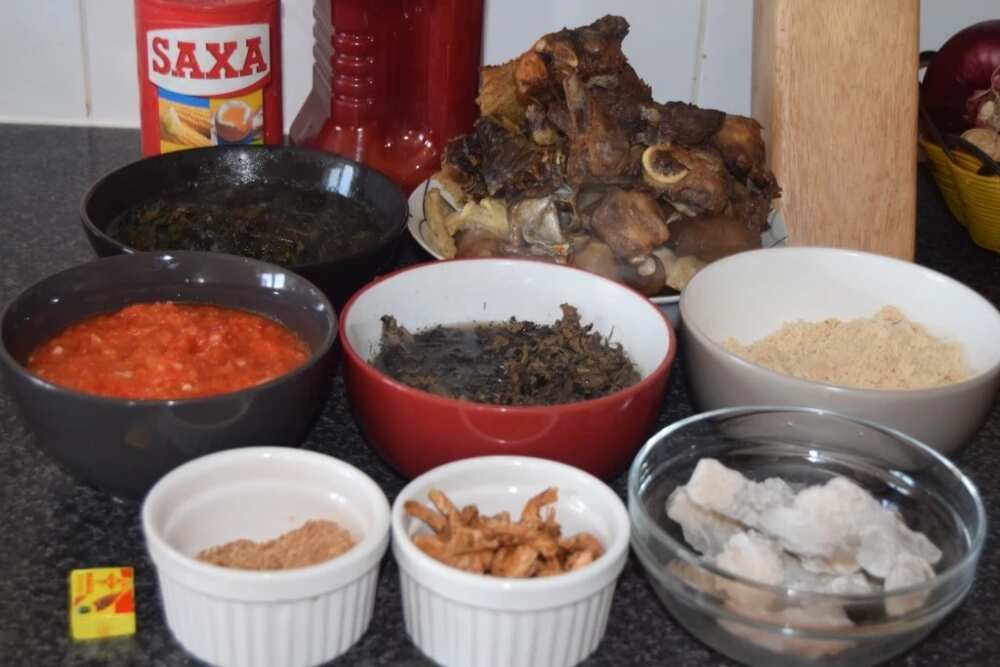 Photo: sisijemimah.com
READ ALSO: Top Nigerian soups & stews recipes
For this recipe, you are going to need:
1/4 cup of pumpkin seeds (you can use any of the aforementioned seeds);
700 g of beef;
1/2 cup of peanut oil;
1 small onion (chopped);
2 big tomatoes (chopped);
2 habanero peppers (minced and seedless);
450 g of tomato sauce;
3 tbsp. of tomato paste;
1 1/2 cups of water;
900 g of fresh peeled and deveined shrimp;
450 g of fresh washed and chopped spinach;
Salt and spices to taste.
As for eba, all you are going to need is some garri and water. The amount depends on how much eba you want to get, but keep in mind that for every cup of garri you are going to need two cups of water.
When you get all of your ingredients nice and ready, proceed to the instructions.
Directions on how to make egusi soup and eba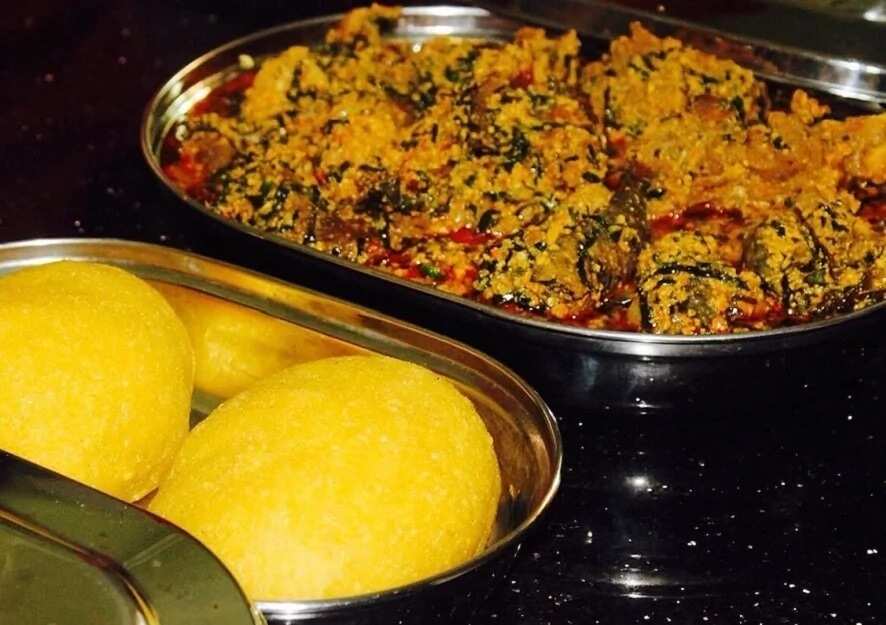 Photo: face2faceafrica.com
READ ALSO: How to cook Egusi soup without frying
Even though it might seem like there are too many ingredients for this recipe, there is nothing too complicated in the preparation of egusi soup. Making eba is even easier. It does not really matter what dish you cook first, so we will tell you about the soup and then about the eba, and you can decide whichever one to prepare first.
Here is how you cook egusi soup:
Put the pumpkin seeds (or whichever seeds you have on hand) in a blender and blend until they turn into a powdery paste. Remove the paste from the blender and set it aside.
Wash the beef and cut it into medium-sized cubes. Season the meat with salt and spices of your choice.
Place a large pot on the stove and pour the peanut oil into it. Heat it up over medium heat for about 4-5 minutes. Once the oil is hot enough, add in the beef and sauté it until it has become brown (however, it should not be cooked all the way through).
Put onions, peppers and tomatoes in the blender and blend it all until smooth for around 30 seconds.
Add the tomato mixture you have received to the meat, lower the heat and cover the pot with a lid. Let it cook for 40-50 minutes until the meat has become tender.
Add in your shrimps, water, tomato sauce and paste, and leave to simmer for 10 minutes.
When the time is up, add in the ground seeds and spinach and leave it all to simmer for additional 10 minutes.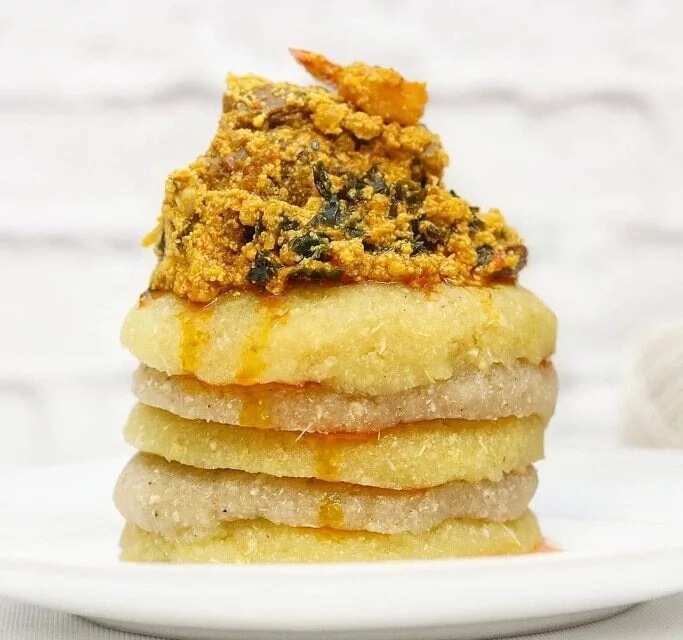 Photo: pulse.com.gh
READ ALSO: How to prepare egusi soup with lumps
After that, your egusi soup is pretty much ready, so now we will tell you how to make eba. As we have mentioned before it is really easy:
Boil the water and pour the garri into a big bowl.
When the water reaches 100 °C, slowly pour it into the bowl with garri and mix it together thoroughly. It is best if you use a wooden spoon.
Continue mixing until you get soft but firm dough. It should be able to hold its shape. Once it does, use the same spoon to give your eba a round shape and serve it with your delicious soup.
Make sure your meal is cool enough before you eat it, though, as we are sure that the smells alone must have stirred your appetite!
Now you know how to cook tasty egusi soup with eba. We hope that you and your family are going to enjoy this flavourful meal.
READ ALSO: Nigerian dishes and snacks everyone should taste
Source: pulse.com.gh
Source: Legit.ng