Many Nigerian actors are great-looking and talented, attracting millions of fans from all over Africa. Checkout our list of top 10 most handsome Nigerian actors. These men are not only stylish and attractive but also wealthy and extremely popular.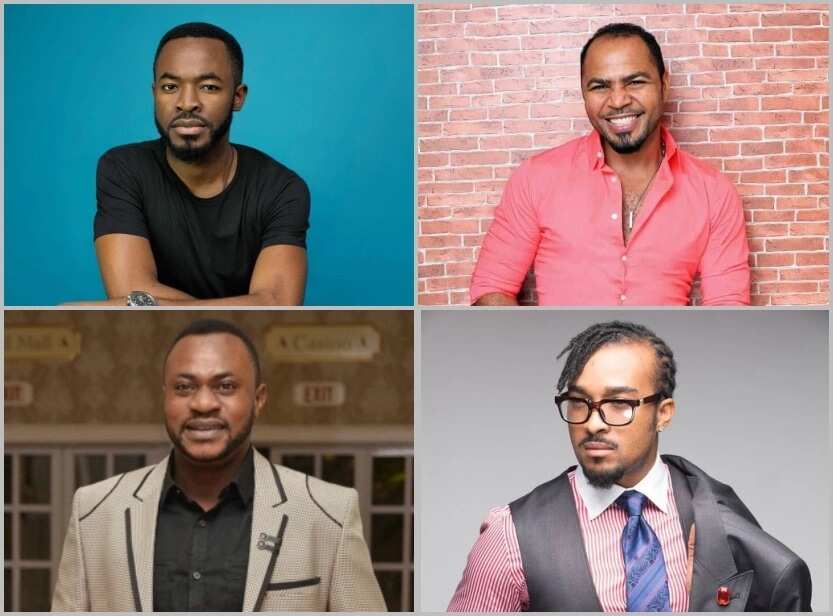 Nigerian actors
Nollywood has become a famous African cinema industry that films many movies every year, offer, opportunities for the most talented and exciting personalities to show themselves and gain popularity, earn money and turn into celebrities.
It is not a secret that there are many good-looking men in Nigeria. However, not all of them are lucky to appear on the front pages of fashion magazines and all over the media.
Below you will see a ranking of top 10 most handsome Nigerian actors. While there is no particular order in this classification, you have to keep in mind one important thing your most handsome man might not be on this list, or there could be more than one male actor you are in love with or adore the most in 2018.
The most handsome male actor in Nigeria: Top 10
READ ALSO: Who is the most handsome musician in Nigeria - Top 5
1. Bryan Okwara
Bryan Okwara stands out among other Nigerian male actors. He is the winner of Mr. Nigeria 2007, meaning his handsome looks have been awarded this special title. Not every man can boast the same achievements in his career or whole life.
Bryan loves sports, especially basketball. He takes part in numerous contests and successfully wins many of them. Besides, he is known for his amazing and breathtaking acting.
2. Odunlade Adekola
Being one of the richest actors in Nollywood, this actor is also absolutely handsome. He has built an impressive career thanks to his appearance and character.
Millions of Nigerian women are secretly in love with Odunlade Adekola. There is nothing to wonder about here because this man deserves being called one of the most handsome actor in Nigeria. Movies featuring him are always expected and watched by millions of fans.
Besides becoming one of the most recognized Nollywood male actors, this attractive man is also known for being a music artist, film director, and writer. What do you think about Odunlade Adekola yourself? Do you also find him one of the most handsome men in Nigeria?
3. Okechukwu Ukeje
One of the most handsome guy in Nigeria, Okechukwu Ukeje is a well-known actor. Millions of women from all corners of the country find him good-looking, attractive, and charming.
Being a talented person, this male actor has been awarded numerous times for being an outstanding Nollywood actor, gifted entertainer and brilliant rising star.
READ ALSO: The most handsome man in Africa in 2017
4. Joseph Benjamin
This 41-year-old actor is very talented and loved by Nollywood fans. You would definitely know him if you watched 'Project Fame' TV show. This is a popular MTN talent program that is loved by many Nigerians, and Joseph Benjamin was the co-host of the show.
Being one of the most handsome men among male actors in the country, he's a popular actor, TV star and model. His career is very successful bringing him one of the most interesting awards.
5. Desmond Elliot
We are sure that you know this awesome looking actor. He is a popular Nollywood actor, director and producer. Besides being one of the most handsome guys in Nigeria, Desmond Elliot also a politician.
The attractive actor likes both acting and being a director of Nollywood movies. And, yes, he can sing too. Isn't he very talented?
6. Blossom Chukwujekwu
Handsome men can become popular really quickly, and the experience of Blossom Chukwujekwu proves this. He began his acting career 9 years ago and 6 years later he was named the Best Supporting Actor.
Blossom likes to play on stage as much as he loves acting in the movies. You know him as Doctor Joe, by his other films and TV roles and by his amazing personality.
7. Ramsey Nouah
Ramsey Nouah will be 48 years old by the end of this year. His amazing talent and good looks have him popular not only in the soap operas but also on the big screen. Ramsey has the mix of Israel and Yoruba blood, which makes him extra special and handsome. His good acting in kiss of the destiny helped him win the Best Actor prize 8 years ago.
He has a long list of different films, so you can enjoy his face and acting at any time of day and night by watching the movies featuring your favorit star.
READ ALSO: Top 10 finest footballers in the world
8. Uti Nwachukwu
Our list of top 10 most handsome Nigerian actors wouldn't be complete without the winner of Big Brother Africa Five. Attractive Uti Nwachukwu is loved by millions of women. He has a huge army of fans all over Africa.
We are sure that he took the right decision when he left his bank job and education in IT for a career in entertainment. Did you know that he won Best New Actor, Giama Awards?
9. Yul Edochie
Continuing his 'family career,' Yul Edochie (whose father is also an actor) has appeared in over two hundred movies. You can imagine how hardworking and purposeful this good-looking man is.
You should remember the movie titled The Exquires that was released 13 years ago. This Nollywood movie was Yul's debut on the screen.
10. Majid Michel
Sometimes you can become one of the most popular and good-looking men in Nigeria even when you weren't born in this country. We are talking about Majid Michel who is from Ghana.
He, however, is a well-known male actor in Nigeria. Africa Movie Academy Awards nominated him as 'best actor' six times! He won this prestigious prize in 2012, so Nollywood loves him a lot!
Nigeria is a fantastic country. It has many talented people, and its Nollywood movie industry is well known even outside the 36 states. We really hope that you like our list of male actors who we consider some of the most handsome. Which is your most beloved actor in Nigeria? Whose face and body do you consider the best and worth naming 'the most handsome' in 2018? Share your opinion with us in the comments.
READ ALSO: The most beautiful billionaires in Nigeria