University of Ilorin beat 8 varsities in #BounceCorruption public integrity debate
- The Bounce Corruption public integrity tertiary debate grand final was held on Thursday, May 31 in Abuja
- The competition gave passionate students from various institutions the opportunity to discuss fundamental issues as regards corruption in the country and the way forward
- The event was held at Ladi Kwali conference hall in Sheraton hotel, Abuja
Two students representing University of Ilorin, Kwara have emerged winners of the #BounceCorruption public integrity debate organized by the Youth Initiative for Advocacy, Growth & Advancement (YIAGA).
The two UniIlorin undergraduates which comprised a female and a male, defeated 8 other universities that participated in the debate. The debate created a platform for young, passionate Nigerian youths to discuss the issues that has continued to destroy the country's economy and by extension, the future of the younger generation.
University of Ilorin won the debate with University of Lagos coming first runner up, Federal University of Technology as second runner up and University of Calabar coming in as third runner up.
READ ALSO: YIAGA Africa launches #BounceCorruption public integrity debates in tertiary institutions across Nigeria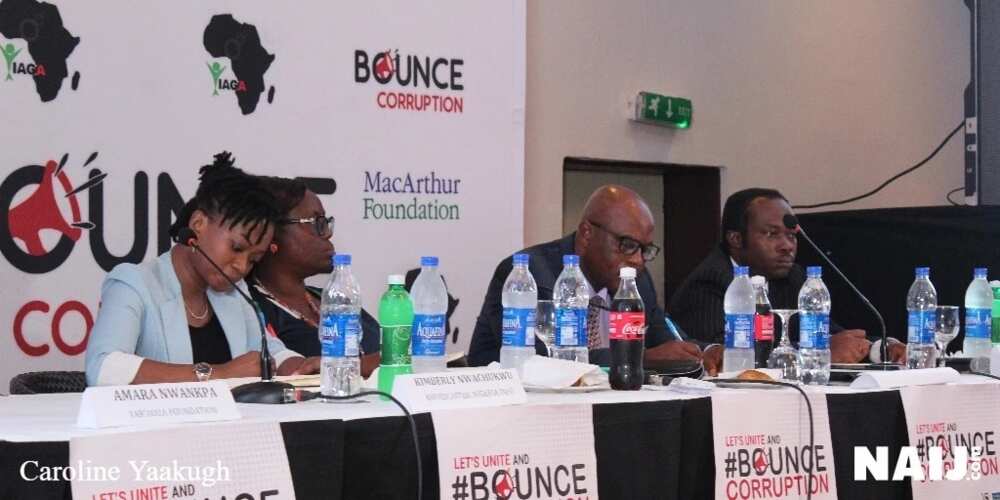 The program which targets the younger Nigerians, believes one of the major ways of fighting corruption is to sensitize the younger generations who are the leaders of today and tomorrow, about the effects of these acts.
READ ALSO: Team LaunchPad wins Bounce Corruption hackathon competition in Abuja
Giving her opening speech, the programs manager of YIAGA, Cynthia Mbamalu, stated that one of the aims of the program is for Nigerians across the state to start asking questions and demanding accountability.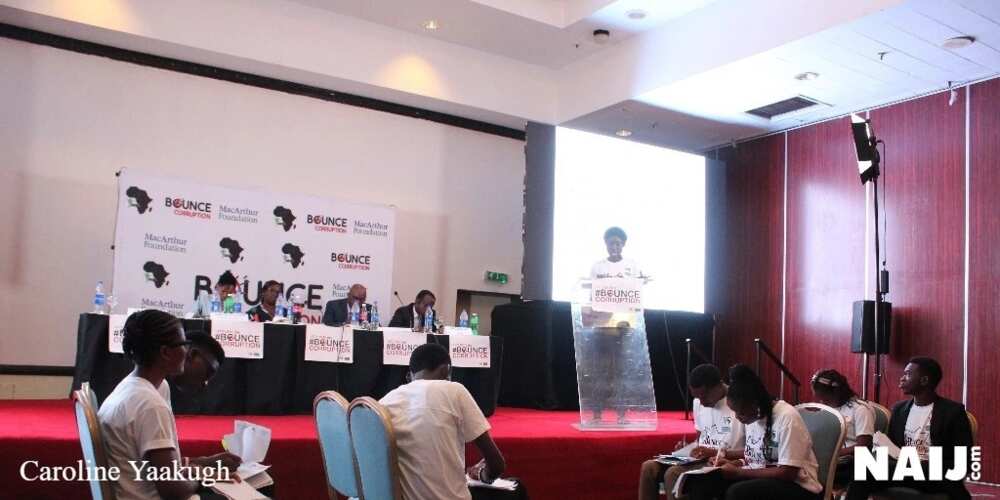 She said, " What better way to fight corruption if not to begin with young people who are the leaders of today and tomorrow because for us, young people have a major stake because they have longer years to live.
This means if we don't address the issue of corruption now, if we don't fight it within our system to build a nation that works for us, we have longer years to live to bear the brunt of a system that is failing. So it's a personal and serious issue for YIAGA Africa and I believe that as we start having more young people get conscious about corruption, we start achieving results.
We need to make the anti-corruption strategy a personal project, if not then we won't achieve the results that we want to achieve and that for us is what #BounceCorruption wants to achieve; to have more people talk about corruption, to start realizing that corruption is both socio-economic and a political problem because if we don't address it, we wouldn't have a system that works for everybody."
YIAGA who launched the project tagged #BounceCorruption in 2017, created the Public Integrity Debate in tertiary institutions across Nigeria as a platform harnessing youth views into the anti-corruption crusade as well as for propagating the values of integrity, transparency and accountability.
PAY ATTENTION: Get the Latest Nigerian News on Legit.ng News App
Top 5 the Richest People of Nigeria: The Luxury of Corruption on Legit.ng TV:
Source: Legit.ng