Wizkid is often called 'Nigeria's Justin Bieber' because of his immense fame in the Nigerian music industry. But how does he actually hold up to the real deal? Today, let's talk about Wizkid and Justin Bieber and find out which of these artistes is actually richer.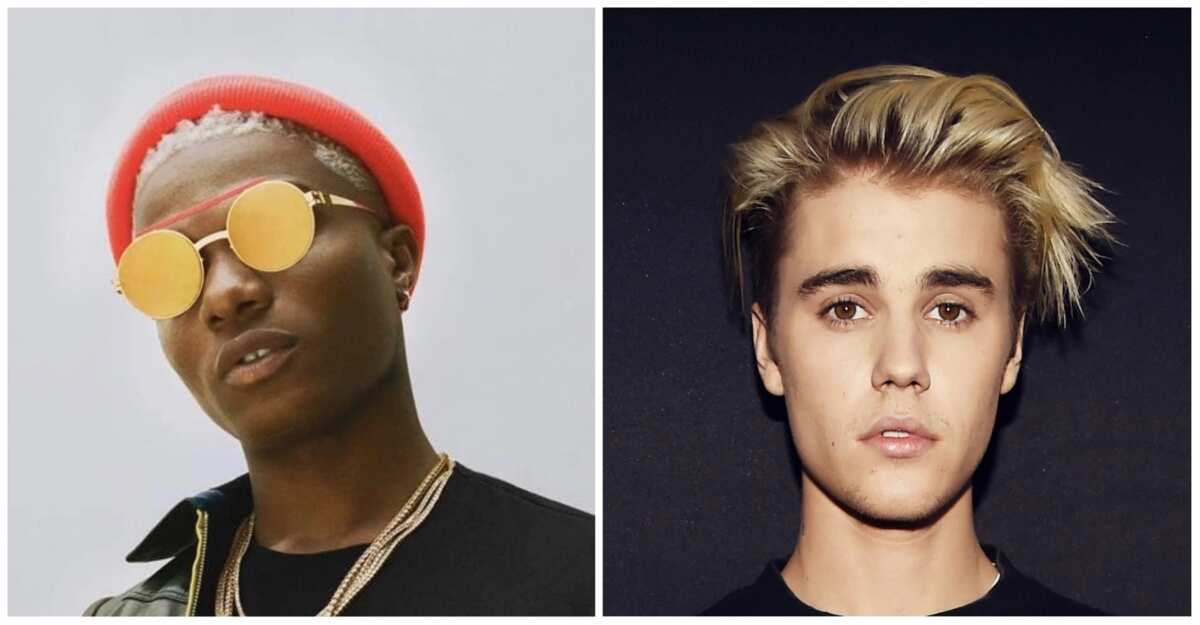 Wizkid profile
Wizkid (originally Ayodeji Ibrahim Balogun) was born on July 16, 1990 in Surulere, Lagos. He became a musician in the early years of his life, as his music career began when he was 11 and going by the name of Lil Prinz. In 2009, Wizkid signed a deal with Empire Mates Entertainment (also known as E.M.E.), and released the song Holla at Your Boy a year later, which brought him recognition on the Nigerian music scene.
Since then, he has released two albums with E.M.E., changed his label to RCA Records and released another album. In 2016, Wizkid's name became known across the world thanks to the single 'One Dance,' on which famous Canadian rapper Drake recorded with Wizkid. Thanks to that, Wizkid is now in the Guinness World Records, as the song became the most played track on Spotify (more than a billion streams).
In 2017, Wizkid was listed as one of the ten most bankable artists in the whole of Africa (according to Forbes Africa), proving his excellence once again. But how much is Wizkid actually worth? Has he managed to surpass Justin Bieber, the person he is most often compared to? Let's talk about that.
Wizkid net worth
Now, it is hard to tell exactly how much Wizkid is worth. We have previously reported that his net worth is somewhere between $12 and 14 million, getting him a spot on the Forbes Africa list. Most of this money came from the record sales, but there are also several other factors that have contributed to his wealth.
For instance, he received $350,000 for his contract with Pepsi in 2012, then signed a contract with MTN Nigeria, later changing it for a contract with Glo. In 2013, Wizkid also had an endorsement contract with Guinness.
In addition to his various endorsement deals, Wizkid also gets a lot of revenue from touring. He has had several tours, some of which took him all across the globe, one of the latest appearances being at London's O2 arena at the Afro Republik festival.
Taking into account how much money he has, you will probably not be surprised to find out that Wizkid has a thirteen-million-naira mansion in Lagos, as well as some real estate in the States. He also owns a fleet of fancy cars, including Hyundai, Bentley, Mercedes and BMW.
Justin Bieber profile
READ ALSO: Top 20 richest musicians in the world
It seems rather unnecessary to even talk about who Justin Bieber is, as there is probably not a single person in the world who has not at least heard of him. Nevertheless, let's just go through some basic facts about the artist to refresh your memory.
Justin Bieber was born on March 1, 1994 in London, only not in the UK but in Ontario, Canada. Back in 2008, he was noticed by a talent manager after he had posted some of his covers on YouTube. After that, he quickly rose to fame, releasing album after album and touring the world. Thanks to his good looks and pleasant voice, he took over the world (of teenage girls) by storm, becoming one of the most recognisable and popular music artistes.
Over the years, Justin has been heating up the public's attention to his person with various publicity stunts and misdemeanours, but it seems that he has become much tamer in the recent years. That said, his music is still at the top of the charts, and he is enjoying his fame as a grown and mature individual.
Justin Bieber net worth
When it comes to Justin Bieber's net worth, things are also not quite clear, as different reputable sources state radically different numbers, from $150 million to the whopping $305 million. One thing is clear, though: he has blown Wizkid out of the park. Even though the Nigerian artist is incredibly successful, he does not even come close to the success of one of the biggest musicians on the planet.
What is more, we cannot even imagine listing all of his sources of income and assets, as that should be a post of its own. According to TheRichest, just in 2017, Bieber bought two very expensive vehicles (Cadillac CTS-V Coupe for $100,000 and Ducati 848 Evo for $10,000), a penthouse in Amsterdam for $29 million and a necklace that cost $25,000. Over the years, he has acquired multiple property across the world, got himself a fleet of cars and earned millions more from the sales of his music and concert tickets.
As you can see, Wizkid has some big shoes to fill in order to become Nigeria's Justin Bieber. However, we are quite certain that he might at least come close to these numbers in the following years. We wish him all the best and hope to hear more of his music in the nearest future.
READ ALSO: Top 10 richest musicians in Nigeria
Source: Legit.ng