Buhari's visit to U.S. will positively impact on the Nigerian economy - Lawyer
- President Muhammadu Buhari's visit to U.S. President Donald Trump is still a trending topic in Nigeria
- Daniel Agada, corporate and commercial law expert, says that Buhari's visit will benefit Nigeria's economy
- According to him, the visit has raised hope for Nigerian security as President Trump officially confirmed the lifting of the ban on Nigeria in the purchase of military hardware
A corporate and commercial law expert, Daniel Agada, says that President Muhammadu Buhari's visit to the U.S. will further open up the American market for Nigerian goods.
Agada told the News Agency of Nigeria (NAN) in Abuja on Tuesday, May 1, that the visit apparently signified a thaw in bilateral relations between the two sovereign states.
''The visit will invariably further open up the American market for Nigerian goods. This will positively impact on the Nigerian economy by creating the much needed jobs for the teaming unemployed and underemployed citizens of the country, which will in turn, lift many out of poverty,'' he said.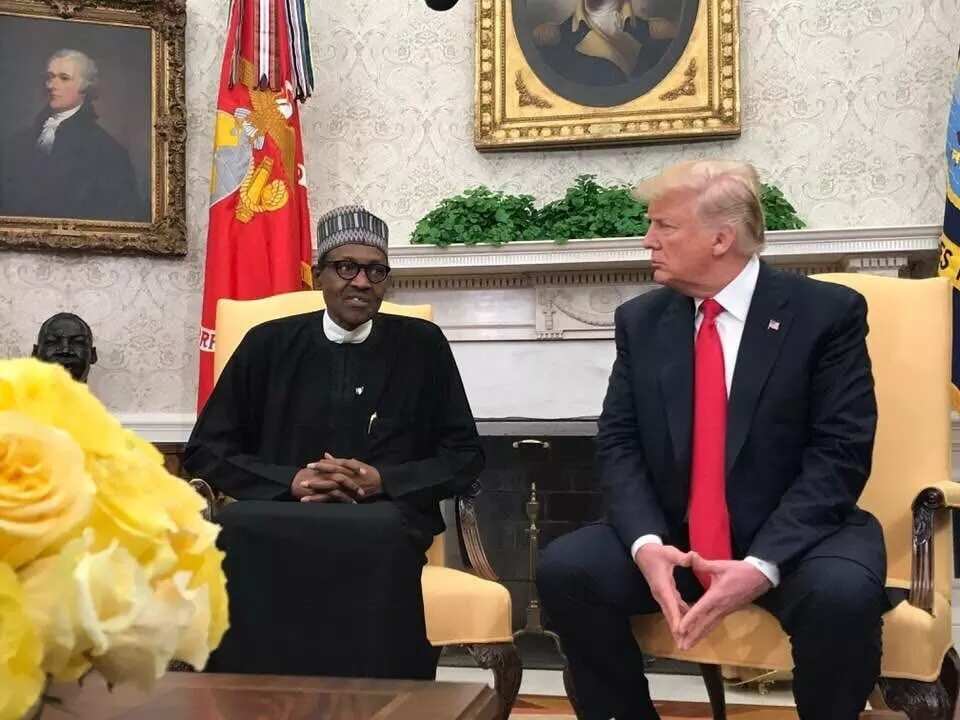 READ ALSO: Why I was not allowed to ask President Buhari questions - Journalist reveals
Agada added that during the visit, Buhari observed that the volume of trade between the two countries was above six billion dollars as at 2016, with the balance of trade clearly in favour of Nigeria.
He said Buhari further observed that the two leaders resolved to make concerted efforts into ensuring a significant improvement in the volume of trade between the two countries.
''The visit appears to have concretised and crystalised the warm relations between the two countries. It apparently began with discussions that eventually led to the recent sale of 12 Tucano War Aircrafts by the government of the United States to the Nigerian government,'' he said.
Agada said the visit also raised hope for Nigerian security as President Donald Trump officially confirmed the lifting of the ban on Nigeria in the purchase of military hardware from the United States.
According to him, this presupposes that Nigeria can now legitimately acquire the much needed military hardware to effectively prosecute the war on terror.
''This will provide the much needed secure and peaceful environment for businesses to thrive, thereby, impacting the economy positively,'' he added.
PAY ATTENTION: Install our latest app for Android, read best news on Nigeria's #1 news app
Meanwhile, the suggestion by President Trump to visit Nigeria may not happen any moment soon as it will take up to a year to prepare, Nigeria's minister of foreign affairs, Geoffrey Onyeama has said.
Onyeama said in Washington, that Trump also has a very busy schedule while Nigeria's general election was also coming up.
Buhari to Contest for Presidency in 2019! on Legit.ng TV
Source: Legit.ng