Protests in Makurdi over killing of priests, worshipers
- There is tension in Makurdi, the Benue state capital, over the killing of two priests and 17 worshipers by suspected armed herdsmen
- As news of the attack filtered into the town, several took to the streets to protest
- Some youths blocked roads and made bonfires which caused tension
Impromptu protests erupted in major areas of Makurdi, the Benue state capital as news of the killing of two priests and 17 worshipers by suspected armed herdsmen filtered into the town.
Among the victims were two priests; Rev Fathers Joseph Gor and Felix Tyolaha, two primary school headmasters; Peter Dick and Ape Chia, a secondary school principal; Michael Tor and 14 other worshipers.
The victims had gone to morning mass at St Ignatius Quasi Parish when their attackers who had laid ambush on the community attacked them around 5.30 am and killed them. The herdsmen extended their terror to other villagers burnt their houses numbering about 100.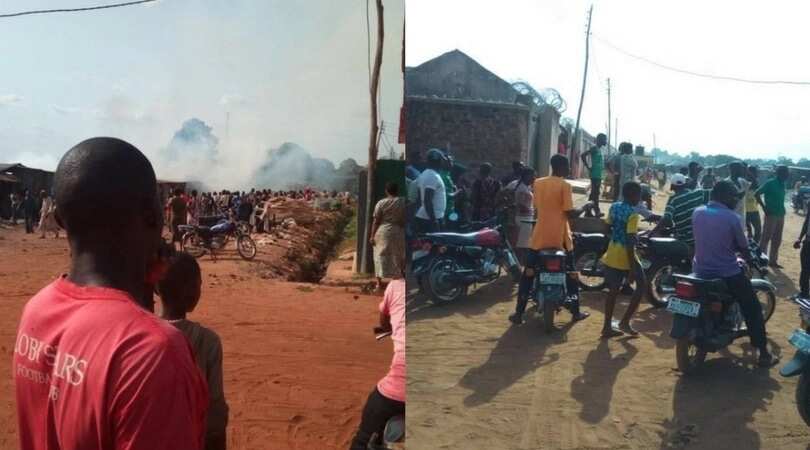 READ ALSO: 4 herdsmen killed in Benue as troops repel attack on communities
Angered by the news, youths took to the streets, blocked roads and made bonfires which caused tension.
Motorists and commuters diverted for alternative routes to get to their desired destination as schools quickly alerted parents/guardians to pick up their children/wards from schools even before closing hours.
But, for the timely intervention of security operatives who took charge of flash points, the situation would have degenerated into lawlessness when corpses of the dead victims arrived Makurdi to be taken into the morgue.
Also, the Wadata, Wurukum and Modern markets were hurriedly closed even as other shops in the metropolis were also shut as hoodlums attempted to take advantage of the situation to cause more trouble.
Though adequate security has been beefed up in and around the state capital, residents are still entertaining fears and panicking from fear of further attacks and have called on security agencies and state government to rise up to their responsibility to protect lives and property of the people.
READ ALSO: Ranching law not responsible for current killings, Ortom insists
Meanwhile, President Muhammadu Buhari has expressed condolence over the killings in the state.
The president's condolence was published via his official Facebook page on Tuesday, April 24. He described the killing as despicable and unfortunate, adding that some persons were trying to stoke up religious crises in the country.
He, however, assured the people of Benue that the assailants will be caught and brought to justice.
Benue IDPs: Education amidst crisis | Legit.ng TV
Source: Legit.ng