Wellbeing Foundation Africa tackles cancer; releases rapid assessment report
- A report tagged 'Rapid Assessment of the Prevention and Control of Cancer in Nigeria' has been released
- The report was an initiative of the Wellbeing Foundation Africa (WBFA)
- The report is the first independent national research on cancer provisions in Nigeria
The Wellbeing Foundation Africa (WBFA) has released its ground-breaking 'Rapid Assessment of the Prevention and Control of Cancer in Nigeria' report, the first independent national research on cancer provisions.
The study, led by the WBFA with support from an Amref Health Africa research grant and Takeda Pharmaceutical Company, comes on the heels of the launch of Nigeria's Cancer Control Plan (NCCP) by the federal government earlier this month.
Cancer is responsible for 72,000 deaths in Nigeria every year, with an estimated 102,000 new cases annually.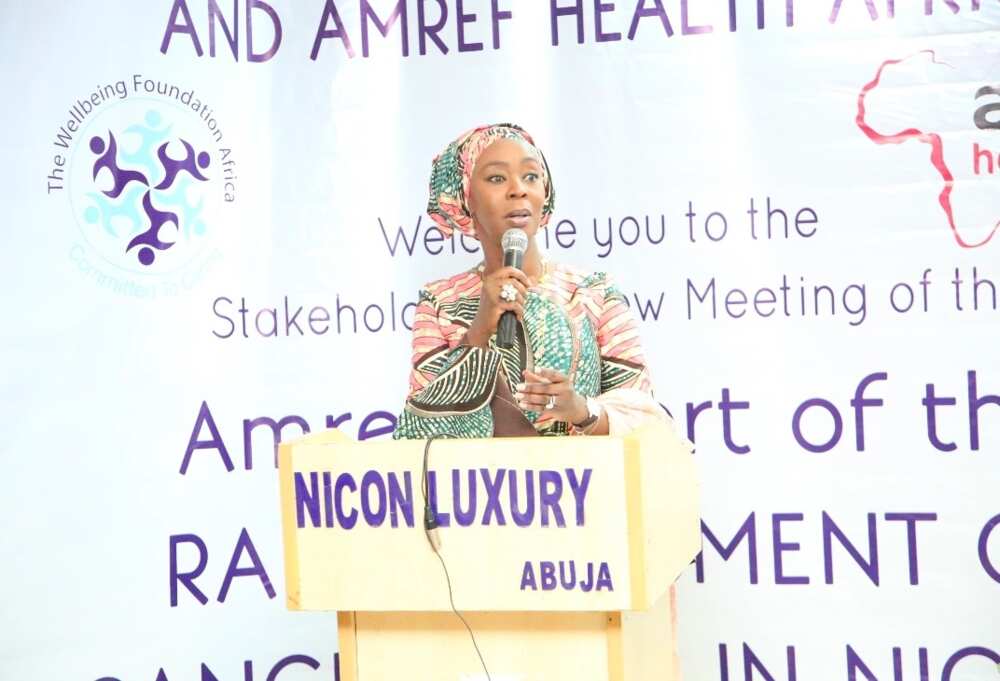 READ ALSO: Toyin Saraki calls for action on health policy at World Bank/IMF meetings in Washington
The WBFA, launching the report in Abuja last week, has provided a critical assessment of the needs and capacity of actors and stakeholders in the Nigerian health system to prevent and control cancers, while determining the specific gaps for cancer prevention and control. The report also presents recommendations to urgently transform cancer treatment in Nigeria.
The WBFA's findings highlight the challenge facing the battle against cancer in Nigeria, which has a severe shortage of health personnel for cancer care; a dearth of specialists in particular in rural communities; and a lack a well-coordinated chain of supply of drug and the requisite infrastructure.
The rate of 80% of patients who are at a stage of advanced disease at time of presentation leaves little hope for many, especially given the lack of functional radiotherapy machines and other tools for diagnosis and treatment.
Founder-president of the WBFA, Toyin Saraki, commented at the launch of the rapid assessment report: "This report provides all stakeholders with evidence for efficient frontline actions to prevent, detect, and treat cancer, across Nigeria. It will allow stakeholders to harness our wealth of knowledge to key into the recently announced government policy for prompt actions across the nation.
READ ALSO: Toyin Saraki calls for improved education and opportunities for girls, young women
"We can also teach our people, and intensify citizen engagement in reducing high-risk behaviours, to be best positioned to detect cancers at an early stage when they are most successful and cost-effective to treat."
Receiving the report on behalf of the Federal Government, the minister of state for health Dr Osagie Ehanire noted: "The research report's findings and stakeholders meeting aligns with the government's plans to strengthen the training of cancer-related health workers, improve infrastructure and service delivery for cancer prevention, treatment and palliative care.
"We welcome the WBFA-Amref inter-sectoral collaboration, alongside its partnerships with local and global stakeholders in order to improve awareness and information on preventive practices, encouraging early diagnosis and management of all cancers."
Legit.ng gathered that the research took place in 12 focal states, comprised of 6 geo-political zones, and at the 12 tertiary centres.
Saraki is the special adviser to the Independent Advisory Group (IAG) of the World Health Organization's (WHO) Regional Office for Africa (AFRO) and Global Goodwill Ambassador for the International Confederation of Midwives (ICM).
PAY ATTENTION: Read the best news on Nigeria's #1 news app
As wife of Nigeria's Senate president, and in recognition of her longstanding high-level global health advocacy, Mrs Saraki is also chair of Nigeria's Primary Health Care Revitalisation Support Group, which is co-chaired by House of Representatives members Honourable Chike Okafor and Honourable Mohammed Usman.
N1,500 for health of Nigerians on Legit.ng TV
Source: Legit.ng