Lazy Nigerian youths comment: Critics inciting young Nigerians against Buhari –Lai Mohammed
- A recent comment by President Muhammadu Buhari suggesting Nigerian youths are lazy is still generating reactions
- The minister of information and culture, Lai Mohammed, says the president was misquoted out of context
- He also stated that critics of the Buhari administration are inciting young Nigerians against the president
The minister of information and culture, Lai Mohammed, has reacted to the ongoing outrage over comments by President Muhammadu Buhari, suggesting majority of Nigerian youths are lazy.
Speaking to journalists on Friday, April 20, at the sidelines of the ongoing African Drum Festival in Abeokuta, Ogun state, Alhaji Mohammed said the president was quoted out of context.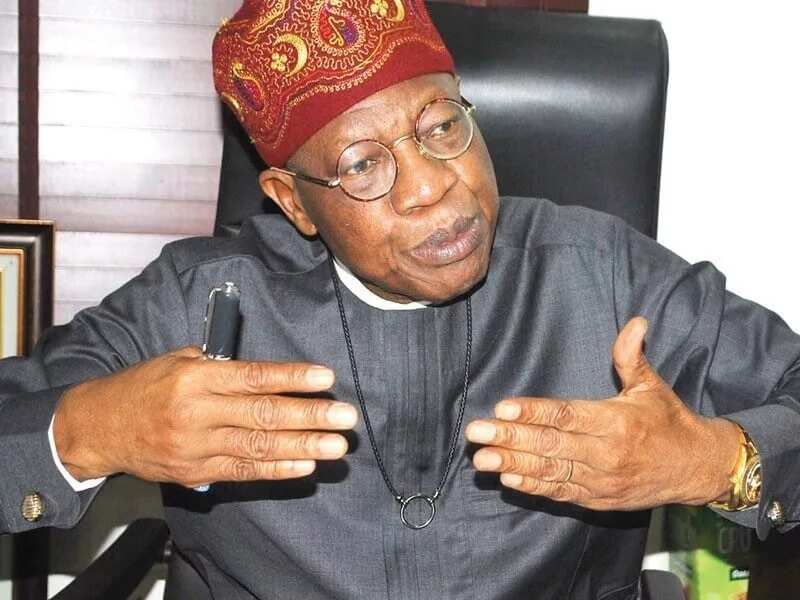 READ ALSO: Group replies President Buhari on jobless youths comment
He stated that the president has passion and concern for Nigerian youths, as opposed to what the critics of his administration want the people to believe.
He dismissed reports quoting President Buhari as describing all Nigerian youths as lazy and always waiting for free things.
He noted that the current administration had invested in the youth with some of its programmes.
His words: "Some people have just made it their full-time job these days to scrutinise and twist whatever the president says out of context.
"I wonder how a government that has employed 100,000 unemployed graduates and also feeds about 7.5 million people daily could be tagged anti-youth.
"Our social investment programmes have continued to generate jobs and create opportunities for our teeming youths while our empowerment programmes have been providing soft loans to over 400,000 youths.
"This is a government that is so concerned and passionate about youth development and it is not right for people to begin to quote Mr. President out of context and thereby incite the youths against the government."
Meanwhile, the deputy national publicity secretary of the ruling All Progressives Congress (APC), Comrade Timi Frank, has asked President Muhammadu Buhari to apologise to Nigerian youths over his comments.
In a statement sent to Legit.ng on Thursday, April 19, the APC chieftain said the president's comment cannot be justified because the government has not given the youth opportunity to serve, hence there was no need to demarket them at an international event like Commonwealth Business Forum.
Nigerian youths reply to President Buhari over 'lazy' comment on Legit.ng TV
Source: Legit.ng