Stanley Duru - Oge Okoye ex husband story
Unless you are a big fan of Nollywood drama that usually happens off the movie set, chances are, you do not know of Stanley Duru, Oge Okoye husband (or rather, ex-husband). However, his story is quite peculiar, so we want to share it with you. So get on this crazy rollercoaster, strap in and let's go!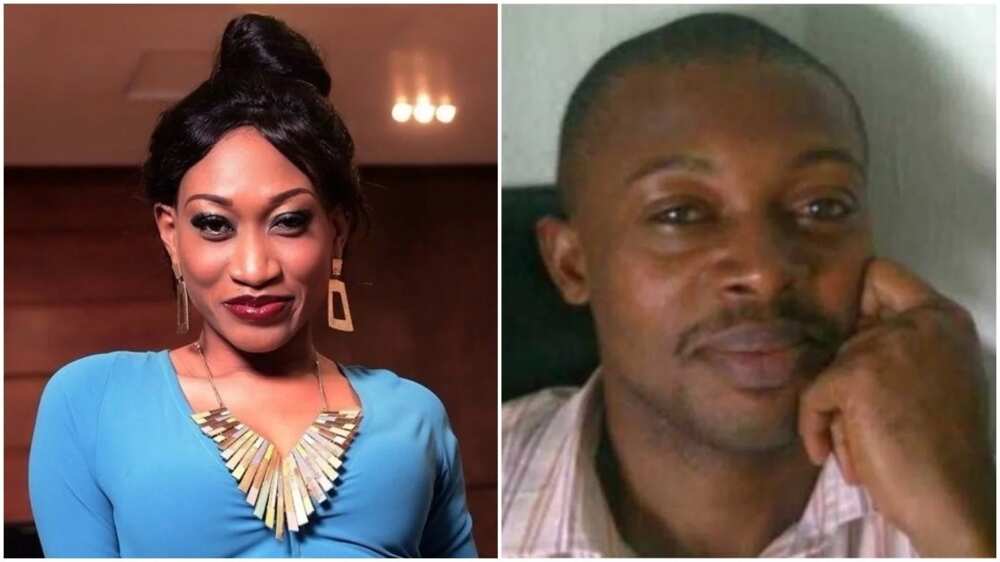 Who is Stanley Duru?
Very little is known about the man in the question, as he is not very famous outside of his relationship to Oge Okoye (and someone else, who we are going to mention later). Things are even worse when you try to find some Oge Okoye husband photos, as there are not that many of them lying around on the Internet. We do know that Duru hails from Imo State, and he is a businessman based in Amsterdam.
While he was Oge Okoye husband, she described him as God-fearing, understanding, loving and caring. She also said that he was a big lover of parties, and the two of them used to go clubbing together. However, after things fell apart, Okoye claimed that Stanley was, above all, a chronic alcoholic.
So how did he get married to Oge? What happened between them? Was there someone else? We will answer these questions moving forward.
His involvement with Oge Okoye
Stanley met Oge in Amsterdam over a decade ago. Their first encounter was unlike something you would expect. Okoye came to Amsterdam to shoot a movie, and her outfit was so provocative that Duru mistook her for a prostitute. While this style of dressing did not interest him right away (he just wanted to befriend her and 'set her straight'), Stanley got more excited when he found out that Oge was an actress.
After the shoot was over, Duru and his friend came up to Okoye and managed to get her contact information to get to know her better off set. After that, he began calling her frequently, and soon it became apparent that he was serious in his intentions.
Things quickly progressed, and in 2006, Stanley Duru married Oge Okoye. The same year, they had their first child. After the couple faced some marital issues, the world saw their second child in 2011. However, things went down from there.
READ ALSO: Adeniyi Johnson biography and his wife: have they parted?
Now, it is hard to put the blame on someone for the falling out of Stanley and Oge. Both are alleged to have cheated on each other, and it does not really matter who did it first. Most report state that sometime before the birth of their second child, Okoye cheated on Duru, which was why he retaliated by cheating as well.
During their falling out, Stanley dated a woman back in Amsterdam and had a son with her. When Duru and Oge made up, they had their second child, but it could not save their marriage, so the two went their separate ways in 2012.
It might seem that Duru's time in the limelight would be over after the divorce. What you might not know is that there has been another famous woman in Stanley's life before (and after) Oge Okoye.
His involvement with Nkiru Sylvanus
Many reports claim that before Duru met Okoye and married her, he was involved with another well-known actress by the name of Nkiru Sylvanus. The two were reported to be going out before Oge came into the picture, but it did not work out.
Some even reported that Okoye was exactly the reason why things did not work out between Duru and Sylvanus, as she managed to get pregnant for the man in question. At one point, she was a good friend of Nkiru's, but she went behind her back to get her man and later married him and had his baby in Amsterdam.
It was alleged that after Stanley was done with Oge, the old lovers came together once more. The fire of passion burned so bright between them that they even started to plan for a wedding. It was said that the big day was set to be on December 31, 2014, but no wedding happened on that date.
Later after the fact, Nkiru dispelled all the rumours that floated around in the media regarding her wedding, including the fact that she went to meet Stanley's parents. The two seem to have gone their separate ways. even though it is not known what Duru is up to.
However, Sylvanus once hinted on her social media that if a certain someone were to return back to her and offer her a hand in marriage, she would accept it. But she might have been talking about someone else, we will never know.
As you can see, some people get famous by proxy. find anything remarkable or outstanding, apart from their involvement with famous people. We hope that all parties we have talked about, are doing fine, particularly the children, and that they all have found happiness in life.
READ ALSO: Bukky Ajayi biography and family
Source: Legit.ng