Buhari will win 2019 presidential poll, likewise Masari in Katsina - Kurfi
- President Muhammadu Buhari will win the 2019 presidential election
- This is the opinion of a member of the House of Representatives, Honourable Danlami Mohammed Kurfi
- Kurfi represents Dutsin-ma/Kurfi Federal Constituency of Katsina state on the platform of All Progressives Congress (APC)
A member of Federal House of Representatives, Honourable Danlami Mohammed Kurfi has predicted that President Muhammadu Buhari will win the 2019 presidential election, should his party All Progressives Congress (APC), fields him during the election.
Speaking with some journalists in Katsina on Saturday, March 31, Kurfi who represents Dutsin-ma/Kurfi Federal Constituency in the state on the platform of the APC said from all calculations, the President Buhari is the only capable candidate standing for the 2019 presidential election who no one can defeat.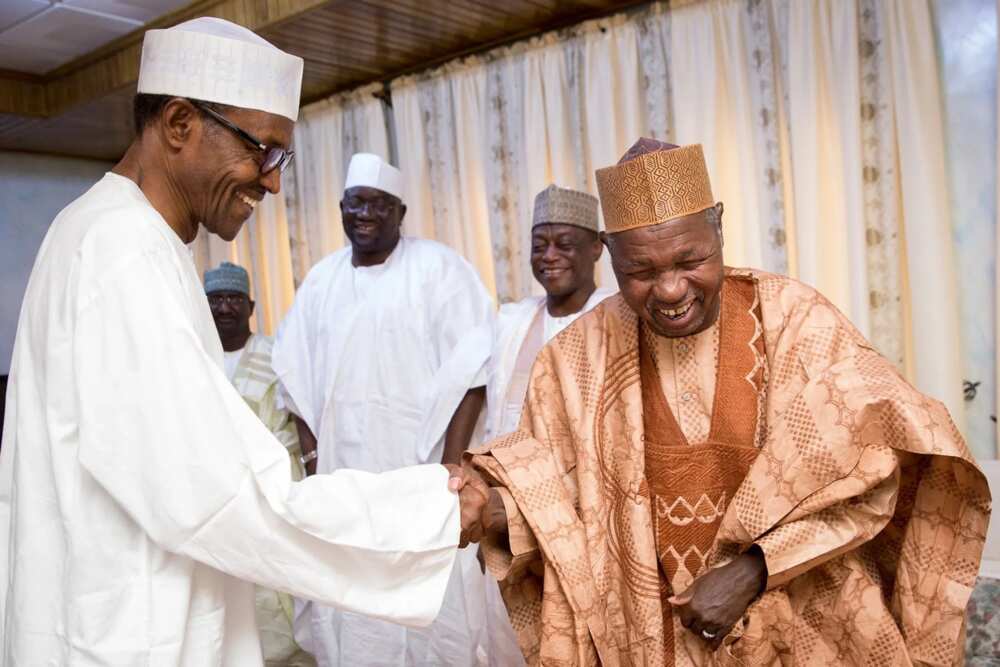 READ ALSO: Afe Babalola absolves President Buhari of blame for violent killings, insurgency
The Katsina born politician said the president's victory in 2019 will record another unprecedented landslide, noting that in 2015, President Buhari defeated an incumbent president, a scenario never witnessed in Nigeria's political landscape.
While dismissing the ambition of former Vice President, Atiku Abubakar; former Jigawa governor Sule Lamido and ex-Kaduna governor Ahmed Markafi to wrestle power from Buhari in 2019, Kurfi said they are all entitled to their constitutional rights to run but unfortunately stand no chance against President Buhari.
"Our unique and adorable leader, President Muhammadu Buhari has really tried in the administration of Nigeria since inception into office and there are records to substantiate this fact. This government is also working to diversify the nation's economy and wean it off its reliance on petroleum, what previous administrations have failed to do.
"Buhari has creditably shown he is a democrat and has integrity in terms of electoral process. Since he has been sworn in, various elections have been conducted where he didn't do like other presidents who will impose their party and candidate in the election by rigging. I believe it will be difficult for any party to dethrone this present ruling party, the APC," he said.
Buttressing his views further, the lawmaker said, "Don't be cajoled by those social media politicians whereby over 90% of those voting on social media don't have permanent voters card, or won't go out on election day, some of them are not even in the country and that is the truth about southern voting pattern.
"There is one fact I have discovered, those in the North will go out to defend their votes by coming out enmasse to perform their civic responsibilities. Our market women, farmers, are not on social media. Majority of the voters are not on social media, so people should not be deceived by that.
"Apart from that and without sounding too patronizing, today you can see some of the long-abandoned projects coming up. Look at the gas pipelines that were approved by the National Economic Council (NEC) and the Mambilla Hydroelectric power project, which has been there for 45 years without anyone paying attention to it.
"Also, look at the diversification of the economy which I mentioned earlier. For the first time, we are serious on agriculture and solid minerals. In terms of infrastructure, look at the East-West road in which more money has just been approved. This year so many interventions will still take place especially when the 2018 budget is eventually approved. This is a government with human face and with the headlong commitment to expose and fight corruption without looking back."
The federal lawmaker also endorsed the Governor Aminu Masari for second term, who he described as a super performer and a political trailblazer, based on various parameters on unprecedented programmes and projects implementation in the state.
"I urge all our stakeholders in Katsina politics and the people at large to offer their unflinching support and have Governor Bello Masari re-elected overwhelmingly as governor in 2019.
"Our governor has performed beyond human comprehension and has raised the bar of performance in politics. No wonder under his leadership opposition PDP has become non-existent in our state," Kurfi said.
PAY ATTENTION: Read the news on Nigeria's #1 new app
Meanwhile, the Peoples Democratic Party (PDP) national chairman, Prince Uche Secondus, has revealed that the PDP was coming up with "generation next" programme for re-positioning youths to take over leadership in 2019.
He said that the programme was designed to prepare the youth to take over political leadership in the country. According to him, with the programme, age barrier will be removed and a 25-year old that is popular and intelligent can be voted into power as governor.
He urged the youths to mobilise young people in their communities irrespective of party affiliation to rescue the country in 2019. He also charged them to rise and defend marginal unity and democracy in the country.
PDP's Magnificent 7 for 2019 on Legit.ng TV
Source: Legit.ng