How to prepare abacha without potash
Delicious African dishes are often easy to cook so that you can enjoy the incredible hot meal, desserts, and salads right at your home. This time we want to share with you a tasty recipe for one amazing African salad you will fall in love with. Learn how to prepare abacha without potash. You can cook this nice meal for your family, friends or yourself right now.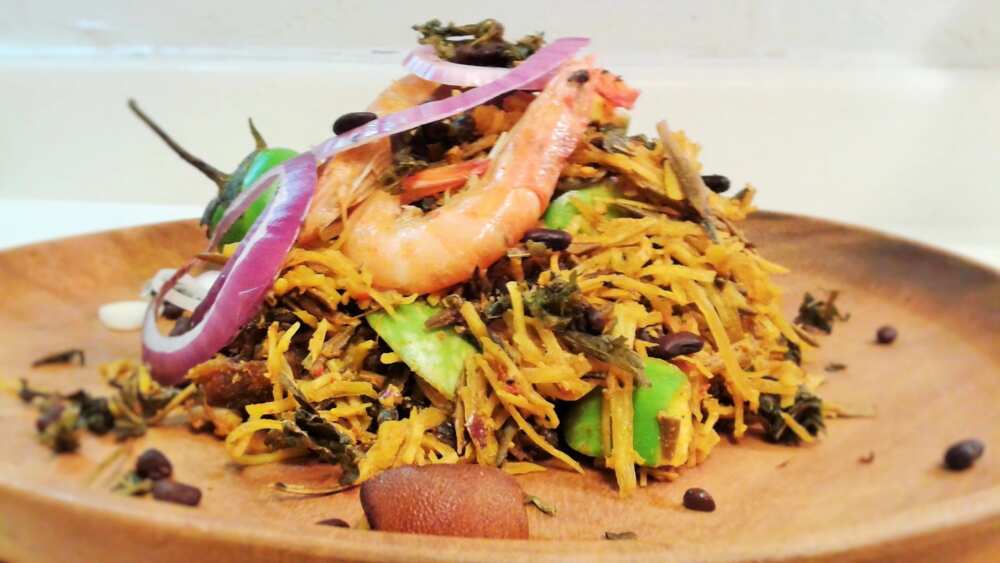 Abacha is a popular salad prepared in Nigeria and other countries in Africa. We won't use the plant ashes (aka potash), and you will make abacha without ngu (ngu is the ashes of the palm fruits) that can replace potash.
So what is the list ingredients you will need for your African salad?
Abacha ingredients
Abacha – enough for a bowl of salad
Ground crayfish – you need about 2 tablespoons (but you can add extra if you wish)
Onion – 1 medium-sized piece
Knorr or Royco (or some similar cube) – 1 piece
Pepper – a bit
Salt – a bit
Tomatoes – 1-2 pieces
Dry utazi leaves – a bit
Palm oil – 1 or 2 cooking spoon
Ogiri igbo – 1 teaspoon should be enough
Bowl or pot – two pieces
Pan – one piece
You can use pepper, salt, and ground crayfish to your personal taste, so their amounts can differ depending on how you wish to cook your abacha meal.
Utazi leaves and tomatoes can be used to prepare the garnish.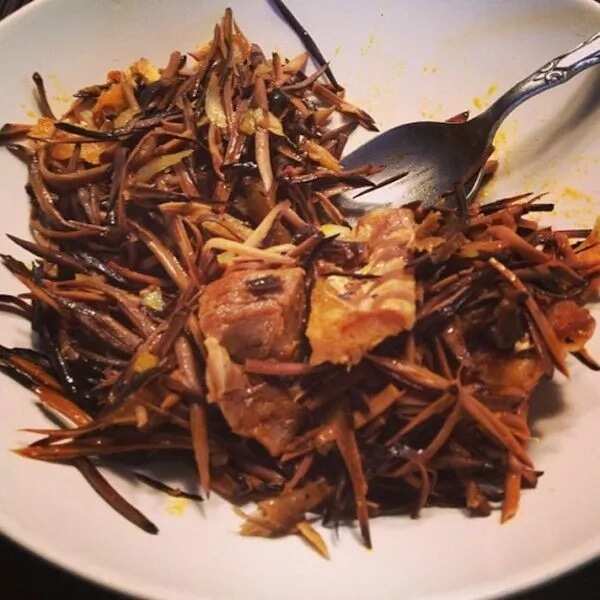 How to make abacha
Step 1. Take abacha. You should place it into a pot or bowl and cover with hot water. It is better to heat water beforehand. Make sure you are pouring it into boiling state. Wait for approximately one minute.
READ ALSO: Health benefits of white beans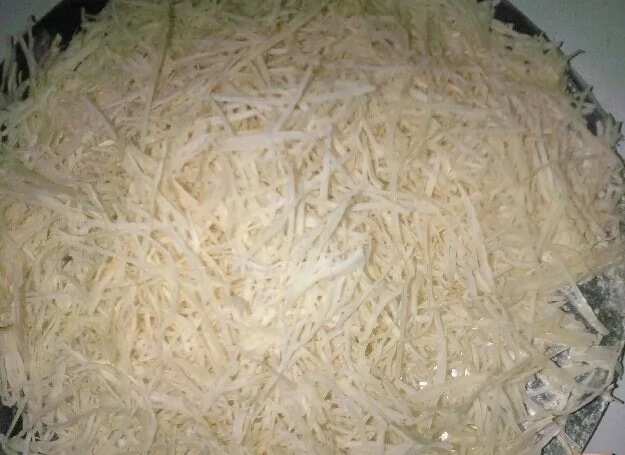 Step 2. Now place your watery abacha into a sieve. You have to let it drain. It will become softer after a while.
Step 3. You should now use a pan. Add palm oil on the bottom and place it in the oven. The heat can be low; there is no need to heat it too high.
Step 4. When the oil has melted, you can place the pan with it aside. You will need this to make your salad of nice warm temperature.
Step 5. Take another bowl. Place the following ingredients inside - onion (please chop it beforehand), pepper, salt, cube, ground crayfish, and ogiri. You should mix everything up and be sure that all the big pieces have dissolved into small pieces becoming the same-type mixture.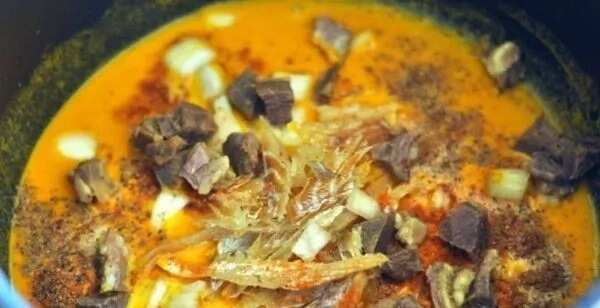 Step 6. When abacha has drained, you can use a spoon or hands to mix it up.
Step 7. Prepare the garnish using the chopped tomatoes and utazi leaves. You can add some salt or pepper to your taste.
Step 8. Mix abacha, garnish and the mixture prepared in the fifth step. This is your African salad. Enjoy it!
You now know how to prepare abacha without potash, so you can eat the salad for dinner. Nigerians also like to enjoy this salad along with proteins such as fried fish, grilled fish, etc. Please enjoy this meal with pleasure!
READ ALSO: Non carbohydrate foods in Nigeria
Source: Legit.ng