Nigeria Civil Defence: structure, corps salary and rank (2021)
The paramilitary organization was created under Act No. 2 of 2003. They have the responsibility to protect the citizens and country from various enemies and menaces. The Nigeria Civil Defence Corps salary is attractive like other paramilitaries, as officers can earn up to two million Naira annually.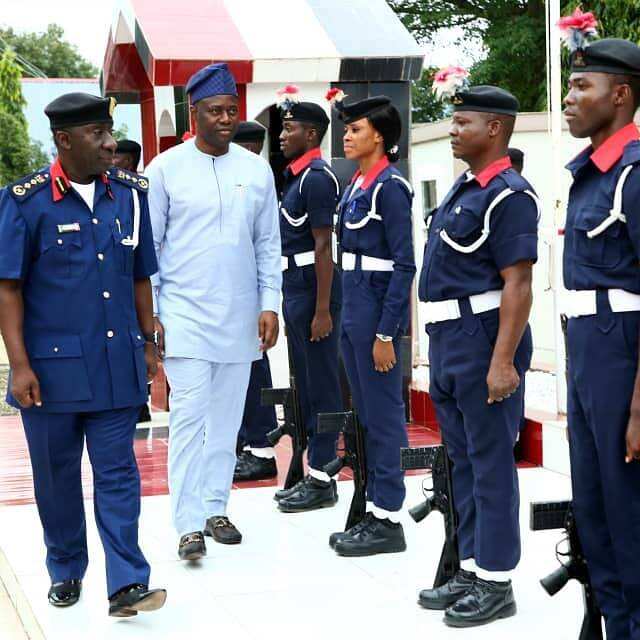 The corps was established during Obasanjo's administration. They are charged with the responsibility of providing safety to all citizens from any kind of disaster that may occur, whether terrorist attacks, natural disasters or any kind of hazardous situation faced by civilians in the country.
NSCDC rank structure
The Nigerian Civil Defence ranks are similar to that of the Police and Military forces. They also have a similar chain of commands. The highest rank presented in the service is the Commandant General while the lowest is Assistant Cadet.
The Nigerian Civil Defence Corps also have commissioned and non-commissioned officers. These ranks also have Superintendent Cadre and indented Cadre. Like other military and paramilitary organizations in Nigeria, individual officers obtain ranks based on the qualification/certificate they hold. Candidates with a bachelor's degree get level 8 placement in the system, and those who have Higher National Diploma are placed on 7. Medical doctors are usually placed on level 12 while Lawyers and Master's degree holders are placed on 9. The ranks of the various levels are listed below:
Level 3-5 - Assistant Cadre
Level 6 - Assistant Inspectorate Cadre
Level 7 - Inspectorate Cadre
Level 8 - Assistant Superintendent Cadre II
Level 9 - Assistant Superintendent Cadre I
Level 10 - Deputy Superintendent Cadre II
Level 11 - Superintendent Cadre II
Level 12 - Chief Superintendent Cadre II
Level 13 - Assistant Commander
Level 14 - Deputy Commander
Level 15 - Chief Commander
Level 16 - Assistant Commandant General
The ranks of the officers are increased through promotion or upon obtaining an additional qualification. Each rank reports directly to the one that is above him. It is important to know that the Commandant General is usually appointed by the President of Nigeria
Nigeria Civil Defence Corps salary structure
The Nigerian civil defence salary is based on the levels and ranks of the officers. The salary is decided by the Consolidated Paramilitary Salary Structure (CONPASS). The currency in which they are paid is the Nigerian Naira (NGN). Below is an estimate of the amount received as annual salary by the officers according to their ranks, from lowest to highest;
Assistant Cadre - NGN296,506 – NGN374,259
Assistant Inspectorate Cadre - NGN357,385 – NGN411,454
Inspectorate Cadre - NGN483,014 – NGN567,065
Assistant Superintendent Cadre II - NGN858,956 – NGN986,991
Assistant Superintendent Cadre I - NGN939,310 – NGN1,056,416
Deputy Superintendent Cadre II - NGN1,012,562 – NGN1,143,539
Superintendent Cadre II - NGN1,094,027 – NGN1,252,038
Chief Superintendent Cadre II - NGN1,158,172 – NGN1,325,234
Assistant Commander - NGN1,225,584 – NGN1,405,449
Deputy Commander - NGN1,619,447 – NGN1,825,589
Chief Commander - NGN1,759,921 – NGN1,966,281
Assistant Commandant General - NGN2,272,288 – NGN2,464,560
The amounts above are for a year and when divided by 12, you get the salary per month.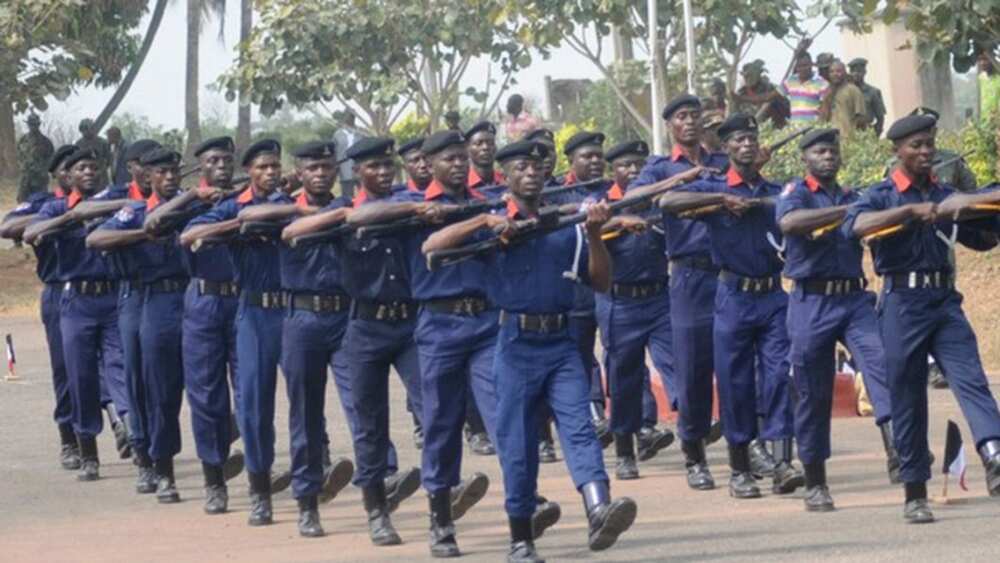 The Nigerian Civil Defence recruitment portal is opened whenever the organization needs new people. They usually announce it and applicants go online to apply. Afterward, they shortlist the name of successful applicants and from there, proceed to train them.
Aside from the basic Nigeria Civil Defence Corps salary, officers are entitled to some allowances. High ranking officers enjoy a lot of benefits. The chain of command in the organization makes their work easier. The field operators usually have a week or two off work in a month. If you are able to apply and get shortlisted, you are surely going to enjoy working in the organization.
Source: Legit