So many people love it but really few do know how to cook Edikang Ikong soup properly so that it tastes truly native and Nigerian. It's very nourishing, it's tasty, and it's really worth cooking whenever you like. Let's check out what you need for it and how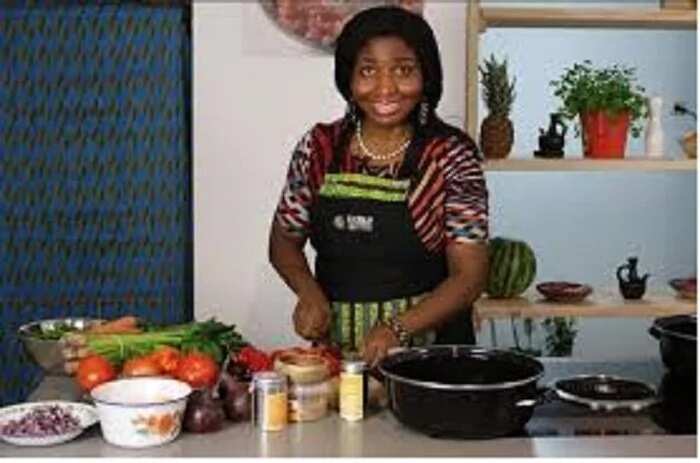 What are Edikang Ikong soup ingredients?
It's a very specific Nigerian soup that originates from the native Efic lands. It's made out of a range of very interesting ingredients. It tastes extremely exotic to all those who haven't tasted it before but is very common for Nigerians. It's a fact that many mothers cook this soup when their children are ill and need strength to recover faster. However, you don't need to be ill to taste it.
READ ALSO: Yam pepper soup with goat meat recipe
The most common ingredients for the real traditional Edikang Ikong soup include the following:
Ugwu (pumpkin leaves) – 3 cups
Waterleaf – 5 cups
Ata Rodo (yellow pepper) – 1 cooking spoon
Assorted meat (beef, goat, shaki) – 500g
Periwinkle – 150g
Pomo (cow skin) – 100g
Stockfish – 100g
Smoked fish – 1 fish of a medium size
Red crayfish – 1 cup (smoked whole)
King prawns – 1 cup (fresh)
Pumpkin leaves and waterleaves can be hard to find, so you can replace them with the following:
3 cups of spinach
2 cups of frozen chopped spinach
3 cups of lamb's lettuce
You will need to defrost the frozen chopped spinach, chop the normal finely and mix them together. Then, remove the excess water and add them to the soup as if you were adding pumpkin leaves. The recipe will be below.
What NOT to do while cooking Edikang Ikong?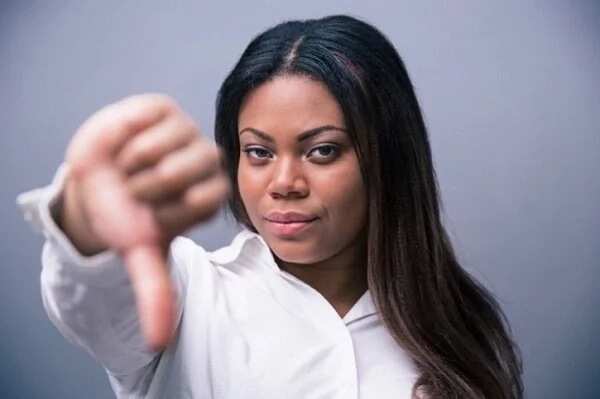 There's one traditional Edikang Ikong soup recipe but people often add or remove something, or do something in their own way. All this may come out quite tasty but it will no longer be Edikang Ikong. If you want to learn how to cook it properly, check out the following recommendations:
Some people say that the amount of pumpkin leaf should be bigger than the quantity of waterleaf. It's a mistake. Take more waterleaf for the true Edikang Ikong
Some people prefer frying waterleaf in palm oil. It's another mistake, don't do it
Don't use pepper mixtures if you are cooking Edikang Ikong. Use Ata Rodo or, at least, choose blended peppers without tomato or so
Don't put both types of leaves into the soup one by one without a pause. It's also a mistake. Allow waterleaf for a while because it needs some time to give off its water. Then, in a while add pumpkin leaves that are to absorb some of the moisture. Pumpkin leaves must be very dry when you add them
Don't pour too much liquid into the soup. It's not a liquid soup. Make sure your meat has absorbed all its stock in the course of cooking. The liquid in this soup comes from waterleaves only
Don't use too much oil. The whole amount of vegetables you have here will need only two tablespoons of palm oil. In case you see the oil on the surface of your soup, you have done something wrong
Don't use onions. Never use them in this soup, no matter how much you love them
Well, these are the most common mistakes people make while cooking Edikang Ikong. If you avoid them, you will receive the tastiest, the most classic Edikang Ikong soup ever.
Edikang Ikong soup preparation step by step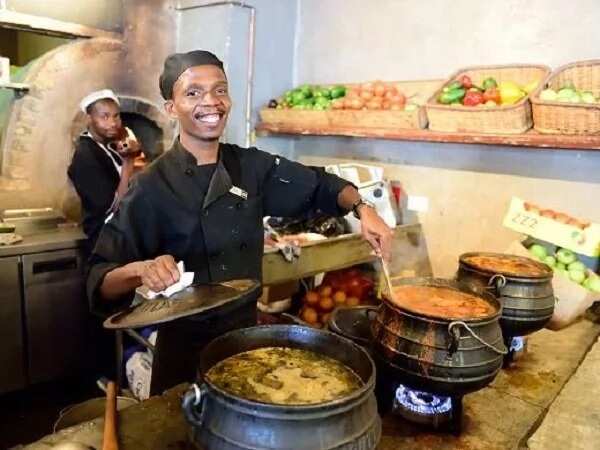 Before you start cooking, wash all the vegetables clean in a lot of water and let them dry. If it's too long, help them get dry by mopping them with a paper towel.
Boil the meat you have with stockfish. The water should be exactly enough to cover the meat and boil. Even if the meat is tough, the water will be enough. Just in case, keep an eye on the meat and add only a little if you notice the signs of burning or so
When you see the meat is close to being ready, add smoked fish and pomo (chopped finely). The meat will absorb some of the smoked flavors
When the meat is ready, leave about ½ cup of the stock. If you have more liquid, remove it but keep aside. It should not go together with the soup
Add one or two spoons of palm oil and cook while it dissolves in the meat and stock completely
Add the pepper and may it dissolve in the mass, too. If you like it very hot, you can increase the amount of pepper
Add periwinkles and all the waterleaves, stir the soup well and cover the pot. Let the mass steam for about 5 minutes under the lid at a very small fire
Rinse crayfish thoroughly to remove all the dirt, add 1 or 2 tablespoons of water, and add to the pot. After some 2 to 3 minutes, you will notice the difference in the taste. It will be so intense that you even don't need any seasoning cubes to increase the flavor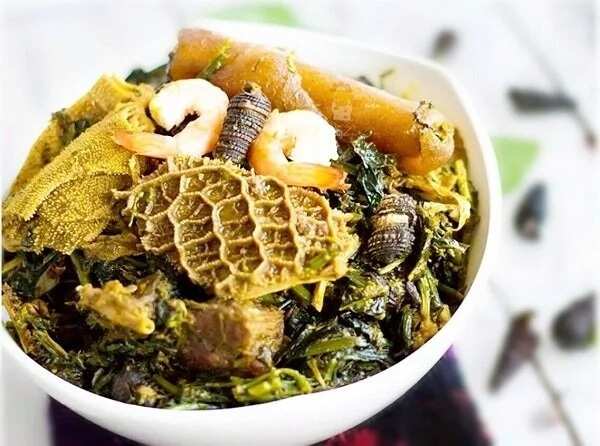 Now, add pumpkin leaves, stir everything thoroughly, and allow for 5 minutes more. Taste for saltiness and add some salt if you need more. In case you think that the taste lacks something that seasoning cubes can give it, try to add some more crayfish. Cook for 2 minutes more
Namely, that's all. You have just cooked the incredible, delicious, fantastic Nigerian Edikang Ikong soup and it has taken you only a little time and practically no efforts, hasn't it? Now, you can taste the real native Nigerian cuisine without any extra flavors like those seasoning cubes or blended spices. Just the pure traditional taste that's really delicious!
READ ALSO: How to cook Ofe Akwu soup