- Governor Rochas Okorocha has denied running a family government in Imo state
- The governor said those behind the claim missed the point
- He said he won't run for Senate or President in 2019
Governor Rochas Okorocha has stated that he won't aspire to be a senator in 2019, The Punch reports.
The governor made the comment when about 5,000 members of the Rochas Mandate Movement held a solidarity rally for him in Owerri, on Friday December 15.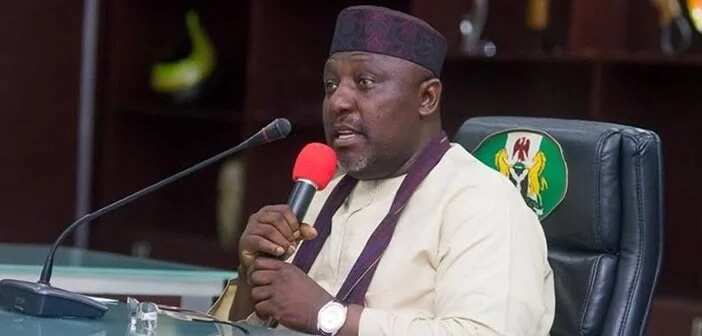 The governor's statement is coming at a time most of his colleagues gearing up to leave their respective government houses are preparing to contest for senatorial positions.
READ ALSO: There is the possibility of Igbos getting leadership after Buhari - Okorocha
He accused those behind the rumour that he is running a family business in government, of ruining the state when they held sway as leaders before his emergence as governor.
"Uche Nwosu who is from Nkwerre Local Government Area and Prince Eze Madumere, from Mbaitoli LGA are all counted today as members of my family because they have grown to prominence but when they took those steps of faith, no one counted them as members of my family," Okorocha said.
He reiterated that he would neither run for Senate nor for the President in 2019, but would be keen in who succeeds him and who can sustain the tempo of the achievements recorded by his administration.
His words: "The people I see here are people who are committed. People that are following me not because of what they could gain from me, but because of what we have done for the world.
"As it stands, come 2019, I'm contesting for nothing. But in my heart, I have searched out and resolved that one man has good thoughts about Nigeria in his heart. Secondly, the possibility of leadership will easily get to the Igbo after him. That man is President Muhammadu Buhari."
"My coming as a leader in Imo state was by your efforts. No big political bigwig supported me and in my stride, I have brought sitting heads of states of other countries to Imo state."
Meanwhile, controversial entertainer and activist, Charles Oputa, aka Charly Boy has accused Governor Okorocha of holding the people of Imo state to ransom.
Charly Boy, who is also an indigene of the state, made the accusation in a viral video posted on his social media pages.
READ ALSO: Governor Okorocha's comments about Bola Tinubu disrespectful - Group
Age requirement reduction by the Senate; Good or Bad for Nigeria? on Legit.ng TV