Catholic priest who dumped priesthood gets married (photos)
A Facebook user, Shadrack Okpume, has revealed that a Kano-based catholic priest named Rev. Fr. Gospel .J. Inalegwu, who recently dumped the priesthood has gotten married.
Father Inalegwu's resignation comes more than one year after he was kidnapped at his parish at St Joseph catholic church, Jitan-Dutse, in Tudun Wada local government council, Kano state.
Shadrack claimed that Father Inalegwu knew that he was going to quit the priesthood but pretended for 11 years in the seminary.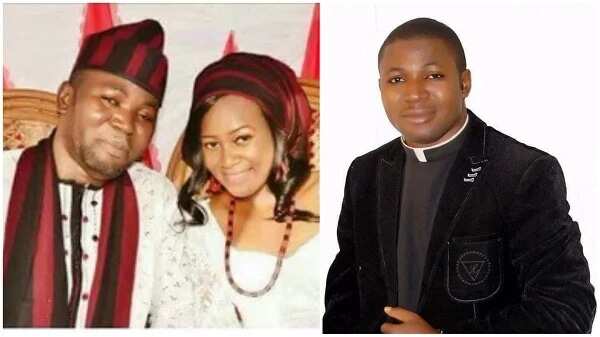 READ ALSO: Gunmen allegedly kidnap chaplain, ask for N100m ransom
Read his full post below;
"During the week report come in that Rev Fr Godspower Inaelegwu who resigned in Kano got married even before his resignation, also rumour has it that he actually faked his kidnap in order to quit the Priesthood , so pathetic and some persons will come and tell me to pray for him, when he himself allowed the devil to use him, accumulating wealth for himself through the Priesthood, rubbish rubbish.
"He knew quite alright he wasn't capable yet he pretended for 11 years in the seminary, its time CBCN ,come up and address this issues ,its becoming so annoying that some hungry men now see the Priesthood as an avenue to make money just as Fr Edet did ,and report coming from his end has it he is also planning to walk down the aile any time soon. Too too bad.
READ ALSO: Reverend fathers spotted drinking bottles of beer with Catholic sisters (photos)
"The reasons Latin rite priests can't marry is both theological and canonical.
"Theologically, it may be pointed out that priests serve in the place of Christ and therefore, their ministry specially configures them to Christ. As is clear from Scripture, Christ was not married (except in a mystical sense, to the Church). By remaining celibate and devoting themselves to the service of the Church, priests more closely model, configure themselves to, and consecrate themselves to Christ.
"As Christ himself makes clear, none of us will be married in heaven (Mt 22:23–30). By remaining unmarried in this life, priests are more closely configured to the final, eschatological state that will be all of ours.
"Paul makes it very clear that remaining single allows one's attention to be undivided in serving the Lord (1 Cor 7:32–35). He recommends celibacy to all (1 Cor 7:7) but especially to ministers, who as soldiers of Christ he urges to abstain from "civilian affairs" (2 Tm 2:3–4).
"Canonically, priests cannot marry for a number of reasons. First, priests who belong to religious orders take vows of celibacy. Second, while diocesan priests do not take vows, they do make a promise of celibacy.
READ ALSO: Catholic priest escapes after kidnappers allegedly drank his wine and slept off
"Third, the Church has established impediments that block the validity of marriages attempted by those who have been ordained. Canon 1087 states: "Persons who are in holy orders invalidly attempt marriage.
"This impediment remains as long as the priest has not been dispensed from it, even if he were to attempt a civil marriage, even if he left the Church and joined a non-Catholic sect, and even if he apostatized from the Christian faith altogether. He cannot be validly married after ordination unless he receives a dispensation from the Holy See (CIC 1078 §2, 1)."
READ ALSO: Falana agrees with Okogie's controversial statement on RCCG
PAY ATTENTION: Download Legit.ng mobile app
Ex Bishop David Abioye's driver quits Living Faith Church, converts to Islam - On Legit.ng TV
Source: Legit