Aso ebi with cord lace styles in Nigeria 2017
See beautiful photos of aso ebi styles using cord lace in Nigeria this 2017! If you like traditional designs and lace fabrics, this article offers you some gorgeous designs that you can choose from!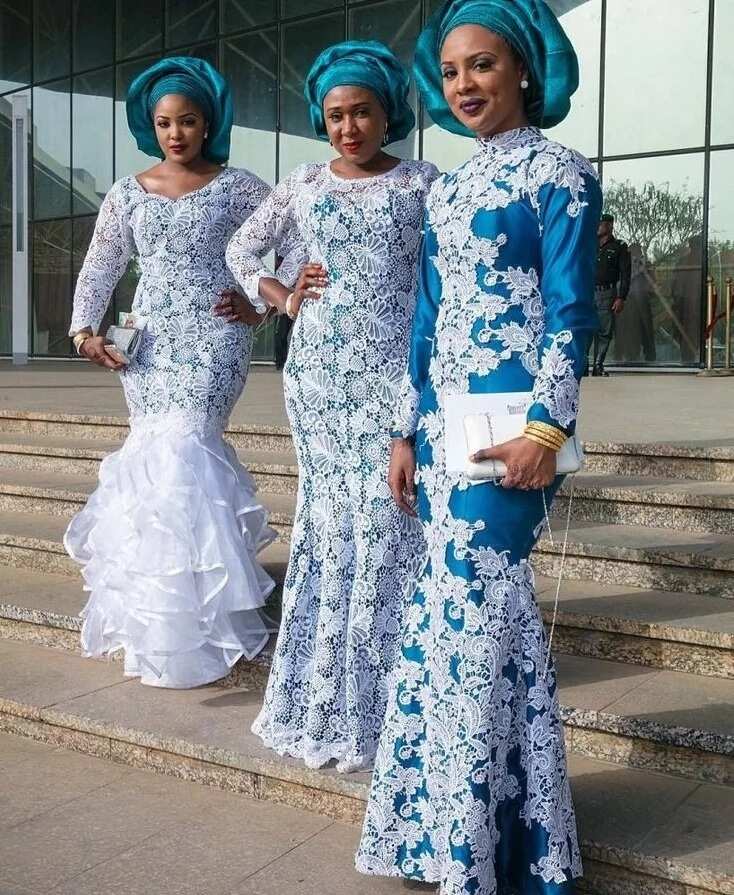 Every year, more and more lace fabrics are used in traditional Nigerian women's clothes and the aso ebi styles made with lace are especially gorgeous. The use of lace fabrics seem to be trending this 2017, so if you want to create a chic outfit for any festive events in the traditional aso ebi styles with cord lace you simply cannot go wrong.
Aso Ebi lace styles
When making a dress, you need to decide if you want to sew the dress entirely from lace or simply use lace fabrics as decoration.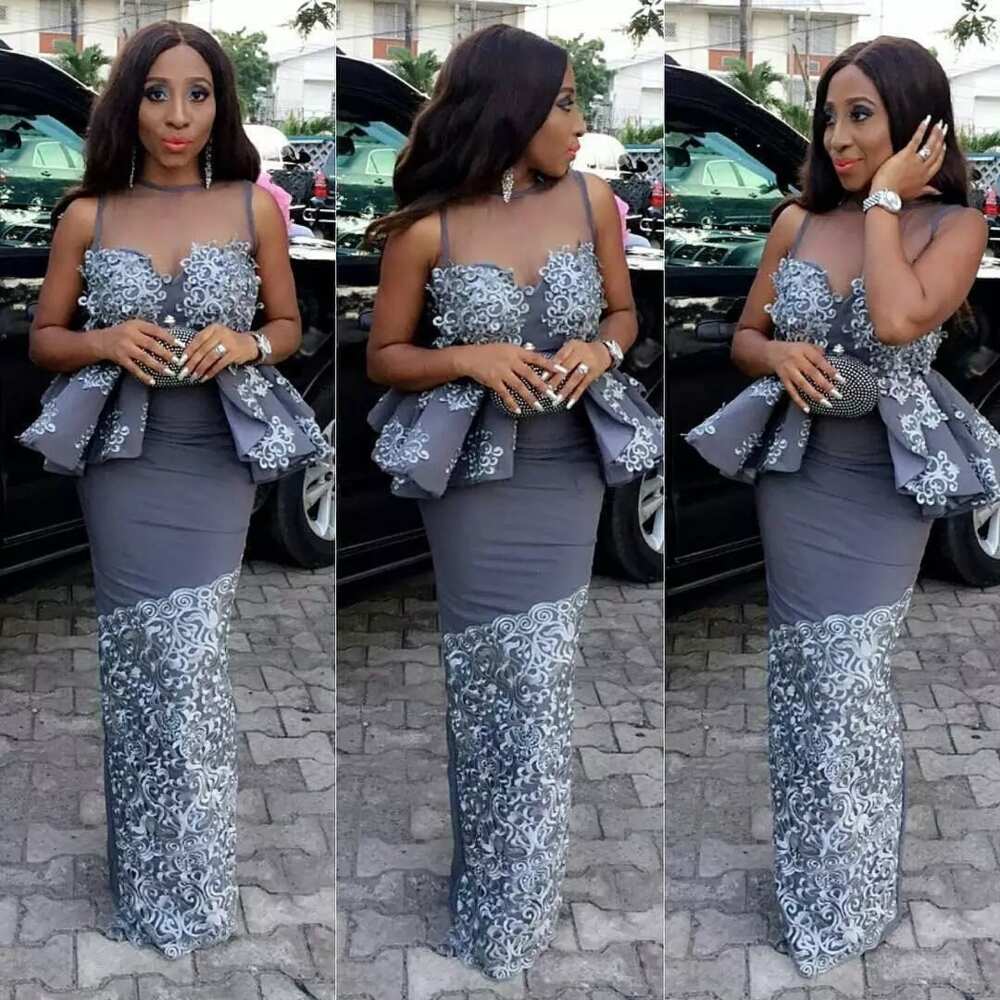 Since lace is currently trending in the fashion world, you can choose to make your dress entirely of cord lace and you will look adorable and totally refined in it; the main thing is to choose the right cut and lace fabric. As a rule, traditional aso ebi styles are long dresses made to sweep the floor and well tailored to flaunt the wearer's figure, which in turn shows the lace in all its beauty.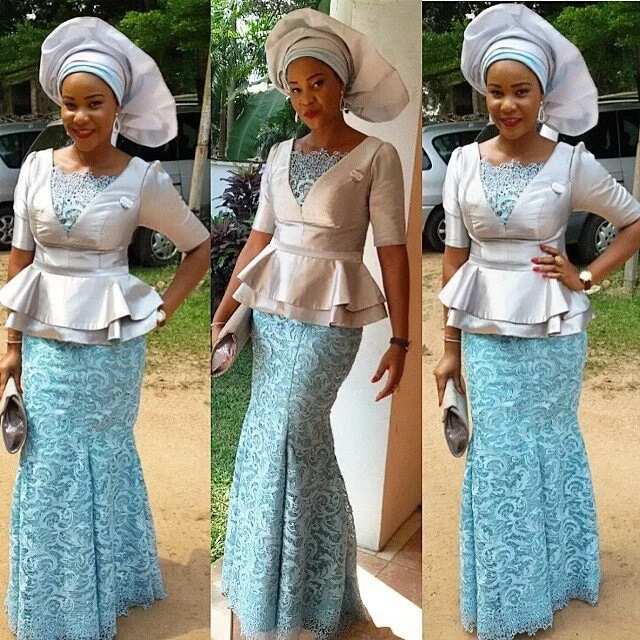 Adhere to this rule when making your dress: The harder and brighter a lace fabric is, the simpler your style should be. And on the flip side, the simpler and smaller your lace ornament is, the more extra designs you can add to the dress style.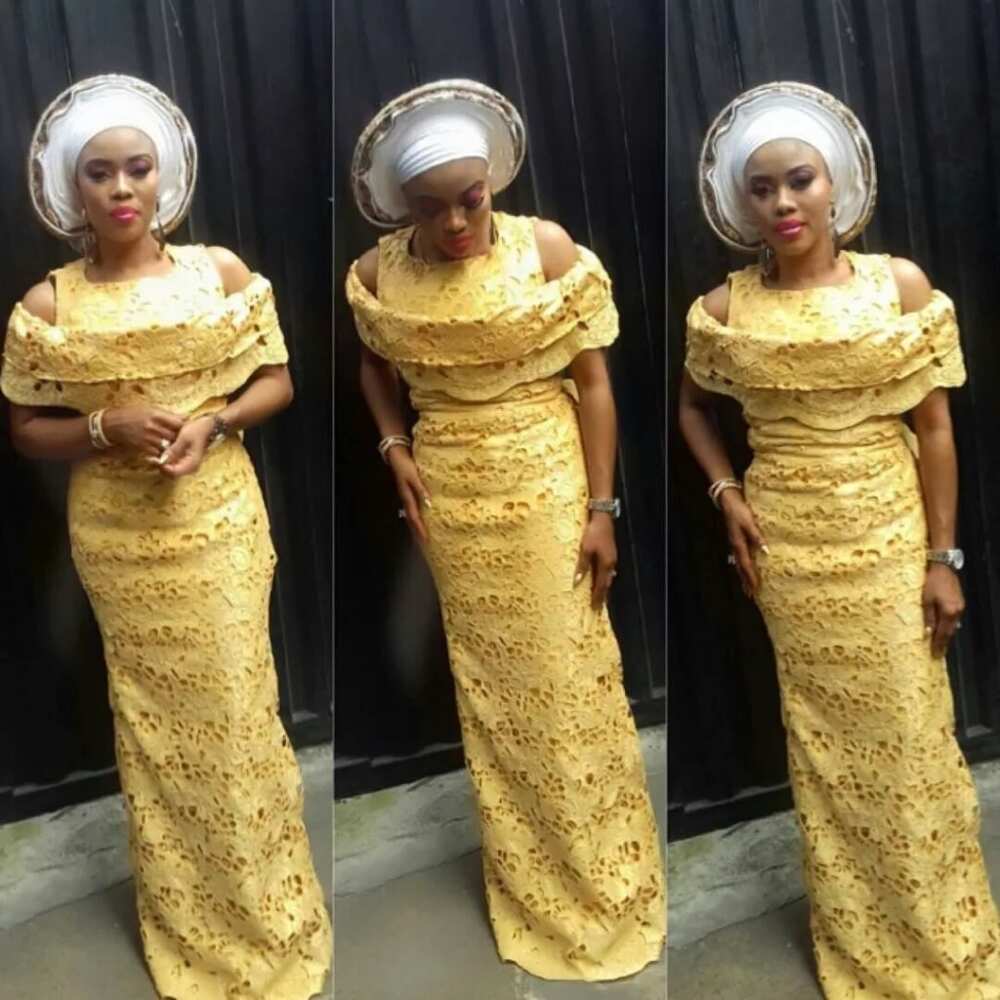 For example, when sewing a simple lace fabric, the dress' bottom can be made mermaid style or have a train added to the skirt. If you are sewing a dress with only lace fabric, it is better to avoid deep cuts in the skirt. In another scenario, the overall pattern of the dress can be changed with different designs like adding drapes and frills to the neckline and sleeves. You could also add interesting multi-layered sleeve-wings or sleeve-lanterns.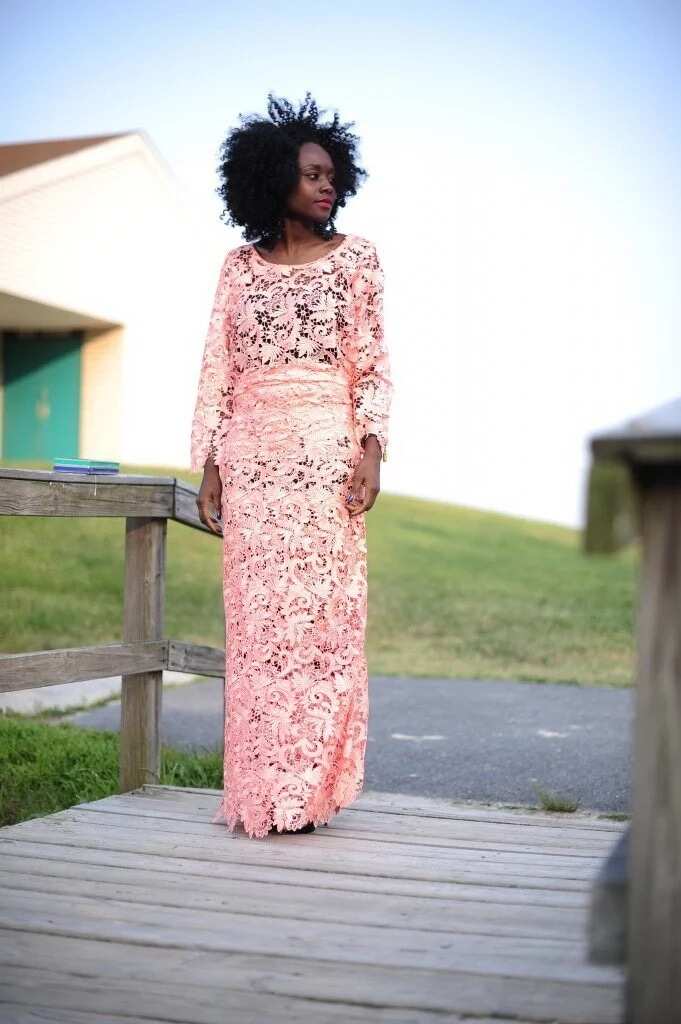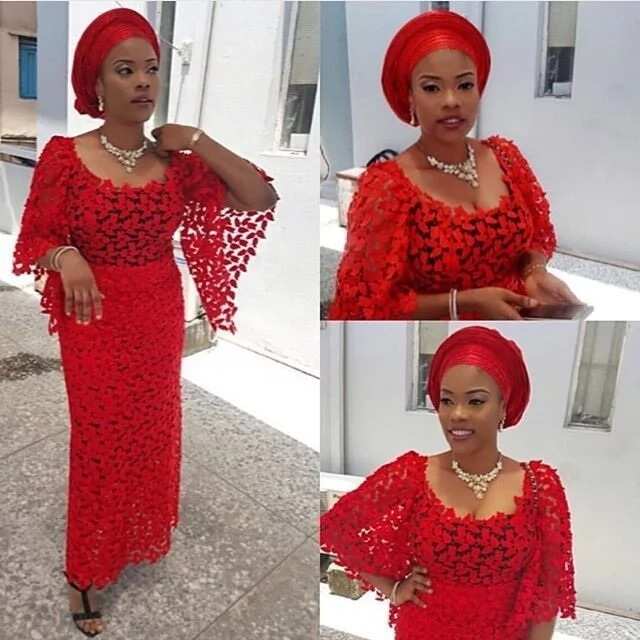 If your fabric has large expressive patterns or big floral ornaments, it is better to make a straight dress with long or ¾-sleeves. In this case, the décolleté zone should not be opened and the neckline of the dress must be as simple as possible - round or straight. You can however make an open back style when making aso ebi lace gowns for festive occasions.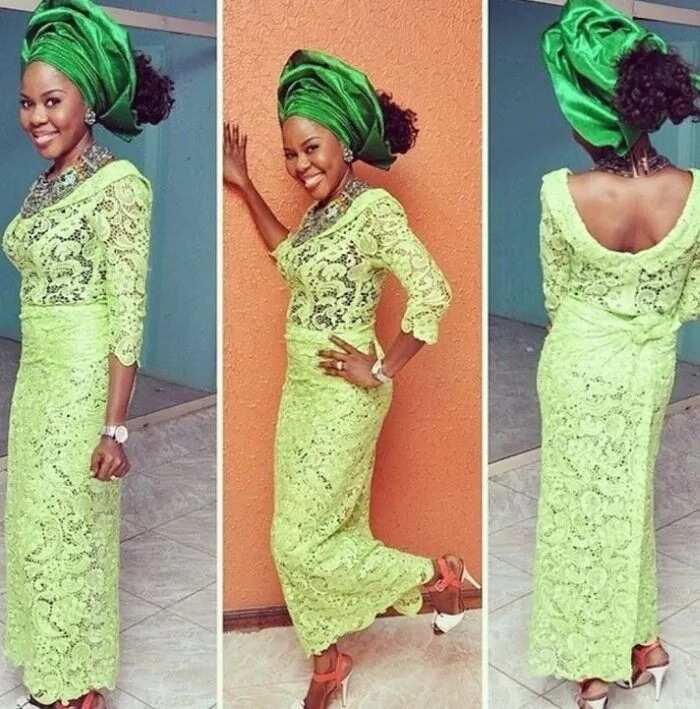 Pay attention to the degree of your lace fabric transparency. If the ornament is small and dense, you can wear your dress with just underwear, but if the fabric is transparent, it is better to sew an underdress in the same cut as the gown. In this case the outfit will be completely closed. Otherwise, you can make a knee-length or to the middle of the thigh dress with straps..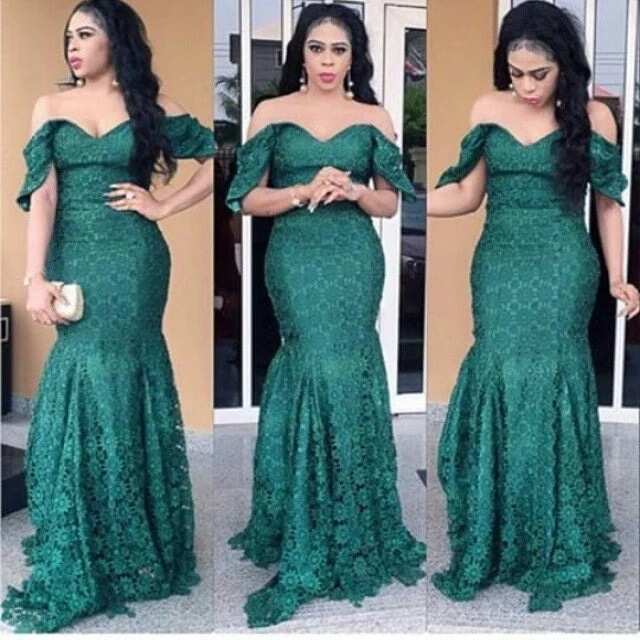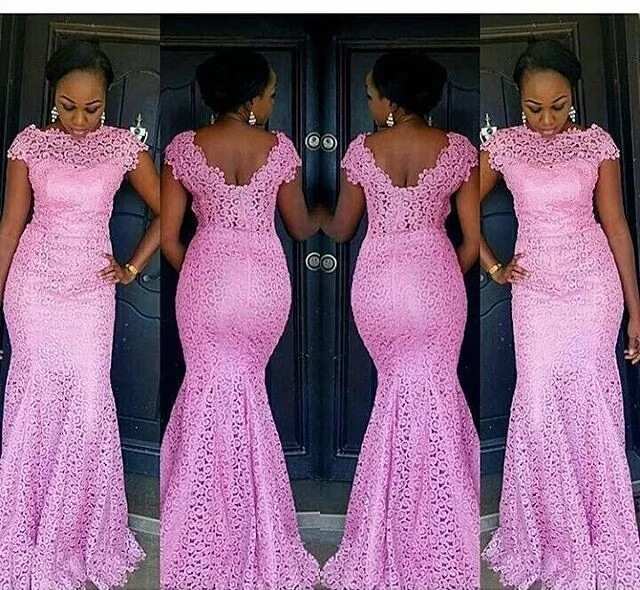 The décolleté zone of your dress can be made completely without a lining, or have the front made completely covered with lining while the back is made from transparent lace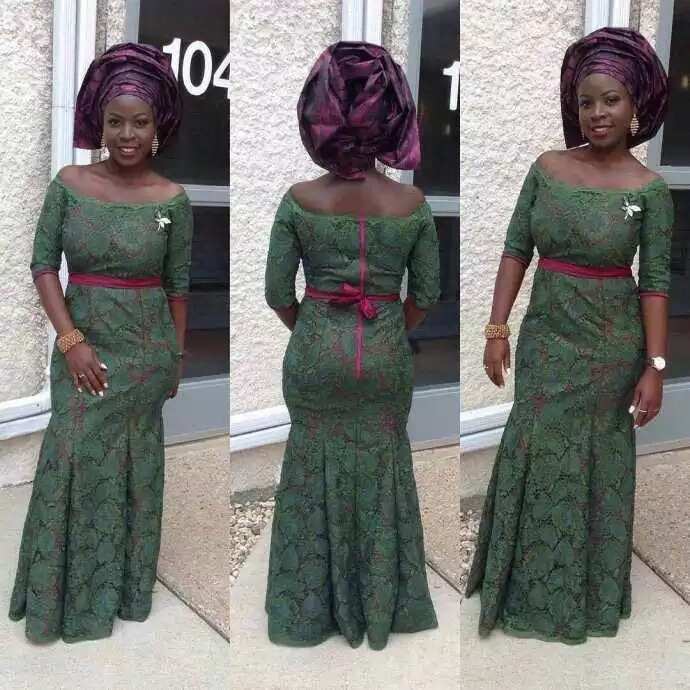 If you are not afraid to experiment, having your underdress made in a different color from that of your fabric will give a pretty interesting look to your dress. When you are not sure about the combination of two different colors, simply make an underdress and lace gown of the same color but in different tones; the upper lace dress can be made brighter or lighter than the underdress.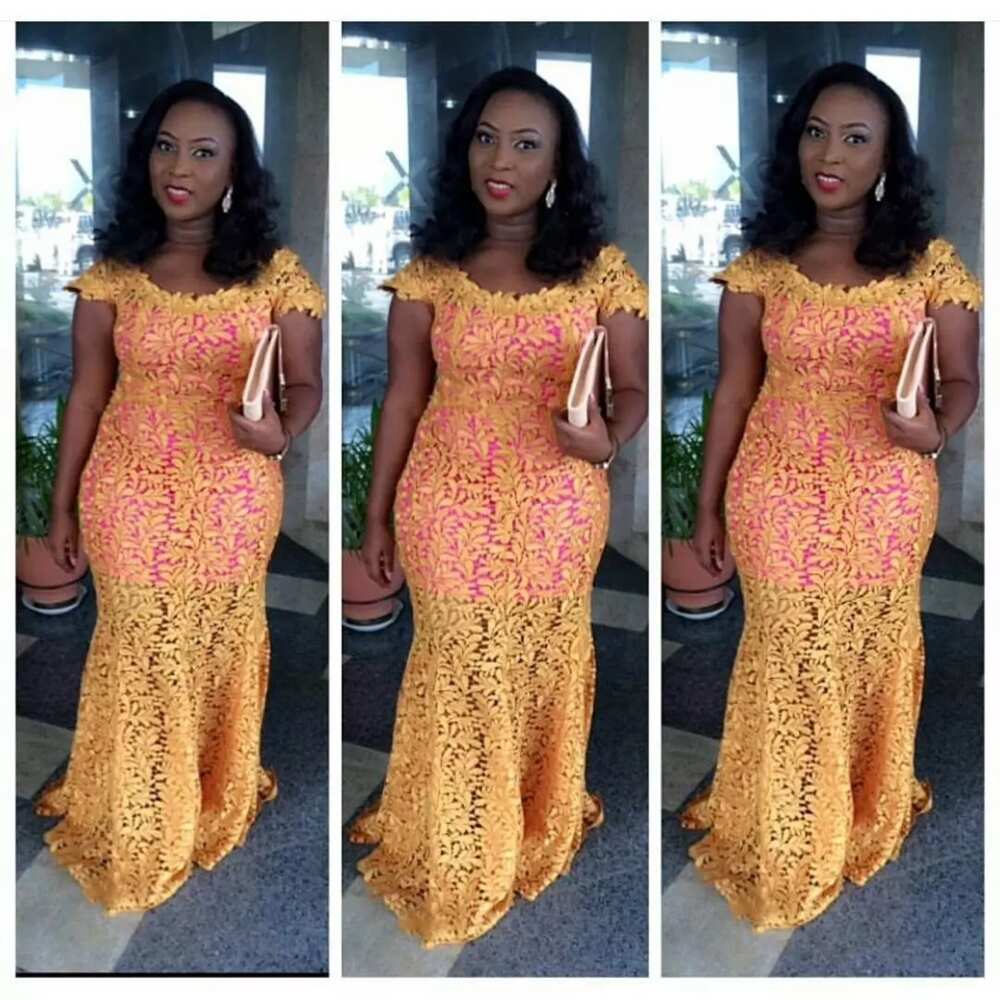 When making your underdress with a different color, make sure it is a classic combination - yellow and blue, pink and brown, white and black or yellow and black. In principle, white and black laces will match an underdress of almost any color. You can even use a multi-colored lace, but be careful not to overdo it and end up with an outfit that is too colorful.
READ ALSO: French lace Aso Ebi styles 2017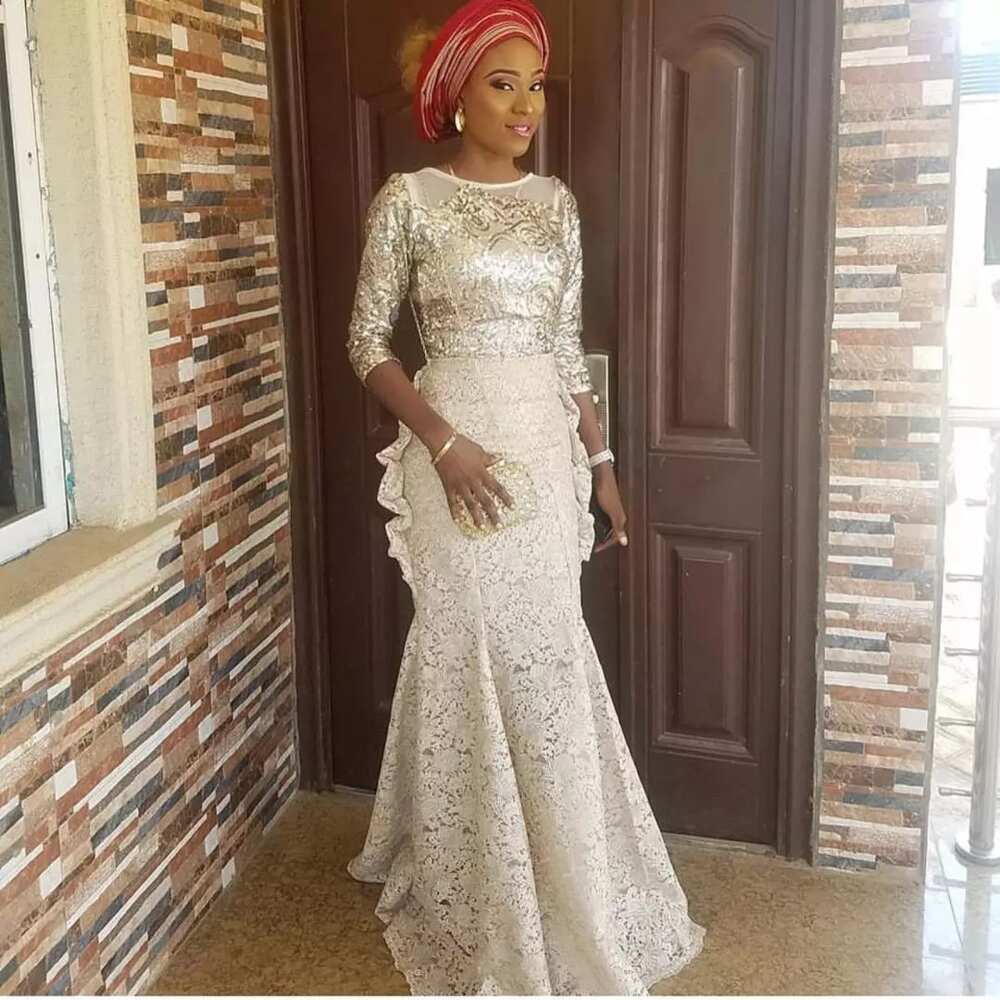 Best Aso Ebi lace designs 2017
This 2017, besides clothes made entirely of lace, cord lace decorations or lace fabric combined with nylon and chiffon are also in trend. Chiffon is used mostly for the sleeves and décolleté zones. Other perfect combinations include lace and velvet or lace and satin. When making evening attires it is better to use one-colored fabrics.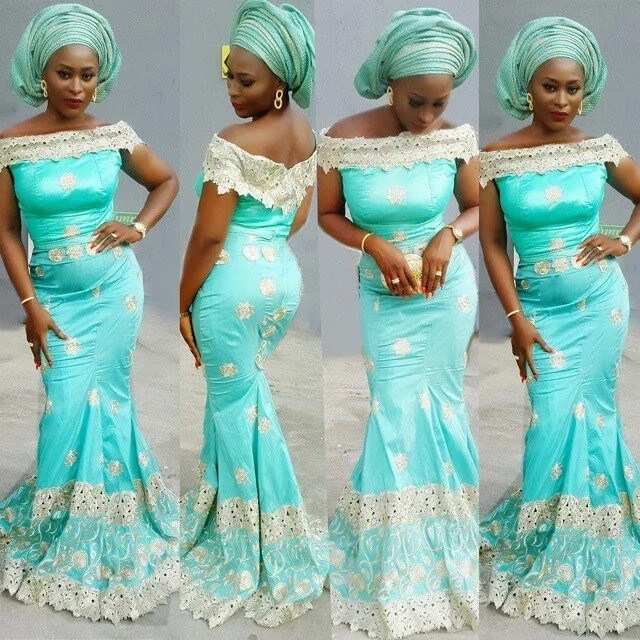 You can take a thin strip of expensive cord lace with a large pattern and decorate the neckline, waist or hemline of your dress. The decor can be of a different color than the basic outfit; you can also carefully infuse lace into the main fabric of the dress. As usual, it should be placed in the décolleté zone. Be creative.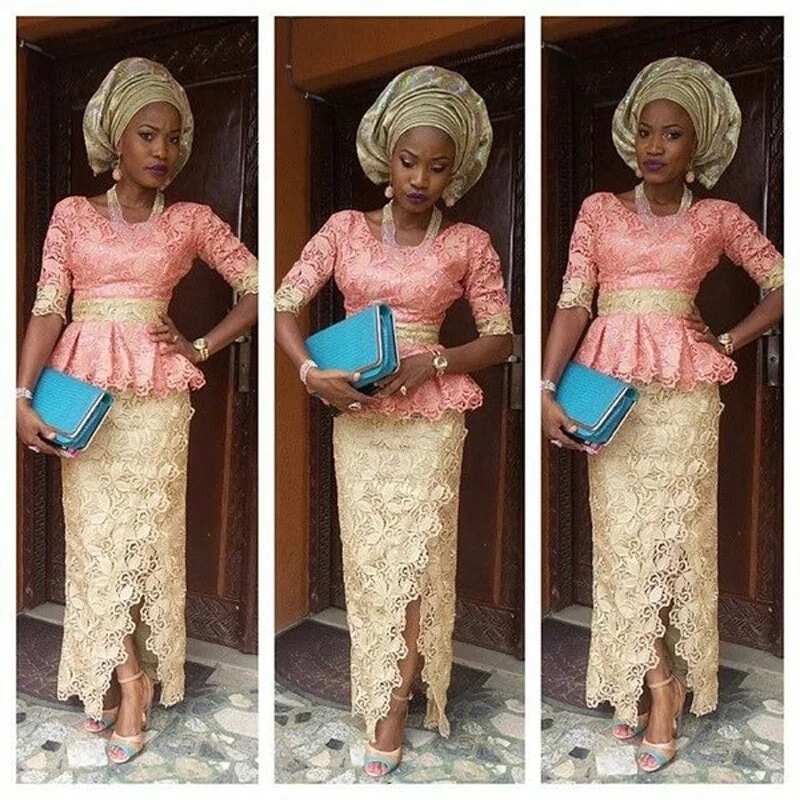 Also, for the cut, this year one bare shoulder is in trend. Another shoulder can be decorated with the help of lace or chiffon frill. Waist peplum styles on blouses and dresses are also very popular this season. The peplum can be made of several layers and different lengths depending on what you like.
One more fashion trend is adding a cape. It can be sewn like a pelerine and made long to the waist or the floor. Capes for lace dresses are better made out of chiffon. They really add festiveness to the latest cord lace styles.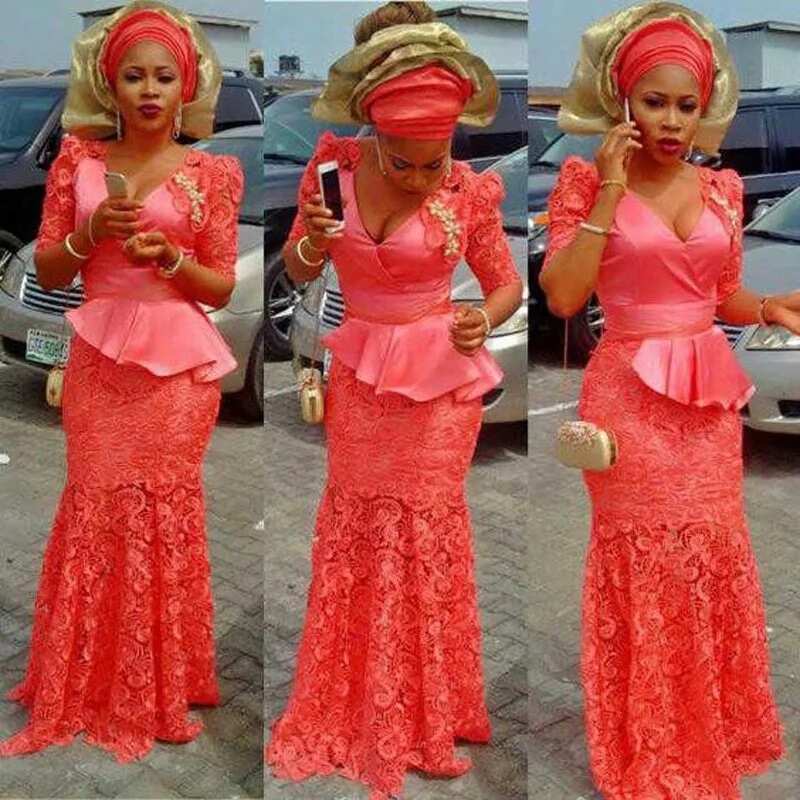 The mermaid style is in very high demand with Nigerian women and remains in style. A lace frill with a small pattern comes out very beautiful and several frills of different lengths can also used. You can make a train or sew a large lace wedge in front or on the side.
When making a midi length cord lace style, it is better to sew a straight skirt and stick to decorating only the top of your outfit.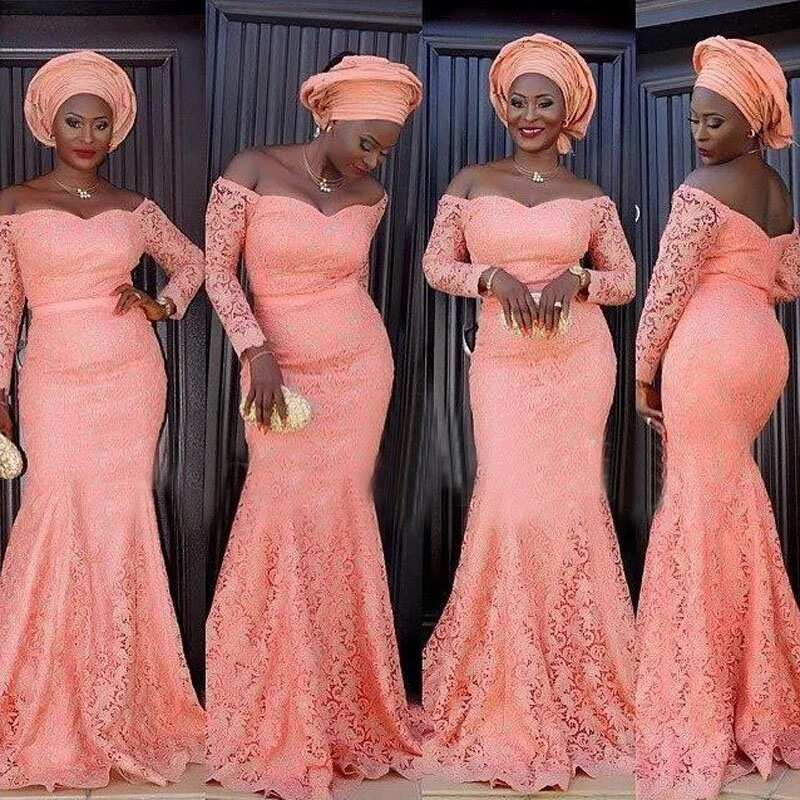 As for additional decor, understand that the lace itself is a very elegant fabric. If you sew an outfit from an expensive lace fabric with a large, intricate pattern, it is better not to add anything. Such an outfit is already beautiful If the pattern is small and not pronounced, you can add a little extra décor for a festive event.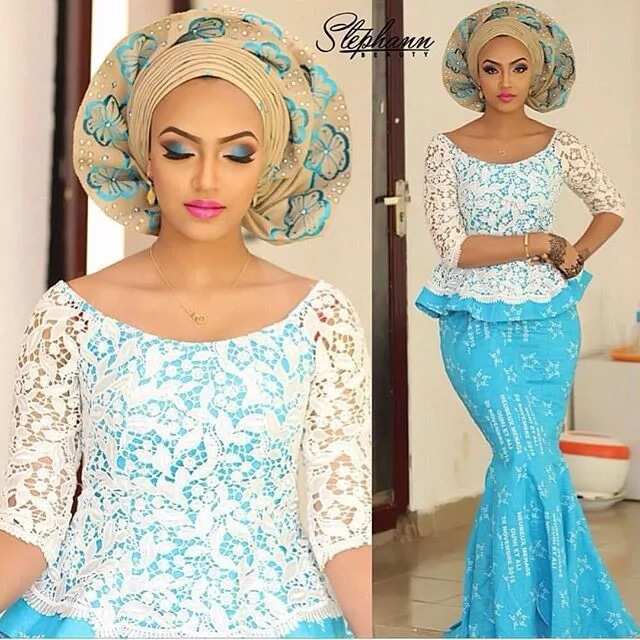 It is always a good idea to decorate the neckline and décolleté zone with rhinestones, Swarovski stones and artificial pearls. For certain occasions like weddings, you can also embroider the hemline with sequins. But remember that it's better to choose small rhinestones for lace, that way they don't cover the lace fabric ornaments.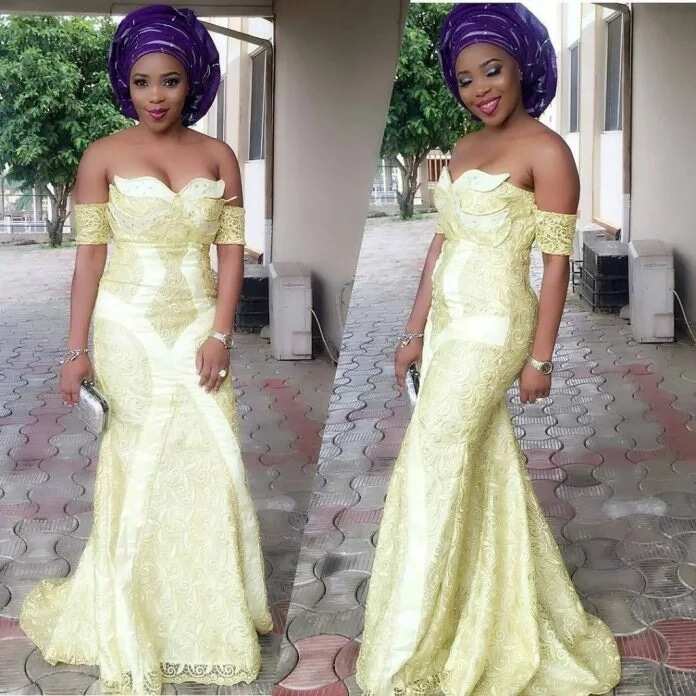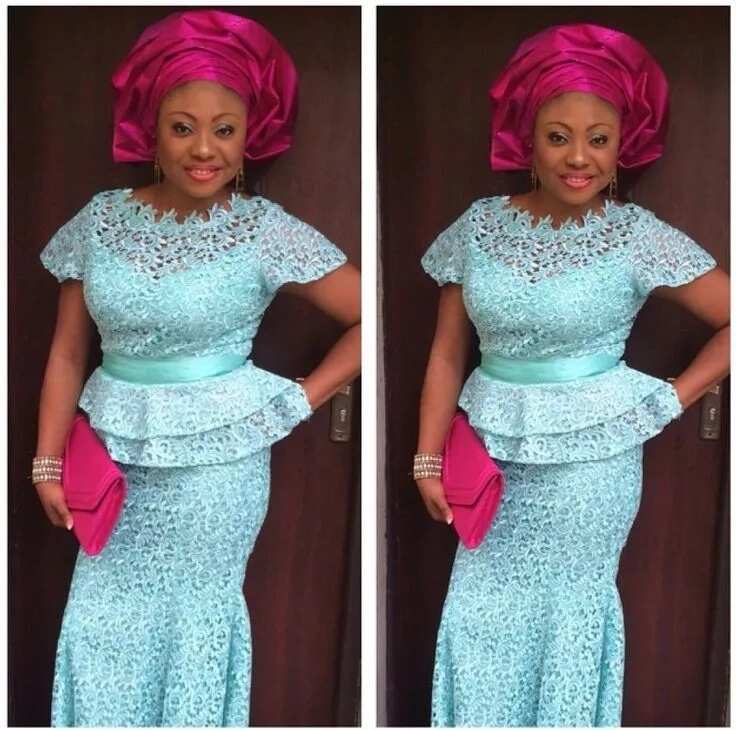 And a few words about the color scheme. In 2017, pastel colors of lace fabric are not the only popular ones, fashionistas can choose any color they like. Bright laces are in trend now - pink, peach, blue, yellow, mint, coral are the most popular colors this season.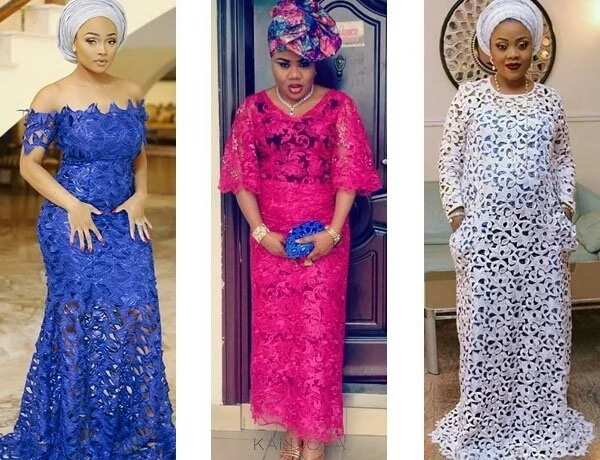 As you can see, in this fashion year any fashionista can sew or buy an outfit of cord lace aso ebi style. Choose a fabric, be inspired by new styles and create beautiful stylish outfits worthy of beautiful Nigerian women.
READ ALSO: Latest Aso Ebi styles 2017 for ladies
Source: Legit.ng