British government seeks Nnamdi Kanu's whereabouts from FG
- The status and whereabouts of Nnamdi Kanu is of interest to the British Government
- The Indigenous People of Biafra (IPOB) leader has not been seen in public after a Nigerian Military raid in his country home in Abia state
- Kanu is a Nigerian and British citizen
A report by Punch indicates that the United Kingdom has asked the Nigerian government to clarify the status and whereabouts of IPOB leader, Nnamdi Kanu.
According to the report, the British government said it had asked the Nigerian government if the British/Nigerian national was alive or dead.
This was made known by the press officer, United Kingdom High Commission in Nigeria, Joe Abuku.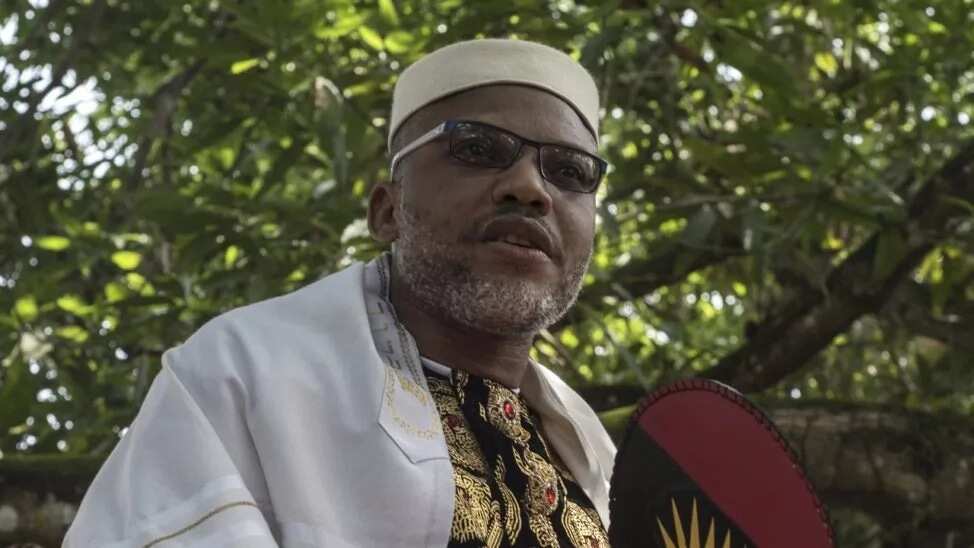 READ ALSO: 14 IPOB members remanded in Aba Federal Prison
Abuku stated that the inquiry followed reports that Kanu had been missing since Thursday, September 14, after a Nigerian Military raid in his country home in Abia state .
"We are seeking urgent clarification from the Nigerian authorities about the status and whereabouts of Mr. Kanu, a British-Nigerian man, who has been reported missing since September 14," Abuku told Punch via email on Thursday, September 28.
When asked if the UK would strip Kanu of his British citizenship on account of the declaration by the Nigerian government that he was leading a terrorist organisation, Abuku said they don't comment on individual cases.
His words: "One of the conditions that can make the United Kingdom strip its citizen of nationality is if the person engages in a terrorist activity at home or abroad. And Kanu has dual citizenship and therefore a citizen of Nigeria and the UK."
On whether the UK supported the Nigerian government's proscription of IPOB, Abuku responded saying the group was not a proscribed organisation under the British law.
"The Indigenous People of Biafra is not a proscribed organisation in the UK," he stressed.
He also declined comment on whether the IPOB might be designated as a terrorist group or proscribed by the British authorities.
"We do not routinely comment on whether an organisation is or is not under consideration for proscription. A decision to proscribe an organisation must be based on a belief that it is concerned in terrorism as defined in the Terrorism Act 2000, and it must be proportionate," he added.
It could not be immediately ascertained if the Nigerian government had responded to the inquiries or not.
The United States had earlier said it did not consider IPOB a terrorist group and urged Nigerians to de-escalate tension and embrace peaceful resolution of grievances.
"Within the context of unity, we encourage all Nigerians to support a de-escalation of tensions and peaceful resolution of grievances. The Indigenous People of Biafra is not a terrorist organisation under US law," spokesperson for the American Embassy in Nigeria, Russell Brooks said in a statement.
READ ALSO: Igbos in Oyo state okays IPOB proscription
Watch Legit.ng TV video of Nnamdi Kanu's father talking about the activities of his son as IPOB's leader:
Source: Legit.ng