Minister replies man who called him out for 'looking fresher' on social media
Legit.ng came across what appears to be a harsh exchange of words between the South African minister of police and a Twitter user who chose to troll him.
The minister of police, Mbalula Fikile, decided to respond to an internet troll who chose to use his pictures to show the 'difference' between being ugly and being broke.
According to the troll identified as @danielmarven, you only have to come into money to be able to 'upgrade your looks'. He explained this by sharing a post that said "you are not ugly the thing is you haven't been a minister."
Minister Fikile spotted the post and decided to put the troll in his place, telling him "It's good cameras and filters Chief. You should know this with your sunny with chances of clouds area weather forecasting face."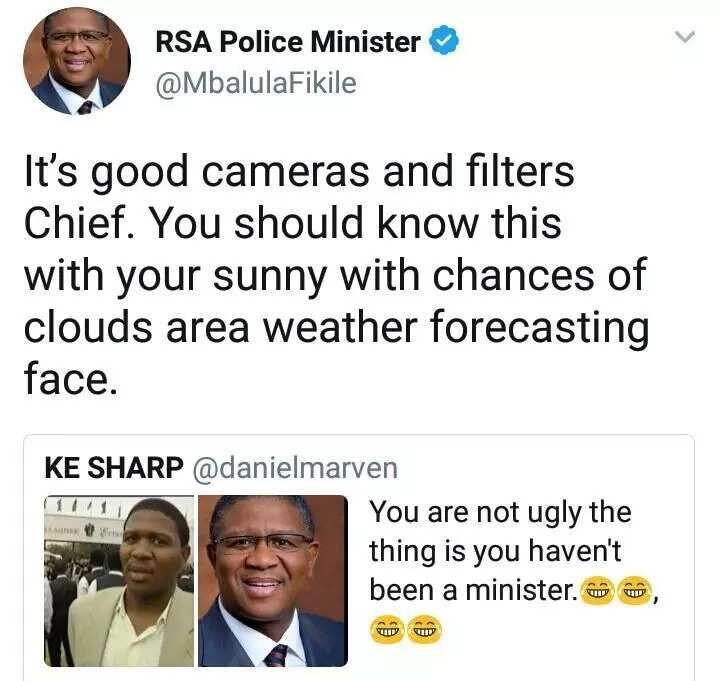 READ ALSO: Nigerian lady who wants to become president replies internet trolls
See their posts below:
READ ALSO: Uche Jombo replies rude fan who insulted her dress sense
See the minister's response below:
LOL! Who won this 'fight'?
Meanwhile, watch this video to see what Nigerians answered when asked "is the police your friend?"
Source: Legit.ng