Igbos in Oyo state okays IPOB proscription
- The Independent People of Biafra (IPOB) seems to be losing relevance among Igbos
- More and more Igbo leaders continue to denounce the group
- The latest to do so is the Eze Ndigbo of Oyo state, Dr. Alex Anozie
The Eze Ndigbo of Oyo state, Dr. Alex Anozie, has described the proscription of the activities of IPOB as a right step in the right direction.
Anozie made his stance known in an interview with Daily Trust on Tuesday, September 26.
He hailed the southeast governors and the Ohanaeze Ndigbo for taking the decision, describing it as a wise decision to save the region from further crisis.
He noted that the Igbo regretted the civil war fought in the past, adding that the region could not afford to go into another war.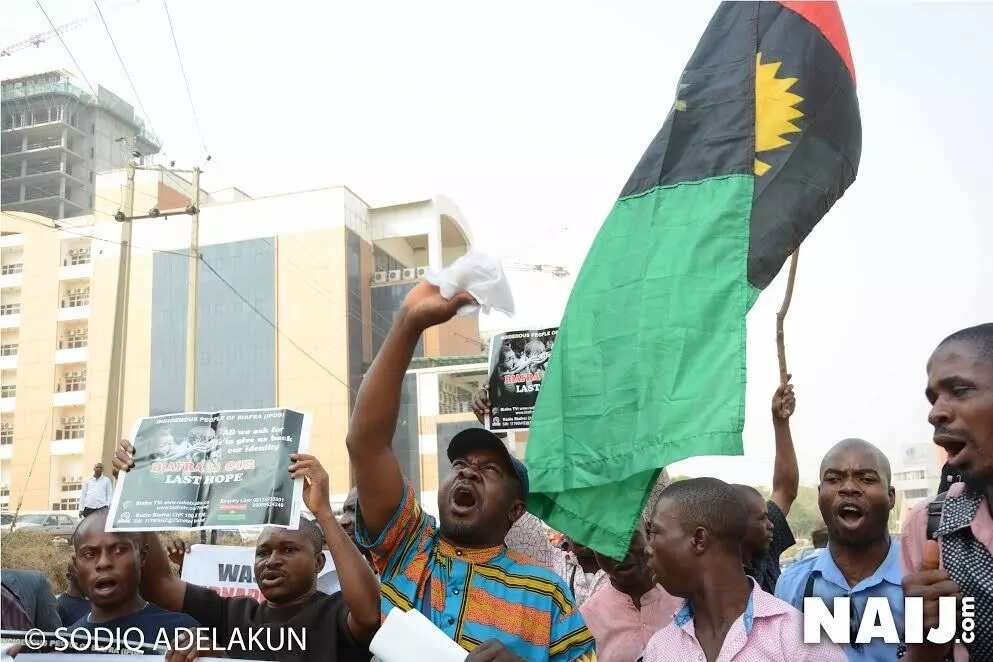 READ ALSO: What will happen to Senator Abaribe, others if Nnamdi Kanu fails to appear in court - Presidency
His words: "It is a wise decision taken by the leadership of Eze Ndigbo and southeast governors. This will douse the tension in the country.
"We don't want war again in Nigeria. We have fought war before and lost millions of lives and property worth billions. We don't want such a thing in this country again.
"I'll advise our people to take it easy and continue to appeal to the federal government to listen to us so that our agitation won't aggravate another crisis again. Igbos are the most committed group to the Nigeria project."
Meanwhile, an Igbo group, Alaigbo Development Foundation (ADF) has said it has taken a step to file a suit against President Muhammadu Buhari; the Chief of Army Staff Tukur Buratai and some other individuals over the ongoing Operation Python Dance II in the southeast.
The group said it has filed a petition before the International Criminal Court at the Hague over human rights abuses by the Nigerian army against members of IPOB.
ADF further said the military exercise in the region was aimed ethnic cleaning of the people of Igbo extraction.
READ ALSO: Fani-Kayode warns Buhari to take Obasanjo, Tinubu's advice on Nnamdi Kanu, IPOB
Watch Legit.ng TV video of Nnamdi Kanu's father talking about the activities of his son as IPOB's leader:
Source: Legit.ng