Top event planner, Lanre Makun's wife welcomes twins on her own birthday
Lanre Makun, brother of popular comedian AY, has welcomed a set of twins.
She put to bed yesterday September 20, in the midst of her own birthday celebration.
The Makun family henceforth would be celebrating three birthdays on the same day. This indeed is a blessing.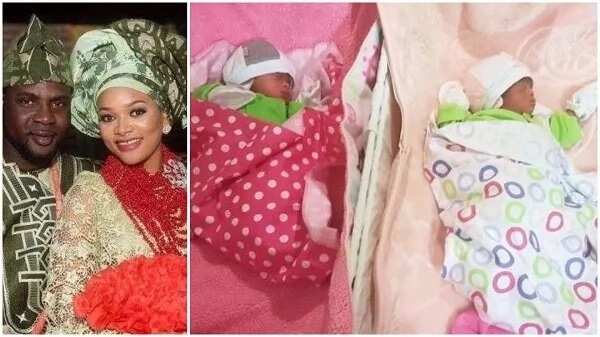 Her husband, Lanre Makun took to social media to share the great news and give praises to God for the new addition to his family.
READ ALSO: Nigerian couple welcome set of twins after one year of marriage (photos)
In his words;
"Hmmmm...what a marvelous God you are.. what a powerful God u are...he has done marvelous things for us.
Wow ! God u ve done it again and again, how did i merit ur love???what are my qualifications to be who i am today, u gave me twins on my wife's birthday. What a gift!!!
Thank u Lord for this double blessings
@cutemisiano
Thank you for been strong. Thank u for bringing blessings to my home.
You are the best dear #kisses #twins#babygirls#doubleportiondobleblessing#baba4dgirls#amcollectingbridepricenow#"
Lanre's brother AY also shared the news on his Instagram page with a caption;
Yesterday was @cutemisiano my younger brother's wife birthday, and i described her as a gift to the Makuns... little did i know that she was yet to start as she gave birth to TWINS same yesterday. congratulations to @lanremakunevents (Baba Ibeji). our wife you know i owe you one... God bless and keep your lovely family #3birthdays #sameday #thankyoujesus
PAY ATTENTION: Download Legit.ng mobile app
READ ALSO: Baba Ibeji! Paul Okoye steps out with his cute twins (photos)
Mrs Makun herself gave God thanks for the double blessing she received on her birthday.
Nigeria has a home of twins, find out where in Legit.ng below
Source: Legit.ng