Turkey disowns citizen supporting Biafra agitation
- Turkey has disowned Abdulkadir Erkahraman, who profess support for the Biafra agitation
- The Turkey government claimed that Erkahraman is neither a diplomat nor a civil servant
- The Turkey government reiterated its support for Nigeria's unity
The Turkey government has disowned AbdulKadir Erkahraman, who claimed to be a Turkish diplomat supporting the agitation for Biafra by the Indigenous People of Biafra (IPOB).
Erkahraman is known for speaking up against the Nigerian government while professing his support for Nnamdi Kanu and the agitation for Biafra.
The Turkey embassy in Abuja released a statement claiming that Erkahraman is neither a diplomat fro Turkey nor is he a civil servant.
The Turkey government dissociated itself from Erkahraman and profess its continuous support for Nigeria's unity.
READ ALSO: Ex-minister Bolaji Akinyemi reveals why northerners believe in Buhari than Atiku, IBB
The statement form the Turkey ambassador to Nigeria read: "The Embassy of the Republic of Turkey wishes to inform the Nigerian public about the following:
"Abdulkadir Erkahraman, a Turkish citizen, has been sharing videos for some time against the Nigerian government and presents himself as a Turkish diplomat.
"Mr. Abdulkadir Erkahraman is neither a diplomat nor a civil servant or an official representative of the government of Turkey.
"The government of Turkey is committed to the territorial integrity and political unity of the Federal Republic of Nigeria.
"Furthermore, Turkey never supports secessionist activities against the Federal Republic of Nigeria."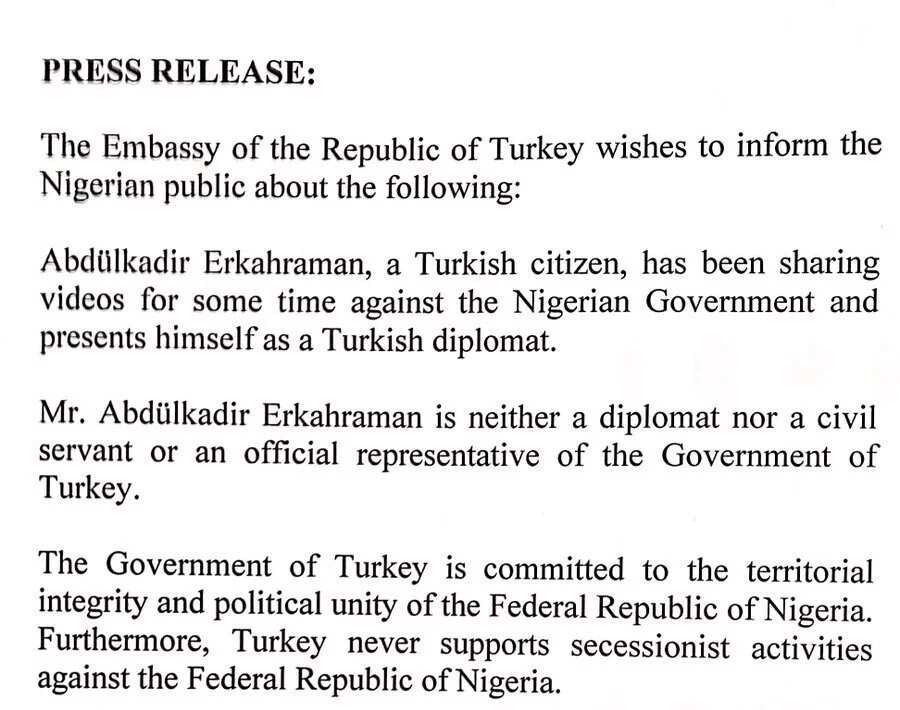 Recall that Erkahraman, who claimed to be the president of the International Nations Commercial Association in Turkey visited Kanu when he was released from jail.
Kanu, who received Erkahraman in his hometown in Isiama Afara Ukwu, Umuahia said, the Turkish citizen's visit is in line with the IPOB's plan to solidify the actualization of Biafra.
However, Turkey has been known to have a cordial relationship with the Nigerian government.
On September 2, 2016, after President Buhari returned from a three month medical leave in UK, the president of Turkey, Recep Tayyip Erdogan, sent a message to Nigeria to congratulate President Muhammadu Buhari on his recovery.
PAY ATTENTION: Read the news on Nigeria's #1 news app
Legit.ng previously reported that Erkahraman after the army invaded the home of Nnamdi Kanu, spoke out against the Nigerian government.
He made a video claiming that the Nigerian government is trying to push the IPOB into carrying arms.
He claimed to have already sent the live video of army invading Kanu's house to the Turkish Goverment, TV TRT, CNN, local TV Channels and other international media.
You can watch this Legit.ng's exclusive chat with Nnamdi Kanu below:
Source: Legit.ng