Little boy wears NYSC uniform to hawk groundnut (photo)
- A little boy has been sported wearing NYSC uniform while hawking groundnut
- The innocent boy probably has no clue on the importance of the vest
The photo of a young boy has gone viral for obvious reasons. The little boy who sells groundnut was spotted rocking the crested vest of the National Youth Service Corps (NYSC).
Nigerians got interested in the photo after seeing how the NYSC uniform was worn by the boy who looked like a 6-year-old.
The NYSC uniform is always worn proudly by graduates who are thrilled to serve their father land and contribute their own quota to the development of the country. While the uniform is sometimes transferrable, only those who are in active service can rock the outfit without being harassed.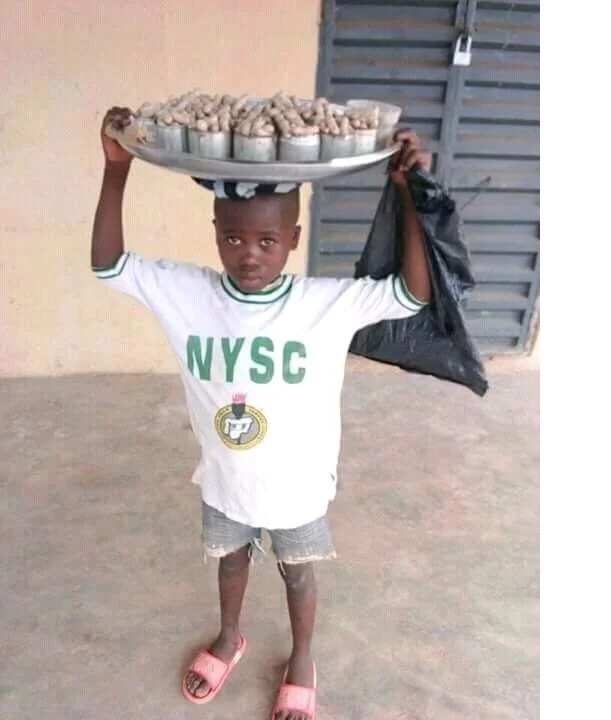 READ ALSO: Young Nigerian lady who was killed on her way to Abuja to renew UK visa laid to rest
However, seeing the young boy wear the cloth in this situation does not give the scheme a good face. On the other hand, the young boy might not know the implication of wearing the uniform without being a certified youth corps member.
The need to have something on might have made his folks dress him up like that. While people would come up with diverse thoughts about the little boy, do you think this is a sign that the scheme is gradually losing ground?
PAY ATTENTION: Install the latest android app to get updates from Nigeria's number one online news platform
It should be known that no one knows the exact location of the little boy who rocked the NYSC uniform while hustling.
Are you part of those who share the thought that the program should be scrapped? Let your opinion count in the comment section.
Watch the Legit.ng TV video below to see what some NYSC members did in Abuja:
Source: Legit.ng