Crisis in Abia, ploy to declare state of emergency - Uwazurike
- Chief Goddy Uwazurike is not happy that the southeast geopolitical zone is under siege by the Nigerian military
- The military occupation is due to the activities of the Indigenous Peoples of Biafra (IPOB)
- There are fears that the military exercise code named Operation Python Dance II might snowball into major crisis leading to a state of emergency
There are fears in Abia state that the Operation Python Dance II by the Nigerian Military might lead to a state of emergency.
The president of Igbo socio-cultural group, Aka Ikenga, Chief Goddy Uwazurike, is one of those who have voiced his concerns, stressing that the present crisis in Abia was a ploy by the federal government to declare emergency rule in the state.
Uwazurike joined the apex Igbo cultural organisation, Ohanaeze Ndigbo, in calling on the federal government to withdraw soldiers from the southeast.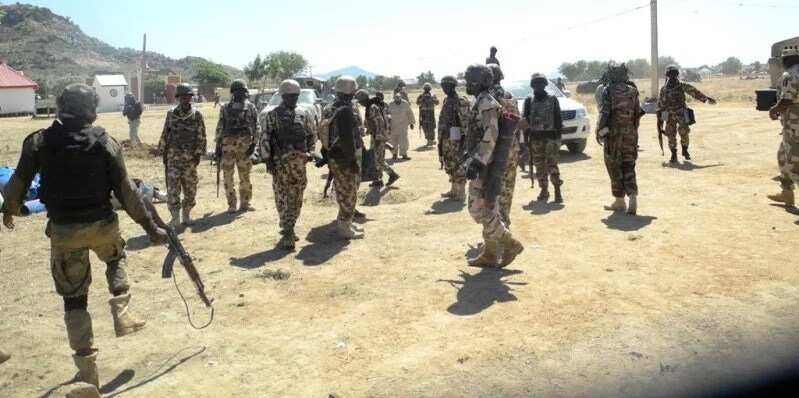 READ ALSO: Operation Python Dance II: State of emergency cannot be waved away - Official
In a statement issued on Wednesday, September 13, Uwazurike said the soldiers should be deployed to fight Boko Haram in the northeast or even the armed herdsmen ravaging the southern part of the country and the Middle Belt.
He argued that IPOB members do not carry weapons and are only known for holding rallies and punching the air with a black power salute.
Part of the statement read: "Today, the people of Abia state and indeed the whole of Igboland is being provoked by the arrogant and callous display of weaponry by the Nigerian Army in a way that sane people will rightly interpret it as the action of an army of occupation.
"If the army is so powerful, why can't they be deployed to fight the Boko Haram in the northeast or even the ubiquitous herdsmen who are ravaging the southern and middle belt parts of this country? This is because soldiers in a battle mood must have enemies to fight.
"It is a notorious fact that the governor of Abia state has spent the last two years in court trying to retain his post .This present simulated crisis is just a ploy to impose military rule in the state just to have a war commander in the government house.
"The people are not interested in military democracy. This government should not forget that progress can only be made in a time of peace and not in war time. War is an evil wind that blows no one any good. The arrest of Nnamdi Kanu was a mistake but his rearrest will be a disaster."
Uwazurike called on prominent Nigerians to prevail on the government to learn from past governments on how to handle a civil situation.
The first phase of the Operation Python Dance started on November 27, 2016 and ended on December 27, 2016.
Meanwhile, Legit.ng recently released 14 safety measures that residents of the southeast are expected to adhere to as the Nigerian military carries out the Operation Python Dance II in the region.
READ ALSO: United Nations interested in Operation Phyton Dance II - Moses Siasia
Watch Legit.ng TV interview with IPOB leader, Nnamdi Kanu's lawyer about the military invasion:
Source: Legit.ng