LionsBet promo is on; sign up now to enjoy!
Lionsbet the most innovative and preferred sports betting platform in Nigeria. LionsBet kicked off operations officially last year, with a professional, efficient and quality Management, to ensure its punters get the best out of its platform.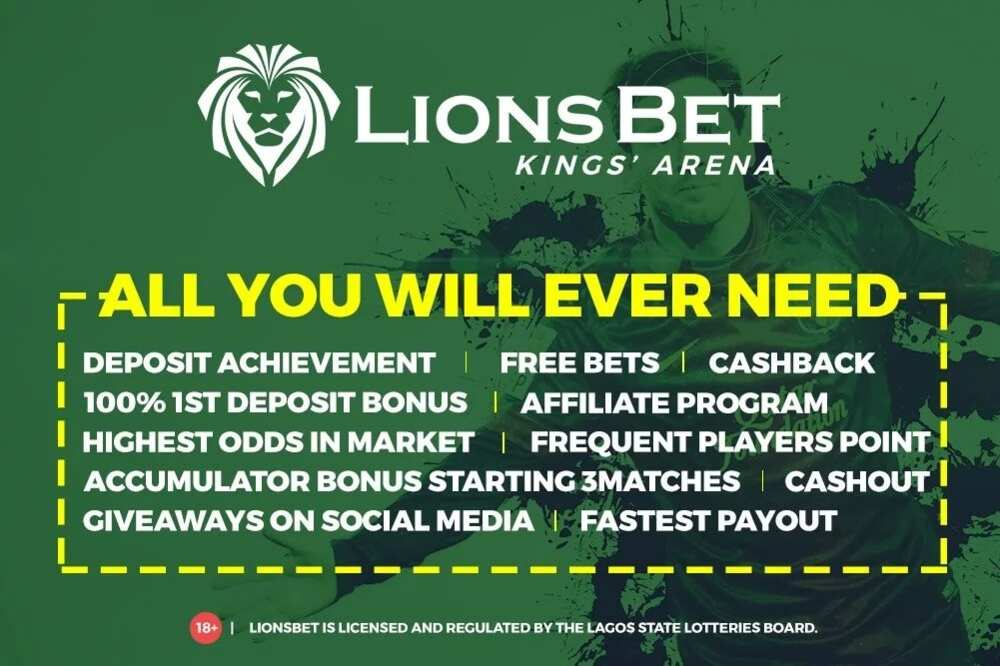 LionsBet.com offers the BEST ODDS anywhere on the planet, with an online portfolio of products including sports betting, online casino and over 20 virtual games to their customers.
Signing-up on LionsBet.com is so easy and convenient, with added incentives to help players have more fun on the platform. Upon joining, LionsBet.com, you immediately get a 100% first time DEPOSIT BONUS; which means you get double the amount of your first-time deposit.
For flexibility on games selected on LionsBet platform, ACCUMULATOR BONUS start from 3 games upward compare to 5 games by other sports betting agent. LionsBet allow you to have total control over your bet with the CASHOUT features, and also get a certain percentage on losses with the CASHBACK feature.
Proclaimed as the most innovative sports betting platform, LionsBet introduced one of a kind feature called the DEPOSIT ACHIEVEMENT; just as the head title, you get rewards for depositing on LionsBet, the more you deposit the more your chances of getting rewarded. LionsBet got more innovation up their sleeves with the FREQUENT PLAYER POINT; you get paid just by playing on LionsBet.
LionsBet also presents an opportunity to business minded and self-motivated individuals to become their own bosses by introducing the well aware AFFILIATE PROGRAM; getting percentage by referring prospect customer to their platform.
To show appreciation to their loyal customer, LionsBet gives out vouchers, gifts and many more to their customers via their WEEKLY GIVEAWAYS PROGRAM on their social media pages. You don't want to miss out on this. Trust me.
LionsBet holds the reputation of FASTEST PAYOUT on win within 10min, every day of the week including weekends; you don't have to bother yourself if you win during the weekends anymore because LionsBet got you covered. Also gives out FREEBETS every week to well-deserved punters.
LionsBet's retail operation is regulated by the Lagos State Lotteries Board with the Parent company name "The Hubbing Bird Nigeria". All aspects, including the online casino and virtual games are operated by The Hubbing Bird Nigeria under licenses as required by the law.
For more information on LionsBet, contact LionsBet below:
E-mail: support@LionsBet.com Phone: +234 809 4444 035, +234 809 4444 036
LionsBet.com encourages its punters to bet responsibly and understand that sports betting is a recreational endeavor and not a get rich quick scheme. We take your fun seriously. Stay up to date with LionsBet.com on
Facebook: LionsBet
Twitter: @Lionsbetting
Instagram: @Lionsbetting
**Terms and conditions apply.
[Sponsored]
Source: Legit.ng