Non-profit organisation partners 12 state governments to train over 7000 girls on ICT
- Empowering young women in the society is no doubt a fantastic initiative
- A non-profit organisation has committed to training 7,200 girls across 12 states in Nigeria
- The group is partnering with 12 state first ladies to ensure the plan is achieved
A non-profit organisation, Tech4Dev is partnering with 12 states across the country to train 7,200 girls on ICT.
According to the organisation, the initiative is a way of bridging the gender digital gap in an unprecedented manner.
The initiative known as Nigerian Women Techsters, which is partly funded by Microsoft, will train 7,200 women between ages of 18-40 on coding skills across 12 states in Nigeria over a 3-year period.
Announcing this at a press conference in Akure, the programme manager of the Nigerian Women Techsters Initiative, Peace Odili, revealed that training sessions would take place both virtually over the week, with participants taking online courses in entrepreneurship, change making and physical training sessions over the weekend facilitated by professionals in the ICT industry.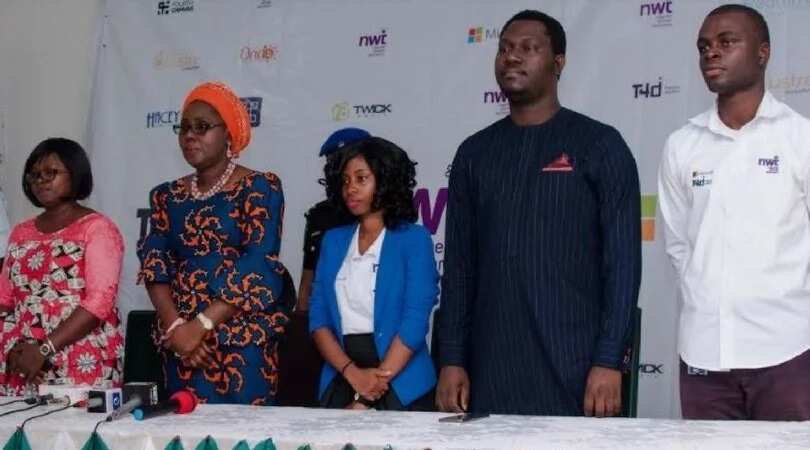 READ ALSO: The most educated states in Nigeria
Her words: "Tech4Dev with support from Microsoft is partnering the office of the first ladies,state ministries of women affairs and the federal ministry of women affairs across the 12 states in Nigeria with high female – male parity within the technology sector, to establish the Nigerian Women Techsters Initiative.
"The beneficiary states are: Ondo, Ekiti, Oyo, Edo, Kogi, Kwara, Abia, Imo, Rivers, Kano, Kaduna and Kebbi states."
She said the organization recently trained about 200 youths including 70 ladies in Lagos and Ondo states on digital literacy, especially coding and analytical skills, exposing them to available employment and entrepreneurship opportunities within the technology industry.
Executive Director of Tech4Dev, Joel Ogunsola, said the organisation is a social enterprise non-profit focused on solving the world's greatest problems through technology with primary focus on public health, civic engagement and education.
Ogunsola said the Nigerian Women Techsters Initiative was conceived to help solve the growing problem of unemployment that has continued to plague youths, especially young women in underserved communities.
"Our goal is to empower young women with technical skills in web and mobile software development, embedded systems development and games development," he said.
READ ALSO: Nigerian lady schools women who go on dates with men, teaches them 'manners'
Initiatives like that of Tech4Dev are important for the Nigerian society as a study by the Combating Terrorism Center at West Point and Yale University in the United States of America recently revealed that 244 women or girls have acted as bombers for Boko Haram.
The report examined 434 suicide bombings carried out by Boko Haram between 2011 and June, 2017.
The United Nations Children's Fund came to similar findings while looking at 84 bombings by minors this year. The majority were done by girls, usually under 15.
Watch Legit.ng TV documentary on a young Nigerian making a living by recycling waste products:
Source: Legit.ng