Governor Fayose in Sheik attire, joins Buhari, other Muslim faithful in Sallah prayers (photos)
- Governor Fayose of Ekiti state joined Muslim faithfuls for the Eid-el-Kabir prayers
- He advised Islamic clerics to always tell leaders the truth and preach the values of justice and equity
- He also promised to look into the request of the Muslim faithful as best as he could do
Ekiti state governor, Mr Ayo Fayose, on Friday dressed in Muslim regalia and joined other Muslims at the Ado Ekiti central praying ground for the Eid-el-Kabir prayers.
Fayose was received by the the Muslim leaders and other faithful who were chorusing "Alahu Akbar".
READ ALSO: Just in: 3 killed, many wounded in Ogun state as car crashes into Muslim prayer ground
Fayose addressing the faithful said that this was not his first time of identifying with Muslims in the open, promising to maintain the relationship.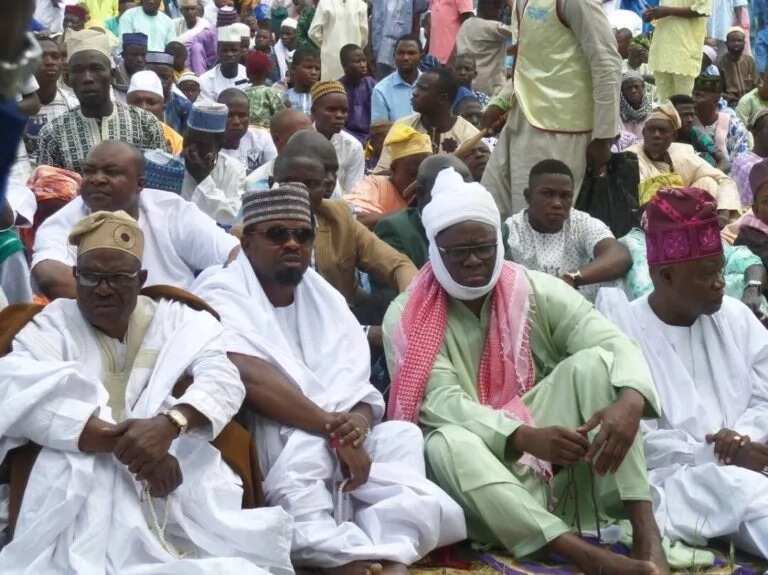 He said such actions were needed from leaders as a way of preaching peace, unity and tranquility to the led.
Fayose also promised to look into the request of the Muslim faithful as best as he could do.
He advised the Islamic clerics to always tell the leaders the truth and preach the values of justice and equity.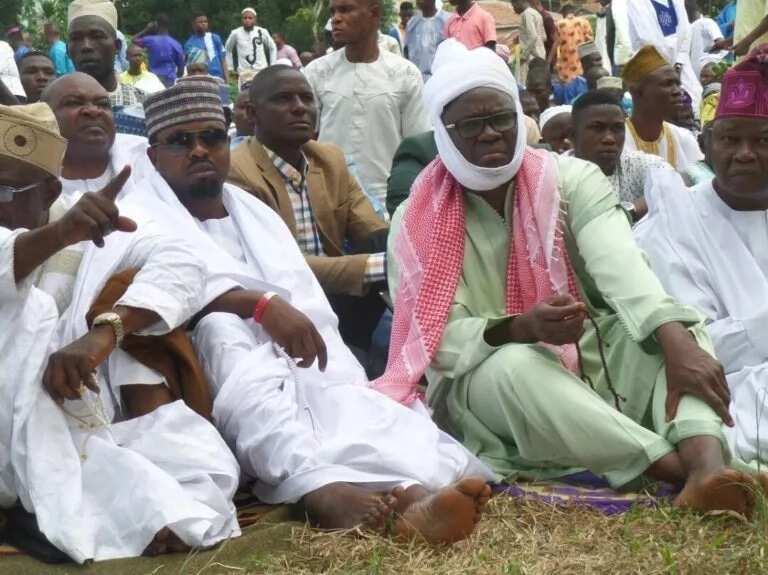 Fayose who said that religious clerics wield more influence on the people than government officials or political leaders, urged them to use such influence to reorientate the people toward maintaining love, peace, justice and equity for all.
He said: "Muslims are very peculiar people and Islam, their religion, is not known for violence. I therefore urge all Muslims to abide by the doctrines of Islam and ensure that they live in harmony with everybody.
PAY ATTENTION: Install our latest app for Android and read best news on Nigeria's #1 news app
" We have the same blood flowing in our veins and we are, first of all, human beings before we chose our religion. So, God in us is more important than the religion.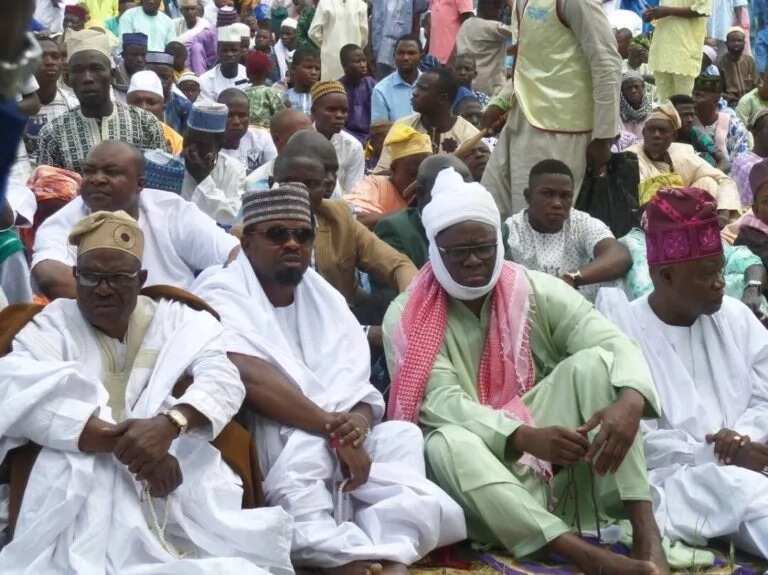 "The fear of God is the beginning of wisdom. I therefore enjoin you all to continue to live in peace for the collective growth of our land, our nation.
"We will continue to work together so that this country remains one, indivisible but founded on justice and equity, " he said.
Earlier, the Chief Imam of Ado Ekiti and the President -General of the League of Imams and Alfas in the South West, Edo and Delta states, Alhaji Jamiu Kewulere- Bello, applauded the governor's dressing as a Muslim in his sermon.
He said it was in obedience to Allah's instructions and biblical injunctions.
"This dressing shows that the governor is not discriminating against any religion. Your Excellency, your dressing is even in line with Biblical injunctions.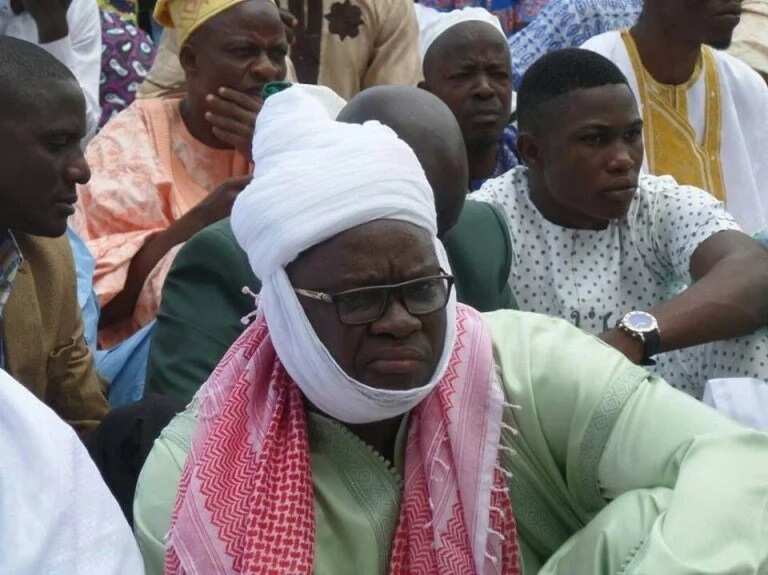 "The book of Zecharias 3:3 in the Bible says:
"We removed unclean clothes from Joshua, we washed him clean and he was dressed with a clean turban on his head and God's angel stood by him.
"Our governor, as you wear the turban on your head, the angel of God is already with you and that is why you are succeeding in all that you do, against all odds," he said.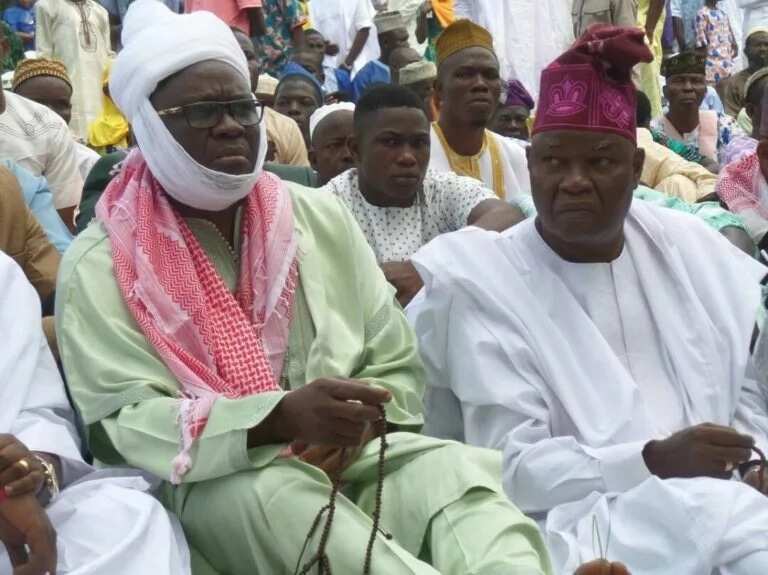 He advised the governor to consider producing a Muslim as the governorship candidate of his party for next year's gubernatorial election, saying no Muslim had been elected the governor of the state since it was created over 20 years ago.
"Ekiti is 20 years now and since its creation, we have not had a Muslim as its governor. We urge you sir, if any Muslim is interested in the governorship from your party, kindly support him to fulfil that ambition.
"We also need your support for a transformer in this area, Odo-Ado, so we can have adequate supply of electricity. We know once you make a promise, you will fulfil it," he said.
Meanwhile, two people were killed on Friday, September 1, when a vehicle crashed into a large crowd of Muslim worshippers at the Eid-El Kabir prayer ground.
A policeman was also mobbed to death while trying to save the driver of the vehicle from being lynched.
Watch this Legit.ng TV video of Nigerians sharing their opinion on Nigeria's influence in Africa.
Source: Legit.ng