Pope Francis reportedly plans to shut down 163 Nigerian parishes, sack priests in Imo
- For four years, some parishes of the Roman Catholic Church in Imo have been without a bishop
- Pope Francis had tried to mediate in the issue and even forced the priests to write a letter of apology
- While this is ongoing, parishioners have continued to mourn those killed inside a church in Ozubulu in Anambra state
There is serious panic in Nigeria over reports Pope Francis is seriously considering shutting down a total of 163 parishes of the Catholic Diocese of Ahiara in Imo state following the alleged stubborn refusal of of some priests to accept the appointment of Peter Okpalaeke as bishop.
The Nation reports that Okpaleke was appointed four years ago to replace late Bishop Victor Chikwe but had been rejected by Reverend Fathers of Mbaise extraction and the Laity.
Those who oppose his appointment demanded for a bishop from Mbaise in Imo state instead of one from another state of the country.
The report said since then, the Ahiara Cathedral and the Bishop's Court have remained under lock and key and nobody had administered the Holy Communion.
READ ALSO: Federal University Oye Ekiti courses offered
The report quoted a key source in the Catholic Secretariat of Nigeria as confirming the latest development.
"What is happening in Ahiala is a great affront unheard of in the history of Catholicism in Nigeria and Africa.
"Never has the appointment of a Bishop been this hotly contested. It is a shame and very embarrassing to the CSN and the Pope.
"If you consider how much patience the Pope has displayed, you will agree that it won't be out of place for him to act now.
"Any moment from now, he may announce the parishes are no longer under the Vatican. In that instance, they can get somewhere else to go.
"The Pope is the final authority of the church and nothing will make him back to primordial ethnic sentiments," the report quoted the top source as saying.
Apart, from this, the Pope is reportedly considering derobing some of the priests opposing Bishop Ikpaleke.
Meanwhile, parishioners in Ozubulu, Anambra state, have continued to mourn the passage of some church members of the Catholic Church who were killed when gunmen stormed a church recently.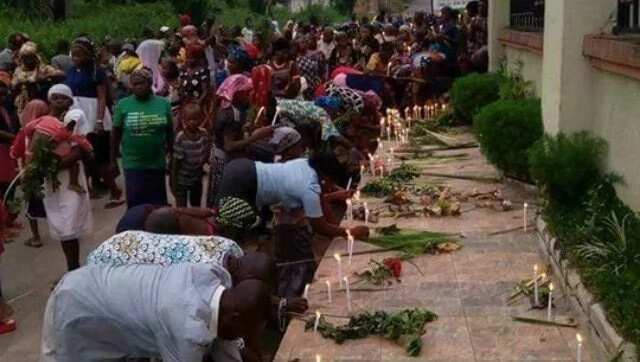 The incident happened at the St Philip's Catholic Church allegedly following a war between by some factional dr*g lords.
Nezianya Celestine Ikem, who posted the photographs on social media, said the villagers gathered to pray for the peaceful repose of the soul of their brothers and sisters.
"Eternal rest grant unto them, O Lord, and let perpetual light shine upon them. May their souls and all the souls of the faithful departed, through the mercy of God, rest in peace, amen," he said.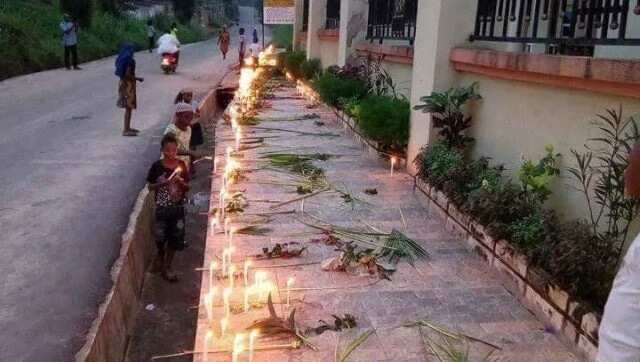 Legit.ng recently reported that Pope Francis' order in a meeting that he had on Thursday, June 8 with a delegation from the Ahiara Diocese has been refused by 3,000 faithful of the Diocese of the Catholic Church.
The members were said to have protested the appointment of Bishop Peter Okpaleke. Punch reports that the diocesan youths, on Sunday, July 2, put on black attire, chanted solidarity songs to reaffirm their support for the position taken by the Ahiara Diocese clerics and the laity council's to rejection of Okpaleke.
Watch this video as this popular Yoruba actor says he wants to become a pastor:
Source: Legit.ng