Unemployment, 7 other major reasons betting is rising in Nigeria
With the rise of unemployment and severe economic hardship in Nigeria, there has been an increase in the number of Nigerians turning to betting as a way of life, especially to supplement their income.
Prior to this, betting has of course been prevalent in the country, but according to a poll conducted by NOIPolls, the increase in the number of online betting stores has helped improve anonymity of people involved in it and therefore enticed a lot more.
Betting is regulated by National Lottery Regulatory Commission (NLRC) which is empowered by the National Lottery Act, 2005 to regulate betting lottery in Nigeria.
The poll conducted reveals quite a lot about the state of betting in Nigeria. The major reasons Nigerians engage in the activity are revealed in the infographic below:
1. The quest for quick money lures many into betting.
2. Unemployment
3. Greed
4. Economic hardship
5. Poverty
6. Recreation
7. Passion for sports
8. Peer group
READ ALSO: How Nigerians spend N1.4bn daily on sports betting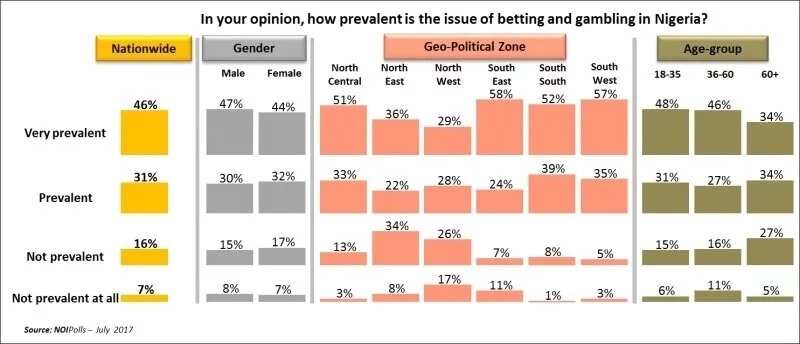 The above infographic explains the prevalence of betting in Nigeria. 48% of those involved are between the age of 18-35. The geo-political zone with the most people involved in betting is the South-east with 58% of the residents.
READ ALSO: Man kills himself after betting against Barca in UCL (video)
This includes such states as: Akwa Ibom, Cross River, Bayelsa, Rivers, Delta, Edo.
NOIPolls says: "In a bid to ascertain the prevalence of betting in Nigeria, respondents were asked to express their opinions on its prevalence and analysis of results revealed that a large majority (77 percent) stated that betting is prevalent in Nigeria.
"Residents from the South-West zone (92 percent) had the highest prevalence, while the North-west zone (57 percent) recorded the lowest prevalence. Interestingly, analysis by age-groups shows that those aged between 18 – 35 years recorded the highest percentage (79 percent) of respondents who stated that betting in Nigeria is prevalent."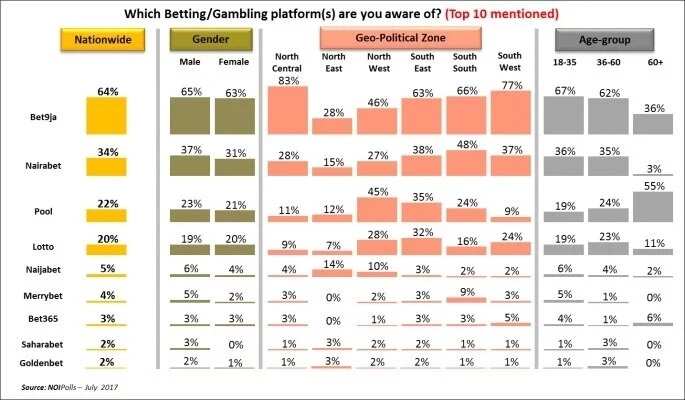 Most popular platforms are Bet9ja (64 percent), Nairabet (34 percent), Pool companies (22 percent) and Lotto (20 percent).
Legit.ng earlier reported that an unnamed agent of NairaBet, a sports betting platform, has killed himself after he could not pay a customer who allegedly won a N600k bet.
PAY ATTENTION: Watch more videos on Legit.ng TV
Residents of Obadeyi Ajala woke up on Wednesday, May 24, to find the remains of the young man dangling from a rope in an uncompleted shop at Ajala bus stop, on the Lagos-Abeokuta Expressway.
Watch this Legit.ng video to hear what Nigerians have to say about money:
Source: Legit.ng