2010-2016: See how many convictions EFCC has secured, most efficient state office
Legit.ng reported that Mr Adebayo Adelabu, a deputy governor of Central Bank of Nigeria (CBN) was alleged to have been grilled in Lagos by the Economic and Financial Crimes Commission (EFCC) on Monday, August 7.
He was also alleged to have connived with former minister of Petroleum Resources, Mrs Diezani Alison-Madueke. Reports have it that the deputy governor of CBN who was interrogated was admitted to administrative bail by the anti-graft agency.
There has always been criticism of the EFCC as a body that accuses people of corruption, but is rarely able to secure convictions.
However, it appears that the commission has been able to secure an impressive number of convictions in the past years as shown by TransparencIT NG, a company that prides itself on ensuring transparency in the Nigerian government.
Below is a recent infographic released showing the amount of convictions that they have been able to secure in the past years:
READ ALSO: Online reports claiming Tunde Ayeni is in EFCC custody untrue - Media aide
1. 2010 - 68 convictions
2. 2011 - 67 convictions
3. 2012 - 105 convictions
4. 2013 - 117 convictions
5. 2014 - 126 convictions
6. 2015 - 103 convictions
7. 2016 - 186 convictions
The infographic below shows some state offices of the EFCC and convictions in the past two years: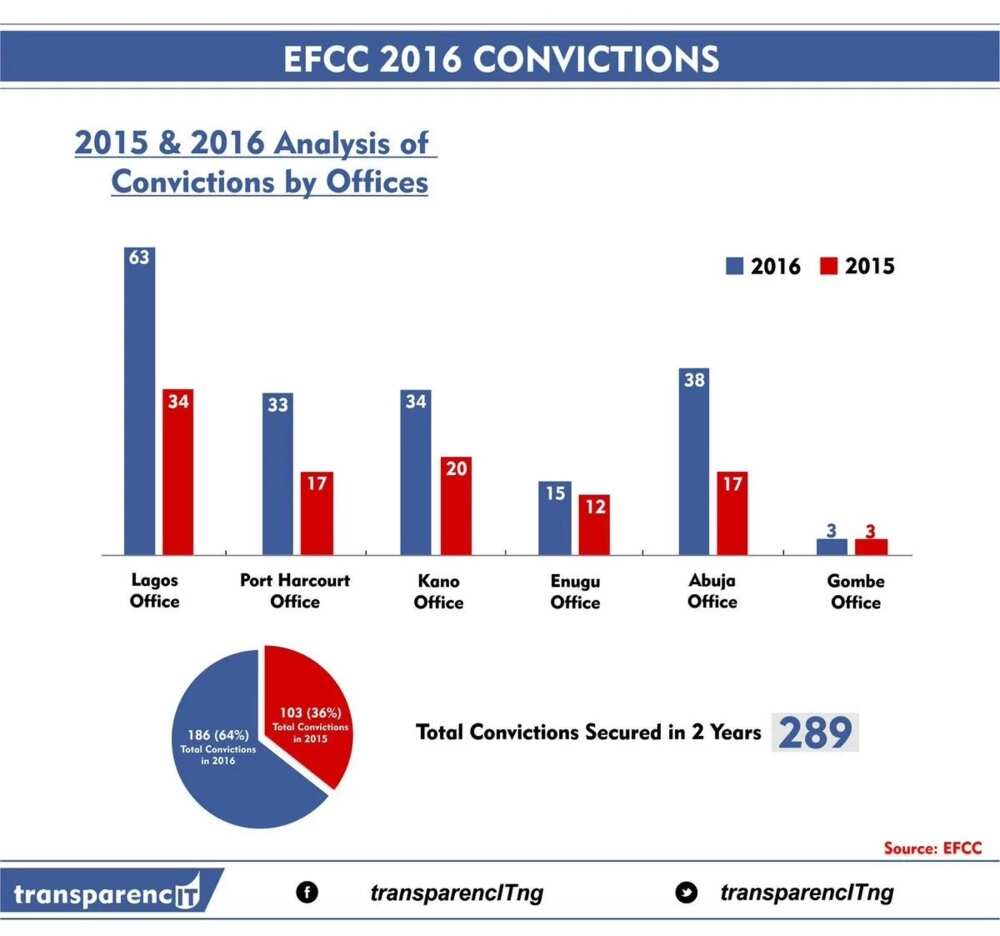 READ ALSO: 90 billion dollar loot: Diezani finally breaks silence, says she never stole Nigeria's money
The above chart shows that there were way more convictions in 2016 than in 2015 and the states with the highest convictions are in this order:
1. Lagos office in 2016 - 63 convictions
2. Abuja office in 2016 - 38 convictions
3. Kano office in 2016 - 34 convictions
4. Port Harcourt office in 2016 - 33 convictions
5. Enugu office in 2016 - 15 convictions
6. Gombe office in 2016 - 3 convictions
Meanwhile, the EFCC, north-east zone, says it has arrested 191 suspects and recovered N111 million (N110,820,023) in the area from January to July.
Aminu Aliyu, the commission's head of operations in the zone, stated this at a news conference in Gombe on Tuesday, August 8.
PAY ATTENTION: Watch more videos on Legit.ng TV
Mr Aliyu said the amount recovered from suspects under investigations are: N79,074, 743.53 in bank drafts and N31,745,280 in cash.
Watch this Legit.ng video to see what Nigerians think of illegal money:
Source: Legit.ng