Medically, I wasn't supposed to have any child, but I have 3 kids now - Nigerian man shares testimony
A Nigerian man who is blessed with three kids has shared a powerful testimony of how he was told that his wife would never be able to conceive.
Legit.ng came across the man of the man identified as Ifeanyi Okeke on Kemifilani's blog. He revealed in his long note that rather than worry over his wife's medical condition, he believed in God that something positive will eventually happen and it did.
READ ALSO: Nigerian couple welcomes beautiful baby girl 10 years after marriage (photos)
Read his story below:
BE CAREFUL WHAT YOU PRAY FOR BECAUSE GOD ANSWERS PRAYERS - What was my Prayer Point: God please takeaway these wealth and give me children, even a child give me whether male or female. Dated March 2008.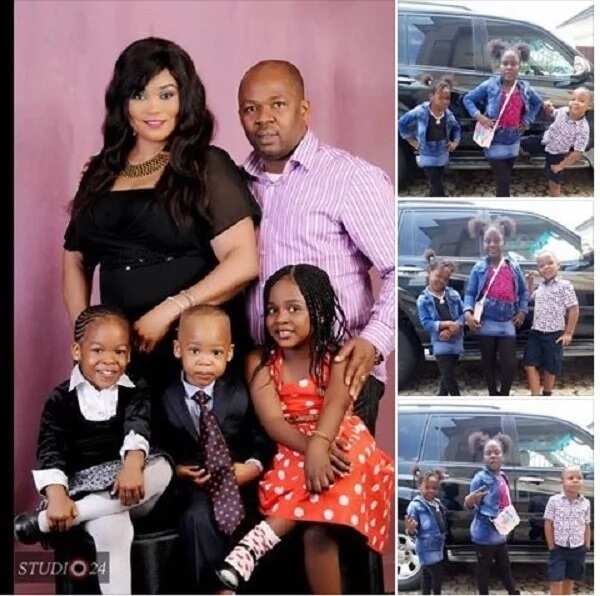 In March 2008 I had been married to my wife (my Blessing) for eight years without a child. Eight years is not eight days or eight weeks or eight months. I mean eight years, enough to graduate and bag a PhD and be called a Professor.
I was blessed with a flourishing banking career. About the most popular banker in town already an Assistant General Manager (in-waiting). Nothing was more frustrating to me as going home to my wife with the news of a new promotion, a new car for her or a new house I intend building because of the response which will give me: what is all these worth without a child together.
It was in this frustration that I went into my room on that fateful but equally blessed day, went Unclad, knelt down, raised my hands up to heaven and made the radical prayer request.
To put things in perspective, in October 1999 we were both serving (NYSC) (having been dating since 1997) when I proposed to her. March 2000 just one month out of NYSC we got married (paid her bride price). Yes we got married, TW and Church wedding were ceremonies that followed later. I got a job April 2000. On June 26, 2000 we got into a night bus together at Ido park, Lagos on a journey to Kano as I had completed three months training and was posted to Kano Main branch of the elsewhere Universal Trust Bank (UTB) as a Credit and Marketing Staff. We arrived Kano early morning June 27 2000 and moved into a one room she lived in as a CORPER which shared toilet, bathroom and kitchen with with another CORPER (Helen MO, tagged)
It was about October in 2004 that a renowned Consultant Gynecologist and Head of Gynecology & Obstetrician Department of Teaching Hospital in Nigeria after a laparoscopy procedure on my wife, had given his verdict to myself and wife that she will not be able to carry a child. In his opinion, even if she is able to conceive either naturally or assisted, her WOMB could not carry a baby. He further advised that I discuss with my wife to marry another lady if I want to have kids. Story for another day back to my answered prayer.
Yes God granted the two petitions I made in March 2008 but the second one came first "give me even a child". In January 2009 our first child, Angel oluebubechukwu (Miracle work of God) was conceived and was successfully carried to term and delivered September 2009. About the time of her delivery God was already in motion to grant the first "takeaway all my wealth" as the stock market crashed with all I had worked for. At this point I was a Deputy General Manager in a top bank. One year after different circumstance had led me to leave my job. Well I got another the next month at the same level in another top bank. Four months after God decided it will not only be a child but children so my wife conceived again, this time twins, CHIMZARAMEKPERE (My God has answered my prayer) and CHIMDERA (Once my God has written or ordained) carried to term and delivered November 2011. Two months before their delivery God completely answered the first prayer as in a circumstance beyond my control but by mutual consent I left my top banking job.
What would you say: YES GOD granted my prayers offered to him kneeling down Unclad with my hands raised to heaven.
A month after their delivery I couldn't afford to buy pampers. Three/Four months later I couldn't afford to take then to church for dedication. One year after I couldn't buy even a cake to mark their birthday.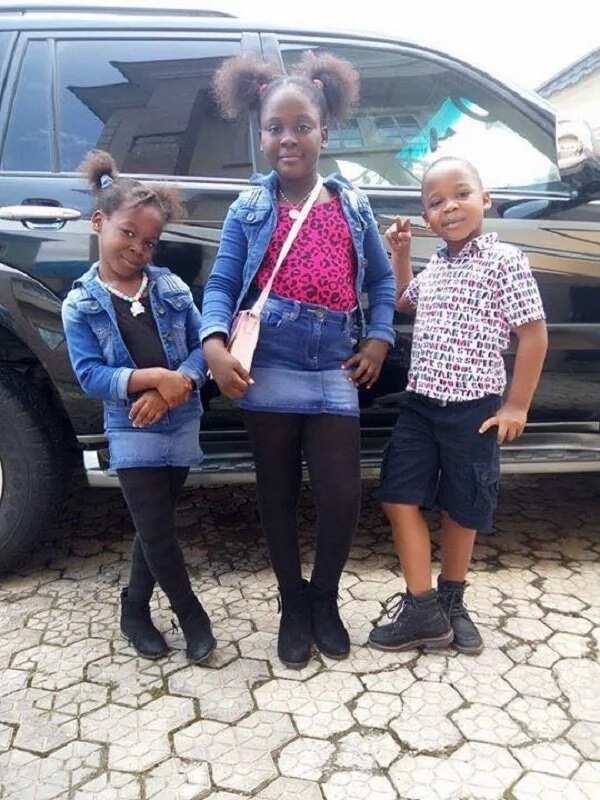 What did I do: I ran back to God Unclad, knelt down with hands raised up to heaven. I pleaded with God and said: Yes I told you to take away my wealth and give me children or even a child but I didn't ask you to takeaway so much that I cannot afford to feed them. God said: my child I granted your request exactly as you asked. This was in 2012. Well I believe God has a reason for everything under the sun. We went through struggles through for two years. By late 2014 through the special intervention of the Mother of Perpetual Help (Blessed Mary, Mother of God) God looked back with a smile and started the restoration process. It's been three years of God's divine restoration project in our lives.
PAY ATTENTION: Get all the latest gossips on NAIJ Gossip App
Yesterday when I took these shots of my kids the entire memory came back so I decided to share with you. These kids I will not exchange for all the wealth in the whole world.
Friends, please bless God with my family. But beware what you ask from God because he answers prayers.
When you are down and out inside the gutter, run to the Mother of Perpetual Help (The Blessed Mary) to intercede for you. She NEVER fails to get result from her son who NEVER says no to her Mother.
Watch Legit.ng video below:
Source: Legit.ng