Nnamdi Kanu storms Ebonyi (photos, video)
- Nnamdi Kanu today July 24 visited Ebonyi state
- The IPOB leader was massively received in the state
- Radio Biafra however said Nigeria federal government will be held responsible should anything happen to Nnamdi Kanu during his visit to the state
- Nnamdi Kanu however had to trek to the rally venue as police and army blocked his vehicle from moving around in Ebonyi
Leader of the Indigenous People of Biafra, Nnamdi Kanu who stormed Ebonyi state today July 24, was massively received by supporters and members of the group.
Prisca Abel who claimed to be reporting for Biafra writers posted a video of the massive welcome given to the IPOB leader with the caption:
READ ALSO: BREAKING: APC governors and leaders meet with Buhari in London (photos)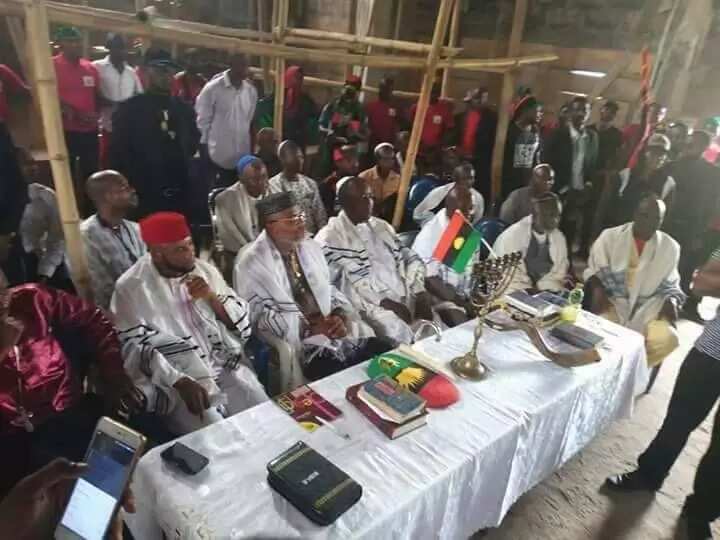 "Crowd that are angry over the killings of their 5 brothers yesterday by Fulani herdsmen saw Mazi Nnamdi Kanu on his way to Ebonyi state and were happy and also hailed him for his good work while Chanting that they will follow Biafra.
Legit.ng however exclusively gathered that the IPOB leader was forced to visit the state as a result of the attitude of the state governor towards Biafra agitation.
"Mazi kanu never wanted to go to Ebonyi state but due to Governor Umahi's threat he decided to go there."
"You know, the governor warned him not to join Ebonyi in 'his Biafra' map, Mazi went there to preach the Biafra gospel to the people in the governor's village," the source added.
Legit.ng also learnt that Nnamdi Kanu had to trek to the rally venue as police, army blocked his vehicle from moving around in Ebonyi.
Meanwhile, Radio Biafra on their Facebook page alleged that the federal government in collaboration with the state government and other security agencies have posted in strategic locations forces to hinder the IPOB leader during his visit.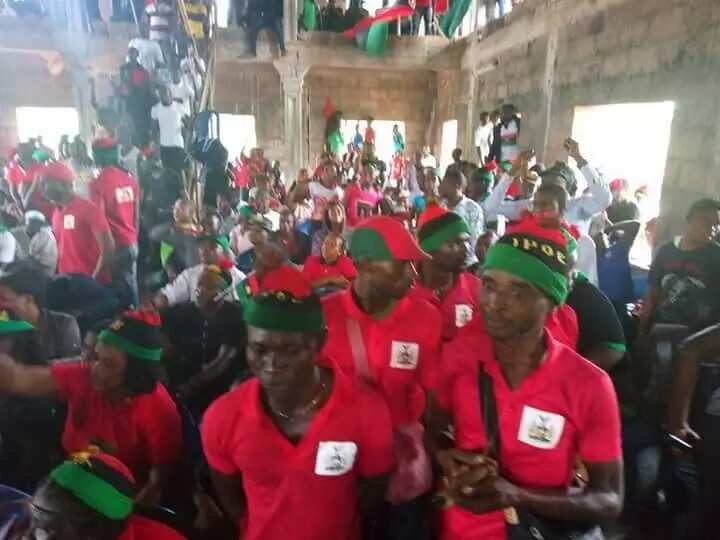 "The Nigerian government and her military in collaboration with the Ebonyi State government, have stationed combined security forces all over the state because of the proposed visit of the leader of Indigenous People Of Biafra Mazi Nnamdi Kanu to Ebonyi State.
We are putting the world on notice should anything happen to our leader the Nigerian government would be held responsible," the Facebook post read.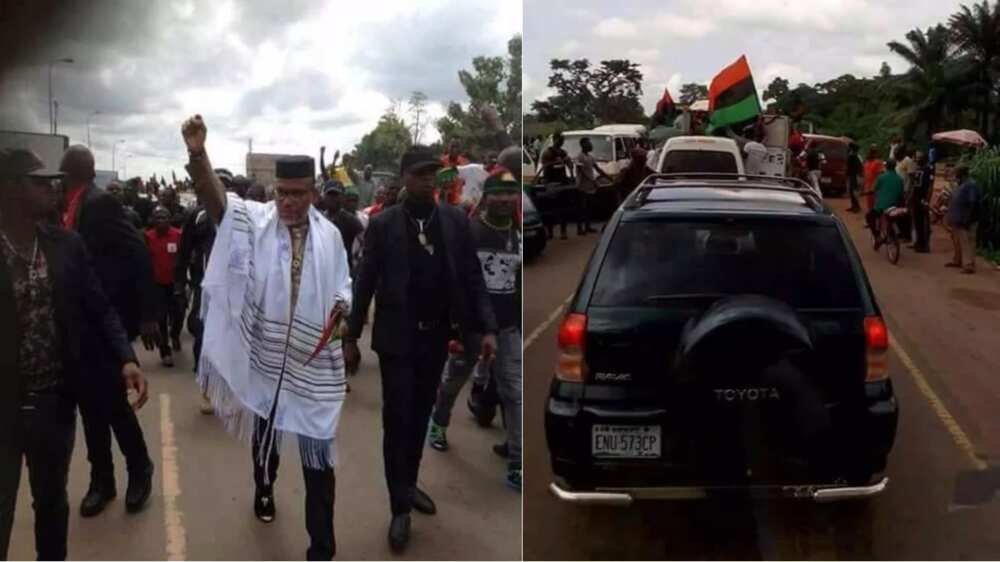 Legit.ng had however reported that the leader of the Indigenous People of Biafra (IPOB), Nnamdi Kanu, vowed to end what he described as Fulani herdsmen rampage in the southeast region before the end of 2017.
PAY ATTENTION: Install our latest app for Android, read best news on Nigeria's #1 news app
Kanu, made the statement when he met with the Igbo Women Assembly and representatives of the Igbo students union in Enugu reportedly on Monday, July 24.
The IPOB leader said the Fulani herdsmen impunity must stop, assuring his audience that the Fulani crisis would no longer exist soon.
In the video below, Legit.ng TV takes a critical look at Nnamdi Kanu and the struggle for the actualisation of the Republic of Biafra.
Source: Legit.ng