Huge rats spotted at Lagos Airport (photo, video)
- Two huge rats were recently spotted hanging from an exposed ceiling at Murtala Mohammed International Airport in Lagos
- The rats were seen dangling as people gathered to watch and record the event
An unusual and embarrassing event unfolded at the Murtala Mohammed International Airport in Lagos recently when two huge rats were seen dangling from an exposed part of the ceiling.
People present at the time the rats were spotted were bemused; some took out their phones to take pictures of the rats as others recorded the event.
The rats were still alive as at the time they were spotted. They were obviously trapped as they clung to the wires. There were speculations that more rats could be hiding in the ceiling.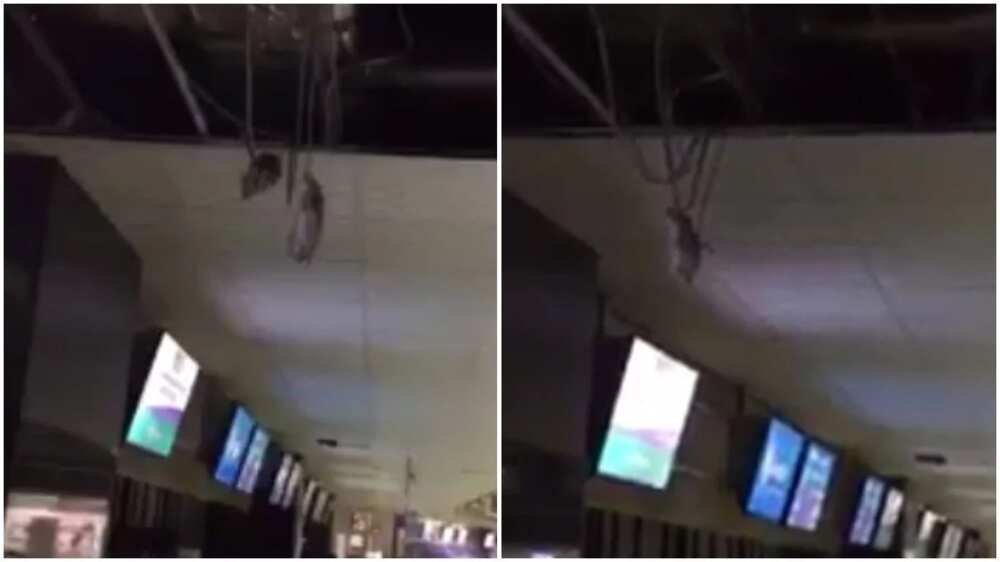 READ ALSO: Nigerian journalist seeks for volunteer to murder Nnamdi Kanu
It is disturbing to think that rats as huge as that could be found in such an environment. Their sizes also indicate that they are well fed and nourished in the airport.
Watch the video of the rats dangling from the ceiling below:
PAY ATTENTION: Install the latest android app to get updates from Nigeria's number one online news platform
Watch the Legit.ng TV video below to see why this Nigerian man thinks there's no hope for Nigeria:
Source: Legit.ng