Nigerian Army redeploys 52 generals, 597 other officers
- A major shake-up has been effected in the top hierarchy of the Nigerian Army
- The redeployment of officers was said to have been approved by the Chief of Army Staff, Tukur Buratai
- Seven major generals, 45 brigadier generals and 597 other officers were affected
A report by Premium Times indicates that the Nigerian Army redeployed, cancelled or amended postings of seven major generals, 45 brigadier generals and 597 other officers last week.
The move is said to be one of its most far-reaching shake-up exercise in the Nigerian Army in recent years.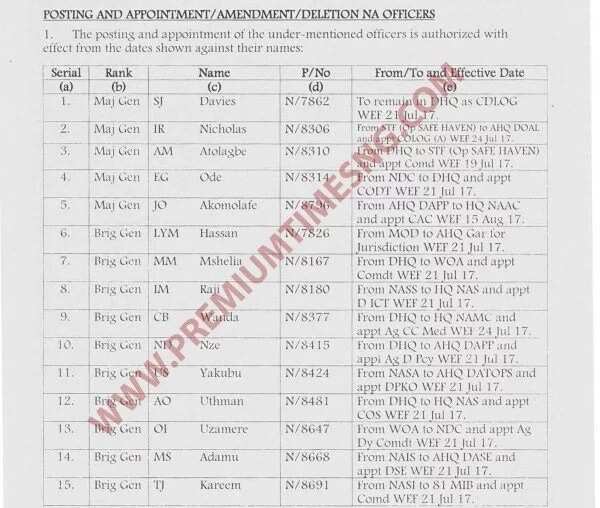 According to the report, no reasons were given for the new postings and cancellations and amendments of previous postings.
Some of the major generals affected had their recent redeployment cancelled, but no new posting was assigned to them.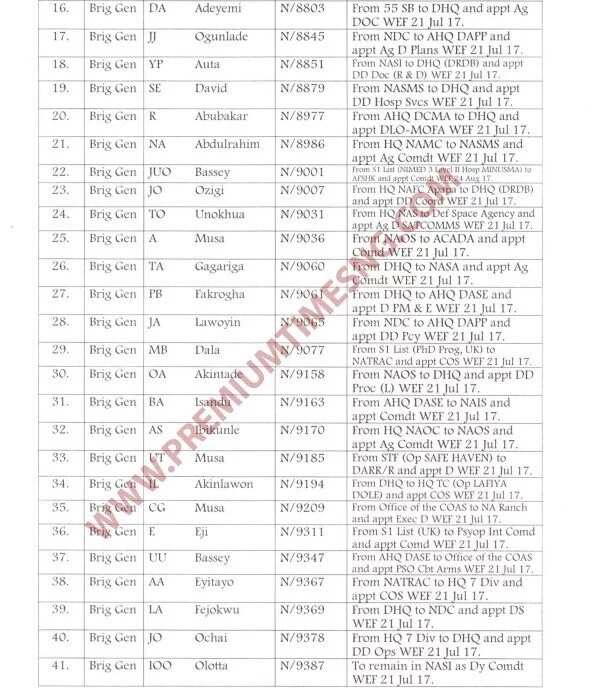 PAY ATTENTION: Read the news on Nigeria's #1 new app
The shake-up was announced in a memo with reference number MS/G1/3OO/2O7 and signed by I.O. Rabiu, a major general and military secretary, military sources quoted in the report said.
Legit.ng gathered that about 100 Nigerian Army formations, units and departments within and outside the country were copied in the memo.
The Chief of Army Staff, Tukur Buratai, approved the exercise on Tuesday, July 18.
Three major shake-ups had been recorded within the last seven months in the Nigerian Army, with the most recent affecting 147 officers in May.
A total of 227 officers were affected in a similar exercise last December.
A breakdown of the remaining 597 affected officers shows that they included 197 colonels, 50 lieutenant colonels, 99 majors, 138 captains, 111 lieutenants and two second lieutenants.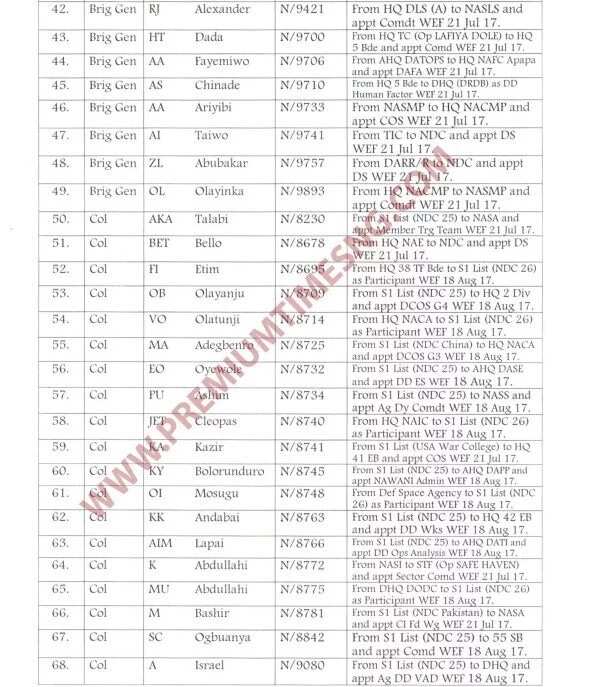 Thirty-eight out of the total 649 officers had their postings cancelled or deleted.
That included two major generals, one brigadier general, seven colonels, five lieutenant colonels, 10 majors, eight captains and five lieutenants.
While eight of the officers had their postings deleted, the redeployment of 30 others were amended by the Army.
"It is the responsibility of all formation/unit commanders whose officers are affected by this posting to implement accordingly.
"Officers must take over on the effective dates indicated. Formation/unit commanders will be held responsible for lapses in the implementation of the directives contained therein," the memo stated.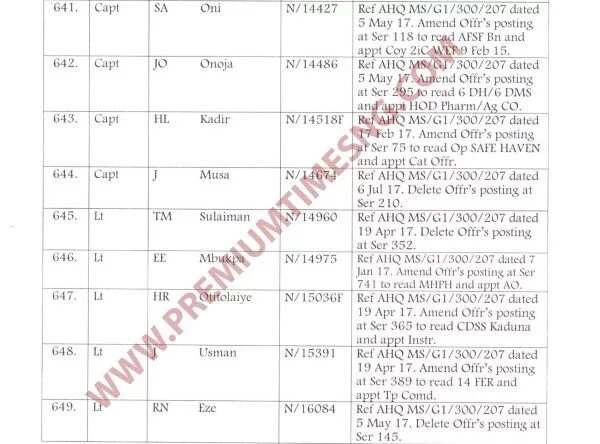 READ ALSO: 3 female Boko Haram terrorists killed in new attack (photos)
Meanwhile, a public commentator, Ibrahim Bulama, has said that the resurgence of Islamist group, Boko Haram, is due to the forthcoming 2019 general elections.
Bulama stated that the recent attacks by Boko Haram is "a politically induced terrorism, orchestrated by a clan of politicians in Borno state who derive inspiration and energy from the phobia of losing 2019 elections and obliterating their political future."
Watch the Legit.ng TV video report of the winging ceremony of the latest pilots of the Nigerian Air Force (NAF).
Source: Legit.ng