Loni Anderson bio: age, measurements, spouse, daughter, net worth
Loni Anderson is a celebrated actress and model from America. She is one of the most successful actresses in the world. Even at her age of 74 years, she is famed and remembered as the popular receptionist by the name Jennifer Marlowe from the CBS sitcom WKRP in Cincinnati.
How old is Loni Anderson today? Currently, she is 74 years old. During her heydays, she took the stage and got fans hooked immediately with her excellent delivery of roles.
Profile summary
Name: Loni Kaye Anderson
Date of birth: August 5, 1945
Age: 74 years
Gender: Female
Birthplace: Saint Paul, Minnesota
Profession: Actress
Country: United States of America
Zodiac sign: Leo
Husband: Bob Flick
Ex-spouses: Bruce Hasselberg, Ross Bickell, Burt Reynolds
Net worth: $12 million
Eye colour: Hazel
Hair colour: Blonde
Body measurements: 37-25-35 inches
Nationality: American
Ethnicity: White
Education: University of Minnesota
Father: Klaydon Carl Anderson
Mother: Maxine Hazel
Sibling: Andrea Sams
Her age and early life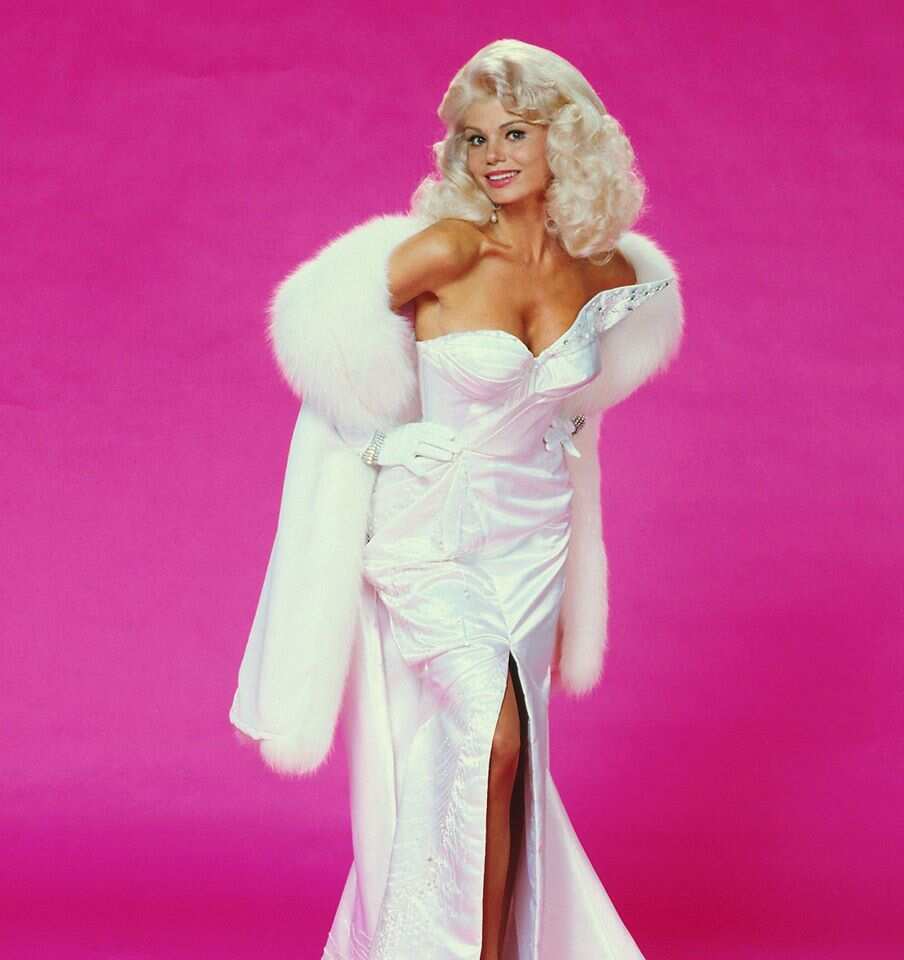 How old is Loni Anderson? Loni Anderson age is 74 years, considering that she was born on August 5, 1945.
What ethnicity is Loni Anderson? She is white and an American. She is from Saint Paul, Minnesota. Looking at Loni Anderson hot pics, it is easy to see why she carried the day when it came to modelling.
Having attended the University of Minnesota and Roseville Area High School, she nurtured her talents quite early. She studied art at the University of Minnesota, which is where she excelled as a model.
She took part in a number of beauty contests, winning most of them. One of her most notable runs was when she emerged as runners-up in the Miss Minnesota competition back in 1964.
She eventually ventured into acting and became a sensational hit after playing Jennifer Marlowe in WKRP in Cincinnati.
Career progression
Loni Anderson young acting career started early. She developed an interest in acting, and she went the route many aspiring thespians do - she chose to become an apprentice in local commercials and theatre shows.
Before dyeing her hair, she played several roles in early 1970s productions such as "Born Yesterday" where she acted as Billie Dawn, "Send Me No Flowers", "Can-Can," and "The Star-Spangled Girl." She even played "Tzeitel" in "Fiddler on the Roof" and appeared in a production of "The Threepenny Opera."
Her acting debut came with a small part in the film Nevada Smith back in 1966 where she starred as Brunette Saloon Girl.
After this, she was out of employment as an actress for almost one decade since no new roles came her way. However, she finally began getting guest roles on different TV series in the mid-1970s. She even made an appearance in two episodes of S.W.A.T.
Loni Anderson was a popular TV sex symbol back in the 70s and 80s, all because she portrayed the sexy woman in most movies she played. It all started when she excellently displayed the role of Jennifer Marlowe on the sitcom WKRP in Cincinnati, a role that won her an Emmy nomination.
She later became a famous soap-styled fixture in mini-movies. All eyes were on her as she was determined to bring back the glossy platinum-blonde allure of Marilyn Monroe, Jayne Mansfield and Mamie Van Doren.
She was known as one of the stylish, highly appealing actresses whose hourglass figure and piled-on, bleached-blonde mane portrayed her as a woman with an enviable I.Q. She successfully managed to recreate the lives of such artificial sex sirens as Mansfield and Thelma Todd on television.
In addition to that, she got bogged down in television-movie re-tellings of famous movie classics such as Three Coins in the Fountain in 1954, Sorry, Wrong Number in 1948, and Leave Her to Heaven in 1945. Even so, her success in the films was almost hampered by the drama in her real life.
Filmography
Below are a few of the productions she has been a part of. Captured are the roles she played and the year she starred in them.
My Sister Is So Gay (TV series) - Frances - 2016 to 2019
Love You More (TV short) - Jean Carlyle-Dixon - 2017
Baby Daddy (TV series) - Nana Lyle - 2016
The Tonight Show with Jay Leno (TV series) - Jay's Mom (segment "Cop 'n Kitty") - 2010
So Notorious (TV series) - Kiki Spelling - 2006
The Mullets (TV series) - Mandi Mullet-Heidecker - 2003 to 2004
Three Sisters (TV series) - Janet - 2001
V.I.P. (TV series) - Carol Irons - 1999
Movie Stars (TV series) - Audrey Wyatt - 1999
A Night at the Roxbury - Barbara Butabi - 1998
Fast Track (TV series) - 1998
Loni Anderson spouse
Loni has been married four times. She was married and divorced before she was 21. She had to take up a teaching position to support herself and baby daughter, Deidre, while completing college.
Her first three marriages were to Bruce Hasselberg from 1964 to 1966, Ross Bickell from 1974 to 1981, and Burt Reynolds from 1988 to 1994.
On May 17, 2008, Anderson married musician Bob Flick, who was one of the founding members of the folk band The Brothers Four.
Who is Loni Anderson's husband?
She is currently married to Bob Flick.
Loni Anderson daughter
Loni has a daughter named Deidre. She also has an adopted son named Quinton A. Reynolds.
Loni Anderson measurements
Height: 5 ft 6in
Weight: 60 kg
Body measurements: 37-25-25 inches
Loni Anderson now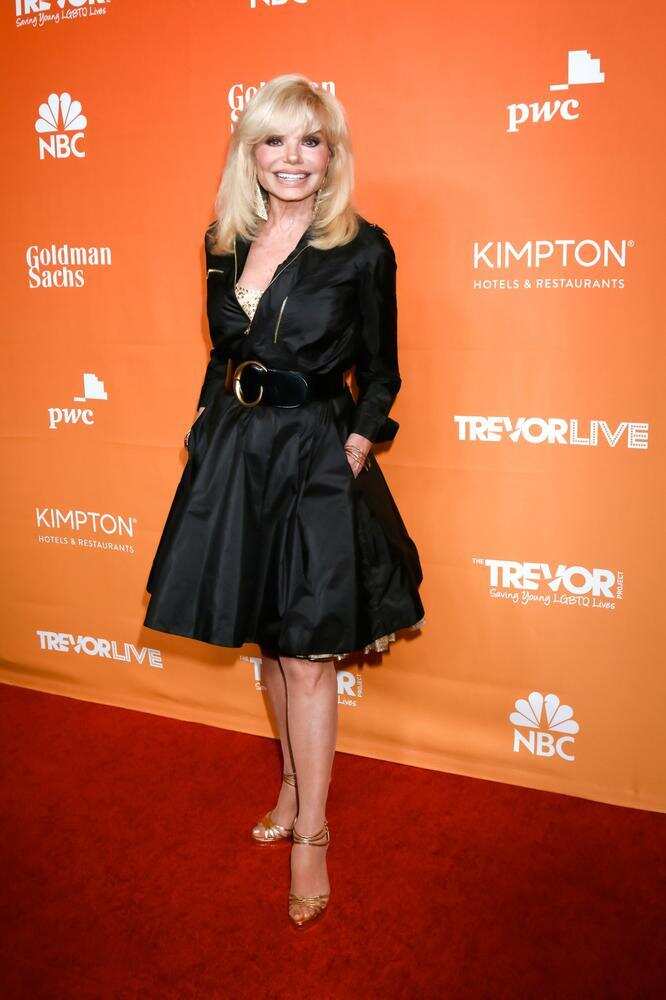 Even though she is not appearing on the small screen as much as she used to, Loni is still keeping up with a Hollywood lifestyle. Loni continues to appear on the red carpet and attends a lot of different galas, premieres and charity events.
Loni Anderson net worth
What is Loni Anderson's net worth? According to Celebrity Net Worth, she has a net worth value of $12 million dollars. This amount has been accumulated over the years from the pay she has collected from the different roles she has played.
Loni Anderson is a phenomenal woman whose growth in the acting industry is admirable. She has dazzled many over the years and continues to enjoy stardom even in her 70s.
Source: Legit.ng