Army troop rescues injured Boko Haram terrorist
- Army troop rescued a Boko Haram terrorist who got injured during cross-fire with the troop
- He was reportedly abandoned by other terrorists when he lost his leg
- 8 other Boko Haram terrorist were reportedly killed during the encounter
A Boko Haram terrorist, Abba Mustapha, has been rescued by the troops of Operation Lafiya Dole, during an cross-fire exchange between the army and the terrorists.
Mustapha, who was injured and abandoned to his fate by his colleagues in the heat of heavy fire fight with Nigerian Army troops in one of the remote Forward Operating Bases in Ngala Local Government Area.
In a statement made available the the Army's spokesman, SK Usman, some of Mustapha's colleagues lost their lives during the raid.
Usman said: "Abba was captured during a counter attack operation launched by the troops following an attack at their location. As narrated by Abba, 8 of his Boko Haram colleagues were killed.
"Also recovered from the Boko Haram group were 3 AK 47 rifles, 2 AK 47 magazines, 2 FN rifle magazines and 3 PKM link belts.
"The surviving terrorist was full of joy and praises for his survival. He thanked the Nigerian Army for sparing his life and taking care of his wounds.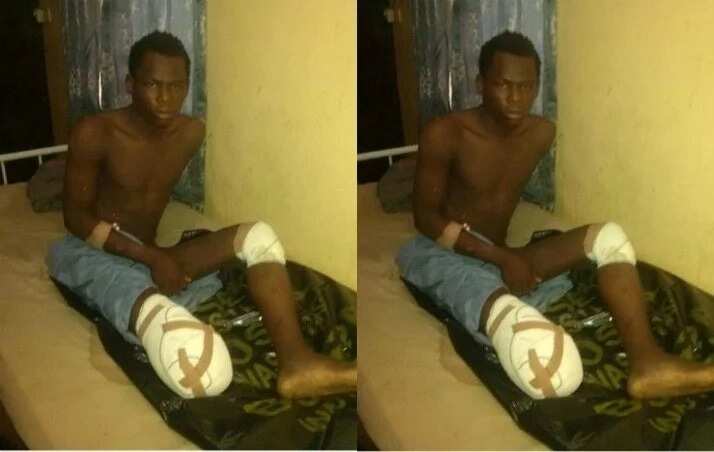 READ ALSO: Entertainers urge Osinbajo to sack Lai Mohammed, issue 7-day ultimatum
"He said that he and his other BHT colleagues were subdued by superior fire power of the troops of Operation LAFIYA DOLE. He further recounted that his other fleeing Boko Haram colleagues abandoned him to his fate after he was hit by a bullet.
"To worsen his situation one of his legs was crushed by their own vehicle as they scampered for safety.
"He said if the troops had not taken him and administered first aid on him he would have bled to death", adding that he owes his life to the good treatment received from the troops.
"Mustapha said though he lost a limb in the cause of the fighting owing to the heartless abandonment by his fellow terrorists, he thanked God that he is stable and recuperating in hospital."
PAY ATTENTION: Read the news on Nigeria's #1 news app
Meanwhile, the University of Maiduguri has debunked widely circulated news that the institution was attacked by Boko Haram insurgents on July 16.
The institution posited that the report which claimed that bombers attacked the institution and many lives were lost in the process was nothing but a false report.
The university claimed that editors of news medium who published the said false report have apologised but the report remains in circulation, hence, reason for the press release.
Watch a Legit.ng documentary on the survivors of Boko Haram:
Source: Legit.ng