Nigeria outfits: latest tendencies and trends of 2021 (photos)
Nigeria is one of the countries in Africa known for its incredible sense of fashion. Every year a new technique is designed with a very unique and appealing design. Have a look at the latest Nigeria outfits.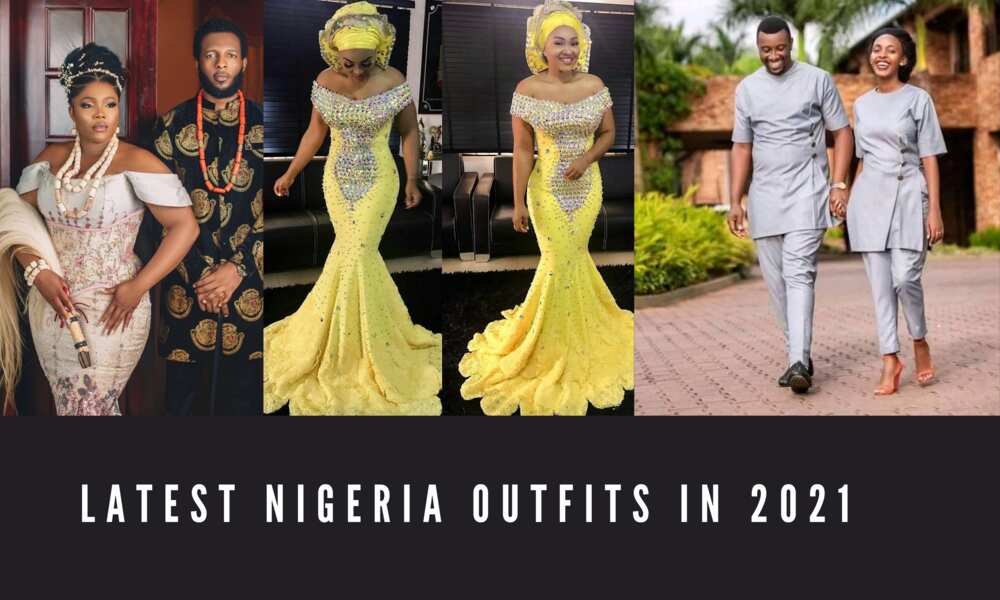 Nigerians love to wear clothes in their traditional fashion and style. If they do not wear the complete traditional look, then they at least match one cultural element in their outfit.
Check out this compilation of the latest Nigerian outfits. You will definitely find something that will intrigue you here.
Latest trending Nigeria outfits for 2021
These looks are not just for parties and events. They are also great for casual wear. Have a look at some of the latest fashions in Nigeria.
Nigerian traditional wear designs
Nigeria native wears is one of the most beautiful Nigerian fashion designs. They enhance the culture of the Nigerian people.
The designs are always made from different fabrics and different types depending on different occasions.
1. Matching headgear outfit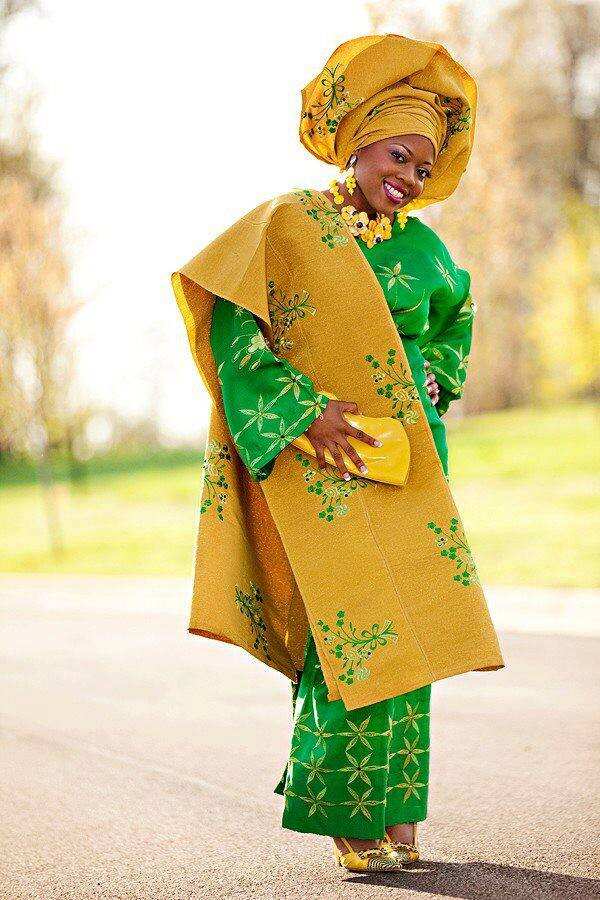 Such an outfit can be ideal for a wedding ceremony or any other gathering that is not formal. You can decide to match everything like the lady above.
2. Elegant traditional dress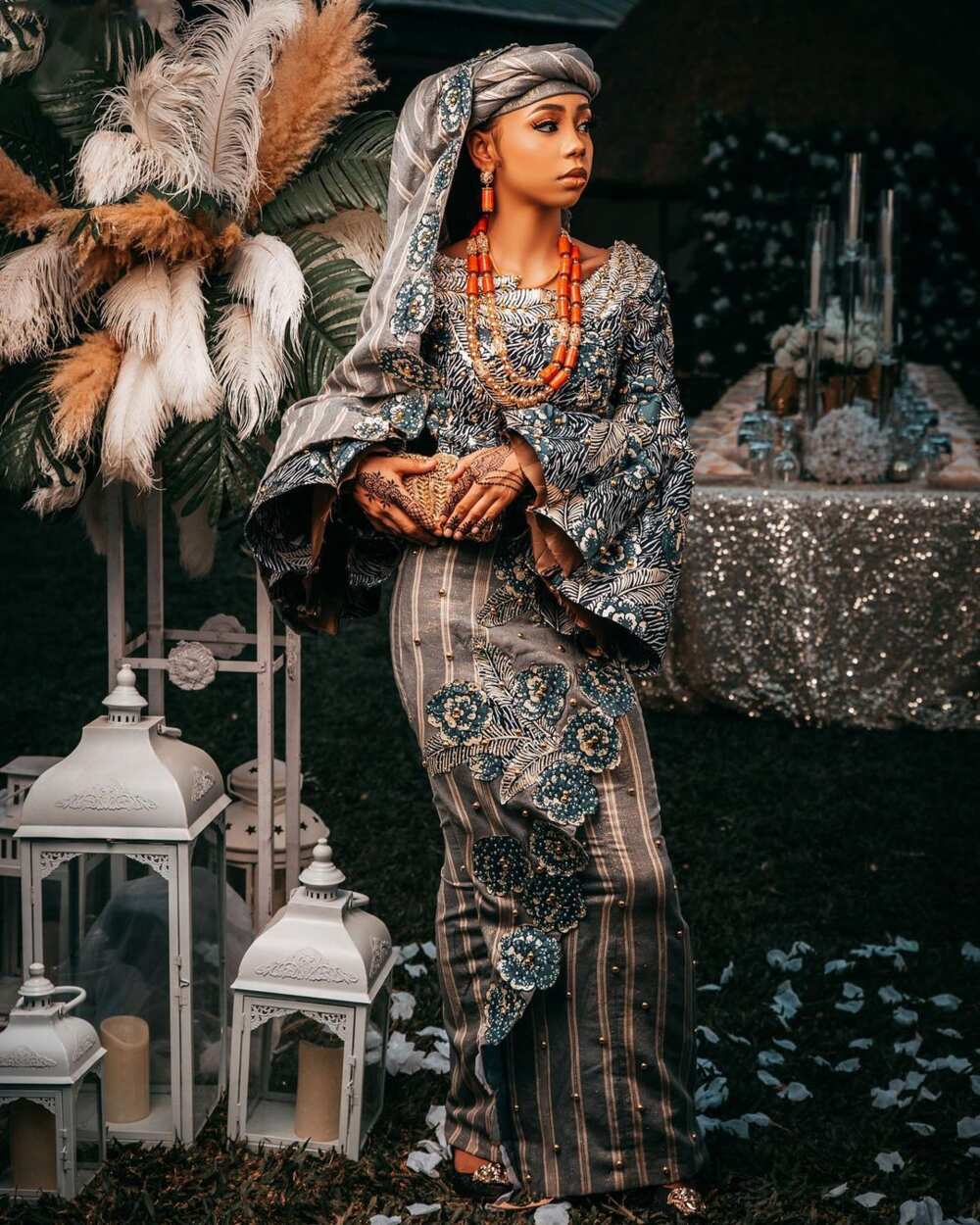 This is a classy traditional outfit established with stones and pearls. It is a perfect outfit for a bride at her wedding.
3. Simple black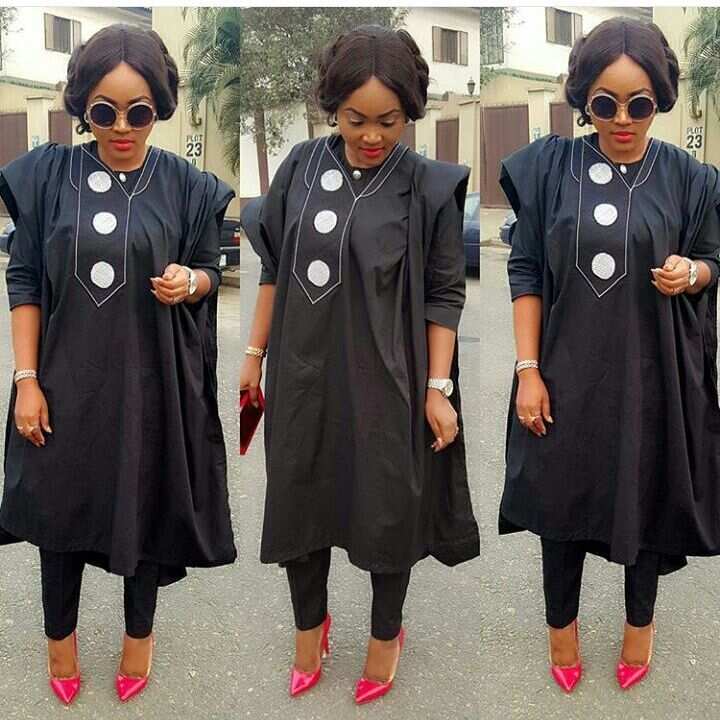 Ladies can also rock in such an outfit that is mostly believed to be worn by men. It looks elegant, and you can decide on the type of color you want.
4. White with pink floral patterns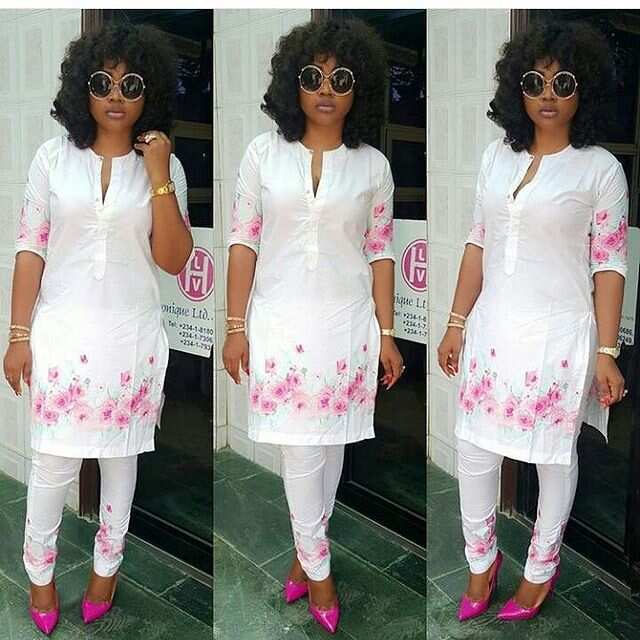 The outfit is perfect for any given non-formal occasion.
5. Simple green outfit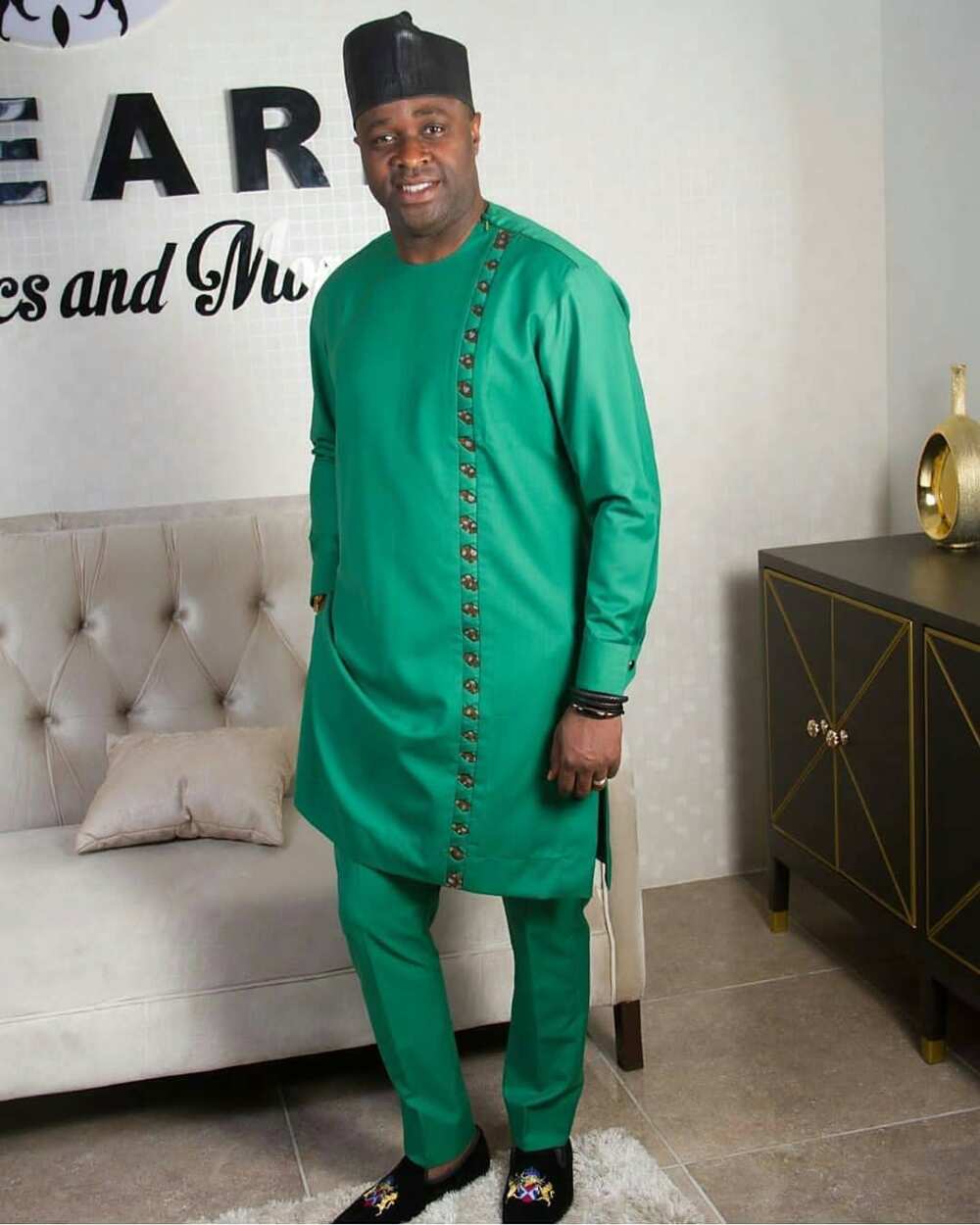 This lovely green outfit is outstanding. It is one of the most trending designs won by Nigerian men.
6. Classy maroon with detail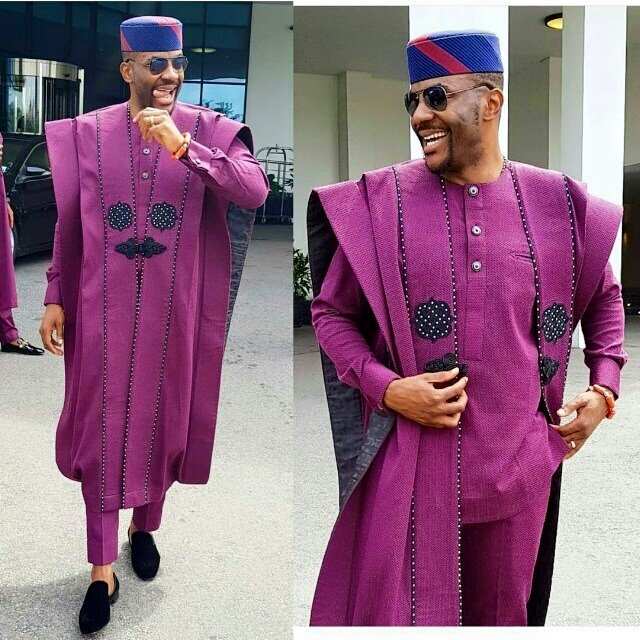 If you want to stand out and command attention, then this is just the right outfit for you. You can match it with black shoes and a hat. You can still rock in this outfit on any given occasion.
7. A flowing gown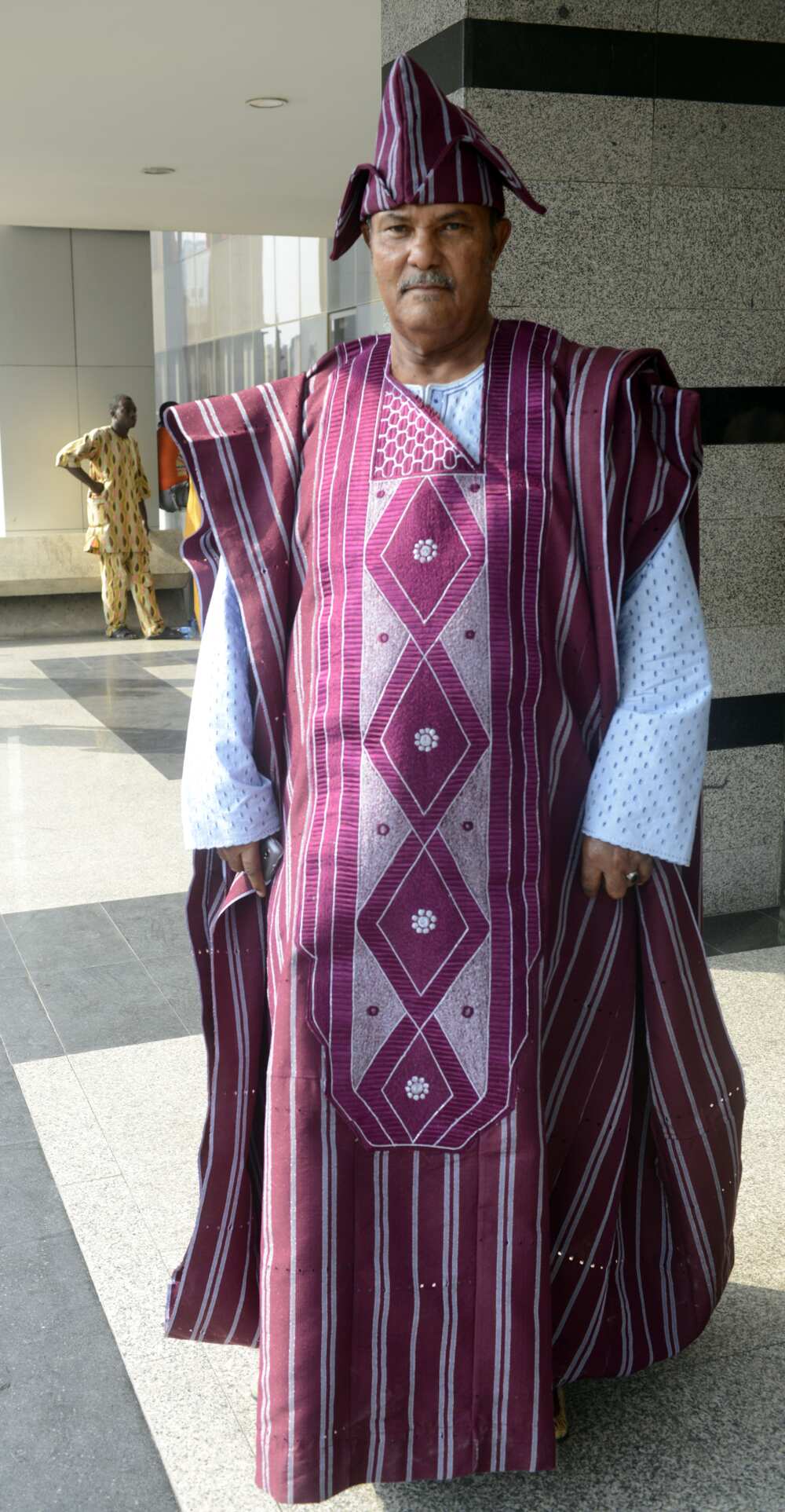 A man wearing a Yoruba traditional flowing gown called gbariye with a hat popularly known as abetiaja.
8. Couple outfit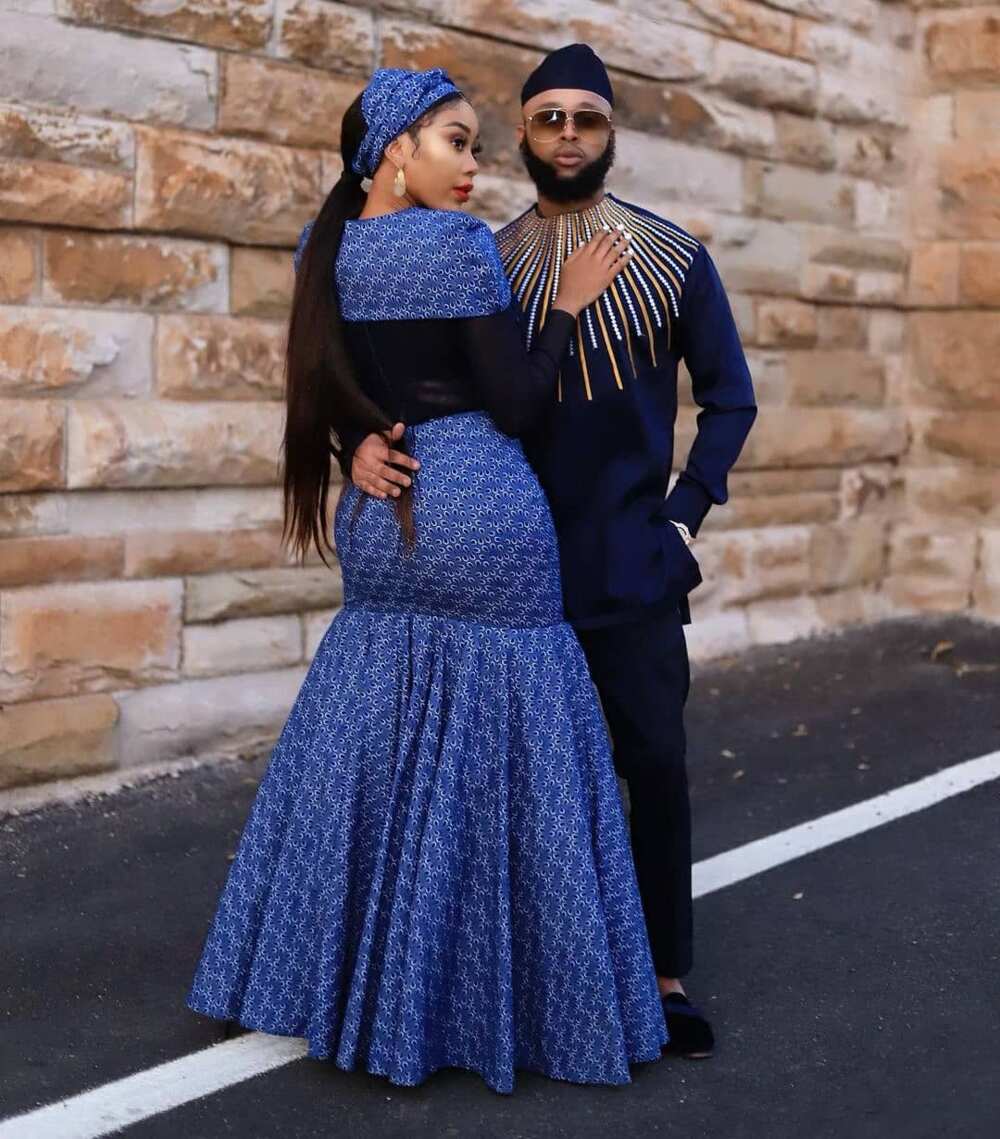 You can still look elegant in different outfit designs like the couple above.
9. Brown couple outfit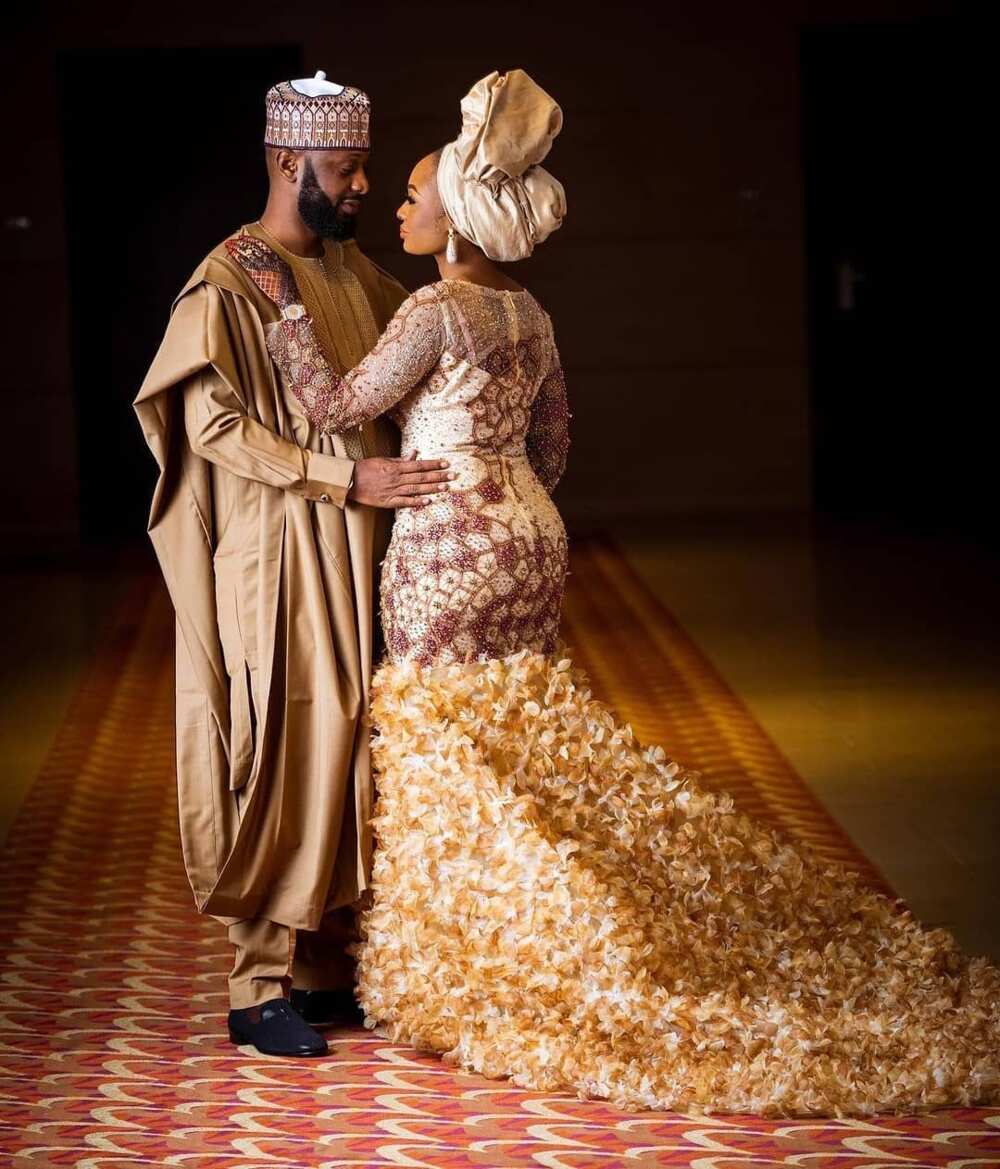 This outfit is a perfect combination of the traditional attire with lace details on the lady's dress. It is a great outfit for a wedding event.
10. Maroon design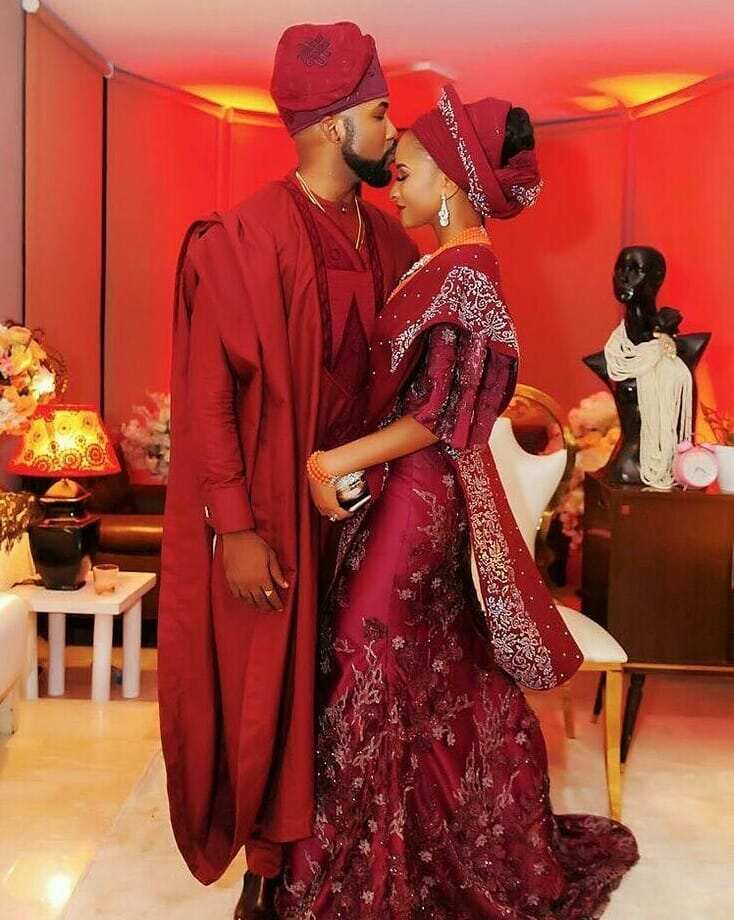 You can also decide to go for maroon color outfits like the couple above.
11. Beautiful floral detail attire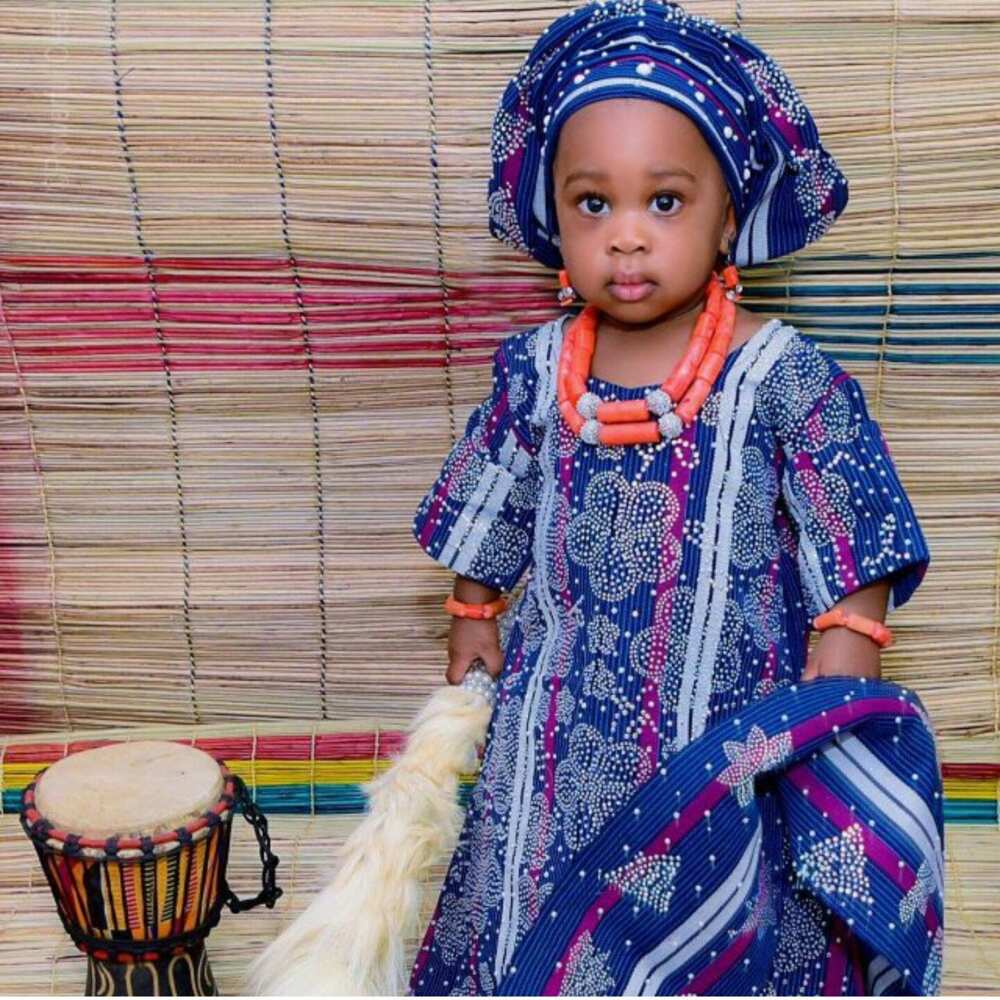 Kida can also look classy in traditional outfits. The combination of the headgear and the traditional coral beads enhances the look.
Latest Nigerian lace styles and designs
Lace designs are becoming more trendy and fashionable in Nigeria. Fashion designers in Nigeria have come up with the most elegant lace outfits that can be worn on different occasions.
Nigerian lace blouse styles are also among the most trending designs that most ladies are adopting. Have a look at some of the best lace styles made in Nigeria.
1. A green lace gown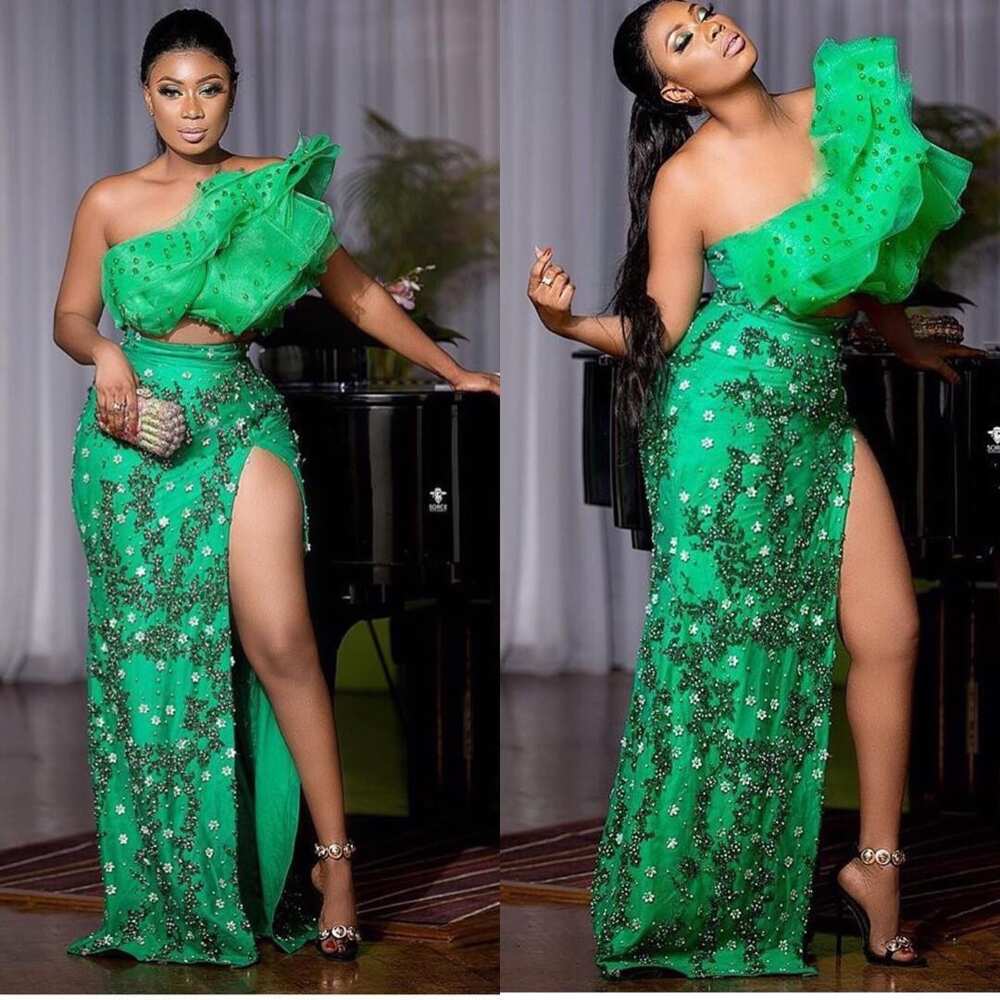 This green gown speaks volumes on its own. Not only is the color quite eye-catching, but the design is also very stunning.
2. Elegant black dress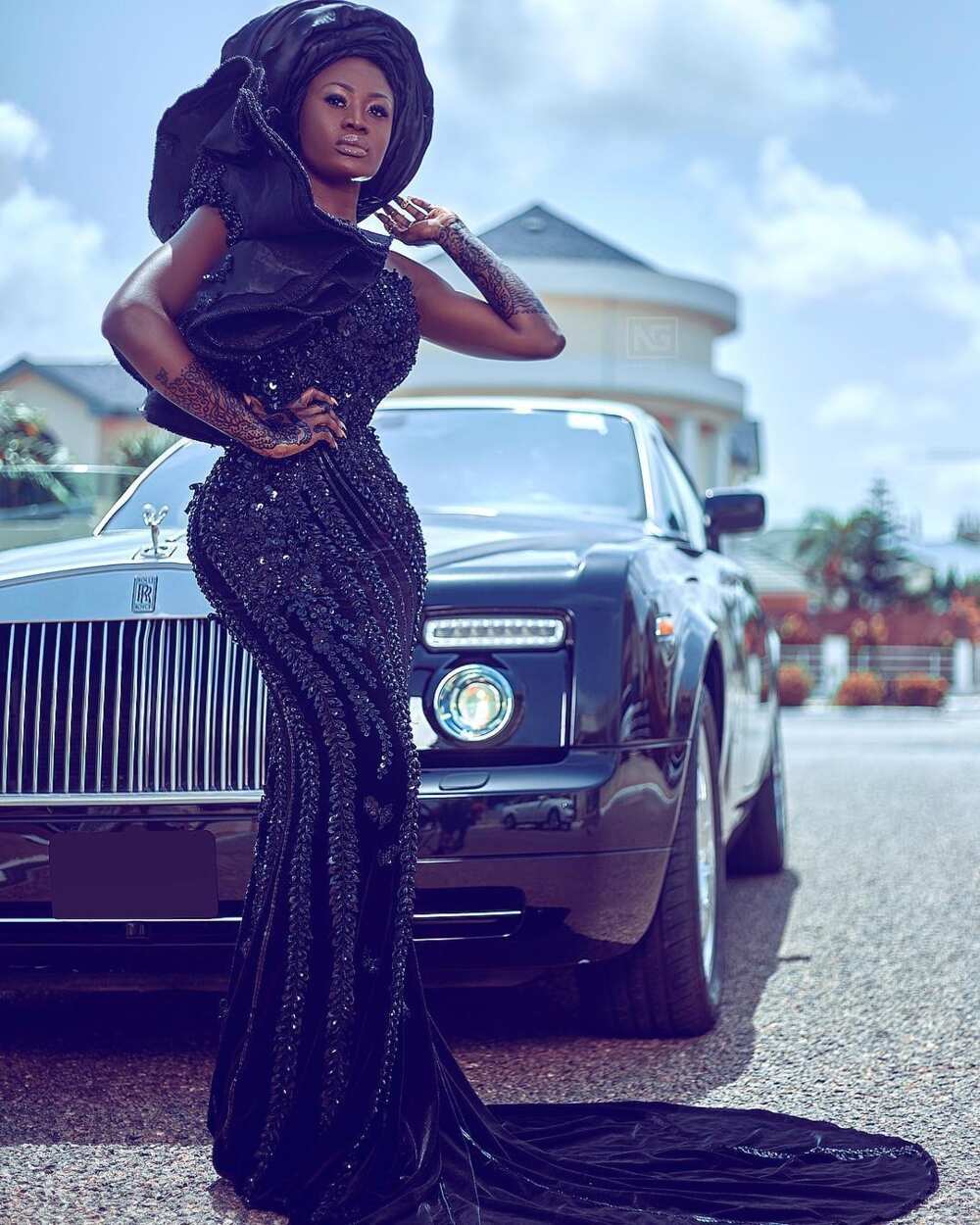 A matching headgear outfit is one of the best outfits that are always unique and outstanding.
3.Bridal design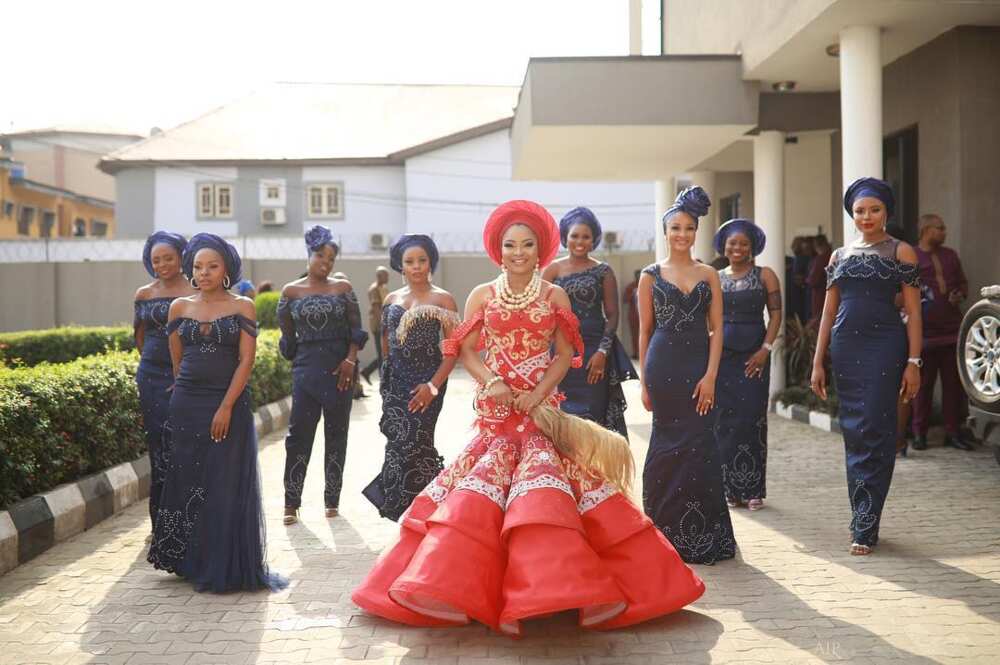 Lace designs are always the way to go for any bridal team. As a bride, you can decide to match your maids' outfits or choose to stand out differently with your color like the photo above.
4. An Ankara outfit with lace finishing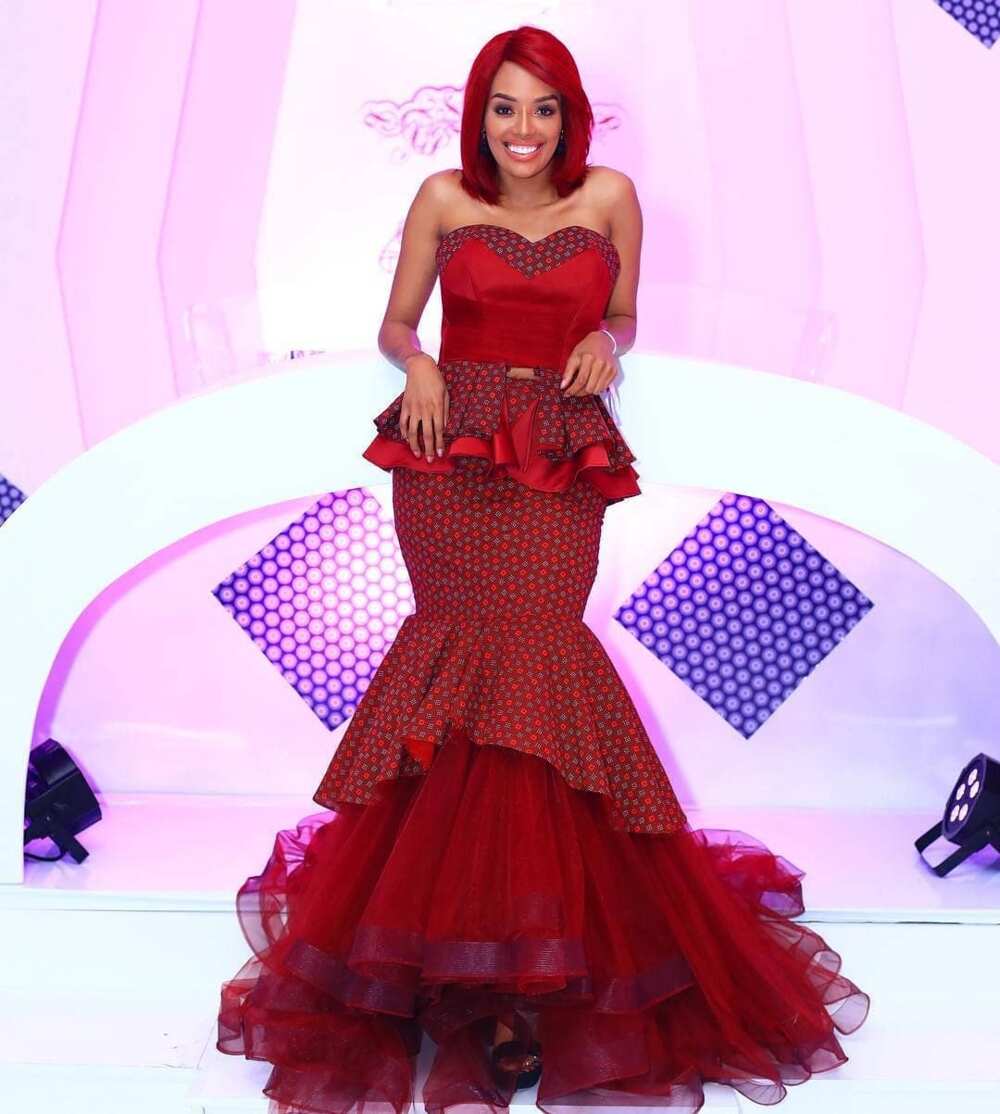 You can design your Ankara outfit with a lace finishing. The additional lace gives it a unique, beautiful look.
5. High waist skirt with lace top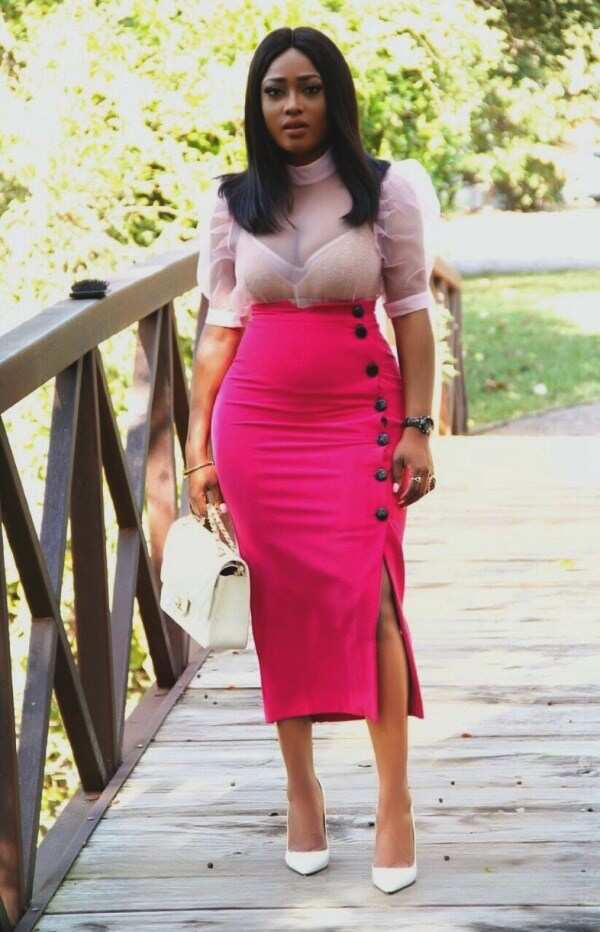 A lace top outfit is ideal on a sunny day.
Corporate gowns for ladies in Nigeria
Corporate clothing can be a cloth worn on a daily basis while at work. In some cases, this is simply a certain look called corporate dress and is made up of suiting and a dress shirt with the proper accessories.
If a company has a corporate dress code, both men and women are expected to wear classic, tailored outfits in dark, neutral colors. This keeps clothing from being a distraction for anyone.
1. Beautiful dress with Ankara detail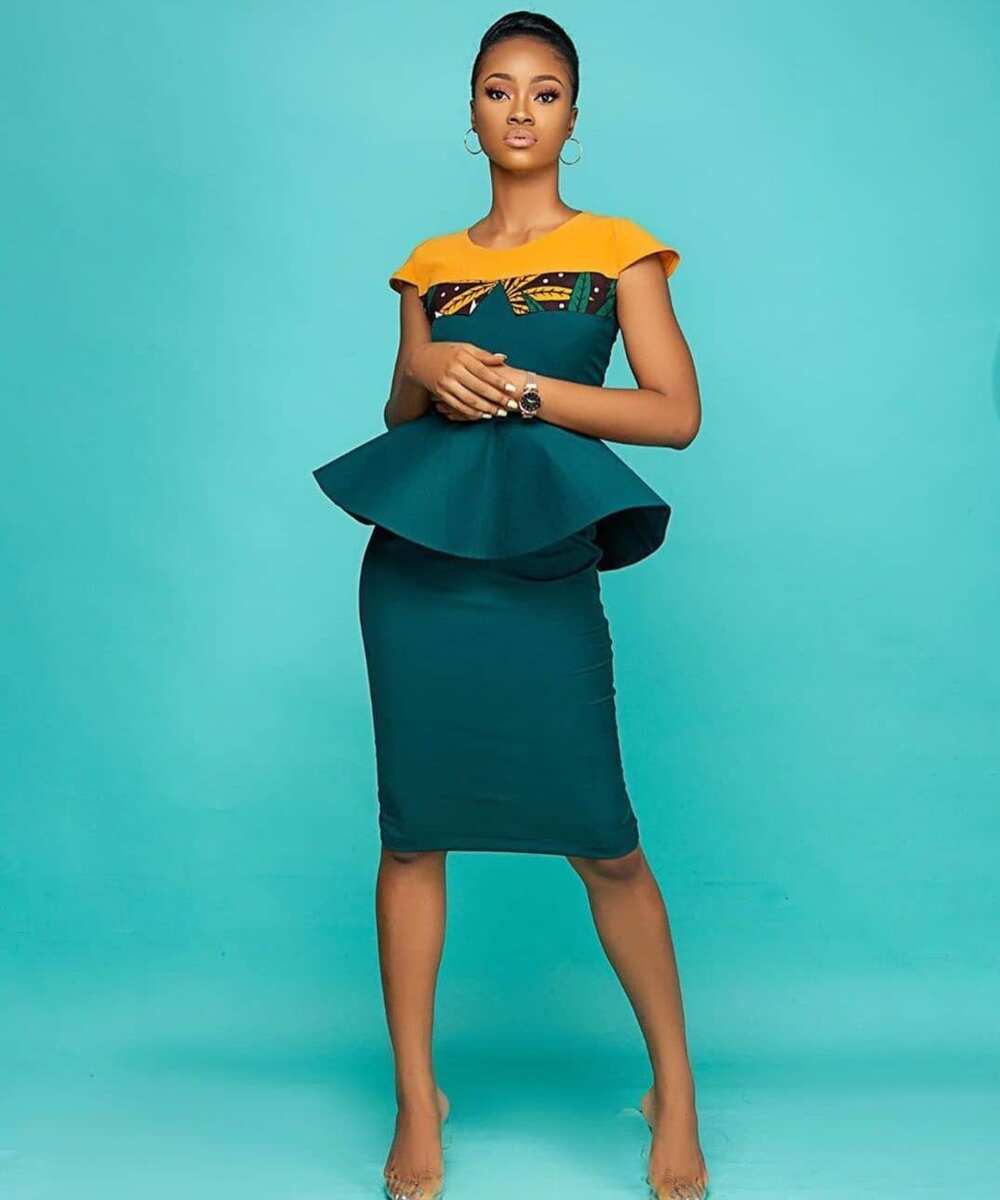 A little Ankara detail on a dress makes it look more fabulous.
2. Plain dark blue dress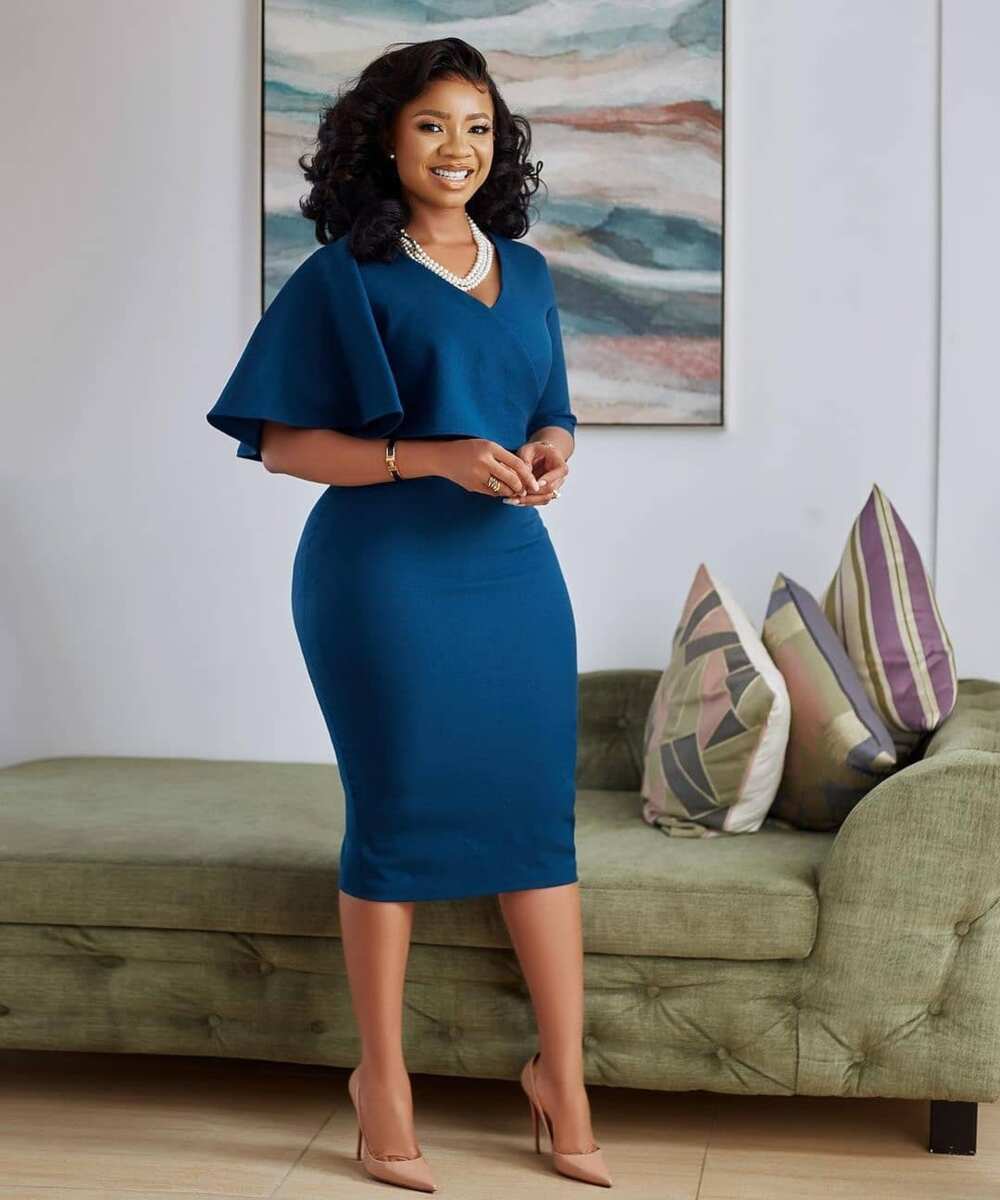 This plain blue dress could work best for any formal or non-formal occasion. You will look stunning if you match it with heels.
3. A checked dress with details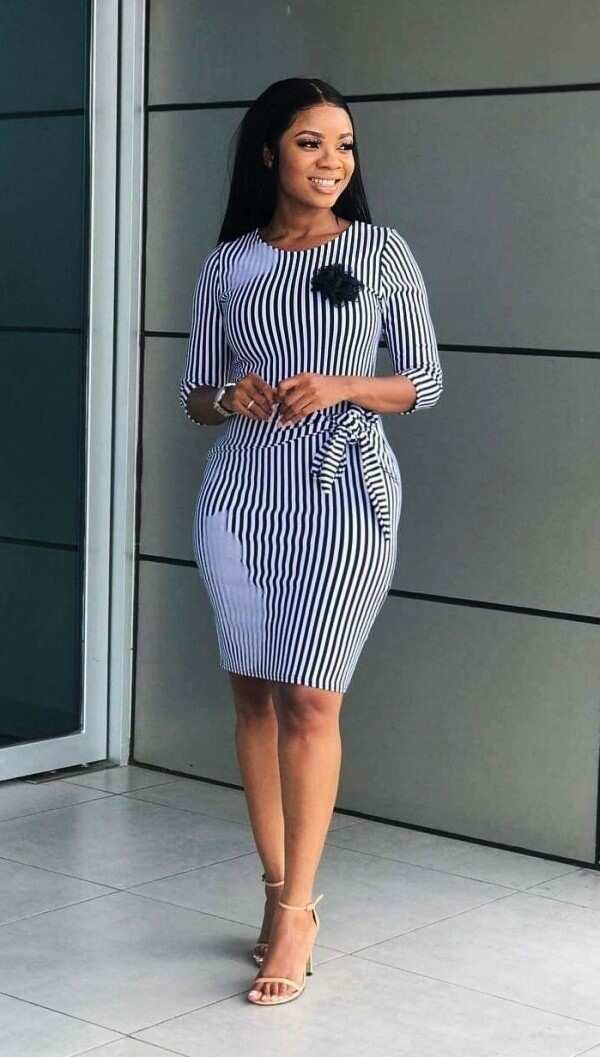 The dress is simple yet elegant.
4. Simple blue dress with details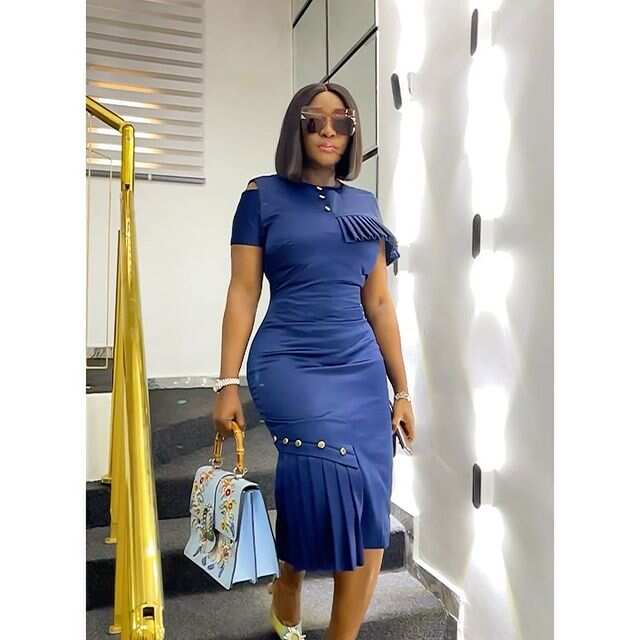 You can still rock in this dress on any given occasion. The additional detailed buttons and folds add to its beauty.
5. A beautiful wrap outfit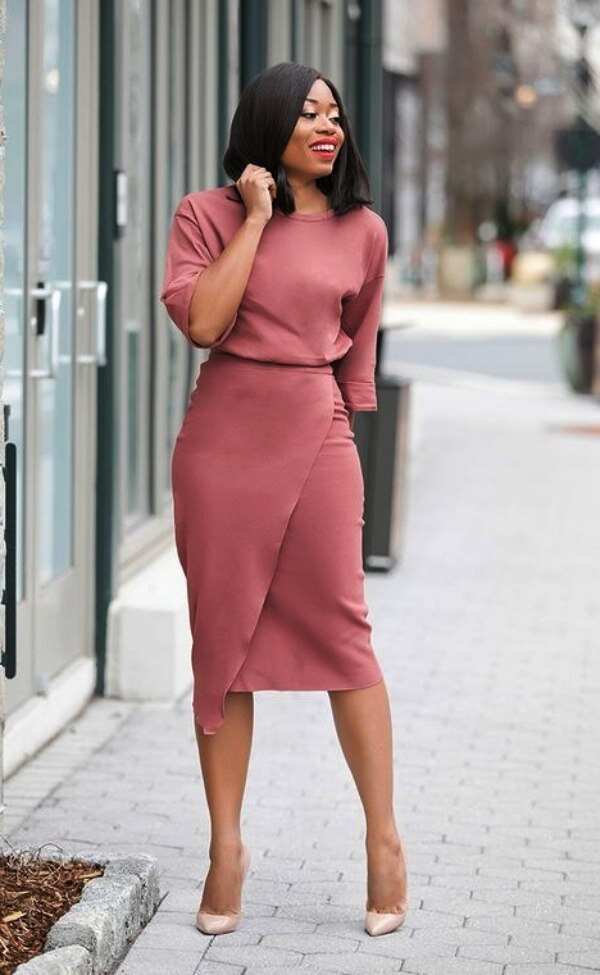 This wrap outfit is very exquisite and formal. You can match it with heels or flat shoes.
Office wears for ladies in Nigeria
While at work, you should always aim for clothes that give you a professional look but are still trendy, fashionable and a perfect fit for your body.
Have a look at some of the latest skirts and office gown styles in Nigeria
1. High waist skirt with a long-sleeved top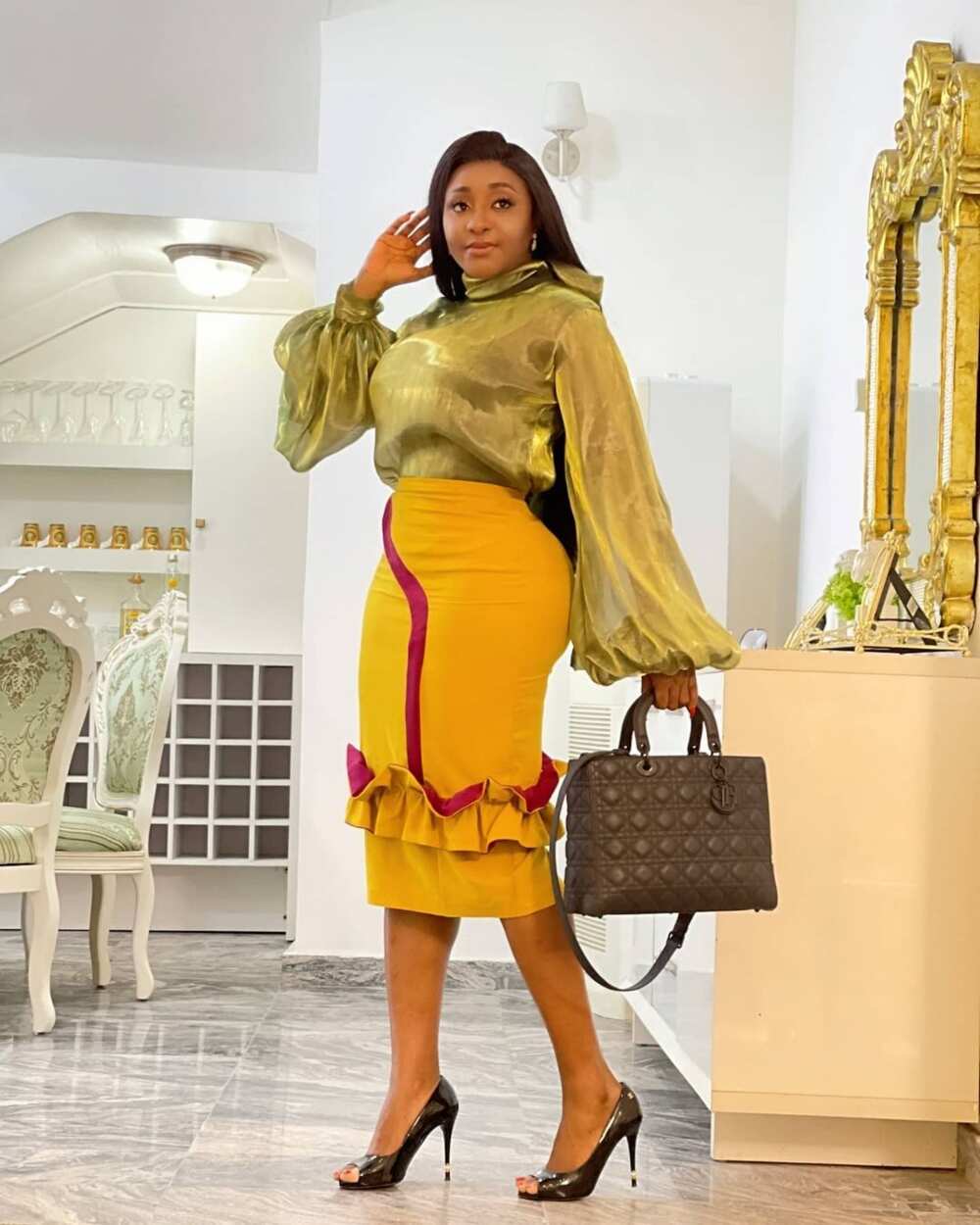 This is one of the best office wear designs. It is simple and very presentable.
2. Official Ankara dress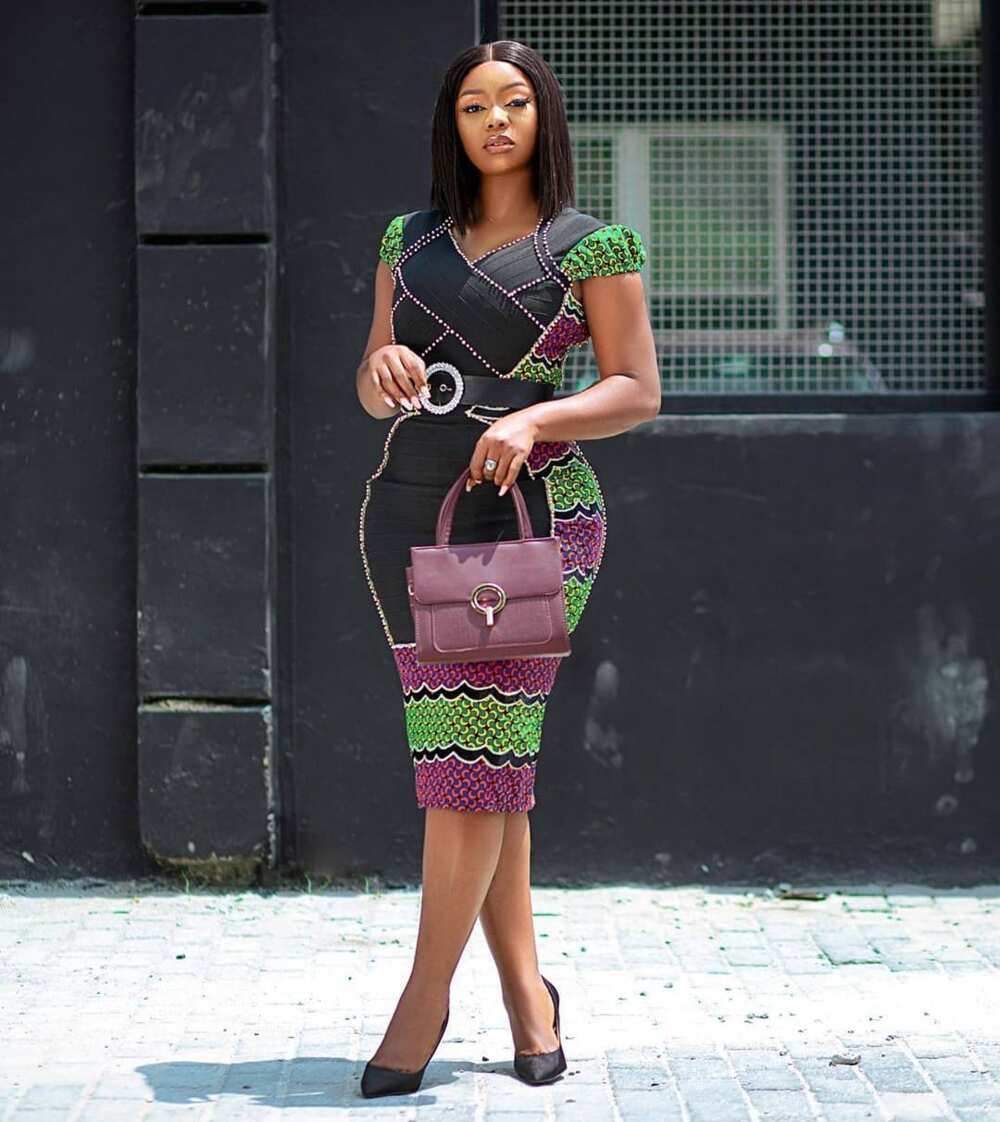 An Ankara outfit can also be a perfect official. You can dress this to any formal gathering without regretting it. Ankara has become one of the most worn Nigeria office dresses.
3. A grey outfit with white buttons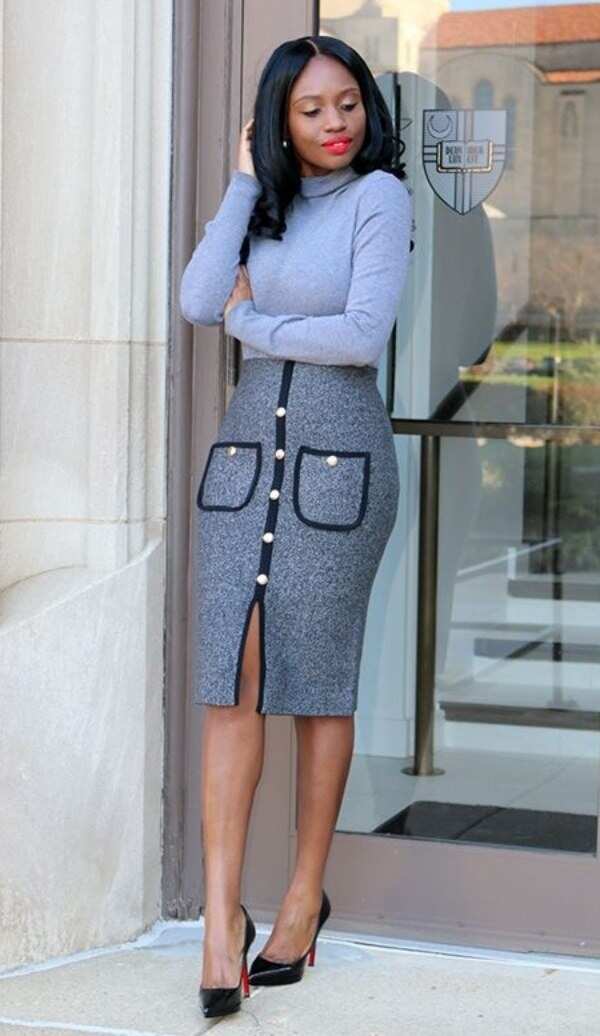 Matching black heels with this grey dress will absolutely look stunning.
Latest clothes in Nigeria for parents and kids
Have a look at some latest clothes in Nigeria as a parent.
1. Simple black outfit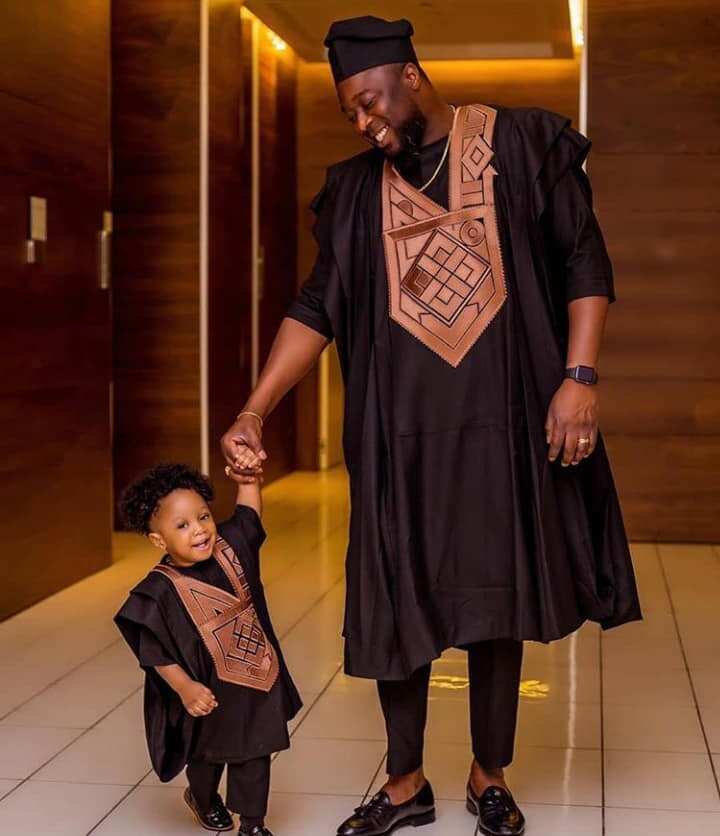 A beautiful black outfit for your husband and son.
2. White and blue design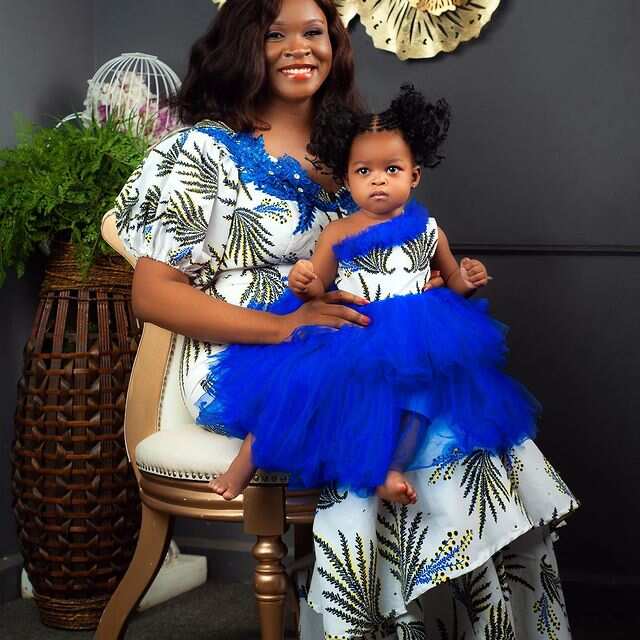 There is nothing as powerful as a mothers love. Matching an outfit with your little girl is a great thing to do for your little one. She not only gets to look like her mum but also boosts her confidence.
3. Ankara design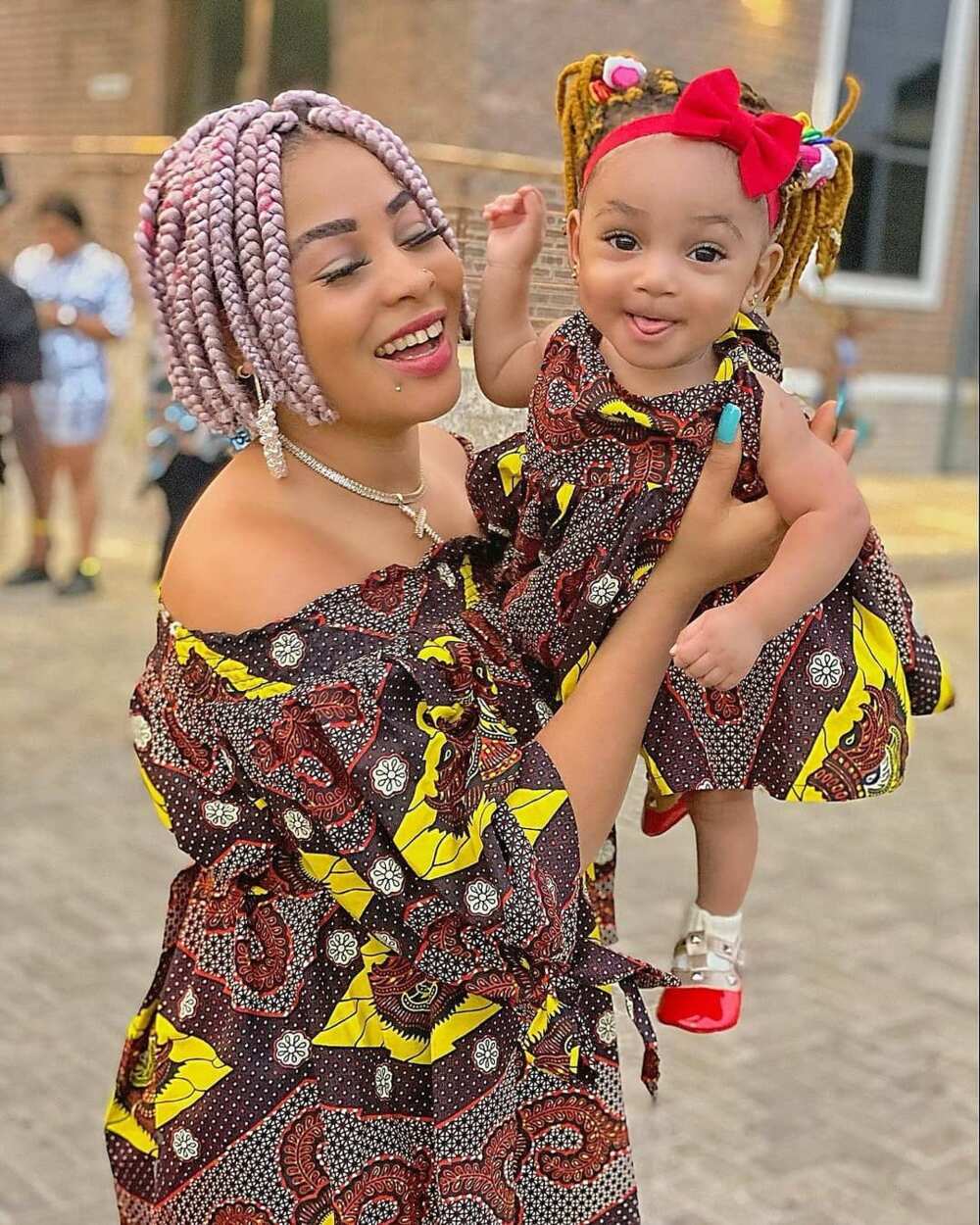 You can also match an Ankara dress with your little princess.
4. Orange laced outfit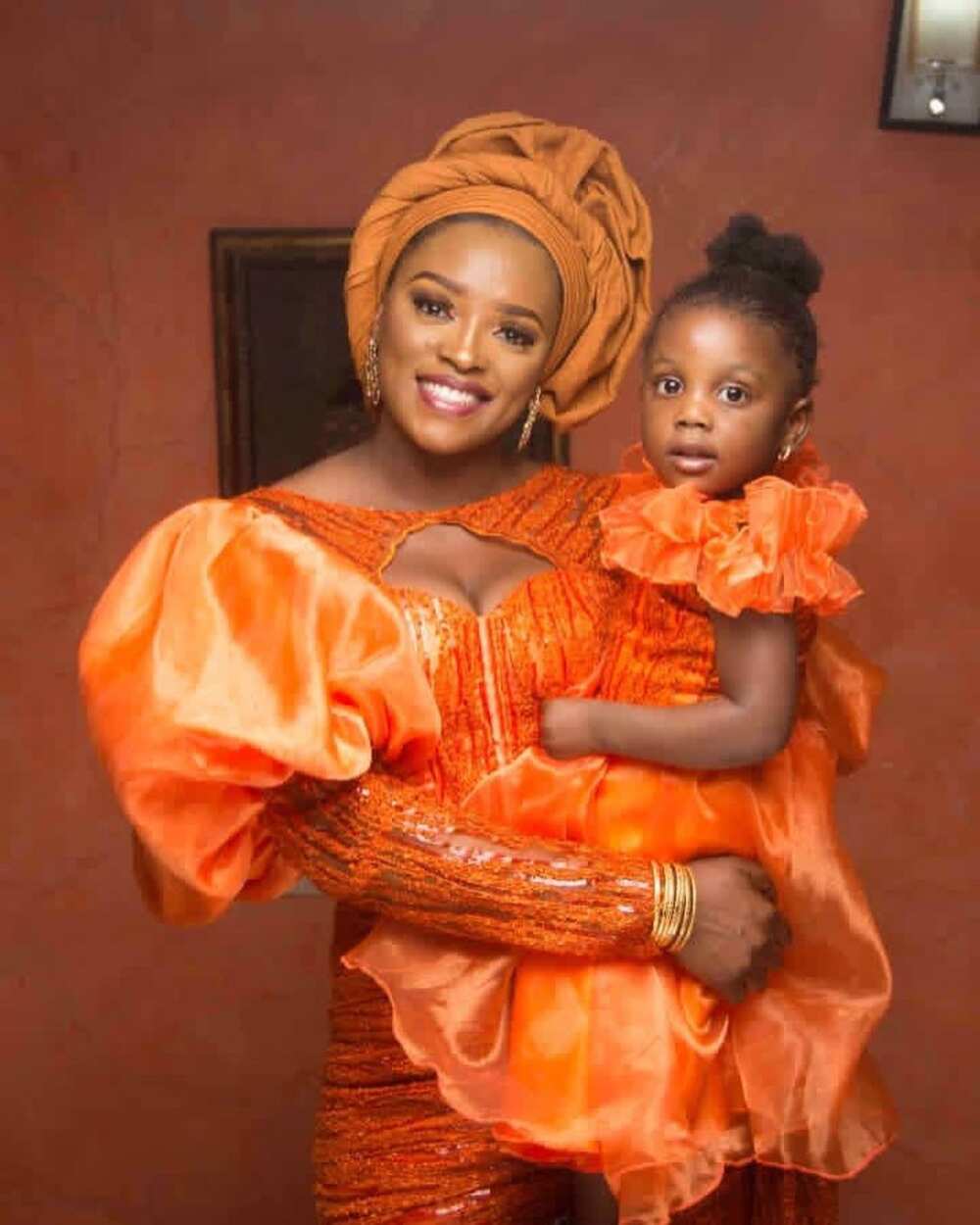 This laced design can still look great for both the mother and the daughter.
5. Floral Ankara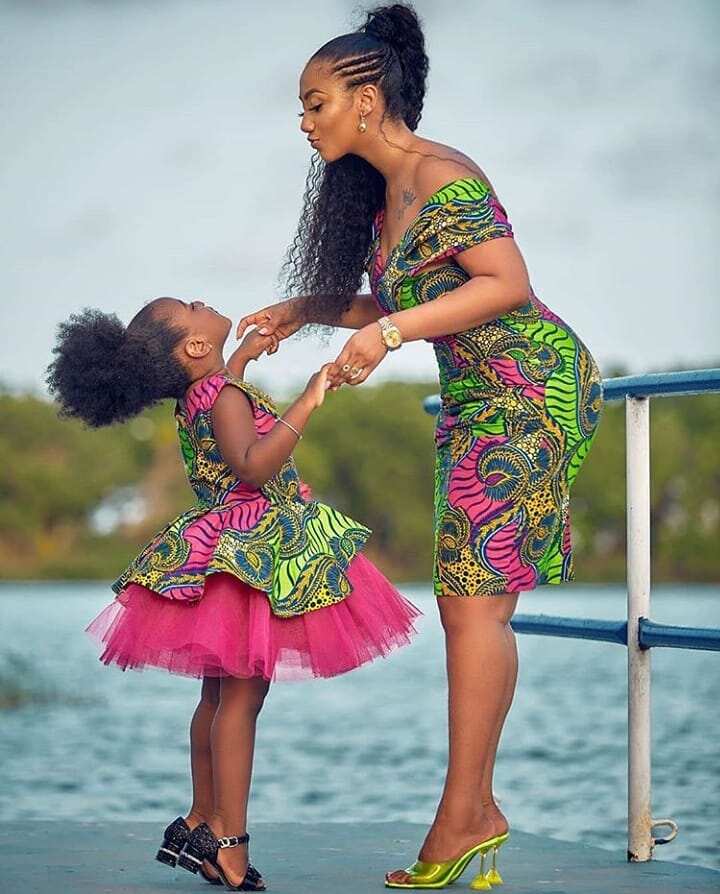 A floral dress is always stunning. Adding the lace design to your girl's dress will make her happier.
Ankara fashion and style
Nigerians have not been left behind when it comes to fashion. They are more popular all over for their beautiful designs and style. Have a look at the latest Ankara styles that are outstanding in Nigeria.
1. Maxi gown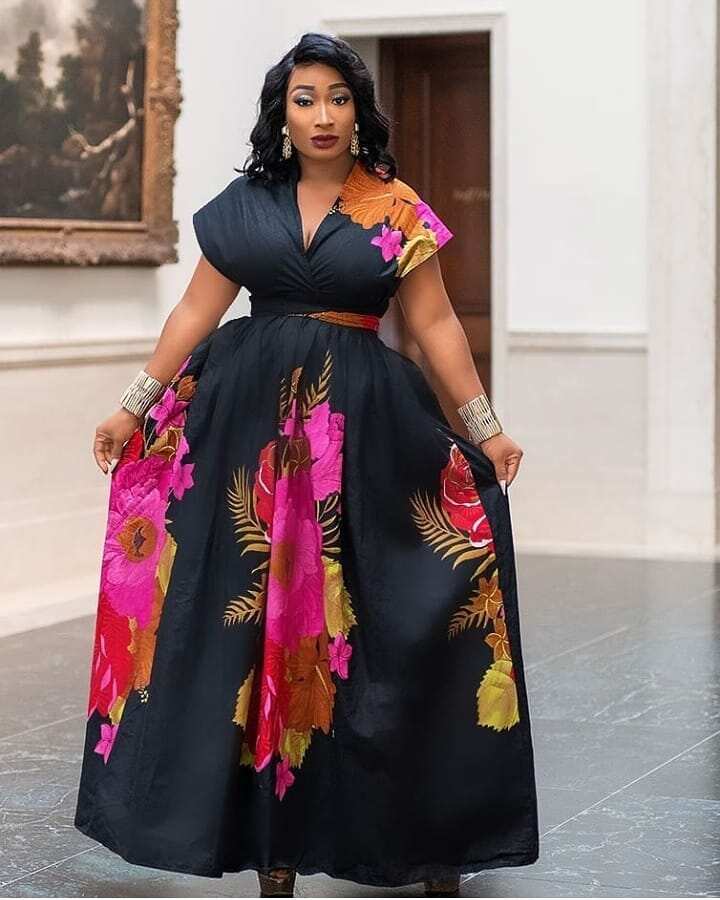 A beautiful maxi gown for a wedding occasion.
2. Mermaid gown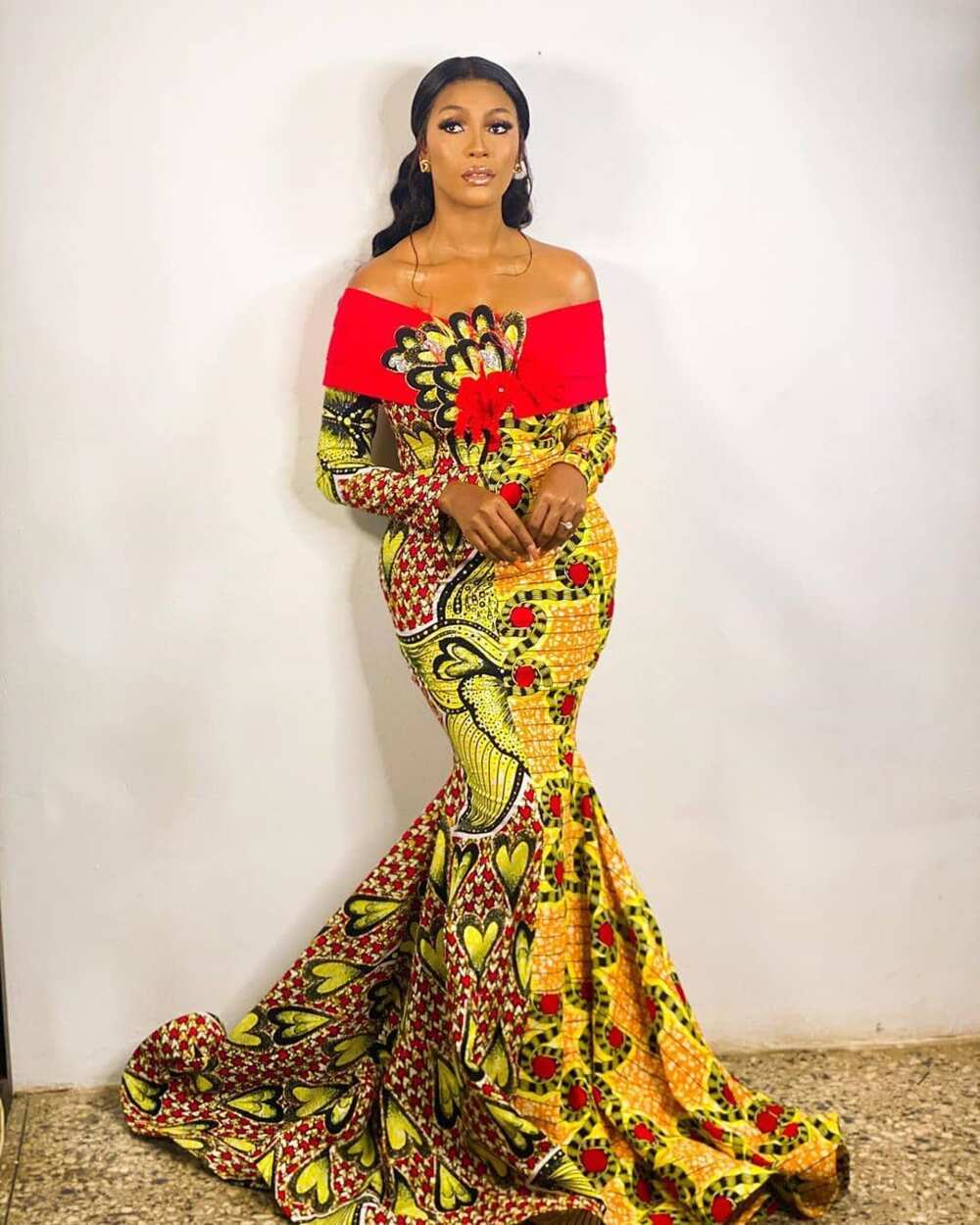 This unique mermaid off-shoulder gown is one of the most trending gowns in Nigeria. You can wear the dress on a wedding occasion with a small clutch bag.
3. Short Ankara dress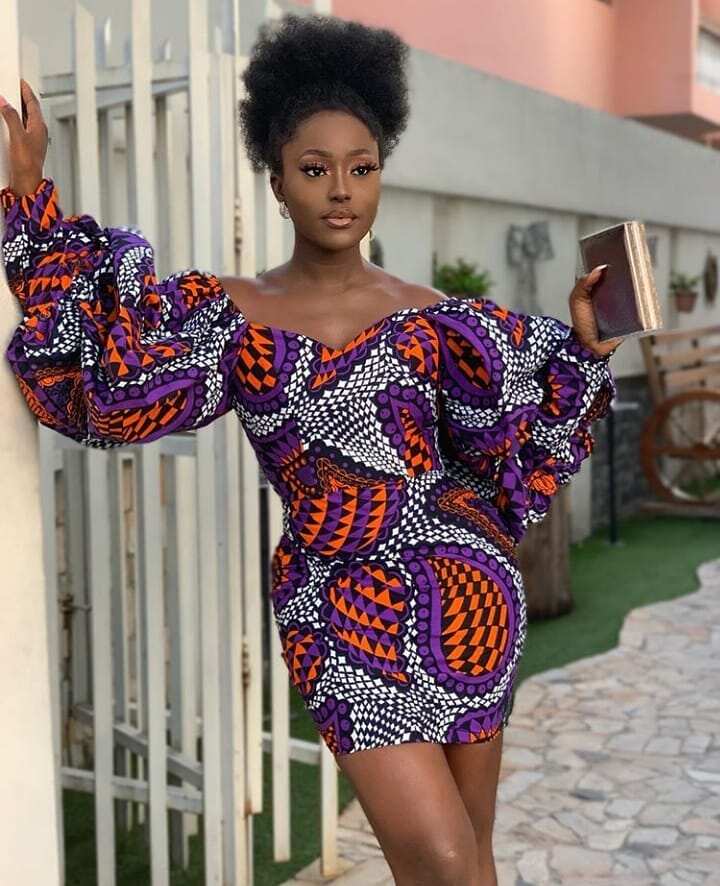 Short Ankara dresses are always stunning. The dress can be paired with heels or doll shoes.
4. Ankara jumpsuit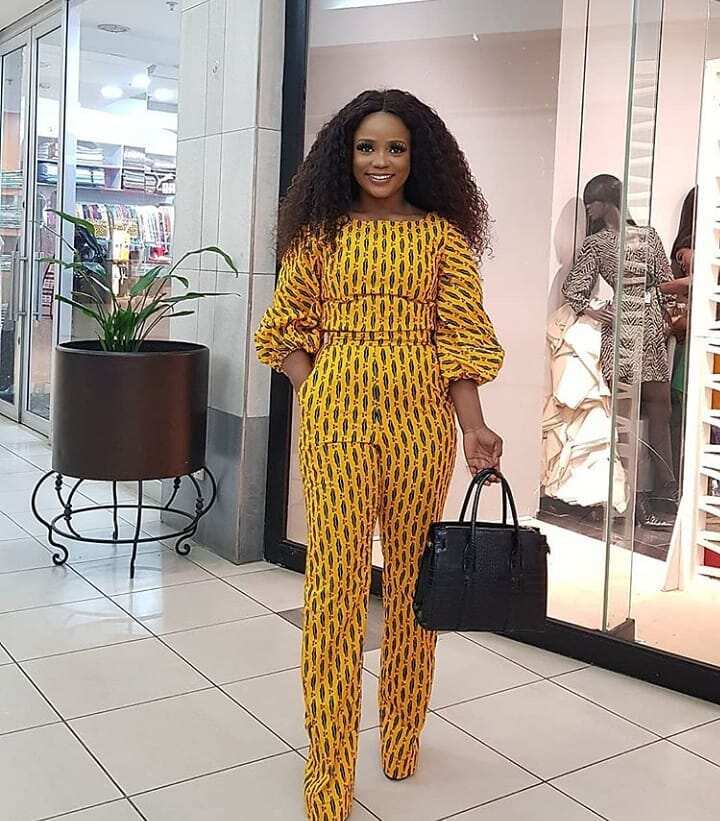 Jumpsuits are also more elegant and fashionable. You can wear it on any non-formal occasion.
5. Ankara skirt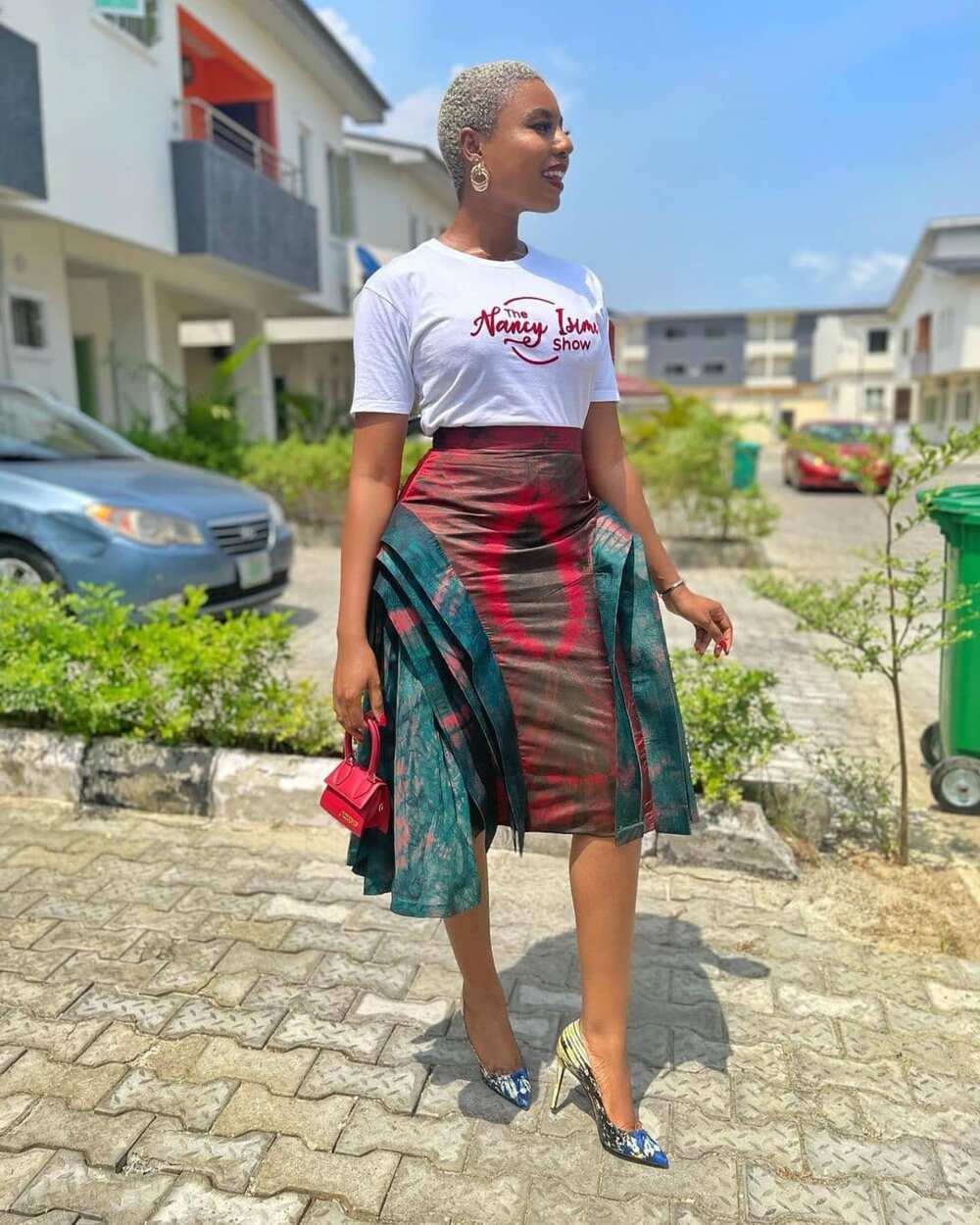 For those that love skirts, this is one of the best unique designs to go for.
You can always dress up to a gala dinner, date night, party, casual meeting, outdoor event, and any other occasion rocking in any of the outfits above. You can choose many more designs if you want to shine and stay pretty when you are having fun.
READ ALSO: Latest lace styles for ladies to rock in 2021
Legit.ng recently published an article on the latest lace styles to rock in 2021. Lace styles have become one of the most trending fashions in many countries.
If you been looking for the latest lace styles that you can rock this year? You have landed on the right page, as we have a compilation of lace styles for women you would look good in.
Source: Legit.ng